Six luscious wines for the Thanksgiving feast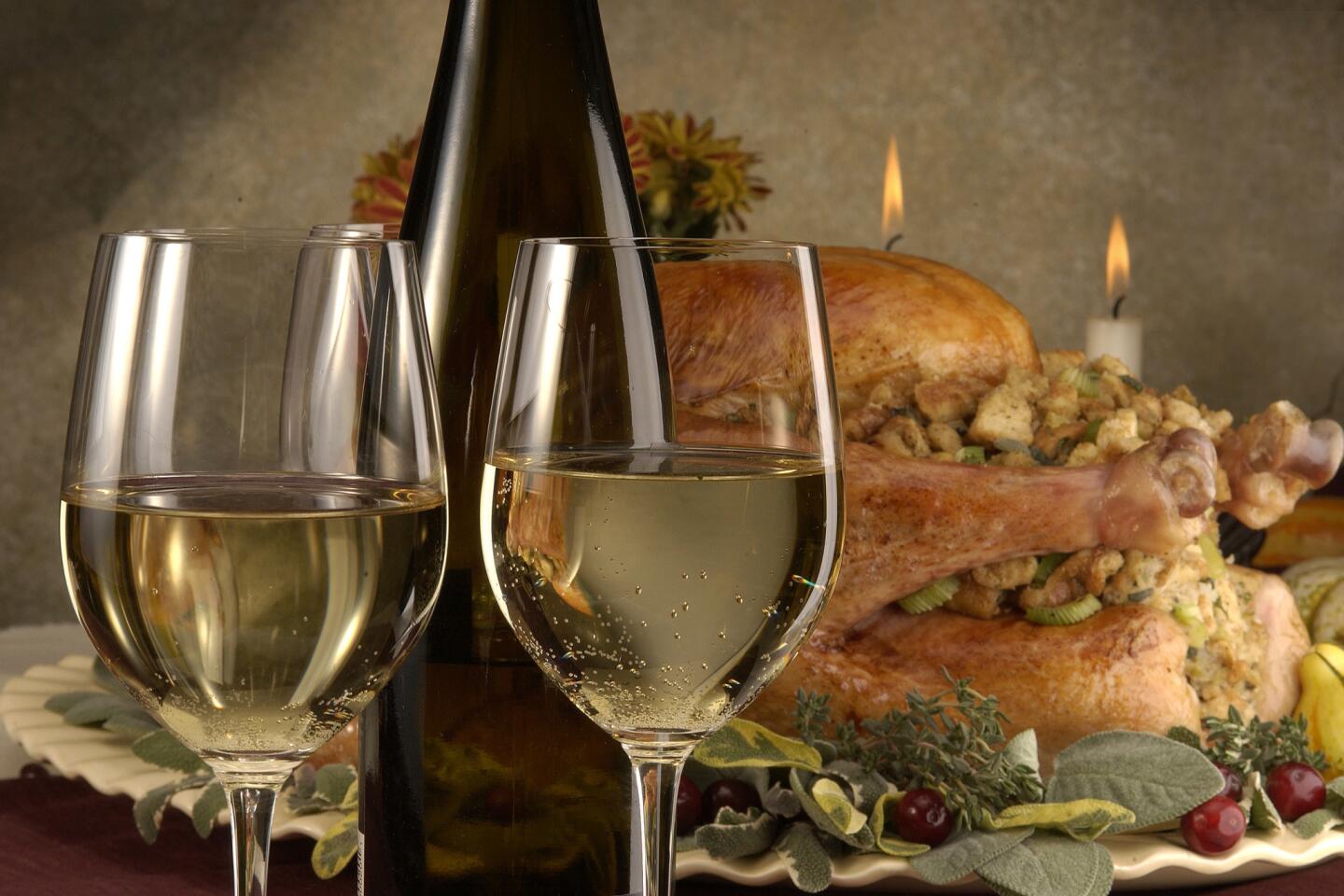 Reisling wine to go with the Thanksgiving turkey.
(Bob Fila / Chicago Tribune)
This rich white wine has a scent of honeysuckle and a lovely minerality. $32.
(Ricardo DeAratanha / Los Angeles Times)
2011 Robert Eymael-Monchhof Estate Riesling.
(Bob Chamberlin / Los Angeles Times)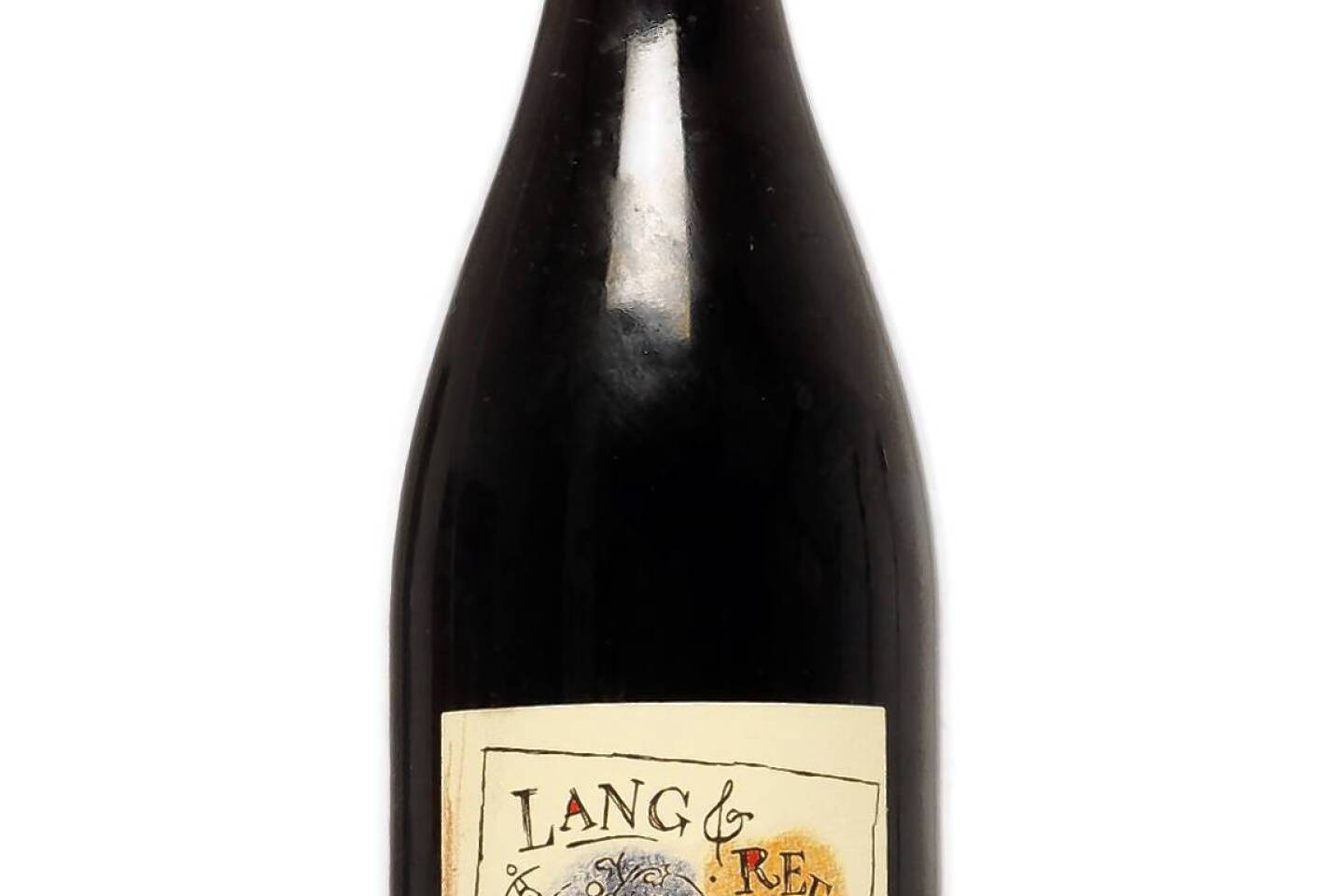 2010 Lang & Reed Cabernet Franc North Coast.
(Bob Chamberlin / Los Angeles Times)
Pairing wine with the Thanksgiving meal should be a question on the Master Sommelier exam. The usual feast has so many elements and so many of them are sweet and/or tart, it is notoriously difficult for wine pairings. Really, there is no one wine that will go with your aunt Rita's sweet potato casserole, your uncle Howie's sausage and oyster stuffing and the experimental elBulli-inspired side dish your cousin Elena insists on bringing.
OK, you could just throw up your hands and serve just one wine throughout the meal, whether from a box or a magnum. You could set up a bar with a dozen bottles so guests can pick and choose. Or you can do something in between, i.e., pick one or two whites and at least one red and let the wines duke it out with the flavors on your plate. That's my usual plan.
This year I've picked out half a dozen wines I might serve with the meal.
Depending on how many people you're having for the Thanksgiving feast, better buy at least two bottles of each wine. I don't know about your family, but the members of my tribe aren't at all shy about pouring themselves more wine. Since this is not a one-hour meal but more of an all-day event, plan accordingly. And if you're really worried about the wine matches, do a test run to make sure the bottles fit the flavor profile you have in mind.
Of course, no wine shop is going to have all of these picks. That's why they invented wine-searcher.com. You simply go to the site, plug in the wine and your ZIP code and up comes the shop or shops that carry it. No luck? Not every wine shop lists their wines on the site.
The other option: Do it the old-fashioned way. Simply walk into your local wine shop and ask if they have anything along the lines of a Rhone-style white, an elegant Chardonnay with just a touch of oak, or a Mösel or Alsace Riesling. And so on.
You'll do fine.
A FRAGRANT RIESLING
2011 Robert Eymael Mönchhof Estate Riesling (Mösel, Germany).
A lovely floral Riesling from a Mösel estate that goes back to 1177 and has been owned by the same family since 1804. The 2011 Mönchhof Riesling's honeyed sweetness is balanced by a racy acidity and an earthy minerality. About $12 to $16.
A SPICY CABERNET FRANC
2010 Lang & Reed North Coast Cabernet Franc (Lake County and Napa Valley).
The 2010 from Lang & Reed has it all — a gorgeous red-violet color, beautiful texture, a taste of cherries, forest and smoke. An assemblage of four vineyards from Lake County to Napa Valley, this red is refined and subtle, with ripe tannins and a lovely finish. From $19 to $23.
A VIVACIOUS DOLCETTO
2011 Elio Grasso Dolcetto d'Alba (Piedmont, Italy).
What can I say? This Dolcetto from Elio Grasso is just so pretty and vivacious, it should do equally well with the turkey and stuffing and the myriad side dishes. Easy drinking, a wine that novices and experts will enjoy. About $20.
A SUPPLE TINTO
2010 Venus La Universal "Dido" Montsant (Montsant, Spain).
A beautiful, supple blend of Garnacha, Syrah, Cabernet Sauvignon and Merlot from husband-and-wife vintners Sara Pérez and René Barbier, whose families pioneered Spain's Priorat region. About $20 to $24.
AN EXOTIC RHONE-STYLE WHITE
2011 Tablas Creek Vineyard Esprit Blanc (Paso Robles).
Esprit Blanc is a Rhone-inspired blend of Roussanne, Grenache Blanc and Picpoul Blanc from the Perrin family of Chateau Beaucastel in Chateauneuf-du-Pape. Certified organic, this rich white wine has a scent of honeysuckle and a lovely minerality. An exotic choice with dinde, French for turkey. About $32.
A FINELY HONED CHARDONNAY
2011 Chateau Montelena Chardonnay (Napa Valley).
Silky on the palate, the 2011 has aromas of pear, citrus and honeysuckle. A bright acidity and a discreet touch of oak gives the ripe fruit flavors a lift. A wine to savor. From $40 to $50.
ALSO:
Thanksgiving basics: How to thaw a frozen turkey
Thanksgiving 2013: Where to eat out on the holiday
How to stay gluten-free and still love the Thanksgiving feast
Twitter: @sirenevirbila
Get our L.A. Goes Out newsletter, with the week's best events, to help you explore and experience our city.
You may occasionally receive promotional content from the Los Angeles Times.