Zuni Cafe's Judy Rodgers dies at 57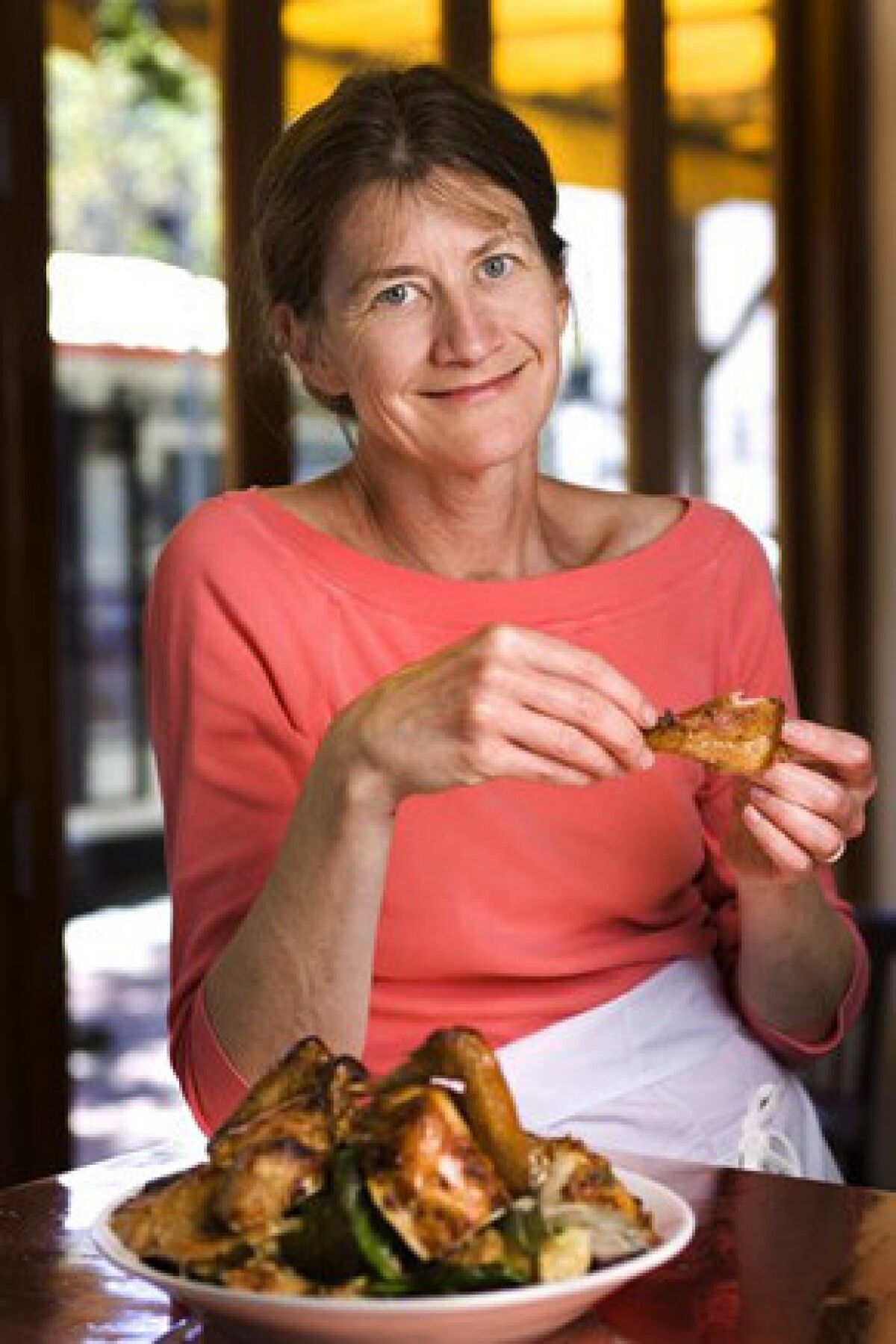 Judy Rodgers, the longtime chef at San Francisco's iconic Zuni Café, was a force of nature. It seems impossible that such a spirit could be extinguished. Yet that's the woeful truth -- Rodgers died Monday at 57. She had struggled with her health for several years and last winter was finally diagnosed with a rare form of cancer.
I'd been thinking of her lately -- as I always do around Thanksgiving -- because she was the inspiration for the dry-brined turkey that has become so popular lately. It is based on her famous roast chicken, though when I first proposed using the same technique with turkey, she admitted that she'd never thought about trying it.
For several years, I called it the "Judy-bird," a tribute I think she regarded as a mixed blessing -- one is never really very enthusiastic about being linked that closely to a turkey.
For me, Rodgers was the archetypal new California chef, one whose career blended happy accident, intense seriousness and a determination to do things her own way.
Raised in St. Louis, she took a year abroad for her junior year in high school and through pure luck ended up with one of the best host families imaginable -- that of Jean Troisgros, who with his brother Pierre helped re-invent French fine dining at their three-star restaurant in Roanne.
More formative for Rodgers, though, were the family's home meals, cooked by their sister. And then a stint with the Southwest French chef Pepette Arbuto, in an area renowned for ducks, but not much else.
"That was a real awakening for me," she told me years ago. "I never noticed that I was eating duck two or three times a day, because people there had explored for a hundred years every possible elaboration of what was possible to do with all of those damned ducks they had, and had eventually winnowed all of those possibilities down to a few of the best. It was a kind of communal distillation.
"It wasn't an attitude of 'Here is what we have to do because we're so isolated'; rather it was a daily exploration of what they could do with what they had."
And that, in a nutshell, was Rodgers' culinary aesthetic. Find good things, prepare them carefully and recognize that sometimes repetition trumps innovation. When you think of Zuni Café, the dishes that first come to mind are ones that have been on the menu for decades -- roast chicken with bread salad, salted anchovies with celery and Parmesan, a terrific hamburger and a quintessential Caesar salad.
There was nothing lazy about that. Though Rodgers seemed every bit the Bay Area free spirit -- hair down to her waist, brightly colored tights and short skirts -- she was absolutely rigorous when it came to her food.
We'd been talking for a couple of years about her use of salt -- she insisted that almost every piece of meat or fish that came into her kitchen be lightly salted immediately, before it went into the refrigerator. It was something she'd learned from Georgette Descat and it was vital to flavor, she said.
So, one time when I was going to be up in the Bay Area, I suggested that we get together and do a story about it. When I checked in on arrival, she had set up a comprehensive taste test -- two fried chickens, salted and not, two roast chickens, two braised beefs, three beef tenderloins.
And just for good measure, pork chops -- some brined, some not. It was pure Judy that when she tasted the pork chops, she noticed that the brine she had been using for more than 10 years had a little too much sugar in it.
She resolved then and there that the next day she'd cut back. The chops were good, but they could be better.
ALSO:
Noble Ale Works beer release is a hot one
Claudio Blotta opening a new Italian this spring
Chef of the moment: Laurel Hardware's Mario Alberto
---
Get our L.A. Goes Out newsletter, with the week's best events, to help you explore and experience our city.
You may occasionally receive promotional content from the Los Angeles Times.