Neapolitan-style DeSano Pizza Bakery to open in East Hollywood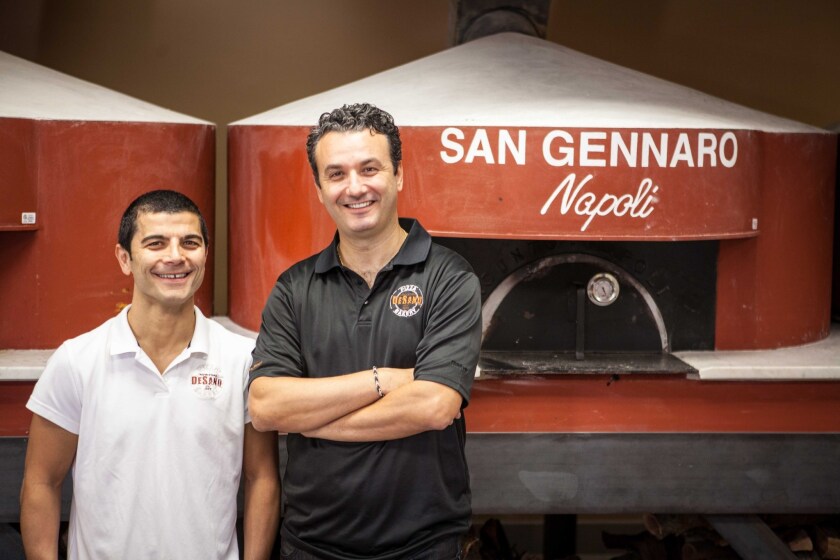 With its four wood-fired ovens and a Campanian pizzaiolo, DeSano Pizza Bakery is set to open its doors in East Hollywood in February.
It's pizza from Naples via Nashville, where the first DeSano Pizza Bakery opened in 2012, followed by another in Charleston, S.C., last year. Marino Monferrato, former general manager at Cecconi's, and pizza maker Massimiliano Di Lascio are heading the West Coast location, which is on Santa Monica Boulevard at Alexandria, across the street from Immaculate Heart of Mary Catholic Church. It's 7,000 square feet and will center around the four 10,000-pound, 900-degree ovens imported from Italy and named after Italian saints.
The Neapolitan-style pizzas will include a classic Margherita with San Marzano tomatoes, buffalo mozzarella, basil and garlic, as well as specialty pies such as the San Gennaro with sausage, peppadew, garlic, buffalo mozzarella and caramelized onions. Each pizza comes individual-sized or grande-sized for groups. Ingredients are sourced from Campania in southern Italy, such as the mozzarella and Mediterranean salt.
Born in Salerno, Italy, down the coast from Naples, Di Lascio has manned pizza ovens all over the world, including in Singapore and Toronto. DeSano also will offer Di Lascio's calzone Napoletano (the Gigiotto, for example, with broccoli rabe, sausage and buffalo mozzarella), panuozzo sandwiches made with the same dough as the pizzas; and antipasti and salads. For dessert, there's house-made cannoli with fresh ricotta, chocolate biscotti and gelati from Alessandro Fontana. Eventually beers and wines will be selected by Monferrato, who oversaw Cecconi's wine list.
After ordering at the counter, diners can sit with a view of the massive ovens. The dining room also will feature two flat-screen TVs for watching sporting events while eating pizza and gelato.
DeSano will be open for lunch and dinner daily, 11:30 a.m. to 11 p.m.
4959 Santa Monica Blvd., Los Angeles, (323) 913-7000, www.desanopizza.it.
ALSO:
At Pellicola Pizzeria, New York meets Naples
Jonathan Gold's lucky 7 picks for Restaurant Week
A sushi chef's dream rice: Satsuki rice, from Uruguay to L.A.
---
Get our weekly Tasting Notes newsletter for reviews, news and more.
You may occasionally receive promotional content from the Los Angeles Times.