At Rice Bar, the chef is cooking a different adobo dish every week for a year
In March, chef Charles Olalia decided to do something about adobo, the homey, vinegar-spiked dish that is as close to the national food of the Philippines as you're likely to find. Olalia is the chef and owner of Rice Bar, a tiny Filipino counter restaurant in downtown Los Angeles, where he cooks the food of his Manila childhood in a space about the size of two Humvees.
Adobo hasn't been on the menu in the almost two years that Rice Bar has been open, even though the dish is central to Filipino cooking, and people have asked for it since he opened. "It's something that everybody knows. I don't know why," said Olalia.
So the chef decided to spend the next year riffing on the dish, making a different adobo every week — for 52 weeks.
"There are a million versions of adobo — it's a technique as well as a dish," said Olalia, who was executive chef at Joachim Splichal's fine-dining restaurant Patina before leaving to open his tiny shop. "I remember the first time I made escabeche, I was like, 'Oh.'"
Adobo is a mash-up dish, as the Philippines is itself a mash-up of cultures and islands, languages and foods. A central ingredient, mostly chicken or meat or fish, is cooked in vinegar, garlic, soy sauce and spices and served with rice. "Adobo's very versatile, but there are certain notes that you need to hit; it can skew Japanese, Singaporean, Chinese, but you're definitely eating something from the Philippines," said Olalia.
At the beginning of the Year of Adobo, Olalia was using fish in his dish — it was Lent — but it soon morphed into a burrito, then swung back to more traditional bowls, albeit with chef-y variations. "It's always like a pop-up here," he said.
Salmon adobo with potato chips
The first of Olalia's adobo bowls, this was a study in color: the deep orange-pink of salmon, the Mountain Violet rice — cooked in coconut — an obsidian black, bright red chiles, pink watermelon radishes and vibrant threads of microgreens. And let's not forget a golden pile of potato chips. Potato chips? Yes, a nod to the potatoes that are often found in adobos. Olalia traced this bowl to the Bicol region in the central islands of the Philippines. "Lots of coconut and chiles," he said.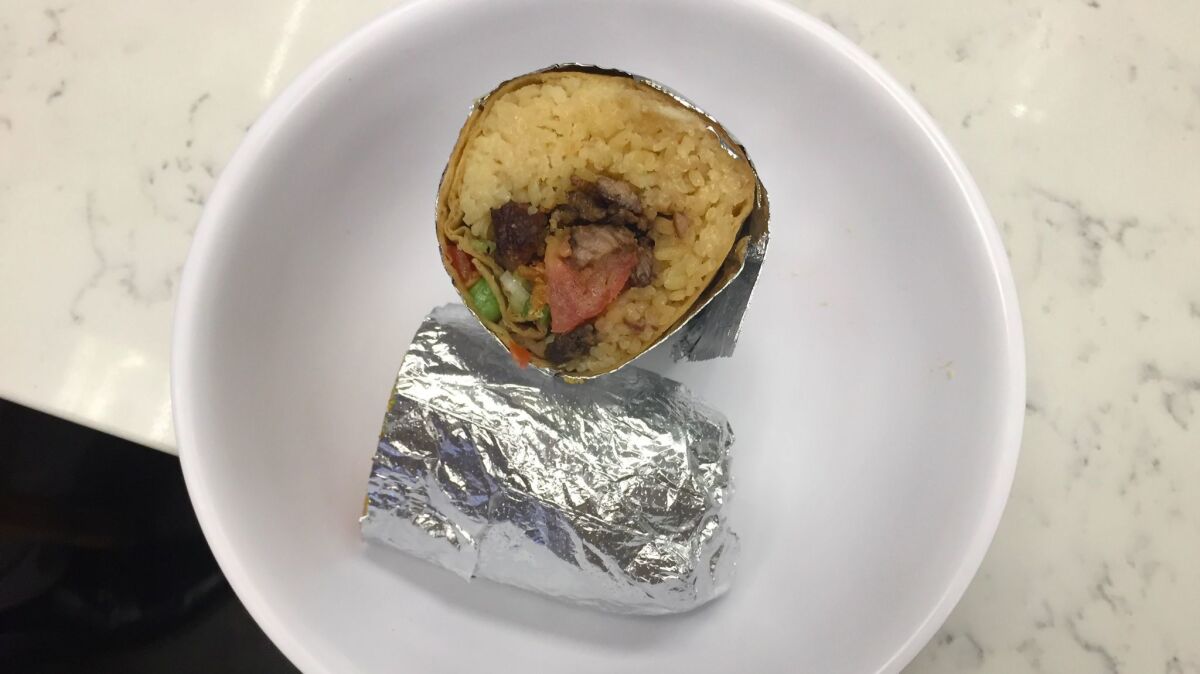 Pork adobo burrito
Why a burrito? "It's a hot day, and it's portable," said Olalia, who added that he was going to bring the dish to Coachella, but he didn't have enough manpower to relocate to the desert this year. Wrapped inside the wheat tortilla: confit pork, bay-infused garlic rice and what the chef calls the "essential adobo ingredients" of vinegar, garlic, pepper and bay leaf.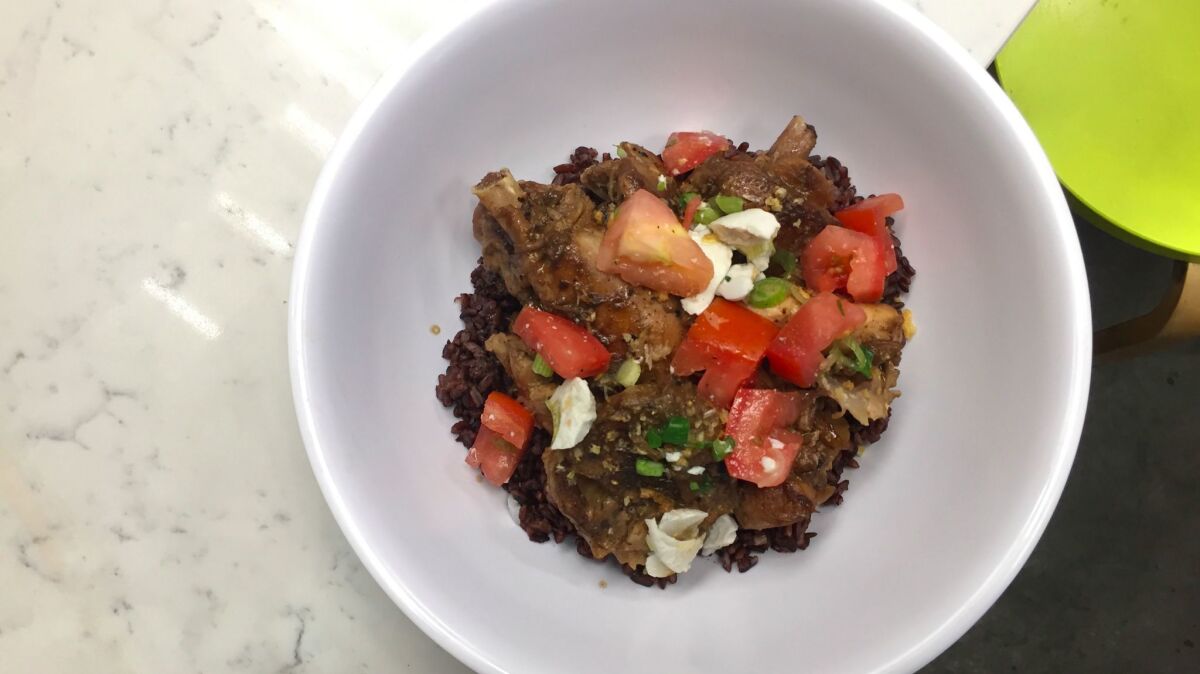 Chicken adobo with duck egg
From the southern part of the Philippines, Olalia's third iteration was a bit more traditional than, well, a burrito. A bowl of braised chicken, tomatoes cured in fish sauce — a recurrent ingredient at Rice Bar — Kotobato black rice and a salted duck egg, a traditional Filipino ingredient that the chef adds to many dishes. "It's like their bottarga," said Olalia.
Pork chicharon adobo
"I was browsing through Alex Stupak's cookbook," Olalia said circumspectly. "I don't think they really do this in the Philippines." No matter. Into the bowl goes pork belly, braised pork skin ("like what a braised tripe dish would do"), eggplant and tomato caponata, bay-scented garlic fried rice, tomatoes and a chiffonade of scallions.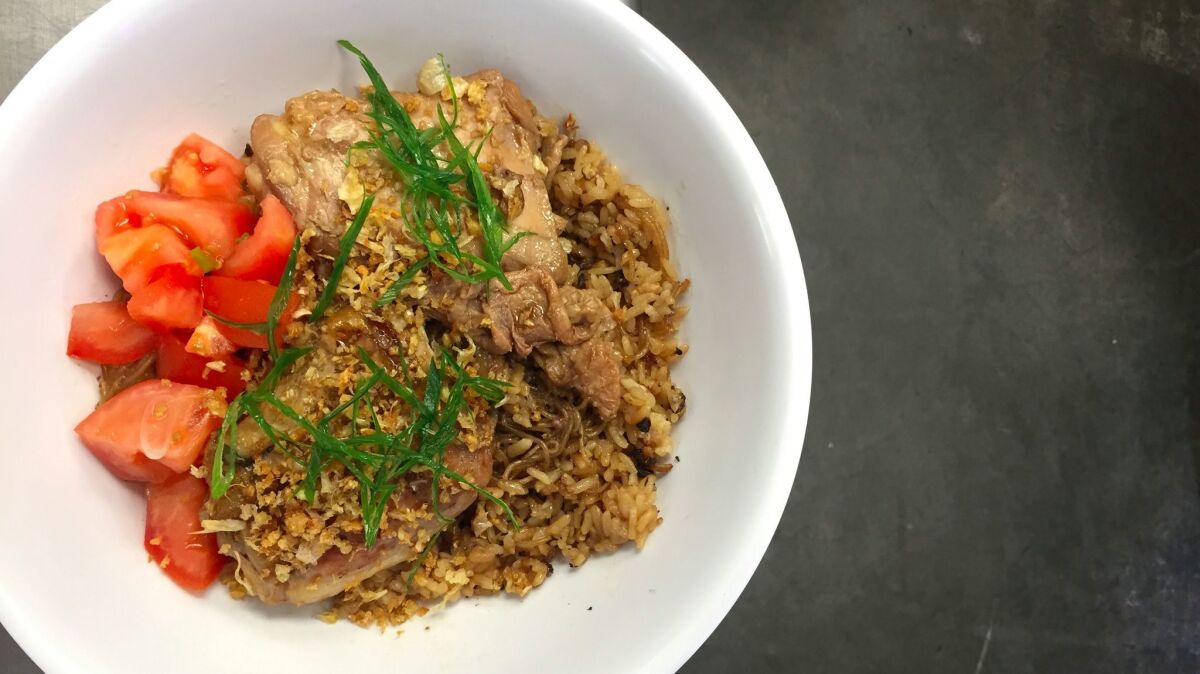 Pancit chicken adobo
Pancit, or noodles, is another traditional Filipino dish, noodles having been introduced to the islands by Chinese immigrants. For this dish, Olalia combines vermicelli with chicken, tomatoes, scallions and garlic rice. Noodles and pasta in the same dish? Why not.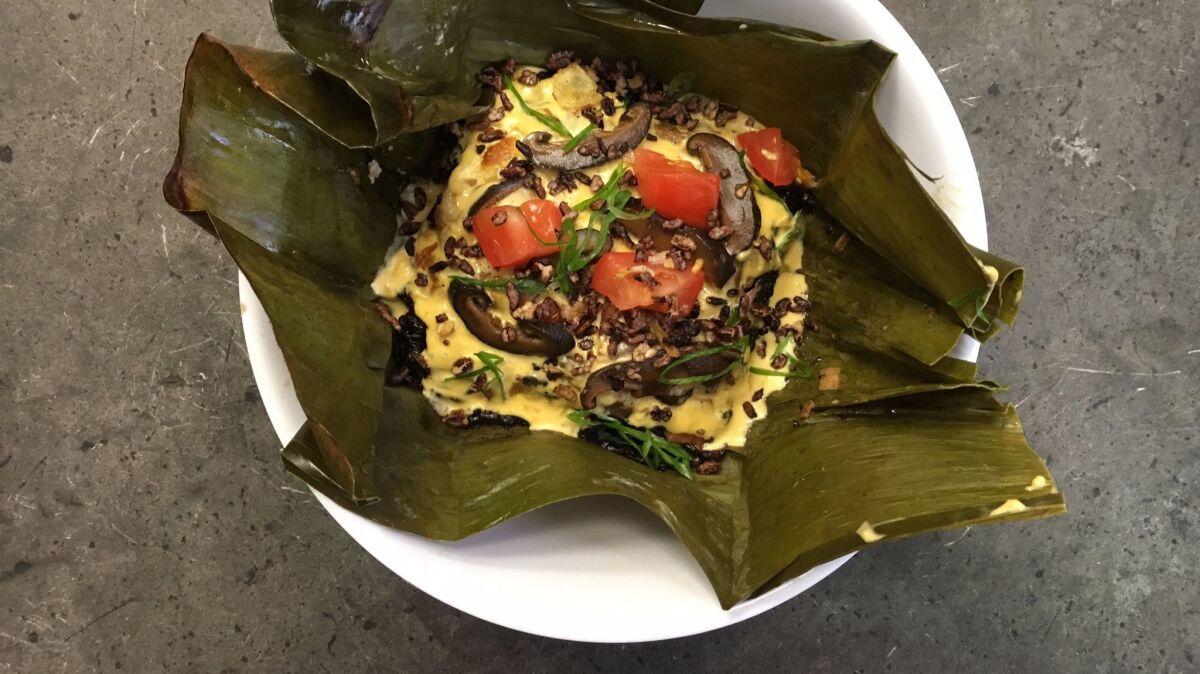 Bringhe adobo
Olalia compares the bringhe in the Philippines to a casserole, which, he says, "always tasted like an improperly done risotto." In this version, the adobo is used as a blanching method: You cook the chicken in the adobo, then add it to coconut Mountain Violet rice, pickled shittakes, fish sauce-cured tomatoes, golden coconut dressing, then wrap it all in banana leaves.
Prawn adobo with duck egg sauce
This bowl is built around garlic rice, with tempura-fried prawns, marinated kale and halved cherry tomatoes — and a special sauce. For this dish, Olalia took the salted duck eggs he likes to work with and, instead of just adding them to the rest of the components, made them into a sauce.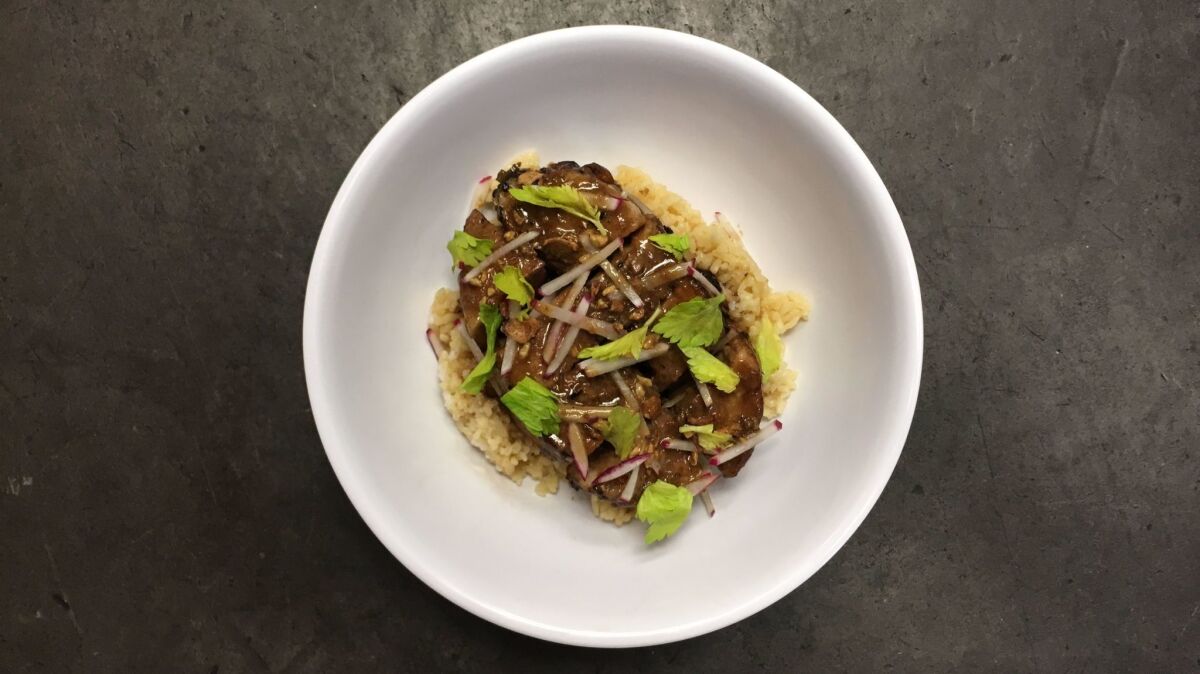 Pork adobo binagoongan
Binagoongan is a traditional dish of pork sautéed with shrimp paste. The sauce is made with coconut milk that's been infused with pandan leaves. There are also julienned radishes and celery leaves; the rice accompanying the dish is garlic jasmine.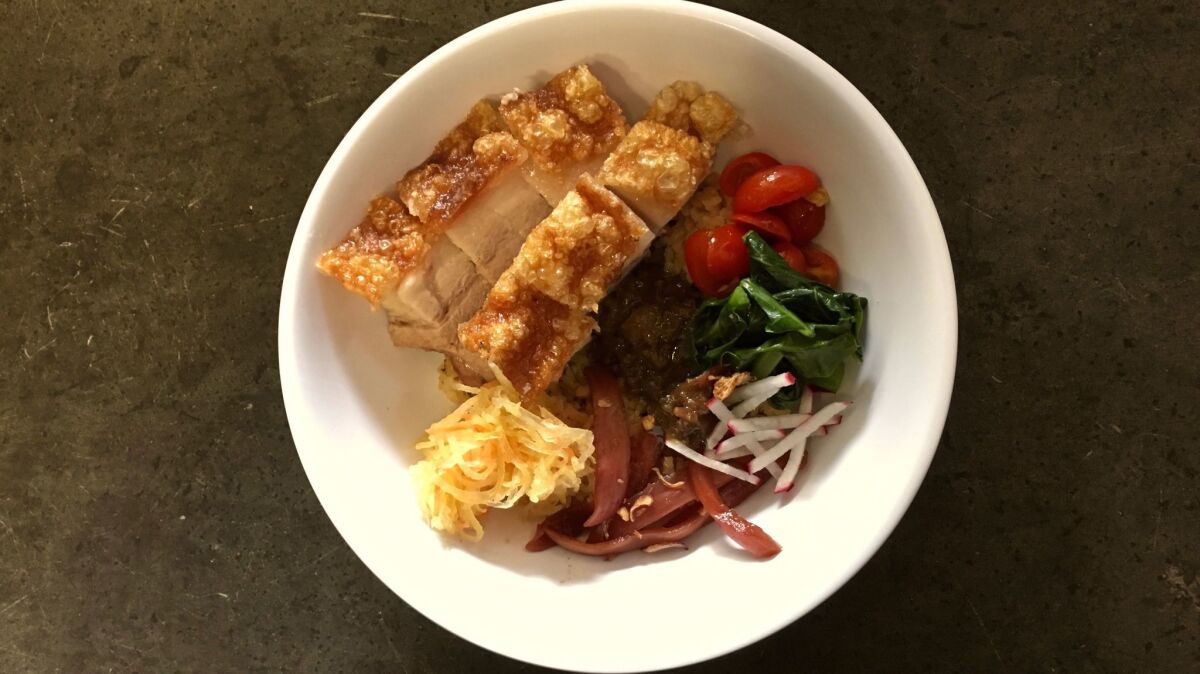 Lechon kiwali with sarsa adobo
Lechon kiwali is pretty much an ode to pork belly, in which the stuff is seasoned, boiled and then deep-fried until it's got an insanely crunchy exterior. Olalia roasts his rather than deep-frying it, then adds thick cubes of the stuff to garlic fried rice. Then to that he adds a tangle of papaya, tomatoes, greens, onions — and thick pork liver sauce called sarsa, the traditional accompaniment to lechon, which arrives in a paper cup. The adobo aspect of the dish is in that sauce, as the puréed liver is dosed with a hefty amount of vinegar.
ALSO:
Jonathan Gold reviews Lasa, a temporary Filipino restaurant with long-range ambitions
A Filipino native who's cooked for Guy Savoy and Thomas Keller opens Rice Bar in downtown L.A.
Jonathan Gold reviews Irenia in Santa Ana, which is reinterpreting traditional Filipino cuisine
Get our L.A. Goes Out newsletter, with the week's best events, to help you explore and experience our city.
You may occasionally receive promotional content from the Los Angeles Times.