Review: Jonathan Gold reviews Lasa, a temporary Filipino restaurant with long-range ambitions
First of a four-course dinner: Red snapper kinilaw with black plum, lemon cucumber and sugar cane vinegar.
(Robert Gauthier / Los Angeles Times)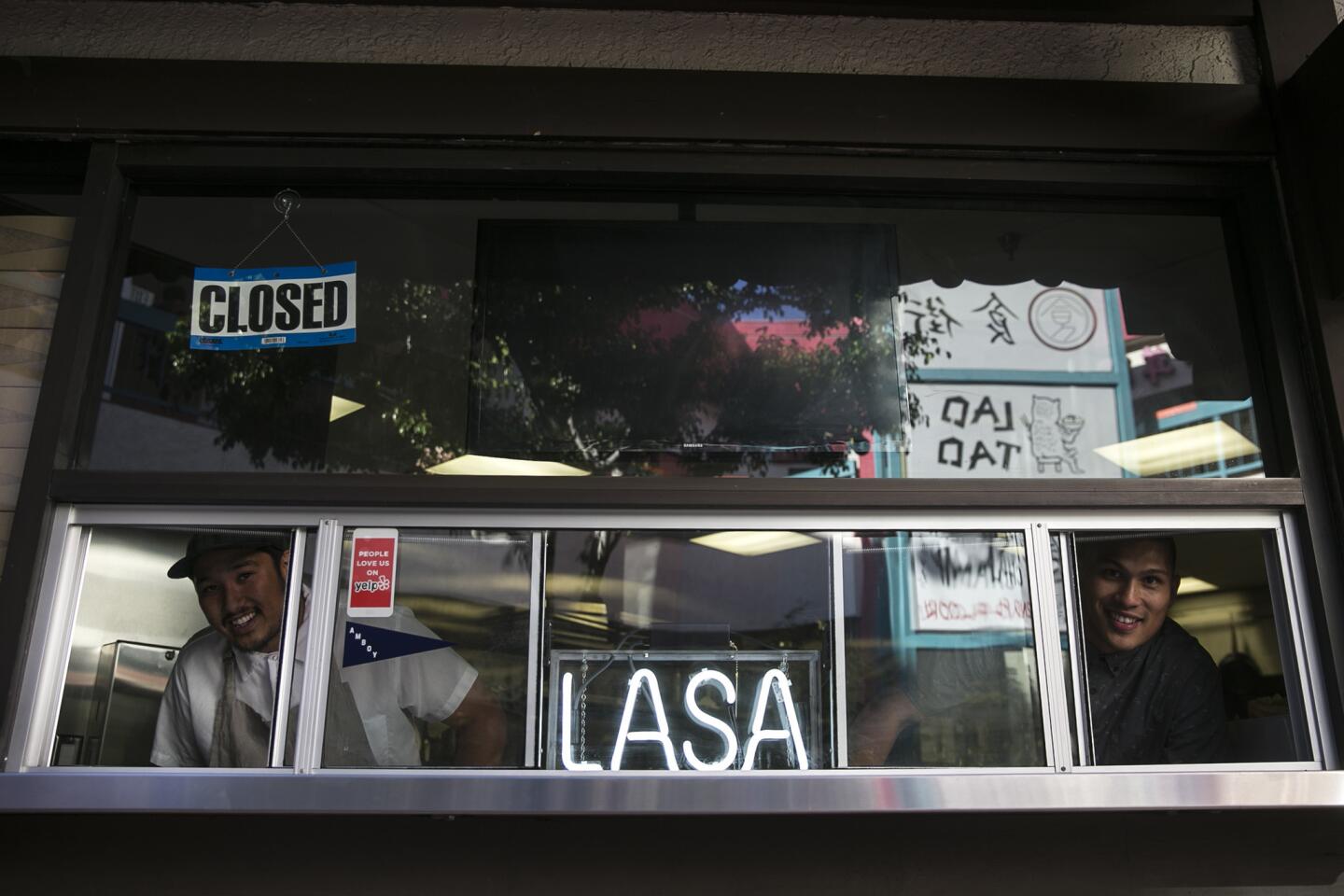 Chef Chad Valencia, left, and Chase Valencia at Lasa, a Filipino fusion restaurant located in the heart of Chinatown.
(Robert Gauthier / Los Angeles Times)
The second of a four-course offering at Lasa: "Pancit" egg noodle made with calamansi butter, scallions and patis cured egg yolk.
(Robert Gauthier / Los Angeles Times )
Lasa host Arthur Palacios delivers a candle-adorned dessert to Beatrice Mendoza, celebrating her birthday with Kyle De La Fuente.
(Robert Gauthier / Los Angeles Times)
Lasa dish: Twice-cooked pork belly with smoky eggplant, summer vegetables and ampalaya powder.
(Robert Gauthier / Los Angeles Times)
Chef Chad Valencia, left, and brother Chase in the kitchen at Lasa.
(Robert Gauthier / Los Angeles Times )
Desert course offered at Lasa: Cassava cake, toasted fig leaf tres leches with black mission figs.
(Robert Gauthier / Los Angeles Times)
Lasa chef Chad Valencia prepares pancit egg noodles as sous-chef Nico De Leon prepares red snapper klinilaw.
(Robert Gauthier / Los Angeles Times)
Chef Chad Valencia, right, and Chase Valencia, owners of Lasa, a Filipino fusion restaurant located in Chinatown's Far East Plaza.
(Robert Gauthier / Los Angeles Times)
We are here once again at the Far East Plaza, the modest Chinatown mall that is home to the recently reviewed Howlin' Ray's, Pok Pok Phat Thai and Chego, among other players in the current food movement. We are in Unit 120, the self-described restaurant incubator space, run by Alvin Cailan, whom you may know from Eggslut. And although we might be equally pleased if we were at the Monday night Detroit-style pizza parlor in this space, or eating pork belly from a banana leaf at the weekend-afternoon Amboy, we are at Lasa, Chad and Chase Valencia's semi-permanent pop-up restaurant that has occupied the weekend evening slot for the last few months and is likely to for several more.
Lasa is more or less the center of Pinoy-California cooking in Los Angeles at the moment, an informal dining room with an elegant set menu that vibrates with the flavors of the Philippines.
So there is a plate of kinilaw, more or less the Filipino version of ceviche, in this case a fat snapper filet briefly marinated in sugar cane vinegar and prettily arranged with cucumber and thin, vivid slices of black plum. Drops of puréed Fresno chiles dot the plate, like a hotter, tarter version of Sriracha. The taste of the mild vinegar is almost subliminal. And if you're not quite used to it, the flavor of truly fresh raw fish may come across as something strange and wild — not aged into mellowness like sashimi or blasted with citrus like ceviche, but a deep marine pong that suggests nothing but the sea.
Chad Valencia, a veteran of Canelé and Sqirl among other restaurants (his brother Chase runs the front of the house), is cooking food, deeply rooted in tradition, that you've never before tasted.
For decades, this corner of Far East Plaza was occupied by Pho 79, which may have been the first truly good pho restaurant in this part of the world. The dining room is smaller now, washed with pale light, almost serene. The waiting area near the door is set with sofas and a coffee table strewn with Filipino cookbooks. Female customers tend to dress up a little for dinner here; their consorts wear their least-faded skater tees.
As long as I've been writing about food, people have been talking about Filipino cooking as the next great cuisine, about the pungent collision of Spanish, Pacific and East Asian traditions as a natural fit for the poly-cultural palate of California. There were dozens of Filipino restaurants in Los Angeles from the 1980s, some of them quite elegant, serving pancit noodles, the blood-enriched stew dinuguan, and the inevitable chicken adobo. It was not just Filipino American kids lining up for elaborate halo-halo sundaes and bright-purple ube shakes. Well-loved L.A. chefs Andre Guerrero and Gary Menes subtly introduced Filipino flavors onto their mostly non-Filipino menus. The Filipino cooking of Austin's Paul Qui became as much a part of the entertainment world's yearly trips to the South by Southwest festival as breakfast tacos and the line at Franklin Barbecue. The Manila Machine was an important part of the early L.A. food truck scene.
And suddenly, we are in the middle of a Pinoy-cooking boom in Los Angeles — not just the old-school fried chicken and sizzling sisig at Max's Restaurant, but the gooey pork adobo fries at Belly and Snout, the peppery smoked tri-tip at Park's Finest, the wonderful longanisa grain bowls at Rice Bar, and the fried fish at Amboy. République's Walter and Margarita Manzke are as revered in Manila as they are in L.A. — and the adobo-fried rice served at brunch at République is one of the city's best secret dishes.
But nobody has quite caught the spirit of modern Pinoy cooking like Lasa, named after the Tagalog word for "taste." Valencia's cooking captures not just the joy of delicious, super-fatty party eats, but the extreme regionality of the dishes in the Philippines' zillion islands, the refreshing vinegar and citrus notes, a lightness that I have never seen in Filipino cooking before, and Filipino cuisine's ability to accommodate both vegetable-forward and nose-to-tail sensibilities, sometimes in the same dish.
So on a set menu — they change monthly — there may be a bowl of pancit noodles tossed with butter, a bit of fragrant calamansi lime juice and shavings of egg yolks that have been cured with patis, the strong Filipino fish sauce: It's like an umami-rich Pinoy take on spaghetti carbonara. You may see a Caesar salad made with a few drops of that patis in place of the anchovies, a loose egg custard with crab and peppery calamansi-zest paste that resembles an elegant Filipino look at a Japanese chawanmushi, and a slab of exquisitely crisp fried pig's foot on a bed of the Etruscan grain farro fried into crunchy, chewy ball bearings.
On the July menu, I loved braised, crisped pork belly served with chunked squashes in a take on the vegetable dish pinakbet, served over a silken, smoky purée of roasted eggplant scented with fermented shrimp paste and sprinkled lightly with an astringent tongue-biting powder made from dehydrated bitter melon: a tour de force. (There is a vegetarian version of the LASA menu too — and in this case the pork belly, though tasty, may be the least essential part of the dish.)
Did you know that toasted fig leaves steeped in cream taste like coconut? Even if you have been staring at the Scoops sign across the courtyard, you will want to stay for dessert: The cassava cake in that fragrant cream is divine.
Lasa
Two brothers take their pop-up Filipino restaurant to Chinatown for a weekend residency
Location: Lasa, at Unit 120, 727 N. Broadway, Los Angeles, (213) 443-6163, lasa-la.com
Prices: Four-course prix-fixe menu $48 per person. Vegetarian menu available.
Details: Dinner Fri.-Sun., 6 p.m. to 10 p.m. Credit cards accepted. No alcohol. Street and underground lot parking.
Recommended dishes: (Which may or may not be on the menu the night you dine): Caesar salad with patis dressing; red snapper kinilaw; cassava cake with toasted fig leaf tres leches.
Get our L.A. Goes Out newsletter, with the week's best events, to help you explore and experience our city.
You may occasionally receive promotional content from the Los Angeles Times.