Making tarts, salads and cocktails with seasonal blood oranges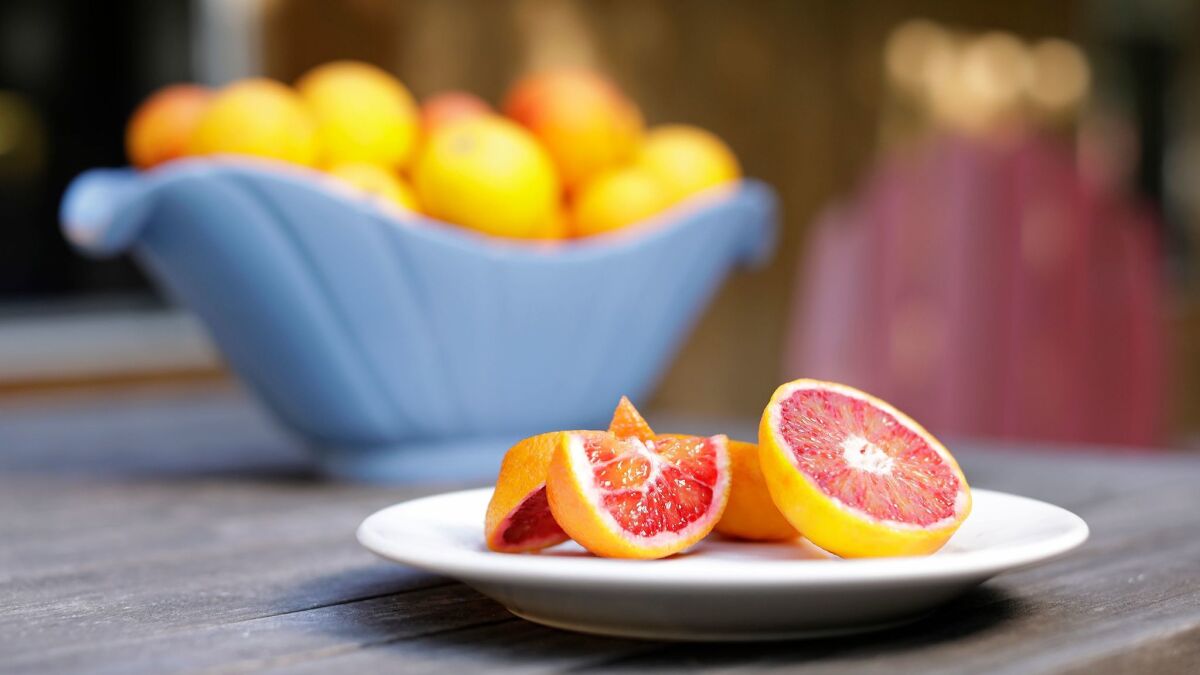 About 30 years ago, my partner, Bob, planted a small blood orange tree in the courtyard of his house in Kenter Canyon, north of the Brentwood neighborhood of Los Angeles. The courtyard is shady, but the tree reached for the sun and opened up like an umbrella when it found it, producing more fruit every year. Now we harvest so many ripe blood oranges in mid-February that we can send off boxes to friends and relatives in cold New York and Minneapolis and still have enough for daily juicing and eating.
The blood oranges look similar to typical oranges on the outside — some varieties have red skin or orange skin blushed with red — though they're smaller than navels and slightly smaller than most Valencias. But cut them open and the interior is red or red-tinged — depending on the variety, the ripeness of the fruit and the coldness of the winter nights. It tastes like an orange, but it has more acidity and a subtle hint of raspberries.
We love our evening blood orange margaritas, a ritual that should carry us through mid-March. The beautiful blood orange juice is much sweeter than lime juice but has just enough of an acidic edge to make a convincing margarita. We use a lot of it: 2/3 cup of juice for each drink, mixed with an ounce of tequila and half an ounce of triple sec — on the rocks or shaken with ice and poured. This is a much weaker cocktail than a standard margarita, which has about a third as much juice and more tequila and triple sec. Ours are more about the juice.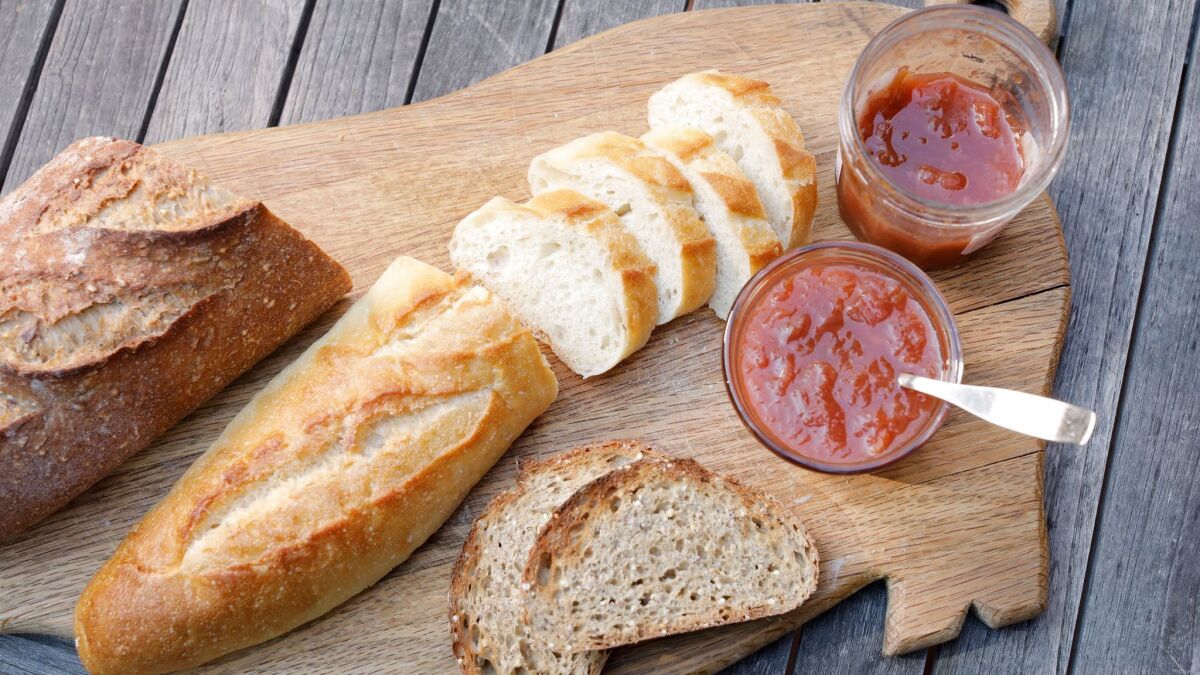 Recipe: Rhubarb and blood orange compote »
We haven't just been drinking this big crop. I've been using them in tarts, marmalade, compotes and salads. A friend brought me a large bag of rhubarb from her garden at the beginning of the year, and I held on to it until my blood oranges were ripe enough make a rhubarb and blood orange compote. I've long loved the combination of rhubarb and blood orange — both fruits are tart, but each in a particular way, and their flavors and colors complement each other. I adapted a formula and method I use for fruit jams, using half the sugar required for jam to produce a compote that doesn't have the shelf life of a preserve but does keep for a few weeks in the refrigerator. It's wonderful with ice cream, stirred into yogurt or spread on toast.
The compote and the abundance of blood oranges inspired a variation on an impressive Valencian orange tart recipe that I came upon several years ago in Anya von Bremzen's cookbook "The New Spanish Table." The compote is spread over the tart crust underneath a layer of poached sliced blood oranges. The skin is left on the oranges, and it softens and sweetens in the poaching syrup. When you bake and glaze the tart, some of the edges of the rinds burn ever so slightly, so you get a wonderful combination of sweet, tart and burnt orange flavors in the fully baked and glazed tart.
Recipe: Blood orange and rhubarb tart »
Blood oranges can be the focus of a salad or an addition. There's nothing like a shot of tart, juicy fruit against pungent leaves of arugula or astringent spinach, but they're also beautiful and refreshing with lighter, softer, mild-tasting lettuces like Gem and Bibb. Lately, I've been making blood orange salads with red onions and black olives, with a hint of cumin in the dressing. The blood oranges stand in for the navel oranges called for in the traditional Moroccan dish. They're smaller than navels so you need more of them, but like navels, they have few seeds, which makes them easy to eat.
There are other ways to use blood oranges. Try them instead of regular oranges in orange cakes. A blood orange sorbet is both gorgeous and tangier than a regular orange sorbet. It's especially nice garnished with blood orange sections tossed with orange liqueur. Any citrus salad will look impressive if you throw in some blood oranges for color contrast. And don't throw away the skins that you remove from the oranges for any of the recipes here — save them and candy them as you would regular orange or lemon peel.
Recipe: Blood orange and olive salad »
You don't have to have a tree to enjoy this fruit in Southern California. Beginning in late January, most of the citrus growers at local farmers markets have blood oranges on offer. They should be available through March. Moros and Taroccos are the most common varieties. Moros have a deep ruby hue and a berry-accented flavor that can vary in its sweetness. Taroccos are sweeter but not as dramatically red as Moros. Though Bob's tree long ago lost its tag, I'm pretty sure his oranges are Taroccos because their skins are for the most part orange, like Valencias, and their interior varies from orange with a hint of pink, to blush red, to red-orange, to almost wine-colored.
The other variety of blood orange that I adore but see less of in California is Sanguinelli, which has a redder rind than the other two and deep red, distinctively berry-flavored flesh. When I lived in Paris I bought them daily at the market during the winter months; they came from North Africa, Israel and Sicily.
Just as a red sun at sunset will delight no matter how many of those sunsets you've seen, we're elated every time we press a glass of blood orange juice. And it's not just the red-orange color, but the flavor that surprises us every time. It's a little sweet, a little tart, a little bit like a raspberry, a wild strawberry or a red currant — and a lot like an orange.
---
Get our L.A. Goes Out newsletter, with the week's best events, to help you explore and experience our city.
You may occasionally receive promotional content from the Los Angeles Times.