Culinary SOS: The Inside Out quinoa burger from True Foods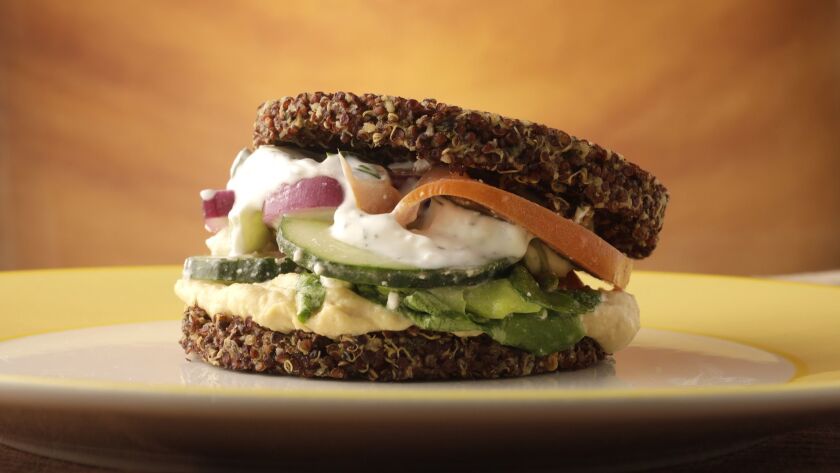 Imagine a burger where the patties themselves become the bun. That's how True Foods does its Inside Out quinoa burger, and reader Wayne Slavitt of Long Beach can't stop thinking about it. "It is amazing," he wrote us when he requested the recipe. The burger consists of red quinoa flavored with chile flakes and cumin along with fresh mint and oregano, then formed into patties and baked. Sandwich the patties with some lightly dressed vegetables and feta cheese, along with a touch of hummus and tzatziki sauce, and you've got a burger. Did we mention it's vegetarian? You might never guess — even the meat lovers were clamoring for seconds when we tested it in our Test Kitchen. True Foods was happy to share the recipe, which you can find below.
TRUE FOOD KITCHEN'S INSIDE OUT QUINOA BURGER
See the inside out quinoa burger recipe and more in our California Cookbook »
About 1 hour, plus cooling time. Makes 5 burgers
QUINOA PATTIES
1 1/3 cups red quinoa
2 2/3 cups water
2 tablespoons olive oil
1 teaspoon lemon juice
½ teaspoon red chile flakes
2 eggs, beaten
1 teaspoon ground cumin
1 tablespoon minced fresh mint leaves
1 tablespoon minced fresh oregano leaves
1 teaspoon kosher salt
Pinch ground black pepper
¼ cup gluten-free bread crumbs
1. Cook the quinoa: Rinse the quinoa under cold running water. In a saucepan, combine the quinoa and water and bring to a boil. Reduce the heat to a gentle simmer and cook, covered, for 15 minutes. Remove from heat and set aside for 15 minutes. Fluff with a fork. This should make about 4 cups quinoa; reserve any extra for another use.
2. In a bowl, whisk together the olive oil, lemon juice, chile flakes and eggs.
3. In a separate large bowl, combine the quinoa, cumin, mint, oregano, salt and pepper. Add the wet ingredients and mix until fully incorporated. Fold in the bread crumbs.
4. Heat the oven to 350 degrees.
5. To form the patties, divide the mixture into 10 equal amounts. Press the mixture into ring molds or large cookie cutters to form the patties. Bake the patties until they are firm to the touch and dry, 14 to 16 minutes (timing will vary depending on the size and thickness of the patties). Remove from heat and set aside to cool. Rewarm in a warm oven before using.
INSIDE OUT BURGER
10 slices tomato
10 slices cucumber
5 leaves butter lettuce, torn into bite-sized pieces
15 red onion rings
5 teaspoons crumbled feta cheese
2 ½ teaspoons olive oil
Generous 1/8 teaspoon salt
1 ½ teaspoons lemon juice
10 prepared quinoa patties, warmed
5 tablespoons hummus
5 teaspoons tzatziki sauce
1. In a large mixing bowl, toss the tomatoes, cucumbers, lettuce, onions and feta cheese with the olive oil, salt and lemon juice.
2. To assemble each burger, spread 1 tablespoon on one side (the "bottom") of a quinoa patty. Top the patty with 1/5 of the tossed vegetable mixture. Dollop the top of the vegetables with 1 tablespoon hummus and 1 teaspoon of tzatziki sauce and top with a second patty. Repeat to form 5 quinoa burgers. Serve immediately.
Each burger: Calories 353; Protein 12 grams; Carbohydrates 41 grams; Fiber 6 grams; Fat 16 grams; Saturated fat 3 grams; Cholesterol 78 mg; Sugar 5 grams; Sodium 469 mg
Note: Adapted from True Food Kitchen.
---
Get our weekly Tasting Notes newsletter for reviews, news and more.
You may occasionally receive promotional content from the Los Angeles Times.