Tarts, cocktails, gelato and more ideas for cherimoya, now in season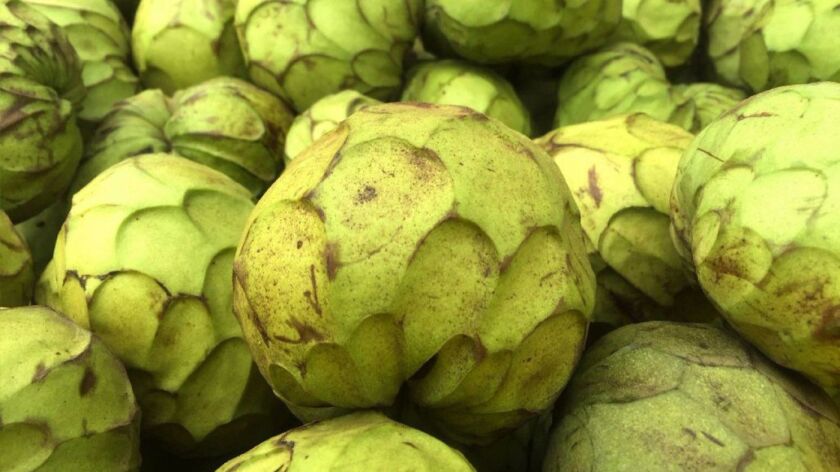 What's in season: Oddly-shaped and covered with a leathery green skin marked with large indentations, the mounds of cherimoya at the markets right now might at first glance look like prehistoric eggs, or even hand grenades. But the tropical fruit, also known as a "custard apple," is prized for its velvety texture and sweet flavor, with notes of banana, papaya and pineapple. The season for cherimoya, first planted in California in 1871, generally ranges from early through late spring.
Favorite recipes using cherimoya fruit >>
What to cook: For a quick snack, peel and slice the fruit, making sure to discard the large black seeds, which are toxic. Toss slices in a salad for extra texture or layer them on top of a rustic tart, brushing the fruit with a flavored simple syrup for added sheen. Purée the fruit for smoothies or cocktails and freeze the purée for a creamy granita or semifreddo.
What's on the horizon: Small Persian and other cucumbers are just beginning to show up at various stands.
---
Get our weekly Tasting Notes newsletter for reviews, news and more from critics Bill Addison and Patricia Escárcega.
You may occasionally receive promotional content from the Los Angeles Times.