Our 10 favorite recipes of 2017
The end of one year and the beginning of another means a time of lists and catalogs, of summations and predictions. Here in the Food section, this means a thankful tabulating of our favorite dishes, both on restaurant tables and in our kitchen. Every year, we publish hundreds of recipes in these pages, more than enough to fill a cookbook or two.
Of those myriad dishes, we've picked our most memorable: 10 favorites that for us somehow translated the best of 2017 onto our plates. The recipes originated — as did the stories from which they came — in many kinds of kitchens, from high-end restaurants to food trucks to strip mall taquerias, from professional pastry kitchens to home kitchens to our own Test Kitchen (where we test every recipe that appears in our section). We hope you enjoy the menu as much as we did, and find something that either encapsulates the last year of memorable dining or propels you into the coming one, whether it be a towering, truffle-shot burger, an incendiary dish of Singaporean crab, or a bowl of ice cream.
Esquites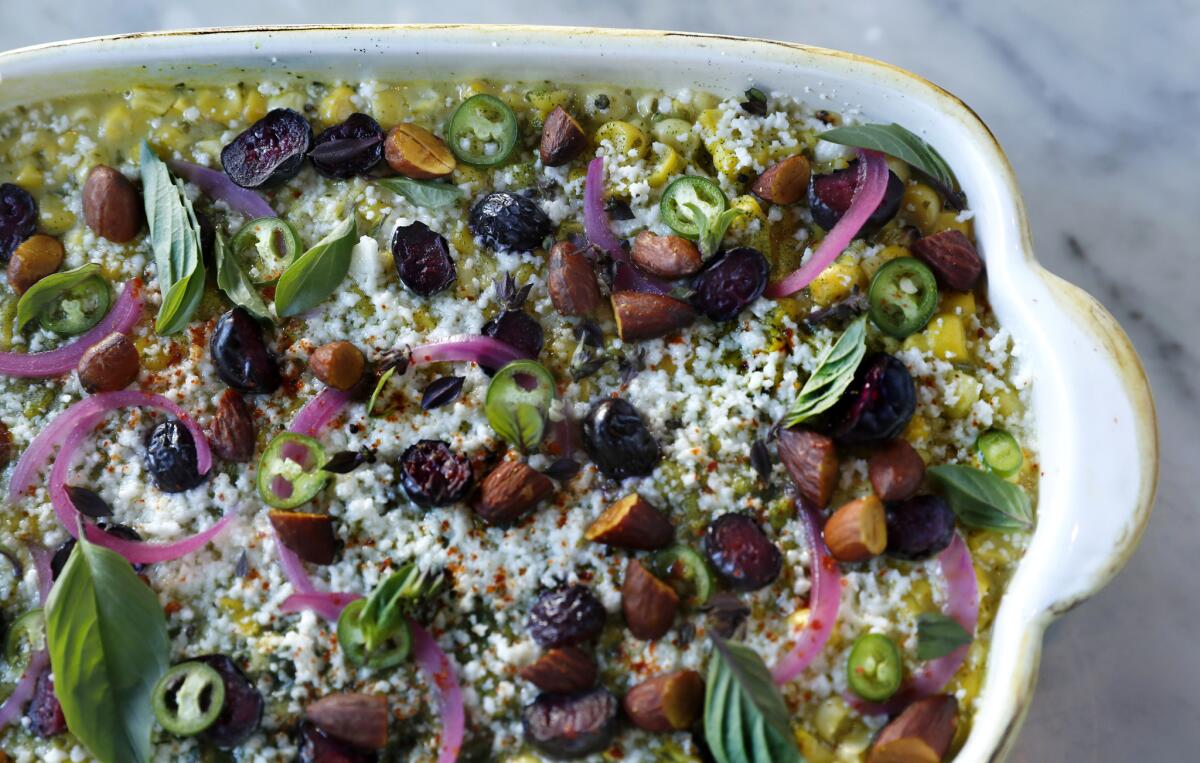 The esquites dish that Broken Spanish chef Ray Garcia and his crew put on their Thanksgiving table was one of the most memorable dishes of 2017. Ostensibly a bowl of creamed corn, the off-the-cob version of the Mexican street corn dish elotes, this dish was transformed by a wealth of surprising components. Pickled blueberries, vadouvan-spiced almonds, and avocado powder elevated the corn — itself torqued with chiles and not a little butter — into a stunning dish that was at once homey and sophisticated.
Singaporean chili crab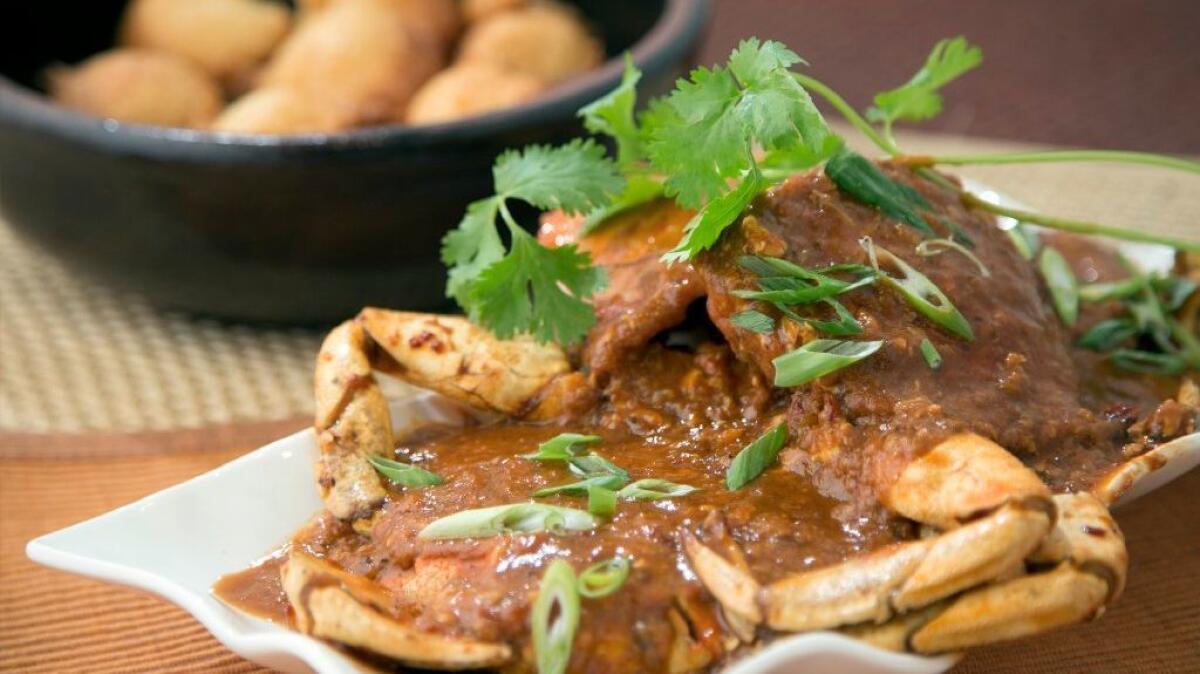 There are many noteworthy creations that have come through Starry Kitchen, the once-renegade restaurant project from Nguyen and Thi Tran that last year also produced a cookbook. There are the absurdly green tofu balls, and the double-fried tamarind chicken wings — and the banana suits that Nguyen likes to wear to food events. Then there is the chili crab, a glorious, highly sauced, chile-spiked avalanche of a dish, which is worth making at home just to prove you can. When the Trans came into the Test Kitchen to demo their dish, folks lined up at the window — and not just for the banana suit.
Singaporean chili crab recipe »
Brown sugar kitchen's cornmeal waffles with apple cider syrup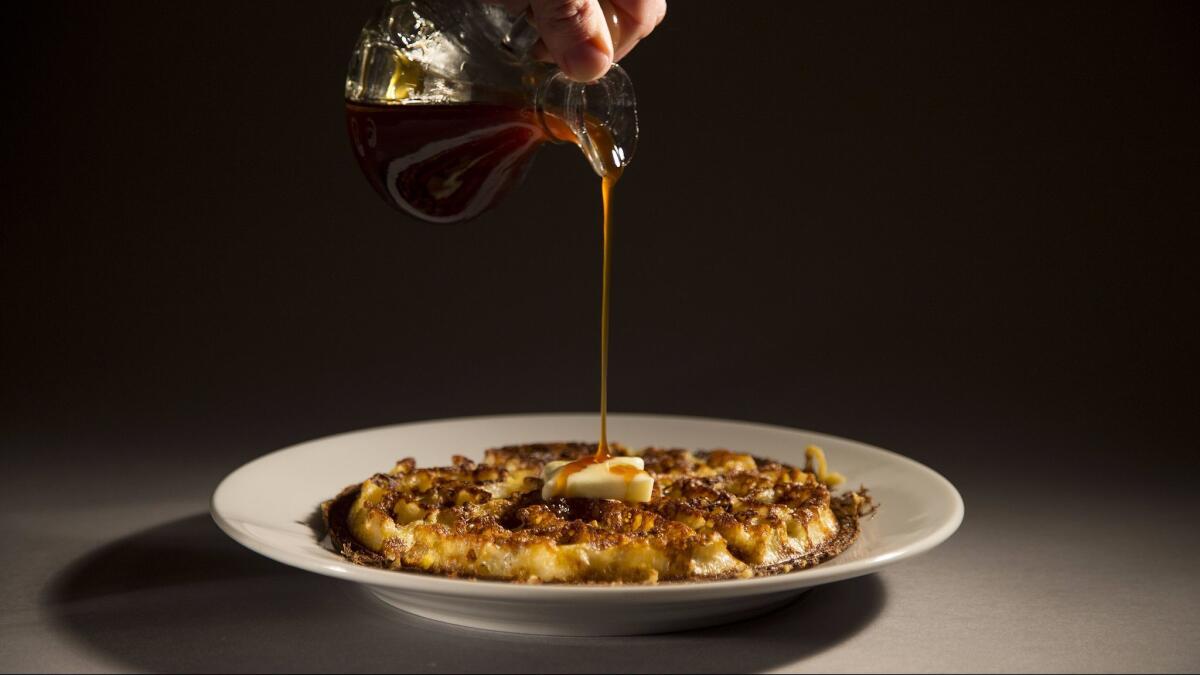 There are many dishes in and around Los Angeles that are worth a considerable drive; in a traffic-prone city, this comes with the territory. According to Jonathan Gold, Tanya Holland's waffles are worth driving from L.A. to Oakland for. Of course, the best solution is just to make them yourself, so we got the recipe — and the results were extraordinary. The yeasted waffles had depth and crunch and when dosed with a syrup made from boiling down cider with vinegar, spices and brown sugar, they were indeed pretty incredible. Could the ideal be to make a batch and then hit the road north?
Brown sugar kitchen's cornmeal waffles with apple cider syrup »
Triple chocolate brownies
There are brownies and there is what Test Kitchen Director Noelle Carter came up with for her story about the old school lunchbox favorites — a testament to the power of chocolate. Carter's brownies were a heady mixture of cocoa and bittersweet chocolate, cream cheese and toasted walnuts, baked to a dense confection that was more fudge than cake — and then topped with more chocolate, in the form of ganache. For those of us who already believed chocolate to be among the best of palliatives, Carter's brownies were further proof.
Triple chocolate brownies recipe »
NoMad food truck collaboration burger with Curtis Stone
Sometimes having more cooks in your kitchen is exactly what you need, and this burger — a collaboration of Australian chef Curtis Stone (Gwen, Maude) with folks behind the NoMad food truck (chefs Ashley Abodeely and Daniel Humm and his business partner Will Guidara) — is not only a mash-up of creative minds, but also all the things you can fit between two potato buns. In this case, that would be black truffles, bacon, chicken, sauerkraut, Swiss cheese, caraway dressing and watercress. In a year of many burgers, this one literally stood tall.
NoMad food truck and Curtis Stone chicken burger recipe »
Pappa al pomodoro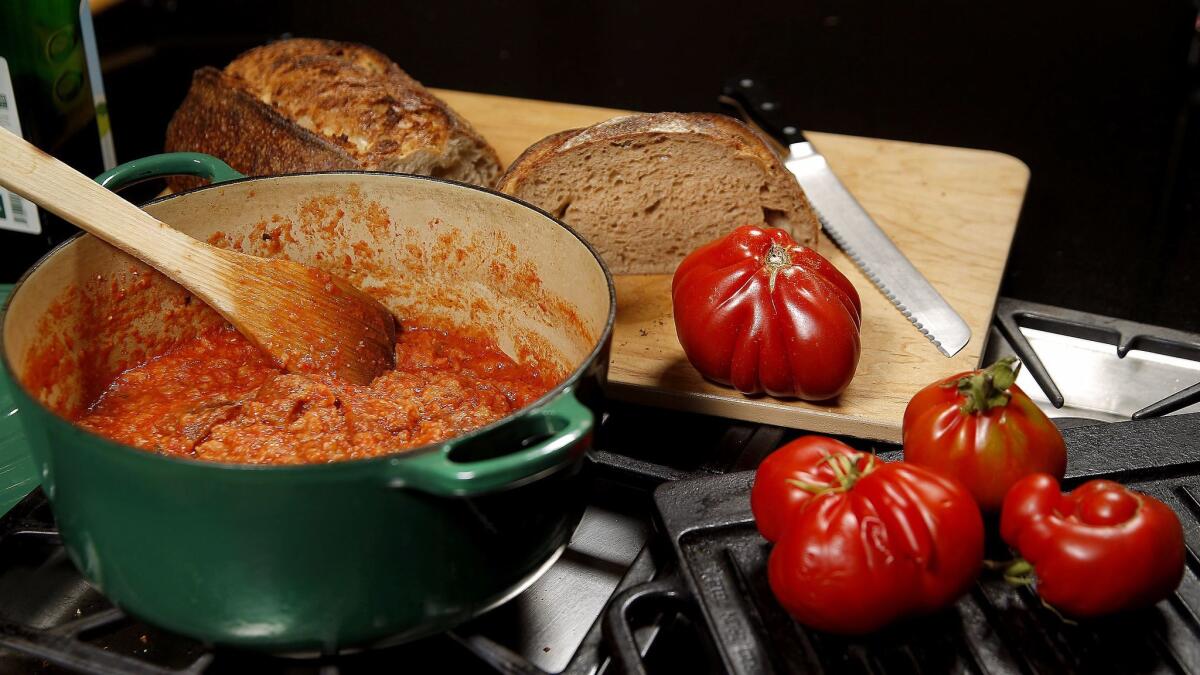 Sometimes the simplest dishes can be the most profound. This utterly homey recipe for pappa al pomodoro was showcased by longtime KCRW Good Food host Evan Kleiman in her Italian cooking column. It's a pot of stewed tomatoes and bread that she described, when she had it for the first time in Italy, as "the most elegant mush I'd ever held in a spoon." Dosed with garlic, herbs and lots of olive oil, the mush was indeed spectacular, all the more so because it seemed to extract the essence of all the components in that pot.
Cassia's whole grilled branzino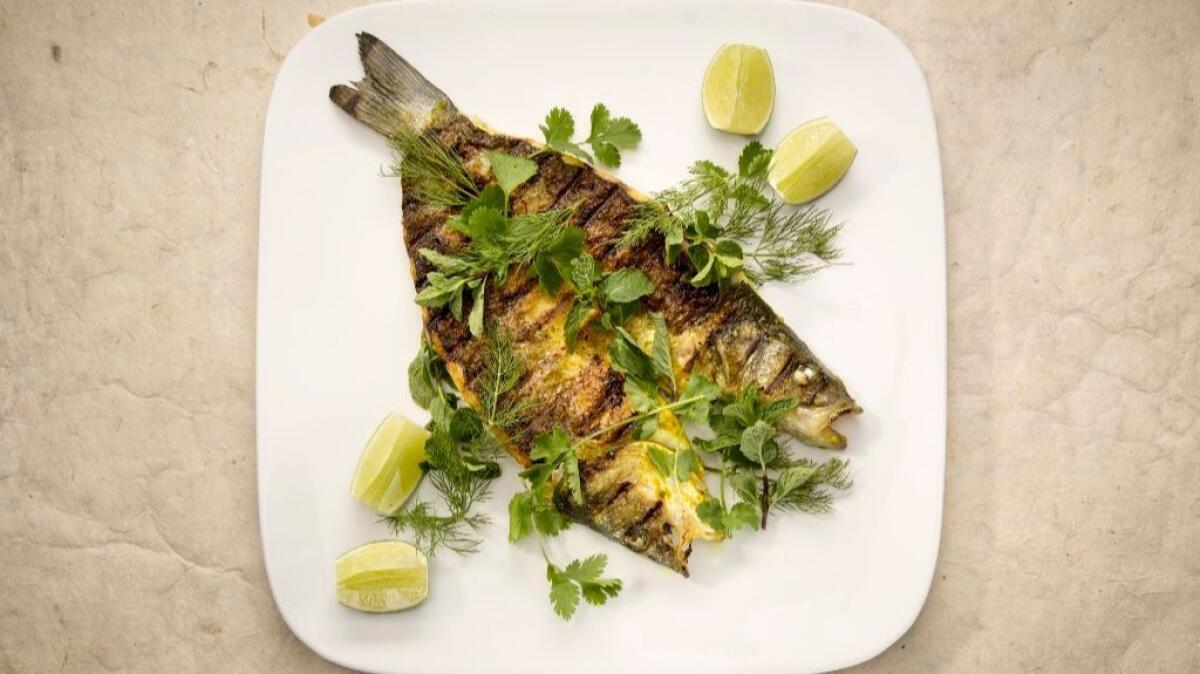 The grilled branzino that chef Bryant Ng makes at his Santa Monica restaurant Cassia is a study in flavor, in simplicity — and in the art of presentation. Ng says he first had a version of the dish in Vietnam, cooked by a chef friend. In Ng's iteration, first marinate the butterflied fish in an intoxicating paste of turmeric, fish sauce, Thai chiles and garlic, then throw it on the grill. Add a thatch of herbs and some limes, finish with olive oil and you're done. It was a dish that drew passers-by into the Test Kitchen on looks alone, and then kept drawing us all back in for seconds and thirds.
Cassia's whole grilled branzino recipe »
Fresh herb kuku (Kuku-ye-sabzi)
As part of a cooking story about Nowruz, the Persian and Zoroastrian New Year, Deputy Food Editor Jenn Harris stepped into the culinary world of Shamsi Katebi, an Iranian American woman whose daughter and chef son-in-law, Yassmin Sarmadi and Tony Esnault, run Spring, one of the best French restaurants in Los Angeles. Among the traditional dishes Katebi shared for the holiday feast, her recipe for kuku, an egg dish with fresh herbs, walnuts and sour barberries, stood out. Imagine what would happen if you loaded an entire herb garden into a smallish rectangular pan.
Fresh herb kuku (kuku-ye-sabzi) recipe »
Roasted rainbow cauliflower tacos
You might not expect one of the most memorable tacos of 2017 to be vegan, or to come from a restaurant partly owned by the guy from "From Dusk Till Dawn." But the cauliflower tacos from Trejo's Tacos, the Hollywood taqueria from actor Danny Trejo, were deeply addictive — so much so that their healthful composition was not so much a motive as a happy justification for consuming so many of them. Roasted cauliflower combines with grilled corn, pickled red onions, a cream built not with dairy but with nuts, and of course tortillas, to make a surprisingly complex and deeply flavorful dish — and not a bad vehicle for the actor's line of hot sauce.
Roasted rainbow cauliflower tacos recipe »
Roasted apple ice cream
We make many versions of ice cream during the course of a year, so it's sometimes easier than it should be to take our stocked freezer for granted. But when we made pastry chef Roxana Jullapat's roasted apple ice cream, the traffic into the kitchen was noticeably brisker than normal, and for good reason. Jullapat, whose Friends & Family bakery and restaurant in East Hollywood includes an ice cream menu, caramelizes the fruit with brown sugar and cinnamon, then makes a jam of it that goes into a custard base dosed with sour cream. Right. It was remarkable stuff, redolent of autumn harvests, the kind of ice cream that requires nothing to pair it with, other than an extra large spoon.
Roasted apple ice cream recipe »
ALSO:
Recipes ready in 30 minutes or less
Time to reset: Delicious recipes with less than 500 calories
Browse our Recipe Database for thousands of our best recipes
Get our L.A. Goes Out newsletter, with the week's best events, to help you explore and experience our city.
You may occasionally receive promotional content from the Los Angeles Times.