Jonathan Gold, the cook: Favorite recipes from our Restaurant Critic
Perhaps no one knew the restaurant scene in Los Angeles quite as well as our own restaurant critic, Jonathan Gold. From Michelin-starred white-tablecloth establishments to tiny strip-mall favorites, it was all about the food for Jonathan — well, the food, the hands that make it, and the way it nurtures and reflects the community surrounding it. Reading a Jonathan Gold review didn't just make you hungry, it was a master's study in gastronomy and cultural anthropology.
But as much as he appreciated the chefs and establishments that define the culinary landscape of Los Angeles and Southern California, Jonathan also loved to cook. I can't count all the times we discussed various recipes we'd made in the Los Angeles Times Test Kitchen, or argued over the best cut of meat to use for a steak or the various ways we might execute a particular dish (Jonathan was very particular when it came to making fried chicken). The primary cook in his family, Jonathan would often talk about the dinner he fixed for his kids before going out to eat at a restaurant he was considering for a review, or the inspiration he'd found at the farmers market and how it influenced a weekend's worth of meals. Jonathan also loved entertaining and cooking for the holidays. The recipe Jonathan used for latkes — light, crisp and perfectly-seasoned — is still my go-to favorite.
I'm sure he would argue that one can't write restaurant criticism without having the passion and hands-on experience it takes to be a cook. At the end of the day, Jonathan might have been most at home in the kitchen, pleasing those closest to him with food as he pleased so many of us with his words.
Following are some excerpts from Jonathan's essays over the last few years, along with some of his favorite recipes:
BROWN SUGAR KITCHEN'S CORNMEAL WAFFLES WITH APPLE CIDER SYRUP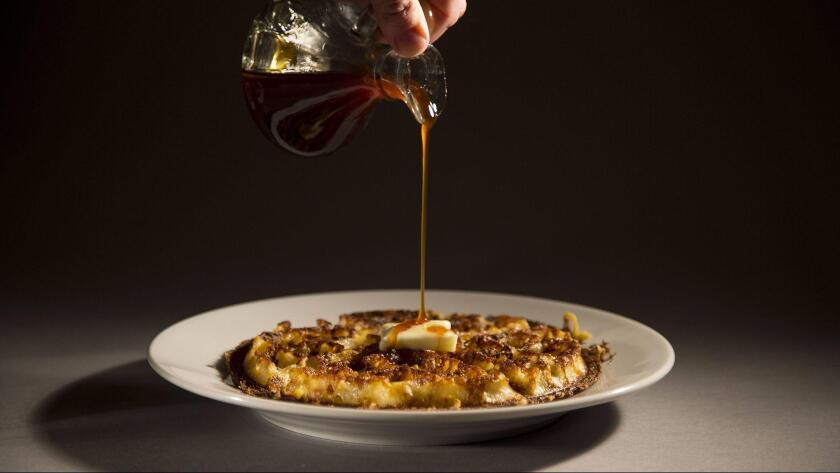 The best waffles commercially available, I am prepared to state, come from Brown Sugar Kitchen, a small, fragrant breakfast diner on Mandela Parkway in West Oakland. The waffles, Tanya Holland's cornmeal-enhanced riff on Marion Cunningham's famous yeasted waffles, are crisp, light and so violently leavened that they threaten to leap from the waffle iron in which they are cooked. If you drive up from Los Angeles about 6 a.m., you can be at Brown Sugar Kitchen by noon. The hour you spend in line on a weekend morning will be the longest hour of your life.
Holland includes a splendid recipe for these waffles in her book "Brown Sugar Kitchen," and it works as well in my battered old waffle iron as it does at the restaurant. You mix the batter the night before, chill it in your refrigerator while you sleep, and stir in a bit of baking soda just before you pour it into your hot iron. (Remember to grease the iron well, or your first waffle will tear into delicious waffly shards when you attempt to lever it out onto a plate.) At the restaurant, Holland serves it with a sticky syrup made from boiled-down cider, but I always end up using Grade B maple syrup instead, because I am lazy and I am a barbarian. They are the best waffles you will ever taste.
You can always tell the cook at a Hanukkah party. Because he or she will be the one whose oniony fragrance can make your tear ducts swell, whose knuckles are scraped raw from the box grater and whose eyes have the glazed look of one who has spent the last two hours hunched over pans of bubbling oil, jiggling spheres of loose batter that threaten at any moment to explode into disfiguring sprays of hot grease.
You are eating hot latkes — potato pancakes — with sour cream and warm, buttery applesauce; drinking red wine; and perhaps watching small children cheat at dreidel games. If you are at certain houses, there will be warm sufganiyot, Hanukkah jelly doughnuts, straight from the fryer, although substituting product straight from the closest Winchell's is not unknown. Perhaps there will be brisket later — we Jews are programmed to make brisket on all festive occasions — although it is not guaranteed. You are happy. We, the cooks, are probably in the kitchen, grumbling through the 13th batch of latkes, but in our way, we are happy too. We don't want you to starve.
I will not be cooking sweet-potato latkes, or latkes with refried beans and caviar, or Paula Wolfert's Gascon potato pancakes stuffed with leeks. I will not sneak cranberries into the applesauce or replace sufganiyot with pumpkin pie. If there is meat, it will be brisket, as the great rabbis intended.
And I will stagger into the dining room, knuckles bloodied, and hand you another platter of latkes. You will eat them until you plotz. This is the bargain we have made.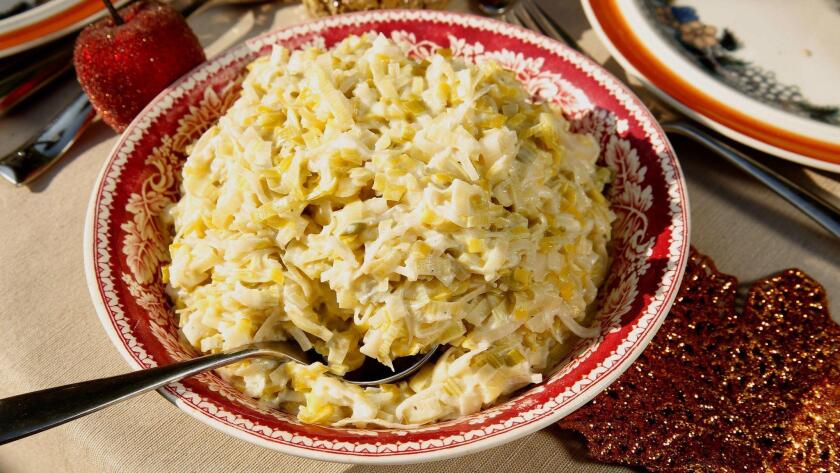 I was making Paula Wolfert's straw potato cakes stuffed with braised leeks for a dinner party one night when the giant pancake, which had always been so reliable, shattered into a dozen pieces when I tried to flip it in the pan. The crisp, brown shards would not go back together. In a panic, I served the stuffing by itself as a side course. And the dish of plain, rich creamed leeks zapped with quite a lot of freshly ground pepper turned out to be more popular with my friends than the more complicated version ever had been. I think the slight sweetness and the autumnal flavor fits perfectly in a Thanksgiving dinner, halfway between a vegetable and a condiment, right in the place where some of my fancy acquaintances like to serve elaborately prepared pearl onions. Some Thanksgivings I like the leeks even more than I do the well-garlicked string beans and the caramelized Brussels sprouts with bacon.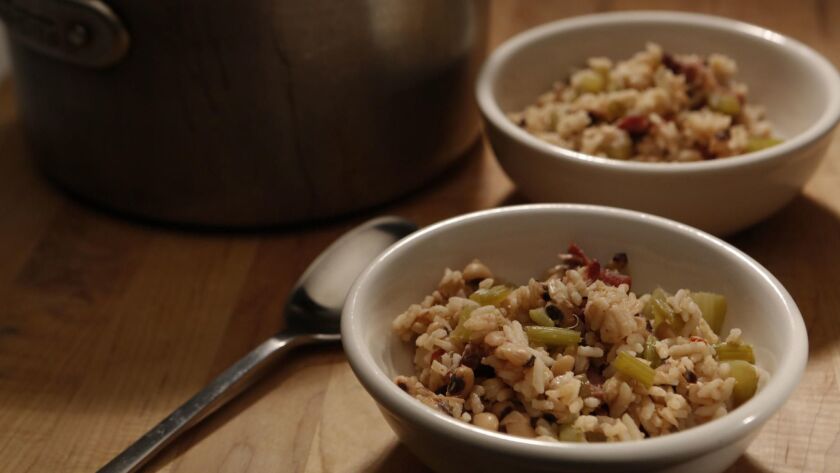 As a cook who is rarely happier than when roasting a huge joint of meat, I tend to measure out my year in holiday feasts, the same meals every year. Christmas dinner means goose; New Year's Eve, rib roast and Yorkshire pudding; Easter, leg of lamb. I sometimes try my hand at odd holidays like Diwali and Nowruz just because — holiday food is always festive and is always an excuse for a party. Christmas Eve tends to revolve around menudo and tamales at my mother-in-law's house, but I yearn to have a go at the Italian Feast of Seven Fishes.
So while I am an Angeleno born and bred, for some reason New Year's Day at my house always means hoppin' John, the starchy stew of black-eyed peas and rice that is the New Year's dish across most of the South, as well as vast pots of collard greens, goose-fat red beans, and the seafood gumbo my friend Jervey makes at my stove. New Year's Day leans Southern. Hoppin' John is the perfect dish for a lazy, gracious open house. It tastes good with either bourbon or Champagne.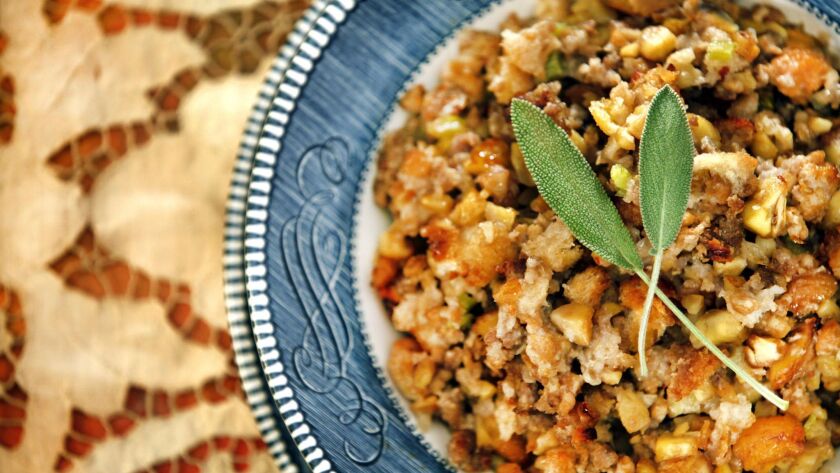 In my house, Thanksgiving starts the second I wake up in the morning and start peeling chestnuts, which is the consummate Thanksgiving activity. On the off chance you have never peeled a chestnut — if somebody has peeled chestnuts for you, they love you very much — you stab a little X in the chestnuts' flat bottoms, you stick them in the oven, and you must take them out to peel while they are hot enough to scorch your fingers or the tough inner skin never quite comes off quite right. The sharp, little edges of shell will prick you. You may have read a million tricks for peeling chestnuts more easily, but I can assure you that none of them works. And when you do finally pry a perfect, steamy, ivory-white chestnut whole from its prison, you end up chopping it anyway. It's tragic, really; the holiday's lash of atonement.
The recipe I use is based on one from Bruce Aidells' "Hot Links and Country Flavors" — a really good cookbook, his first, which collects sausage recipes from across the United States. You simmer the chestnuts in a bit of turkey broth — you have made your turkey broth, haven't you? — you tear a loaf of bread into rough cubes and toast it on a sheet pan in your oven, and you mix the steaming-hot chestnuts into the bread with your hands. Meanwhile, you've been sautéing great heaps of onions, celery and crumbled apple sausage — not the kind made with chicken, but the loose, sagey, sweetly spiced pork apple sausage you can get at Bristol Farms or, better yet, Huntington Meats in the Original Farmers Market. To me, those sausages just smell like Thanksgiving. Then you fold that mixture into the bread and chestnuts, moisten with a little broth, and smooth it into a gratin pan, dot with butter, and bake. You can stuff it into the bird too, if you are of that persuasion, but the turkey cooks more evenly when you don't, and the crispy buttery bits that you get when you cook the stuffing separately are always the best part.
Whenever I think of chestnuts, I think of a story the chef Mark Peel sometimes tells, about the time, right after he started at Ma Maison, when somebody told him that the way to peel chestnuts was to pop them first into a deep-fat fryer. What they forgot to mention is that you have to cut those little Xs in the chestnuts first, to release the steam. Anyone who has ever worked a restaurant line can tell you what happened next. The chestnuts exploded one by one like fragmentation grenades, splashing geysers of boiling oil all over the busy kitchen.
View all our coverage of Jonathan Gold | 1960 – 2018 »
---
Get our weekly Tasting Notes newsletter for reviews, news and more.
You may occasionally receive promotional content from the Los Angeles Times.