Grilling your desserts (brownies!) with pastry chef Valerie Gordon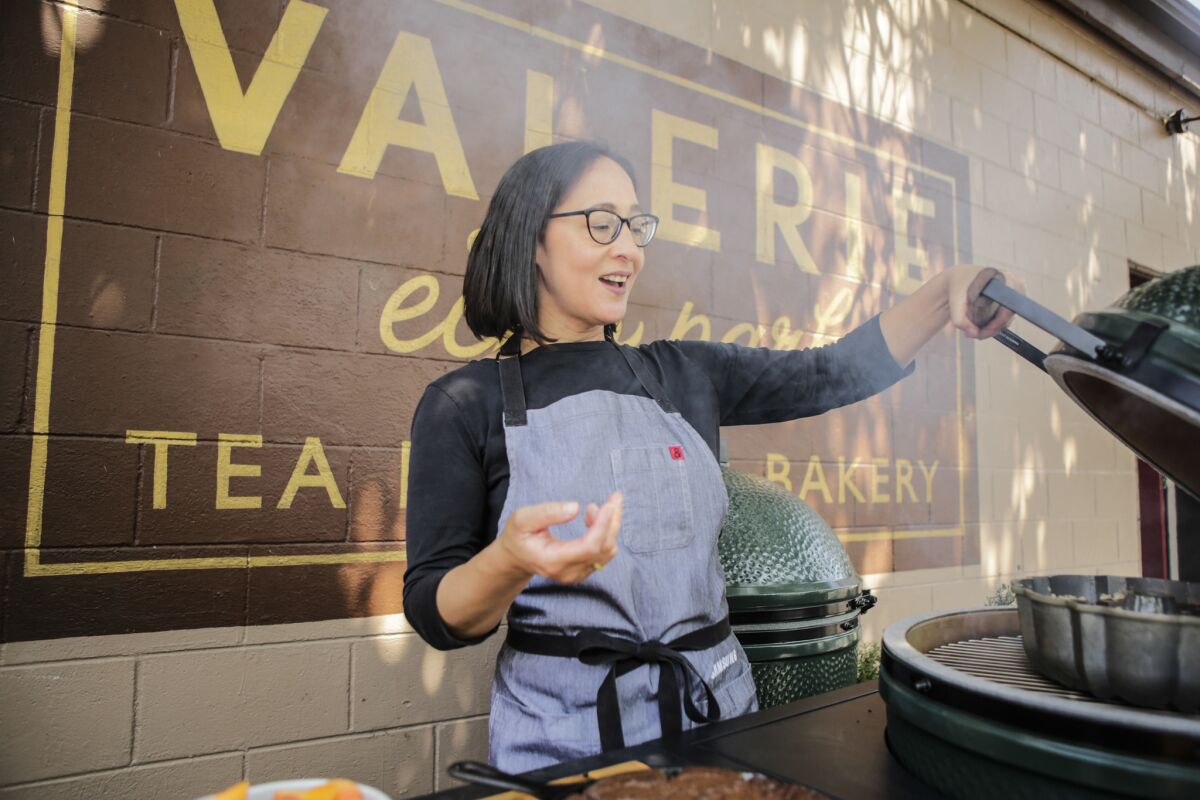 "Here we are! Here we are!" Valerie Gordon peers out the driver's side window of her car at a small house on a residential street not far from the 101 freeway in Sherman Oaks. "This is it, right here," she says .
Gordon, a James Beard Award finalist for baking and desserts, cookbook author and local chocolatier, spends most of her time running her dessert company, Valerie Confections. But when she's not overseeing petit four production or operations of one of her several bakeries and cafés (her fourth is set to open in Woodland Hills in the fall), she might be found stalking some of L.A.'s best underground barbecue.
"You've got to DM them." says Gordon. Whether it's ribs on a Westlake front lawn or brisket sold out of an unmarked backyard in the San Fernando Valley, L.A. is home to some excellent underground barbecue. DM (direct message) through the Instagram app is the only way to get in touch with some of these local off-the-grid pit-masters. The app is also how Gordon found out about them.
"Burt, did you pull an all nighter?" she asks as she hurries towards a submarine-sized smoker parked in the backyard of the house. A tired-looking man wearing a hat that reads "brisket" is busy stuffing its front end with firewood. The man is Burt Bakman, the self-taught pit-master behind the Trudy's Barbecue pop-up, known for his hard-to-get but worth-the-effort smoked brisket. Though he's been selling it exclusively from backyard locations to select followers for the past few years, Bakman is partnering with H.Wood Group (The Nice Guy, Delilah) to open a bricks-and-mortar called SLAB on West 3rd Street later this year. Inside the smoker, dozens of ribs and briskets, wrapped in brown paper, have been smoking for over 12 hours.
"I had reached out to Burt several times to go, 'Hey, how can I get your barbecue?'" says Gordon. "I literally pulled my kids out of swim class and we jumped in the car and ran over to his house in Studio City to pick up the brisket. And then I was on his list," she grins.
Recipe: Gluten-free skillet brownies »
Bakman, equipped with thick black gloves, lifts the door to the giant smoker, removes an enormous piece of meat and places it on the carving board. "It undulates!" Gordon exclaims, admiring the brisket's fatty jiggle. "There's reverb to his brisket and then when he slices it, it's like life is coming off the meat."
"It's not life," says Burt. "It's my spirit that has been up for 48 hours or so. That's what you see levitating away."
Later that day, on the hunt for more barbecue, Gordon walks a few blocks from her flagship boutique in Westlake to Ragtop Fern's for her favorite pork ribs. There, UPS-driver turned pit-master Fernando Carrillo, has been smoking and selling meat on his front lawn to devoted fans and passersby since June of 2016. "Can we look inside Lucifer?" Gordon asks, referring to the enormous hand-welded black vertical smoker parked on the sidewalk outside of his apartment complex.
"I saw Lucifer on Instagram somewhere and I could tell it was really nearby and I was like, 'Where the hell is this thing?'" says Gordon. "So I was going up and down the streets looking for it and then I found him."
Gordon's interest in barbecue began in Texas while on tour for her cookbook "Sweet" in 2013. "The thing that really drew me in was the level of community and ritual around barbecue," says Gordon, who visited as many barbecue restaurants as she could between appearances. "The regionality of it, the cooking process, the community that happens universally around open flame food is really interesting to me. As a chocolatier and pastry chef, I like the process as much as the outcome with chocolate bars or a rustic strawberry pie."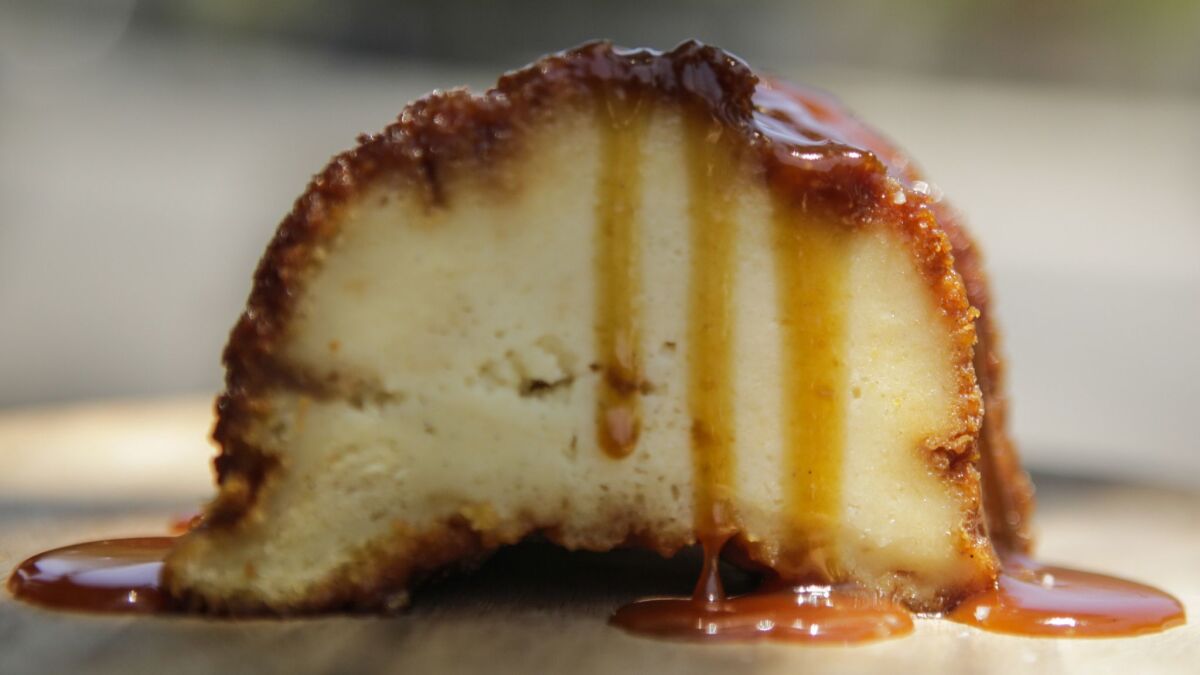 Recipe: Salted caramel bread pudding »
This fixation on barbecue inspired Gordon to explore her specialty, desserts, on the grill. She was recently asked to make desserts for the guest chef-lead barbecue demo and dinners known as BBQ Bootcamp at Alisal Guest Ranch in Solvang, Calif. She agreed to participate — but only if she could make her sweets over a fire.
"I've been coveting this experience that people are having over the open flame and working with the grill and manipulating temperature conditions to get these really unique flavors that you only get from a barbecue," says Gordon. "Because when you cook a bread pudding in an oven, it tastes so different than how it tastes off of a grill."
When Gordon began researching grilled desserts, she found the options limited. Grilled peaches and pineapple seemed to be the extent of it. Then she began testing recipes and found that a grill can be used just like an oven. "It's an outdoor, old fashioned oven," says Gordon. "Once you're getting a correct gauge on your heat and you put a lid on, you're containing and holding the temperature." Gordon has found that liquid or custard based desserts along with high fat ratio cakes work best.
Back at her Echo Park café, Gordon is living out her own smoker fantasy. "There's something really gorgeous and really fancy-feeling about a clafoutis," she says while gracefully pouring its custardy batter into a cast-iron skillet on her sidewalk grill. "But it's the easiest dessert you could possibly make."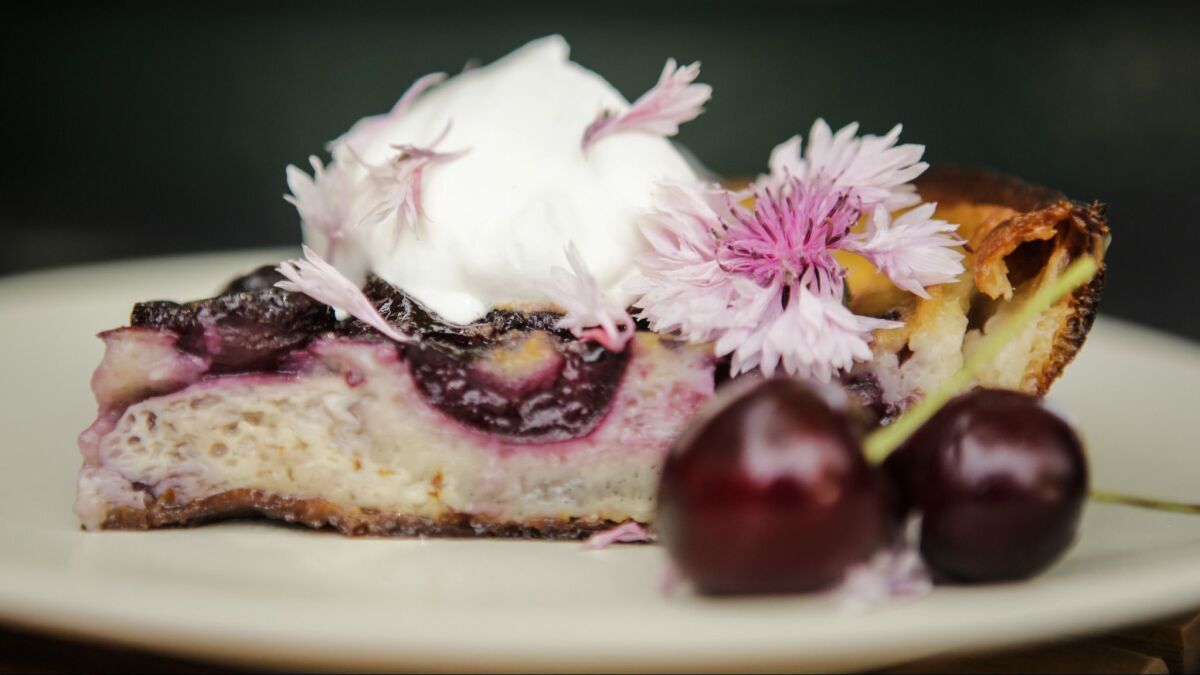 "It bakes up like a huge, puffy, golden brown fruity pancake. It's delicious and when you cut into it, it's custardy." She places cut cherries into the batter and watches as the heat from the grill envelopes the fruit into the custard. The resulting clafoutis has a wonderful golden brown crust and a soft custardy middle infused with the smokiness from Gordon's Big Green Egg grill.
"OK this is a properly buttered skillet," she holds a cast-iron skillet slathered in a thick layer of salted French butter in preparation for brownies. They come off the grill with a thick charred crust, soft chewy center and a subtle smokey aroma and flavor. It's similar, she happily points out, to the perfect texture of Bakman's brisket.
Starting in mid July, a rotation of Valerie's grilled desserts will be available on Saturdays and Sundays at her Echo Park location. She will integrate grilled savory brunch specials into the menu later this summer.
"Once you get that barbecue bug, you can't turn it off," she says. "It's just there."
Valerie Echo Park,1665 Echo Park Ave., Los Angeles, valerieconfections.com, (213) 250-9365
Trudy's Underground Barbecue; @trudys_underground_barbecue
Ragtop Fern's BBQ, 120 S. Westmoreland Ave., Los Angeles; @ragtopfernsbbq
Moo's Craft Barbecue; MoosCraftBarbecue.com, @mooscraftbarbecue
---
Get our weekly Tasting Notes newsletter for reviews, news and more.
You may occasionally receive promotional content from the Los Angeles Times.