Cookbook of the Week: 'Tartine All Day' from Elisabeth Prueitt, the co-founder of Tartine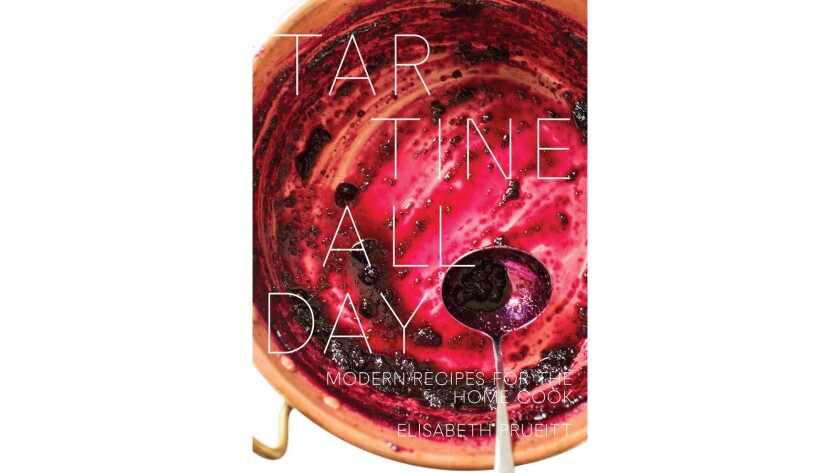 You can tell a lot about a cookbook by its first and its last recipe. Like a long meal, the first thing you're given to eat can determine your dining experience, and your last mouthful is often what you remember, regardless of what came before it. The first recipe of Elisabeth Prueitt's new cookbook, "Tartine All Day: Modern Recipes for the Home Cook," is a simple gremolata (three ingredients, including the pinch of salt; four lines of directions). And the last: marshmallows.
In between there are about 200 more recipes and well over 300 pages from Prueitt, the co-founder, with her husband, Chad Robertson, of Tartine Bakery in San Francisco, as well as tips and menus and pretty pictures. But if you think about it, those two recipes are just about right. The gremolata is simple, classic, deeply flavorful, crazy fresh. The marshmallows are playful, silly yet technically proficient, perfect for an award-winning pastry chef and the mother of a 9-year-old daughter — Prueitt is both. One recipe takes a visit to a farmers market, or maybe just the bottom of the refrigerator, and a little knifework. The other requires a candy thermometer and sugar-cooking, copious whipping of egg whites and some fancy pastry chef flavorings. Both recipes work perfectly; both you can make and make again, fitting them into dozens of meals. Or you just read about them (appetizer, mignardise) and go straight to the everyday portion of the program, the pages and pages of stuff you'll want to make tonight for dinner. Cheesy garlic bread. Spatchcocked chicken. Apple pie.
What makes this book interesting is that it's not only a window into a James Beard Award-winning pastry chef's own counter space, but it also functions as a kind of mid-career coda. Tartine Bakery is 15 years old (it's become a San Francisco institution); the cookbook that was born from that bakery, Prueitt's "Tartine," came out in 2013, and has become a staple on most bakers' shelves. Last summer, Prueitt and Robertson opened Tartine Manufactory, a 5,000-square-foot restaurant, ice cream shop, bakery and coffee shop in San Francisco; they're opening a second Manufactory in downtown Los Angeles this year. If you're a Tartine fan, as many of us are, "Tartine All Day" is a way to experience some of Prueitt's recipes without having to wait in line at her restaurants.
Recipe: Spatchcocked roasted chicken »
As befits a fairly traditional cookbook, the recipes are divided into the expected chapters: breakfast and brunch, soups, mains, etc. There are lovely, if too few, photos by Paige Green, and lots of handy narrative, headnotes and menus — likely with the help of Prueitt's coauthors, Jessica Washburn and Maria Zizka. Those recipes, as Prueitt points out in her book's chatty introduction, are formatted — as are "The Joy of Cooking" and "Mastering the Art of French Cooking" — with the ingredients and instructions side by side. It's a smart conceit, as it not only visually aligns her with those two classics, but it makes the book feel even more workmanlike and pragmatic than it does already: It's a cook's book, a family book, a home kitchen book.
That said, it isn't really a book for beginners. Many of the recipes assume kitchen knowledge and a serious pantry, filled with specialty ingredients. An excellent blueberry cobbler, for example, requires brown and white rice flour, oat flour, arrowroot starch and kefir. If, however, you're gluten intolerant, as Prueitt is, these specialty ingredients are likely what you already have in your pantry — and this book is exactly the family cookbook you'll want.
Elisabeth Prueitt will be at the Festival of Books »
Cookbook of the Week: "Tartine All Day: Modern Recipes for the Home Cook," by Elisabeth Prueitt (Lorena Jones Books, an imprint of Ten Speed Press, $40)