The definitive guide to Los Angeles doughnut shops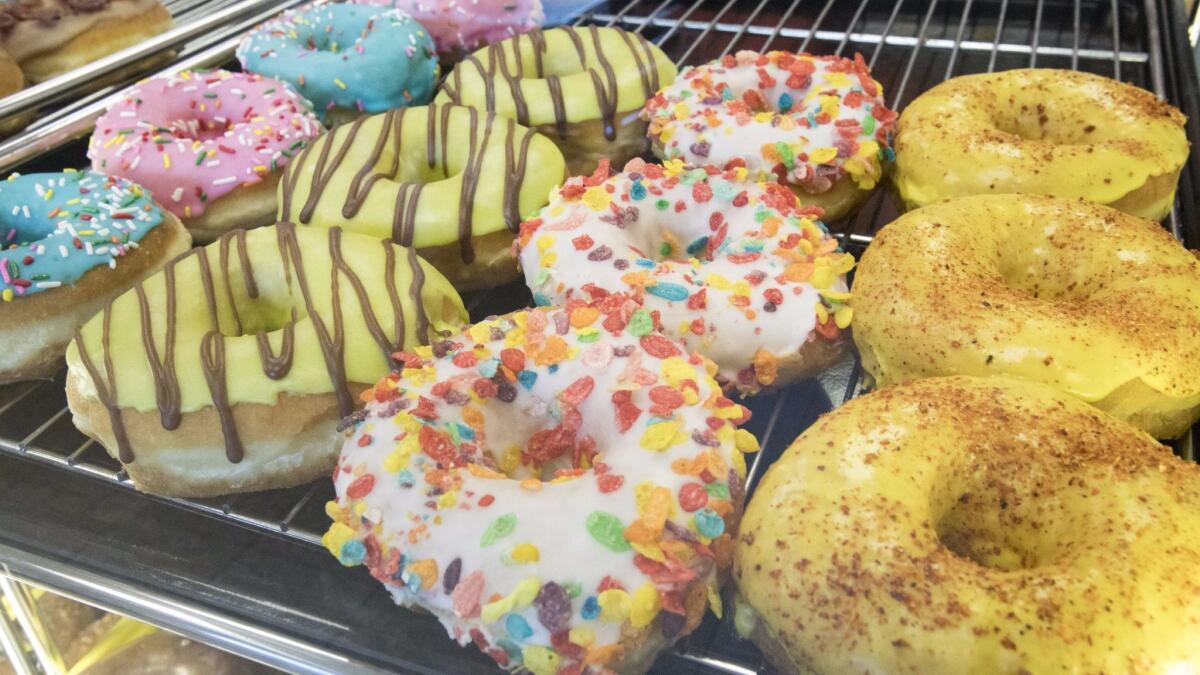 The glow of fluorescent lights, sticky primary-colored Formica, coffee in a glass carafe, Pepto Bismol-colored boxes and a bakery case full of glazed, twisted, frosted doughnuts. There's something nostalgic about a doughnut shop, whether it's a big chain, a trendy newcomer with a fancy font and gluten-free doughnuts, or a mom-and-pop shop in a strip mall.
Drive down any neighborhood in Los Angeles and you're going to pass more than a few choices. We scoured the city, eating too many doughnuts to count at those sticky Formica tables. Here's a guide to 29 of the best doughnut shops in the city (we intentionally left out the big chains: Dunkin' Donuts, Winchell's, Krispy Kreme, Spudnuts), from Long Beach to Venice Beach, in alphabetical order:
Astro Doughnuts & Fried Chicken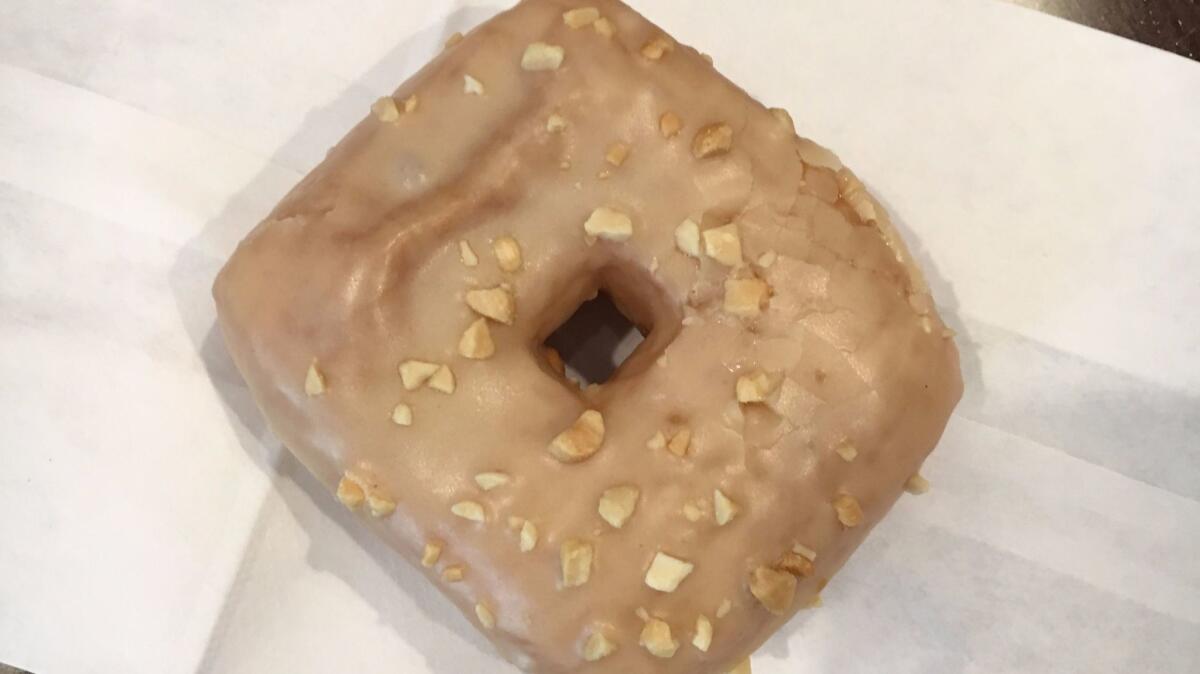 The shop: The D.C.-based company opened its first Los Angeles shop downtown in April. Co-founders Jeff Halpern and Elliot Spaisman teamed with Art Levitt (founding president and CEO of Fandango and president of Hard Rock Cafe) for the new location. Astro is known for its less-than-traditional doughnuts, classic fried chicken and doughnut fried chicken sandwiches.
Must-order doughnut: The crème brûlée or the PB&J doughnuts (both $3.50). The crème brûlée is a yeast-raised doughnut filled with pastry cream, glazed with vanilla, dusted with sugar then torched until the top resembles the best part of a crème brûlée. The PB&J doughnut is filled with strawberry jam, topped with a peanut butter glaze and chopped, toasted peanuts.
Coffee: Astro pours Corsica coffee from La Colombe Coffee Roasters and nitro cold brew and cold brew from LA Mill Coffee.
516 W 6th St., Los Angeles, (213) 622-7876, astrodoughnuts.com.
Birdies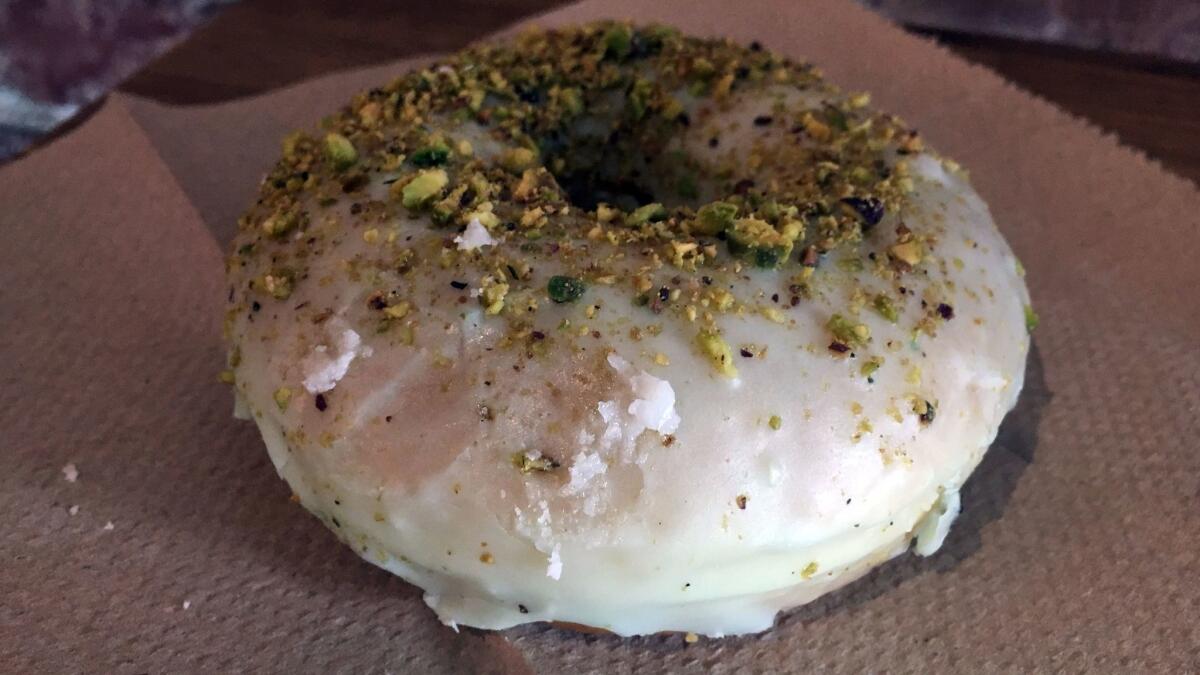 The shop: Chef-owner Jason Harley closed his fried chicken restaurant Mabel's, and replaced it with Birdies, a doughnut and fried chicken shop, in March. The display case is full of creative takes on doughnuts, such as the horchata twist and the cinnamon toast crunch doughnut, which actually has a texture that resembles cereal in milk. And in the back, they're making fried chicken sandwiches and wings.
Must-order doughnut: The lemon thyme pistachio ($3.25). It's a fluffy yeast-raised doughnut with a tart lemon glaze, crumbled pistachios and thyme. The flavor combination is unexpected and well, refreshing, with a vibrant citrus flavor punctuated by hints of thyme.
Coffee: All of the drinks at the coffee bar are made with Intelligentsia coffee.
Open 24 hours Friday and Saturday. 314 W Olympic Blvd., Los Angeles, (213) 536-5714, birdiesla.com.
Blinkie's Donuts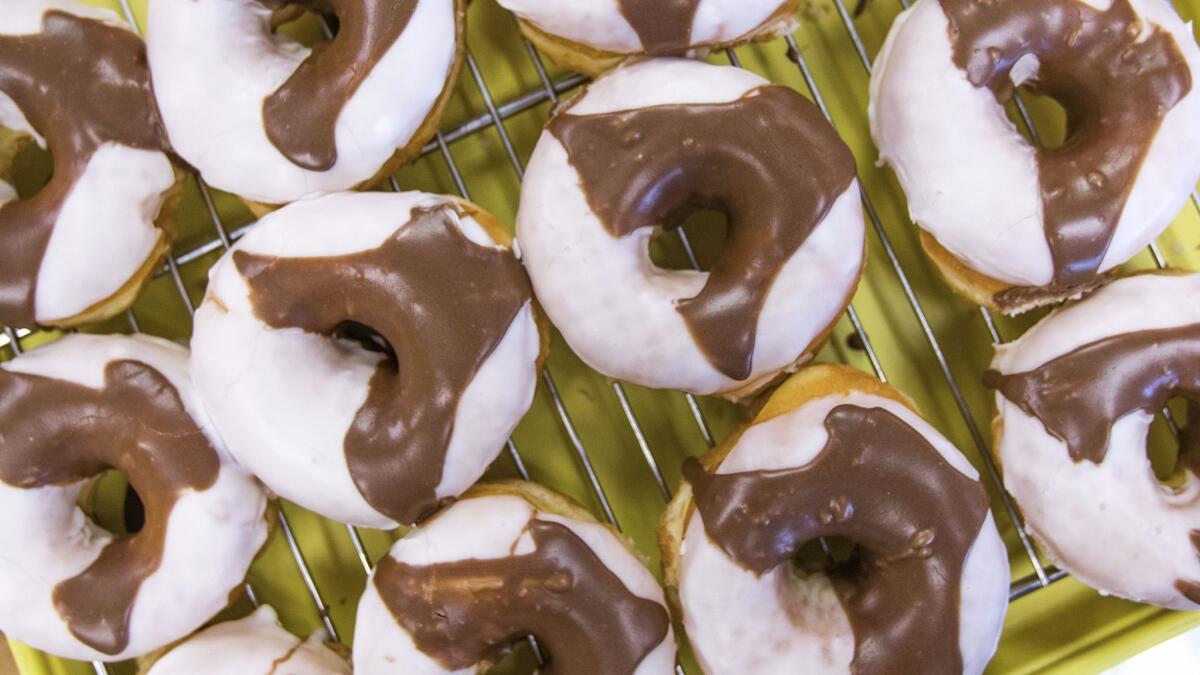 The shop: In a strip mall on Topanga Canyon Boulevard in Woodland Hills, the shop has been around since the '50s, but current owner Teresa Ngo took over in 2002. It's so popular with locals that Ngo often runs out of doughnuts well before the daily noon closing time. Ngo's father Hugh, along with another baker, make the doughnuts. They have the classics, as well as more creative varieties including mango and Tajin and a Cookie Monster doughnut with blue frosting and mini chocolate chip cookies.
Must-order doughnut: The black-and-white doughnut ($1.30). Ngo says she created the yeast-raised doughnut to satisfy customers who couldn't decide between chocolate or vanilla glaze. She uses six different types of chocolate to create the chocolate portion of the doughnut, which is haphazardly topped with a zigzag of chocolate and vanilla glazes. It's basically a way-better version of the classic black-and-white cookie.
Coffee: Ngo serves a medium roast from Farmer Brothers.
4884 Topanga Canyon Blvd., Woodland Hills, (818) 884-4456, www.blinkiesdonuts.com.
Blue Star Donuts
The shop: The doughnut shop was started in Portland, Ore., in 2012 and opened its first California location on Abbot Kinney Boulevard in Venice in 2015. Another opened in Manhattan Beach in January. The shop is known for its brioche-style doughnuts, which are fried in rice oil.
Must-order doughnut: After you get over the Mimosa doughnut (made with sparkling wine and an orange-scented glaze), try the hard apple cider fritter ($4.50). It's made with Granny Smith apples, a glaze made with hard cider, and has a distinct bite from coriander and cinnamon.
Coffee: Both the Venice and Manhattan Beach locations serve Stumptown hot and cold brew coffee.
Multiple locations, www.bluestardonuts.com
Bob's Coffee and Doughnuts
The shop: Bob Tusquellas, who also owns Tusquellas Seafood in the Original Farmers Market, bought the shop in 1970. Bob's is a popular stop at the Original Farmers Market, known for plain cake doughnuts so popular they usually run out in the morning. Regulars may have also noticed over the years that the doughnuts on display rarely match up with the labels below them.
Must-order doughnut: The chocolate glazed ($1.55). It's a classic yeast-raised doughnut done well. The dough is soft with a bit of chew, and the chocolate glaze on top is just sweet enough, with a rich chocolate flavor.
Coffee: All of the coffee drinks are made with Pasquini coffee. You can also order a hot chocolate.
6333 W. 3rd St. #450, Los Angeles, (323) 933-8929, www.bobscoffeeanddoughnuts.com.
California Donuts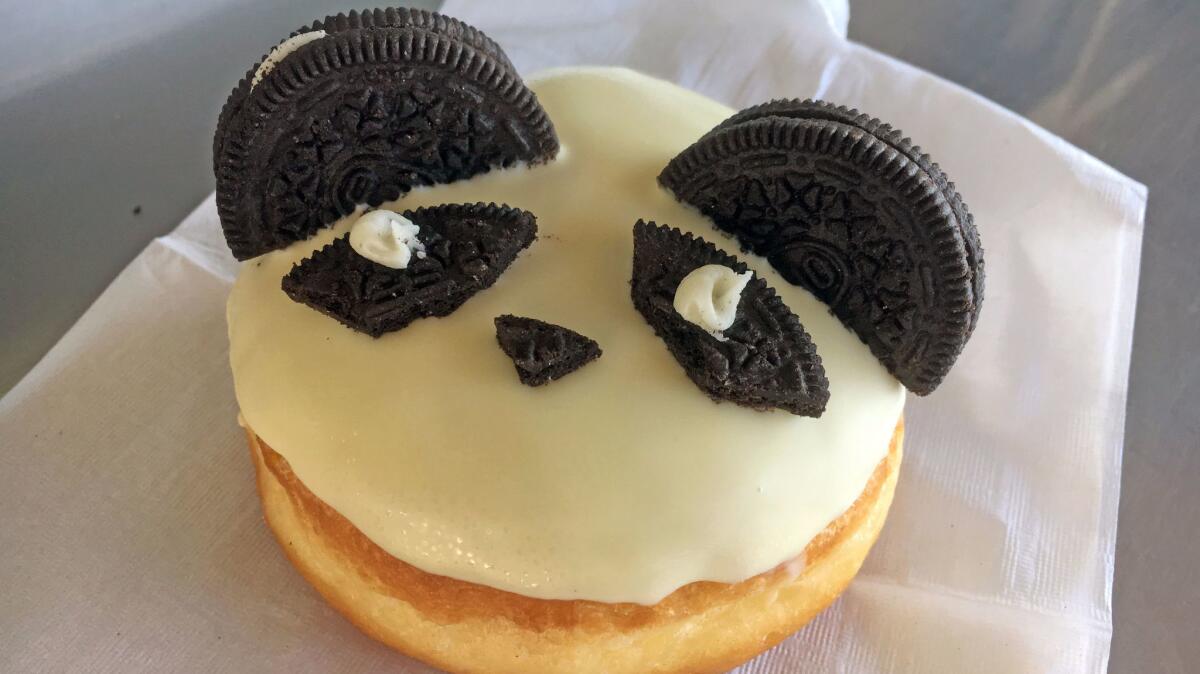 The shop: The family-owned shop has been on the corner of 3rd Street and New Hampshire Avenue in Los Angeles for more than 30 years, and it serves some of the most colorful doughnuts in the city. This is where you will find doughnuts topped with pastel marshmallows and breakfast cereal, rainbow candies and purple glaze.
Must-order doughnut: It's almost impossible not to order the panda doughnut ($3). The yeast-raisted doughnut is topped with a white chocolate glaze and bits of Oreo cookie strategically placed to make the doughnut resemble a panda. Yes, it's highly Instagrammable. It's also an excellent doughnut.
Coffee: House coffee and espresso are from Espresso Republic. You can also order strawberry lemonade and smoothies.
Open 24 hours. 3540 W. 3rd St., Los Angeles, (213) 385-3318, www.cadonuts.com.
Cofax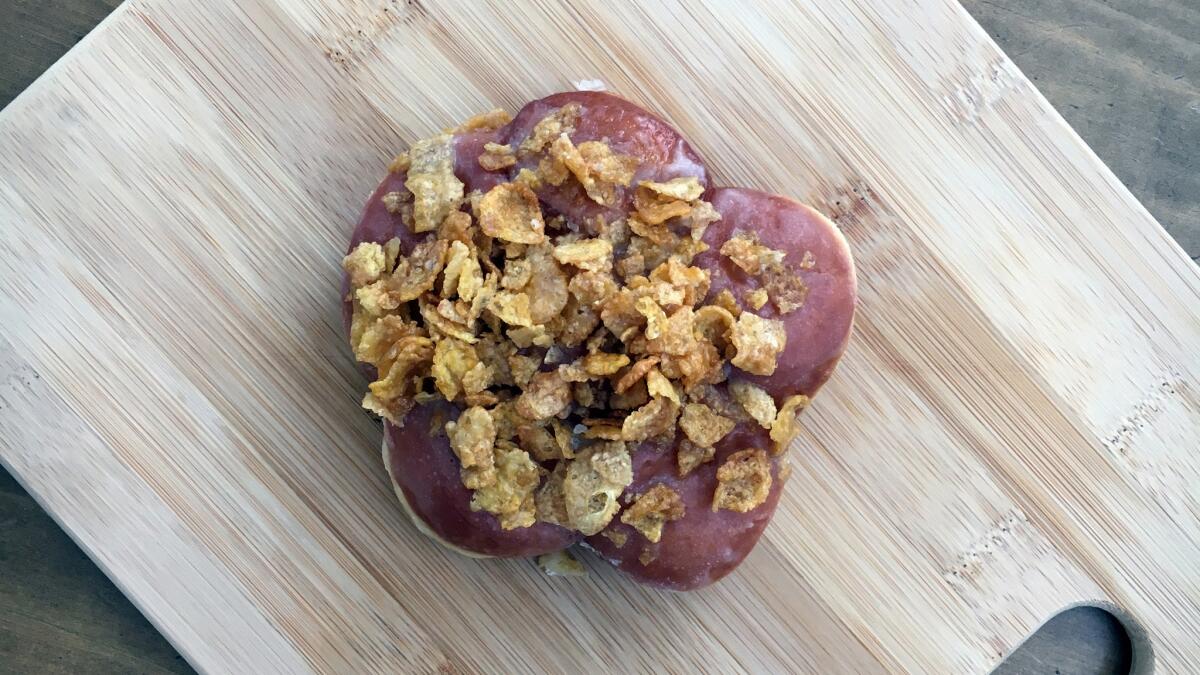 The shop: The team behind the Golden State restaurant on Fairfax Avenue opened this doughnut and coffee shop in 2014, just up the street. It's known as much for its breakfast burritos as it is for its doughnuts, made by pastry chef Nicole Rucker. You'll want to come early for a couple of reasons: Real estate is tight, so you'll need to snag a seat by the window. They also run out of doughnuts early on.
Must-order doughnut: The cornflake doughnut ($3.50). For those who tend to be indecisive when it comes to breakfast, this yeast-raised doughnut combines a classic glazed doughnut with crunchy cornflakes cereal and sweet syrup. Rucker's doughnut has an almost supernatural fluffiness to it that bounces back when you take a bite.
Coffee: Coffee bar drinks are made with Stumptown coffee or Ruby Colorful Coffees. There's also kombucha on draft.
440 N. Fairfax Ave., Los Angeles, (323) 424-7485, www.cofaxcoffee.com.
Colorado Donuts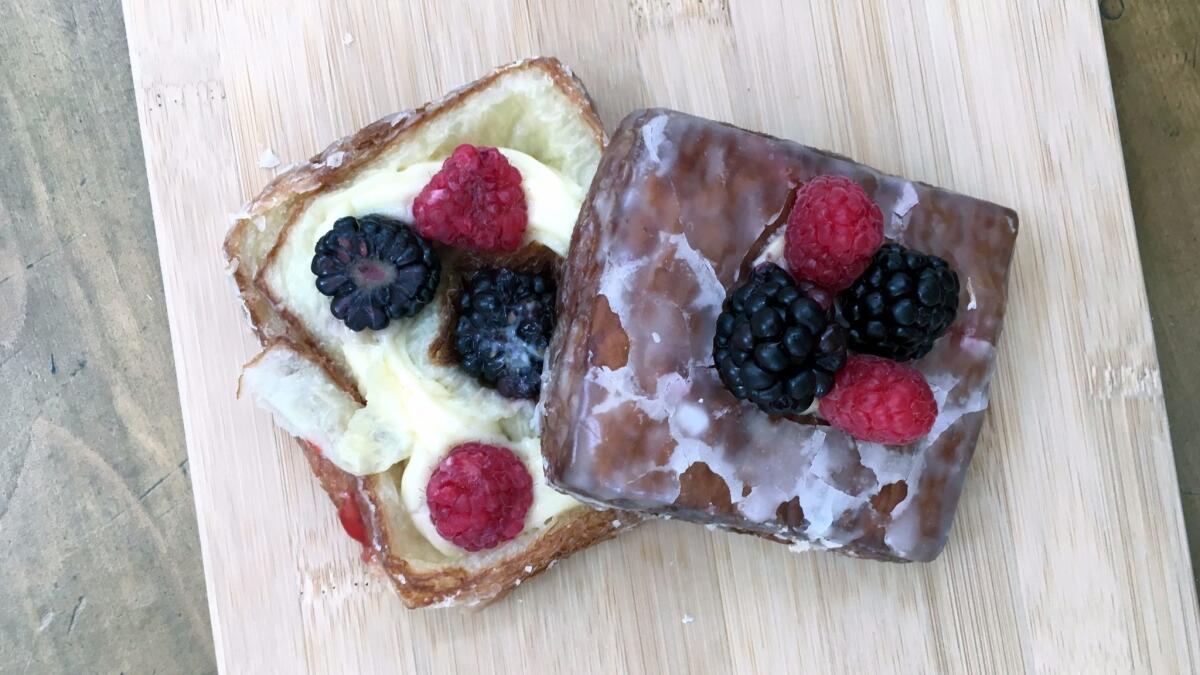 The shop: This Eagle Rock doughnut shop has been open since 1994. Its specialty: wacky, colorful, themed doughnuts. Over the years the shop has made doughnuts look like "Minions," Elmo and "Star Wars" characters, plus cats, Spiderman, rainbows, Thanksgiving turkeys, the Grinch and bears. It even has a doughnut pie, shaped and decorated to look like a pepperoni pizza.
Must-try doughnut: Order the doughnut characters to Instagram, but don't miss the custard and berries croissant doughnut ($3.50). It's the shop's version of Dominique Ansel's famous Cronut doughnut-croissant hybrid pastry, only the one at Colorado Donuts is shaped like a square, split open and used to sandwich sweet custard and berries.
Coffee: The hot coffee is from Lingle Bros. You can also order ice-blended drinks and boba milk tea.
#14, 1578 Colorado Blvd., Eagle Rock, (323) 340-1962.
Dad's Donuts and Bakery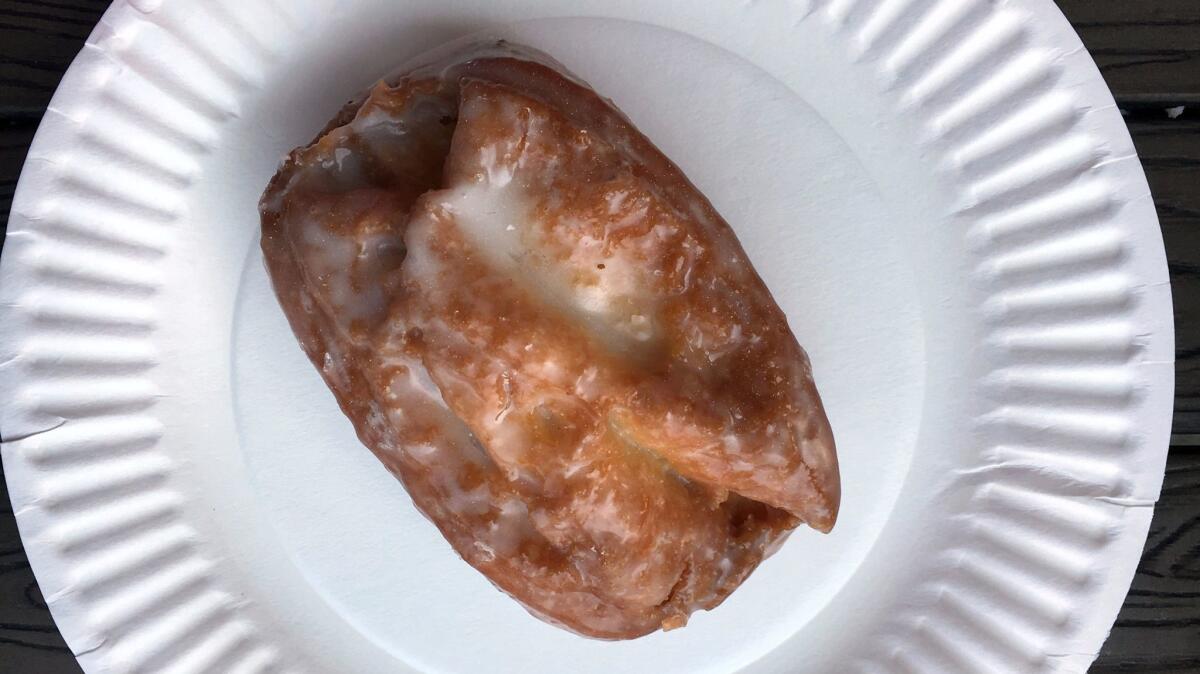 The shop: Cambodian immigrant Jenny Bu has owned the Burbank doughnut shop, located just west of the Costco, for 32 years. It's a casual, no-frills shop in a strip mall where regardless of the time of day you'll likely find an elderly man sitting at a table, finishing his coffee, holding a scratcher over a paper plate of doughnut crumbs.
Must-try doughnut: This shop makes some of the most consistently good doughnuts in L.A. County. Maple bar, chocolate glaze, glazed twist, cake with rainbow sprinkles? They are all solid. But its best doughnut may be the buttermilk bar ($1.30). The glaze creates a crunchy crust on top of the doughnut, and the dough has that familiar buttermilk tang, only more pronounced and addictive than any other shop's version. It's worth calling ahead to see when you can snag a warm one.
Coffee: Dad's is pouring Farmer Bros. coffee. You can also order smoothies and "freeze" drinks (ice-blended drinks) with boba.
2501 W. Victory Blvd., Burbank, (818) 841-1910.
Daily Donuts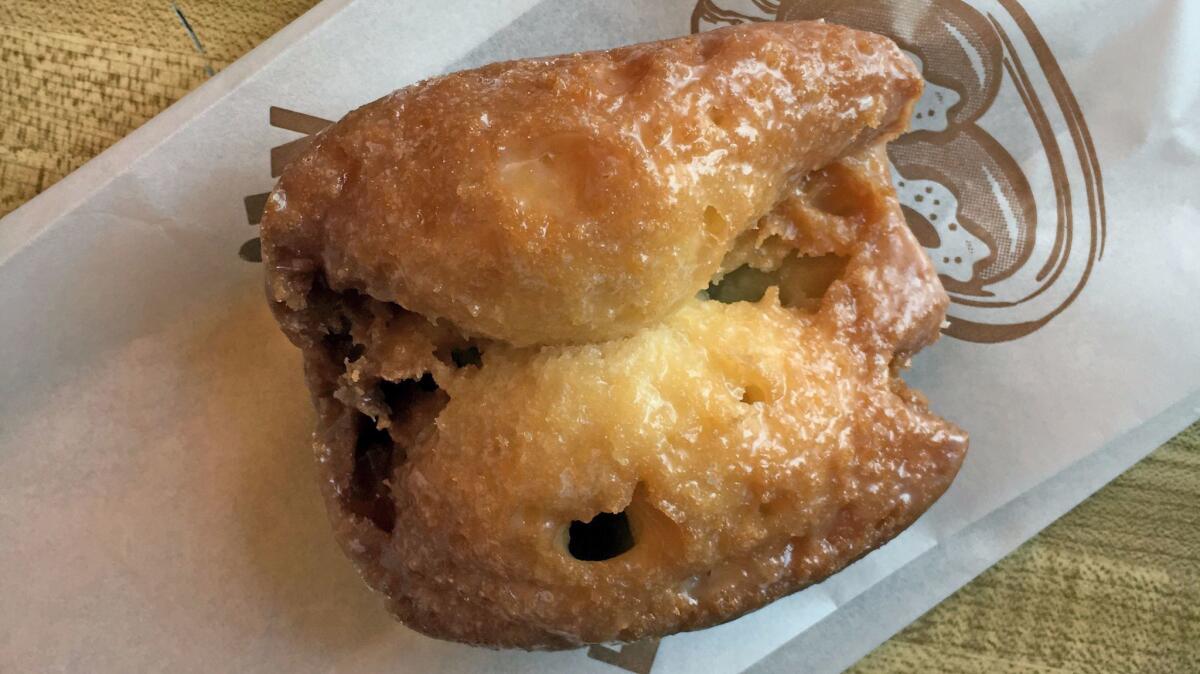 The shop: This may be a chain, but owners Lynn and Now Lay have a uniquely L.A. story. They fled Cambodia's Khmer Rouge in 1980, settled in Los Angeles with extended family and opened the Los Feliz doughnut shop on the corner of Hillhurst and Franklin avenues six years later. It's a true neighborhood doughnut shop with all the classic doughnuts, croissant sandwiches and bagels, pink boxes, saran-wrapped muffins in the display case and regulars who sit at the red booths for hours.
Must-try doughnut: The buttermilk bar (90 cents). This is as good as they come, with a dense, rich buttermilk flavor and a sweet, crunchy glaze.
Coffee: The coffee bar drinks are made with Gaviña Coffee.
1908 Hillhurst Ave, Los Angeles, (323) 665-5043.
DK's Donuts
The shop: If you go in the morning (go in the morning), the case is packed tightly with every doughnut flavor you can imagine, including a section devoted to purple ube doughnuts. Lee and Kong Tao, two Khmer refugees, opened the shop in 1980. They passed down the shop to their son and daughter, Sean and Mayly, in 2005. This was one of the first L.A. doughnut shops to do its own versions of the Cronut: The one at DK's is called the Double Decker O-Nuts. The shop also serves breakfast burritos, sandwiches and bagels.
Must-try doughnut: The ube doughnut ($2.25). It's a crumb cake doughnut made with ube purple yam, which gives it a distinct color and starchy texture. It's topped with purple cream cheese and purple crumbs. It's less sweet than your average cake doughnut but with an almost savory quality from the ube. It goes especially well with a cup of coffee.
Coffee: DK's serves Gaviña Coffee, Vietnamese iced coffee and smoothies.
1614 Santa Monica Blvd., Santa Monica, (310) 829-2512, www.dksdonuts.com.
Donut Farm
The shop: Located in a weathered shopping center on Sunset Boulevard, this Silver Lake doughnut shop serves 100% vegan, organic doughnuts. The company, started by San Francisco resident Josh Levine in 2007, has outlets in San Francisco, Oakland and Berkeley. He opened the Los Angeles location in 2015.
Must-try doughnut: The Philz Coffee doughnut ($4.50). The cake doughnut looks more like a blob than a doughnut, a haphazardly-shaped piece of fried dough that's on the heavier side, with a dense, stick-to-the-roof-of-your-mouth texture. The glaze on top is made with Philz coffee and offers a strong, bitter coffee flavor.
Coffee: The drinks from the vegan coffee bar are made with McLaughlin Coffee.
2609 Sunset Blvd., Los Angeles, (213) 788-7549, www.vegandonut.farm.
Donut Friend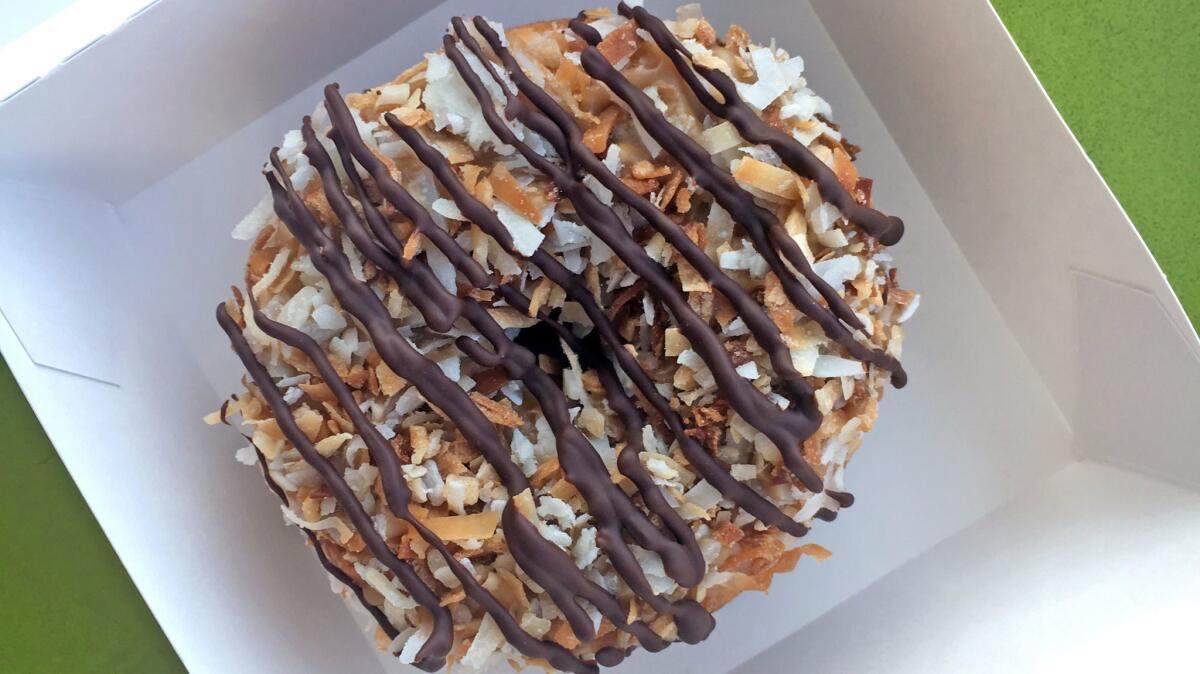 The shop: Musician and record producer Mark Trombino opened the shop in 2013 on a stretch of York Boulevard a couple of doors down from the Hermosillo bar in Highland Park. All of the doughnuts are vegan, including the "bacon" 182 doughnut topped with toasted coconut. It has a long list of pre-made creations, or you can order a DIY doughnut and pick your own fillings and toppings, such as fresh fruit, jams, non-dairy ice cream and candy.
Must-order doughnuts: The Strawberry So Far ($2.50) or the Angry Samoa ($3). The first is a raised doughnut covered in a strawberry glaze with a strawberry on top. The latter is a take on the popular Girl Scouts cookie, made with a vanilla cake doughnut. The bottom is dipped in chocolate and the top is covered in caramel, toasted coconut and chocolate stripes. Yes, it's way better than the cookie.
Coffee: Coffee and espresso from Sightglass Coffee. Non-vegan milks are available for coffee drinks.
5107 York Blvd., Los Angeles, (213) 995-6191, donutfriend.com.
The Donut Hole
The shop: This architectural landmark in La Puente was built in 1968 and features two fiberglass doughnuts with a driveway through the middle. You can walk up to the side window and order your doughnuts, but it's more fun to drive through.
Must-order doughnuts: The Texas doughnut ($6.50) and the doughnut holes ($1.50). The Texas doughnut is the size of a frisbee and big enough to feed at least four people. It's also a good doughnut, made with a light yeasted dough and just the right amount of glaze. And can you really drive through a giant doughnut called the Donut Hole and not order the doughnut holes? They come in a paper boat, completely covered in a sugary glaze and rainbow sprinkles.
Coffee: The shop pours Lingle Bros. coffee.
15300 Amar Road, La Puente, (626) 968-2912.
Downtown Donuts
The shop: Owner Les Goodwin opened his shop in the Spring Arcade building last spring. It's a small doughnut shop offering the traditional glazed, twists and fritters. It's also one of the few shops that did not attempt to re-create the Cronut, and that's a good thing.
Must-try doughnut: The blueberry cake doughnut ($1.24). If you're looking for the doughnut version of a blueberry muffin, this isn't it. This is a well-made, classic cake doughnut dunked in a blueberry glaze that actually tastes like the fruit.
Coffee: The shop brews Lingle Bros. Coffee.
541 S. Spring St. #130, Los Angeles, (213) 713-2345, www.downtowndonutsla.com.
The Donut Man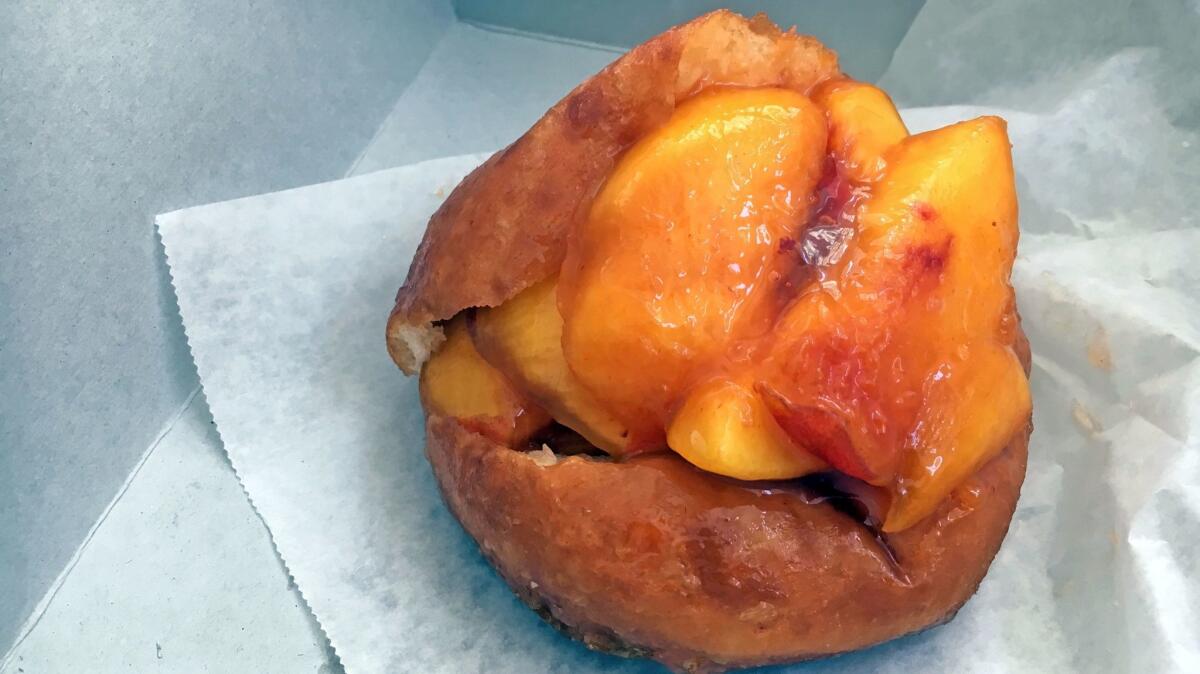 The shop: Jim Nakano opened the shop, on a strip of old Route 66 in Glendora, in 1972. Is it worth a drive to a city you may have never been to, east of another city you've never visited? Yes. When peaches and strawberries are in season, and Nakano is turning out his now-famous fruit-filled doughnuts, lines can snake around the building and into the parking lot.
Must-order doughnut: Depending on when you go, the peach-filled or the strawberry-filled doughnut ($4.25). It's a glazed doughnut with no middle hole, sliced almost in half to create a pocket for the fruit, like a Pac-Man mouth full of strawberry or peach. The fruit is sweetened with a sugar glaze and packed in so that it's just about to spill out of the doughnut.
Coffee: The Donut Man is brewing Farmer Bros. coffee.
Open 24 hours. 915 E. Route 66, Glendora, (626) 335-9111, www.thedonutmanca.com.
Fonuts
The shop: Pastry chef Waylynn Lucas (an alum of Jose Andres' Bazaar and Patina) and her partner, voice actor Nancy Truman, opened the West 3rd Street shop in 2011. All of the doughnuts are baked rather than fried, and the flavors aren't exactly traditional. Think chorizo and cheddar; and blueberry Earl Grey.
Must-try doughnut: The strawberry buttermilk doughnut ($3.50). It's the lightest cake doughnut in the city, with a real delicacy to the dough. It's dipped in a strawberry glaze that's just sweet enough, and actually tastes of fresh strawberries.
Coffee: Drinks at the coffee bar are made with LA Mill coffee.
8104 W. 3rd St., Los Angeles, (323) 592-3075, fonuts.com.
Grizzby's Biscuits & Donuts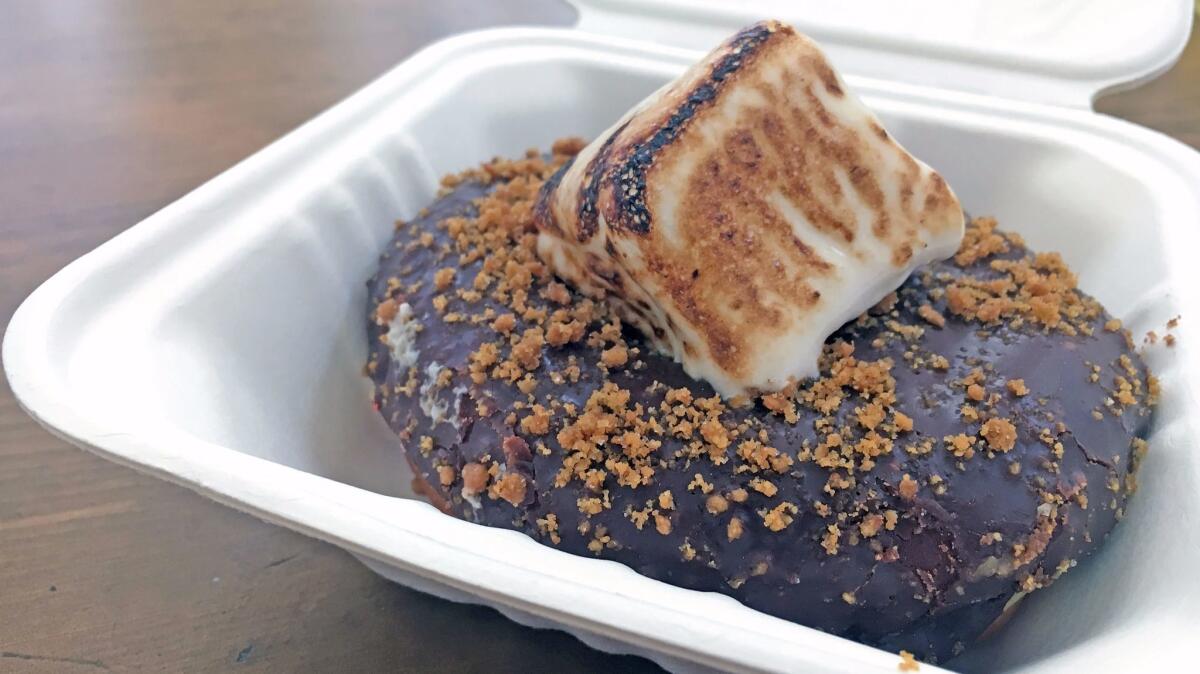 The shop: Travis Flood and Matt Fong, the duo behind Pappas Artisanal restaurant in La Verne, opened a doughnut and biscuits shop in the Claremont Village in April. In addition to an ever-changing selection of doughnuts (S'mores, salted caramel, blueberry jam with toasted coconut, to name a few), you can also order more than a dozen biscuit sandwiches filled with everything from chicken fried steak to barbecue pork with basil slaw.
Must-try doughnut: The S'mores doughnut ($3.50). The yeast-raised doughnut is both light and chewy with a rich chocolate glaze, graham cracker crumbs and a toasted, gooey marshmallow on top.
Coffee: The coffee and espresso drinks are made with Cafe Moto beans.
353 W. Bonita Ave., Claremont, (909) 399-0991, grizzbysdonuts.com.
Kettle Glazed Doughnuts
The shop: Owner Sami Anz opened the shop in 2013, in a shopping center right where Franklin Avenue hits the 101 Freeway in Hollywood. It's a no-frills shop with a handful of places to sit inside and a small counter displaying the day's doughnuts — a small selection of classic cake and yeast flavors.
Must-try doughnuts: The Boston creme ($1.75) or the croissant-style doughnut ($3.75). Bottom line, you want a doughnut with pastry cream inside. The Boston creme is a yeast-raised doughnut full of sweet cream, and the top of the doughnut is dunked in rich chocolate frosting. The croissant-style is the shop's take on the Cronut, with seemingly endless, sugary layers of dough and pastry cream in the middle.
Coffee: Picacho Coffee Roasters from New Mexico provides the beans for the shop.
6211 Franklin Ave., Los Angeles, (323) 462-2344, www.kettleglazed.com.
Michelle's Donut House
The shop: This is the all-occasion doughnut shop, the place you come to when you want to pick up a dozen doughnuts for your co-workers, the place you stumble into at the end of the night, the place you come to after a psychic reading just two doors down. Who is Michelle? The guy working behind the counter thinks there isn't one, and that the name is a result of switching a couple of letters around on the original Winchell's sign. Either way, you didn't come for the story, you came for the doughnuts, and the Korean pop music often playing inside.
Must-try doughnuts: The red velvet crumb (80 cents). The sangria-colored cake doughnut is a three-bite-sized take on red velvet cake. Covered in red velvet crumbs, the doughnut is on the sweet side, but there's a lingering hint of bitter chocolate.
Coffee: The shop serves Lingle Bros. coffee.
4862 Santa Monica Blvd., Los Angeles, East Hollywood, (323) 662-9581.
Monarch Donuts
The shop: More a stand than a shop, Monarch Donuts is located between a Korean tofu house and Taza Coffee on Huntington Drive, just down the street from the Santa Anita race track. This is is not a flashy designer doughnut shop. The stand opens at 4 a.m. and officially closes at noon, but runs out of doughnuts long before then. You walk up to the counter, order your doughnuts, then eat them elsewhere.
Must-try doughnut: The apple fritter ($2). Its exterior is a glossy landscape of hardened icing over hills of sweet dough. Every inch is covered in prized crunchy nubs. When you bite into the center, you find the pillowy soft dough flecked with cinnamon and barely sweet. And there are generous bits of tender apple throughout the middle.
Coffee: Monarch serves Farmer Bros. coffee.
15 Huntington Drive, Arcadia, (626) 446-5740.
Primo's Donuts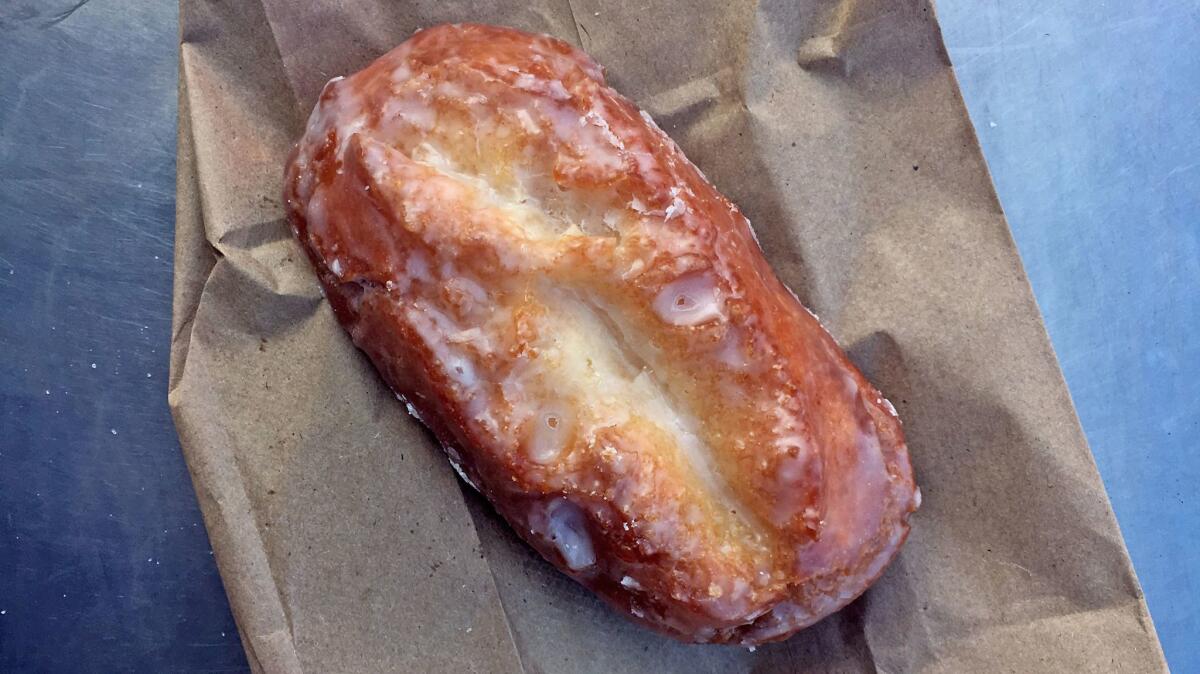 The shop: Walking into the shop, located in a center near where the 405 and 10 freeways meet, is like taking a step back in time, maybe into a dentist's office from the '50s. Blinds cover the windows. Black stools serve as seats for the few tables inside. But most importantly, owners Ralph and Celia Primo, who bought the shop in 1956, are still making the doughnuts and greeting people when they walk in.
Must-try doughnut: The buttermilk bar ($1.75). Crunchy edges surround soft dough spiked with buttermilk. And when the doughnuts are warm, the glaze melts into all those crunchy edges, creating a truly addictive doughnut.
Coffee: You can order Stumptown coffee at the shop.
2918 Sawtelle Blvd., Los Angeles, (310) 478-6930, www.primosdonuts.com.
Randy's Donuts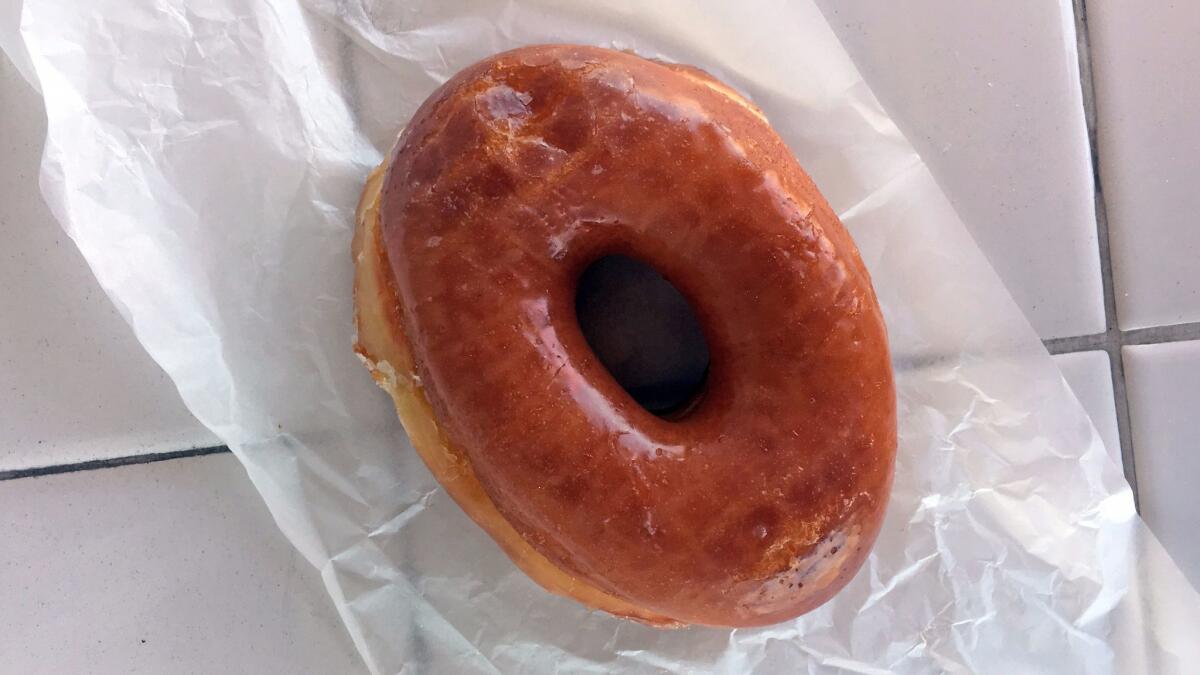 The shop: You've probably seen it in countless movies and TV shows: a giant beige doughnut hovering over the corner of where La Cienega and Manchester boulevards meet. It opened in 1953 and has been an L.A. landmark ever since. This is not a fancy doughnut shop. You walk up to the counter, order your doughnuts, and most likely eat them in the car.
Must-order doughnut: The plain glazed ($1). This could easily be the best glazed doughnut in the city. It's lighter and airier than your average yeast-raised doughnut, and it pulls apart into a cloud of fluffy dough. The glaze that surrounds it melts as soon as it hits your tongue.
Coffee: The shop serves Farmer John coffee.
Open 24 hours. 805 W. Manchester Blvd., Inglewood, (310) 645-4707, randysdonuts.com.
Sidecar Doughnuts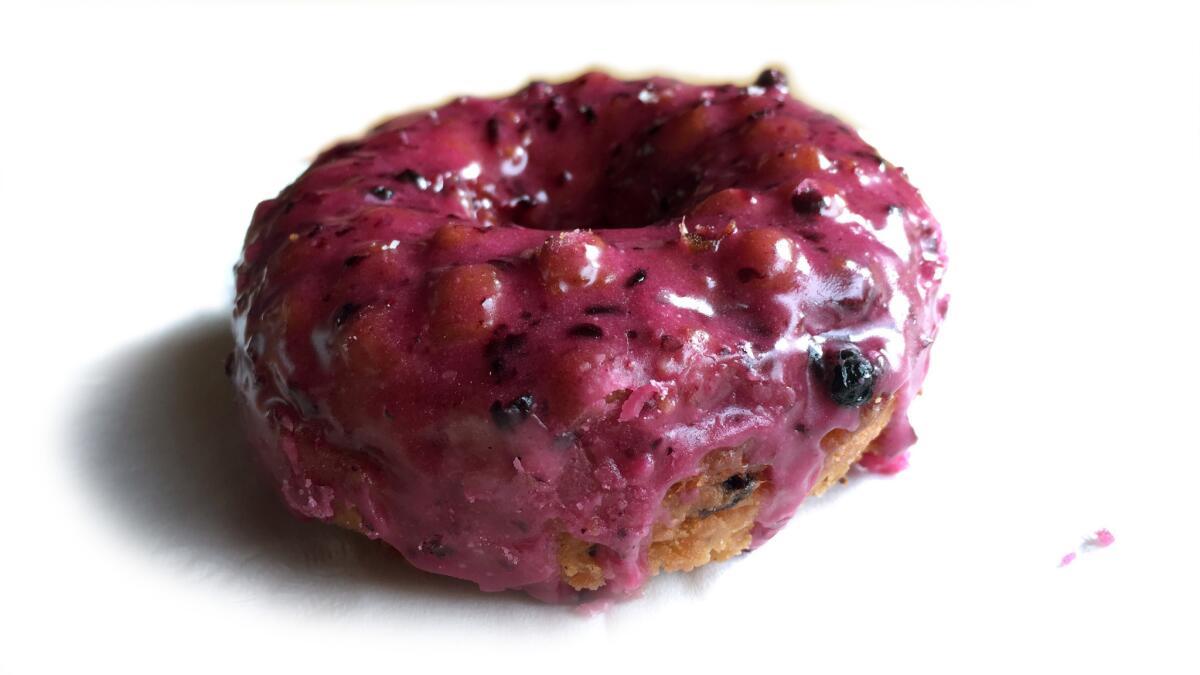 The shops: People have been lining up for the sweet (huckleberry, Madagascar vanilla glazed) and savory (basil eggs Benedict) doughnuts at Sidecar since the original shop opened in Costa Mesa in 2012. Married owners Sumter and Chi-Lin Pendergrast and chef Brooke Desprez opened a second location in Santa Monica in 2015. Both locations come with lines, but don't fret when you see one. It moves quickly and the shop continues to make fresh doughnuts hourly.
Must-order doughnut: The huckleberry ($4.25). It's made with Oregon huckleberry that gives the actual doughnut and the accompanying glaze a distinct purple color. Imagine the most luscious slice of cake you've ever had. This is that cake, in doughnut form, with a sweet berry glaze studded with crushed huckleberries.
Coffee: Both Sidecar locations serve Stumptown Coffee Roasters.
Multiple locations at www.sidecardoughnuts.com.
SK Donuts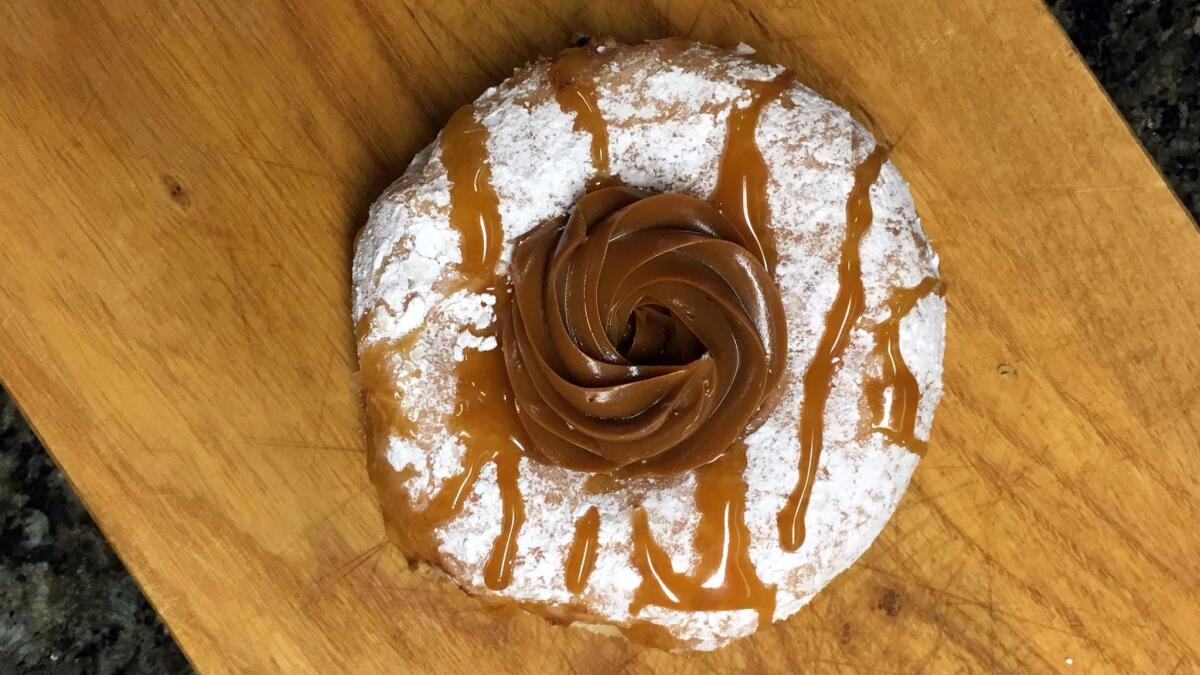 The shop: Tucked into the corner of a strip mall on 3rd Street just west of La Brea Avenue, this shop may not look like much, but this is a doughnut wonderland. You do not come here for the plain glaze (although it is excellent) or a chocolate twist. You come and wait in line for the shop's version of the Cronut, called the SKronut, which is one of the best in town. Or you sit at one of the tables and take photos of the Nutella doughnut, and all the doughnuts decorated to look like emojis.
Must-order doughnut: The dulce de leche ($2.75). It's a yeast-raised doughnut covered in powdered sugar with a drizzle of caramel on top. And in the middle — completely filling the doughnut hole — is a swirl of very good caramel.
Coffee: Hot and cold coffee drinks as well as smoothies, Thai tea and milk tea with boba.
Open 24 hours. 5850 W. 3rd St., Los Angeles, (323) 935-2409.
Stan's Donuts
The shop: Opened by third-generation baker Stan Berman, Stan's Doughnuts has been around since 1965, deep into Bruin territory, in the middle of Westwood Village. The shop shares a storefront with a Flame Broiler. Just ignore the teriyaki bowls to the left and turn your attention to the glowing display of doughnuts. Stan's is known for its jelly-filled, custard-filled and peanut butter-filled doughnuts, but the shop makes all the classics, as well as pretzel-shaped doughnuts and cinnamon rolls.
Must-order doughnut: The peanut butter banana pocket ($3.50). It appears to be a round, unbroken glazed doughnut, but when you bite into the middle, you'll find peanut butter and slices of banana.
Coffee: There's hot coffee, but that's about it. If you want something flavored or espresso, head to the nearby Espresso Profeta.
10948 Weyburn Ave., Los Angeles, (310) 208-8660, www.stansdoughnuts.com.
Trejo's Coffee and Donuts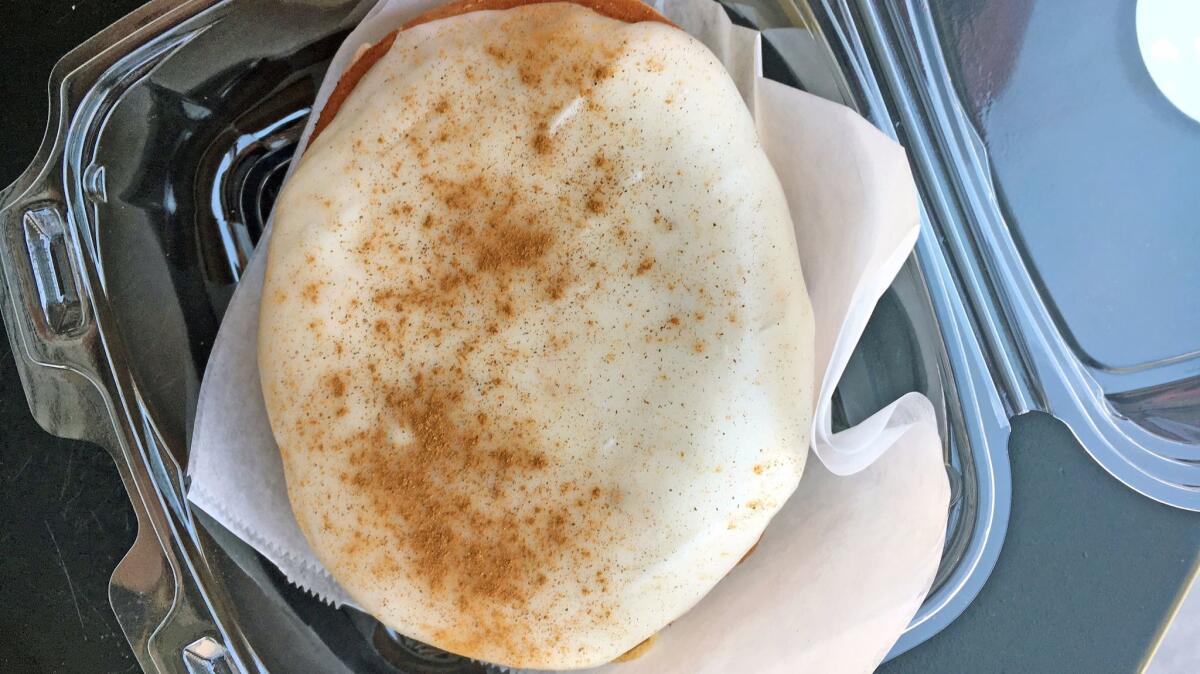 The shop: The shop, its exterior painted the pale pink color of most doughnut boxes, opened in the former Donut Time space at the corner of Highland Avenue and Santa Monica Boulevard in May. It's actor Danny Trejo's coffee and doughnut shop, launched shortly after his other restaurants, Trejo's Tacos and Trejo's Cantina (along with a Trejo's truck). And in case you forget who owns the place, the Santa Monica Boulevard side of the shop features the actor's distinct mug. Pastry chef Dianne Crame, who used to work at Boa Steakhouse, is making the not-so-traditional doughnuts.
Must-try doughnuts: The Horchata ($3) or the Nacho ($3). For horchata fans, Crame turns the classic cinnamon-spiced drink into pastry cream, then pipes it into a yeast-raised doughnut. It's finished with a horchata glaze and a sprinkle of cinnamon. The Nacho is a savory doughnut studded with cheddar cheese, jalapeños and chives. And yes, it's good for breakfast.
Coffee: City Bean makes a special blend for the shop, used in hot and iced coffee drinks.
6785 Santa Monica Blvd., Los Angeles, (323) 462-4600, www.trejosdonuts.com.
Sweet Retreat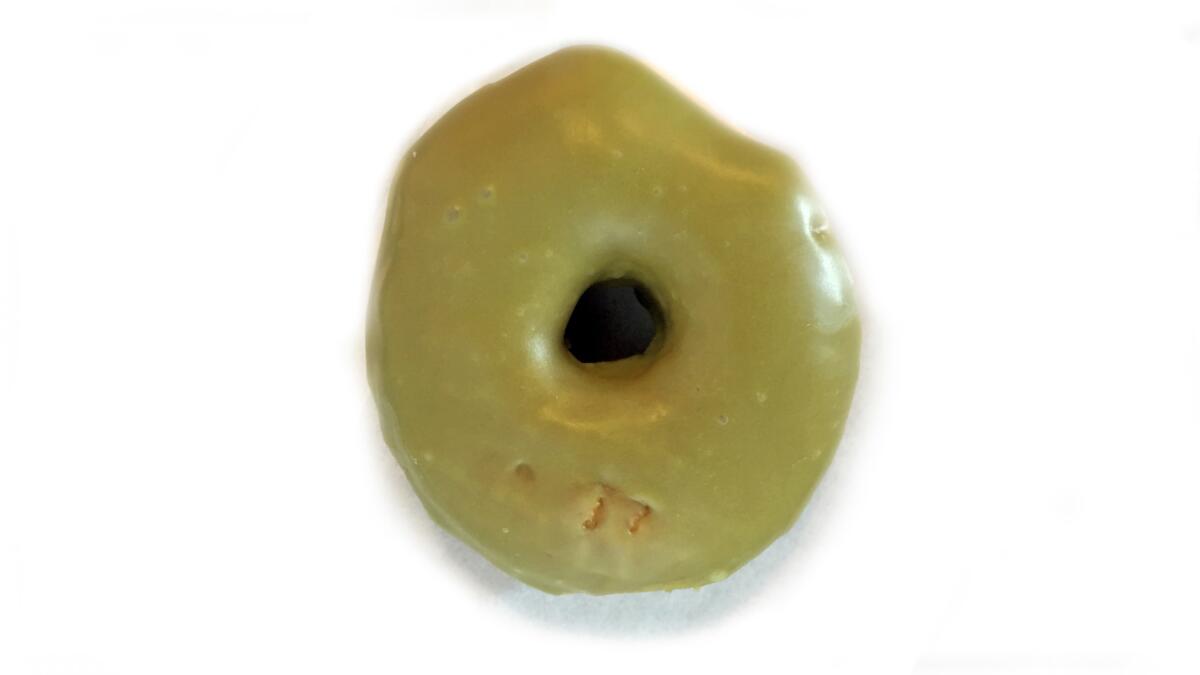 The shop: If you stop by during daylight, you can bet the tables at this small strip mall shop, which opened in 2015, will be full of kids from the nearby high school and elementary schools. When you consider this, the bags of Flamin' Hot Cheetos at the bottom of the doughnut display case make a lot more sense. Sweet Retreat makes basic doughnut flavors, but it's 'also filling split yeast-raised glazed doughnuts with fresh strawberries or ice cream or both. They also have doughnuts topped with candy and Oreo cookie crumbs.
Must-order doughnut: The green tea doughnut ($1.15). It's a yeast-rasied doughnut with a green tea-infused glaze that balances the sweetness of all that sugar perfectly.
Coffee: In addition to cold and hot coffee (by Gaviña) drinks, you can order Vietnamese coffee, smoothies, milk tea and slushees.
924 E. Pacific Coast Highway, Long Beach, (562) 612-0506, sweet-retreat-donuts.cafe-inspector.com.
Voodoo Doughnut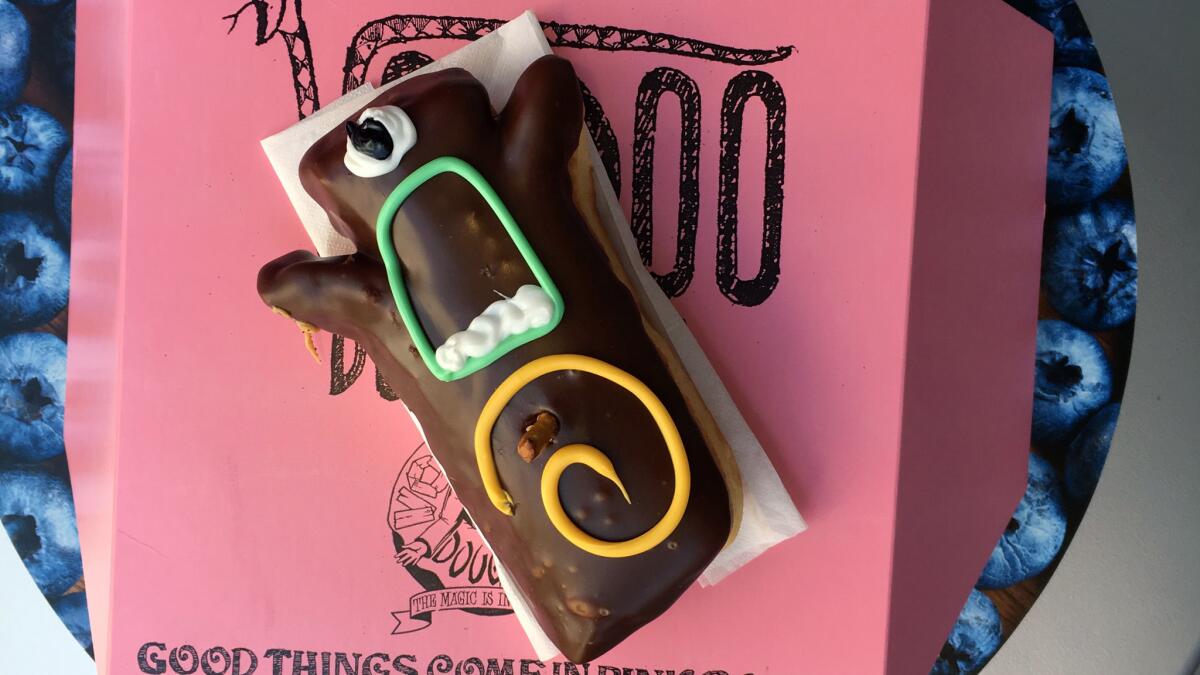 The shop: Longtime friends and business partners Kenneth "Cat Daddy" Pogson and Tres Shannon opened the first Voodoo Doughnut in Portland, Ore., in 2003, and now have locations in Colorado, Texas and California. They opened their only California shop at Universal City Walk in March. The shop is known for its creatively topped doughnuts, tongue-and-cheek names (the Ain't That a Peach doughnut is a peach fritter with cream cheese frosting and sprinkles) and long lines that often stretch well past the entrance. Be warned that if you park at Universal City Walk your $3-something doughnut will cost an additional $25 for parking.
Must-try doughnut: The Voodoo doll doughnut ($3.20). It's a raised yeast doughnut shaped and decorated to look like a voodoo doll. Sure, it's a gimmick. It's also a really good doughnut, filled with raspberry jelly and topped with chocolate frosting. The doughnut gets a pretzel stake in the middle to emphasize the fact that you're eating a voodoo doll. It also adds a nice salty crunch to all that sugar.
Coffee: The shop is pouring Stumptown Coffee and cold brew on tap.
100 Universal City Plaza, Universal City, (818) 622-6646, www.voodoodoughnut.com.
ALSO:
Why are doughnut boxes pink? The answer could only come out of Southern California
Jonathan Gold on the beauty of Donut Man's strawberry doughnuts
Why you should be drinking beer with your doughnuts
Culinary SOS: Jitlada's Thai tea
10 of the best new cookbooks of 2017
Get our L.A. Goes Out newsletter, with the week's best events, to help you explore and experience our city.
You may occasionally receive promotional content from the Los Angeles Times.