Beyond hipster gloss: Four artisanal winemakers to know from the Garagiste Wine Festival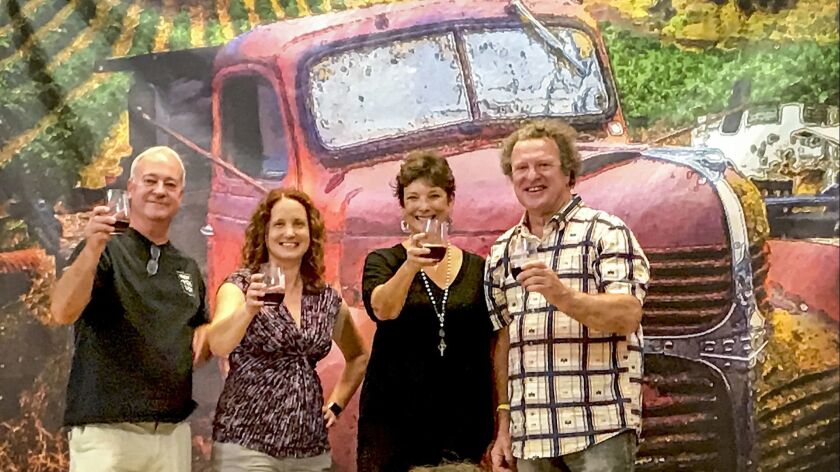 Strange and wondrous things happen in garages. Obsessions, avocations, projects deemed not worthy of the main house spawn like mushrooms in garages. Tinkerers tinker: If you've got a passion project, chances are it's staged in a dark, oil-stained, poorly ventilated annex to where you live.
If you're dabbling in the beverage arts, particularly wine, you're known in tinker parlance as a garagiste. A California garagiste is typically fanatical, myopic, willing to ignore family obligations, to spend a lot of money and bring in very little, and willing to drink most or all of what he or she makes. Inevitably, they reach a crossroads where production has exceeded consumption habits; then it's time to think about selling the stuff.
That is where Doug Minnick and Stewart McLennan, founders of the Garagiste Wine Festival, come in. As home winemakers themselves, they recognized that none of these wineries had sales teams, tasting rooms or venues in which to sell their wines. The nonprofit festival, established in 2011, is held four times a year up and down the California coast, and it is a place for micro-wineries to nurture a fan base. (Proceeds from the festival support the Cal Poly wine and viticulture program in San Luis Obispo.)
About 50 such garagistes gathered in Santa Monica on a recent Saturday to connect with the thirsty, to speak with their clientele, an enthusiastic, comparably obsessive cohort who would otherwise be frequenting tasting rooms in Paso Robles or Los Alamos or the Funk Zone in Santa Barbara, wearing loud shirts and flip flops, living the dream one sip at a time, right alongside the producers pouring for them. It worked: Five hundred attended in Santa Monica; in Paso Robles, attendance can go as high as 1,000.
The quality varies in these wines; although few would be guilty of glaring flaws, some seem, let's say, injudicious, blends composed of less than compatible varieties, heavy on oak or residual sugar, pressed a little too hard or filtered not quite enough.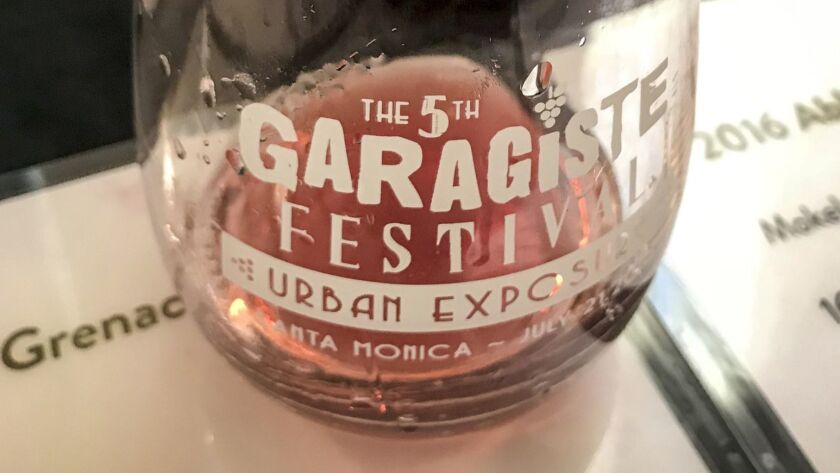 But what they lack in polish they make up for in exuberance.
Below are short profiles of four local winemakers who participated. For a complete list, go to garagistefestival.com.
Byron Blatty
Angeleno Mark Blatty is a television industry expat (his wife, Jenny, is still an executive at Warner Bros.) who founded their winery in 2014. Blatty crafts big, muscular wines with enigmatic names such as Contingent, Tangent and Pragmatic. Most are red, most are blends; all are sourced from L.A. County, from the Malibu Coast to arid, high elevation sites in the Antelope and Leona valleys. byronblatty.com.
Metrick
Santa Monica native Alex Russan has dabbled in coffee and sherry importation; his import company Alexander Jules still specializes in rare batched sherries and obscure Spanish wines. Eventually, he turned toward production to, as he puts it, "answer the constant cascade of winemaking questions" that he faced with his own imports. Some of his Central Coast wines, such as Albarino and Mourvèdre, are derived from Spanish origin; all are lean, nervy and delicious. metrickwines.com.
Dusty Nabor
By day, Angeleno Dusty Nabor works for his family business making steel pipe; most of his spare time had been devoted to endurance racing and triathlons before wine intruded. Dusty Nabor wines is devoted to primarily reds sourced from the Central Coast, Paso Robles and Santa Barbara, but he also makes a flinty, satisfying Viognier from Ballard Canyon. dustynaborwines.com
L.A. Wine Project
This project literally began in a Los Angeles garage, when former Toronto waiter Jason Martin bought into the Rosé-all-day zeitgeist and created, with the help of consulting winemaker Chuck Carlson, an all pink brand with three distinct rosés, made from Grenache, Mourvèdre and Syrah, all sourced from Jurassic Park Vineyard in Los Olivos. lawineproject.com.
---
Get our new Cooking newsletter.
You may occasionally receive promotional content from the Los Angeles Times.