Our 15 favorite recipes of 2016
Great recipes are kind of like instruction manuals for alchemy, showing us how to transform ordinary, often banal, taken-for-granted ingredients into extraordinary dishes. A few vegetables and a little fire can translate into a dish we make over and over. The marriage of a chicken, some fruit and herbs and a pot, can somehow produce a meal we dream about.
Sometimes the skill is in the technique, sometimes in the juxtaposition of flavors, often in a combination of both — plus inspiration, even accident. A great recipe is something you can carry with you, from kitchen to kitchen, pulling out when you need it. So adding to your collection is not only fun — something new to make for dinner — but as useful as new pairs of Italian shoes.
To help with this, every year we pick our favorite recipes from the last 12 months, recipes that we've tested, sometimes more than a few times, in the Los Angeles Times Test Kitchen, to get them just right. Here are our favorite recipes from 2016, in no particular order. We hope your own recipe box just got a little bigger.
Barrel & Ashes' skillet hoe cake
This dish is a small miracle in a smaller skillet, an impossibly rich butter-laden cornmeal cake fired in an individual-sized cast-iron pan. It's made to order at Barrel & Ashes, the Studio City barbecue joint. The recipe is from chefs Michael Kahikina and Timothy Hollingsworth, who wanted to elevate the classic barbecue-friendly dish to something a bit higher. High or low, this thing is absurdly addictive.
Recipe: Barrel & Ashes' skillet hoe cake »
Cassia's Vietnamese coffee pudding
Imagine the Vietnamese coffee drink café sua dá crossed with a fantastically rich and creamy pudding, then topped with as much whipped cream as you can fit in the cup. This is what pastry chefs Zoe Nathan and Laurel Almerinda make at Cassia, chef Bryant Ng's Viet-French restaurant in Santa Monica. It's cool and not quite as sweet as Vietnamese coffee (which is kind of a good thing), and gloriously comforting. And if you make your own, you can have as many servings as you want.
Recipe: Cassia's Vietnamese coffee pudding »
Bar Moruno's roasted butternut squash with dukkah
We may be living in the Age of Vegetables, a time when many chefs are roasting them whole — sometimes encased in salt or ash, sometimes dosed with butter or olive oil. The roasted squash at Bar Moruno, the newish Spanish restaurant at Grand Central Market from chef Chris Feldmeier and managing partner-wine guy David Rosoff, is blistered then topped with dukkah, an Egyptian mixture of sesame seeds, cashews, coriander, cumin and Aleppo pepper. Sound good so far? Now add brown butter. Right.
Recipe: Bar Moruno's roasted butternut squash with dukkah »
Fried broccoli from Ramen Hood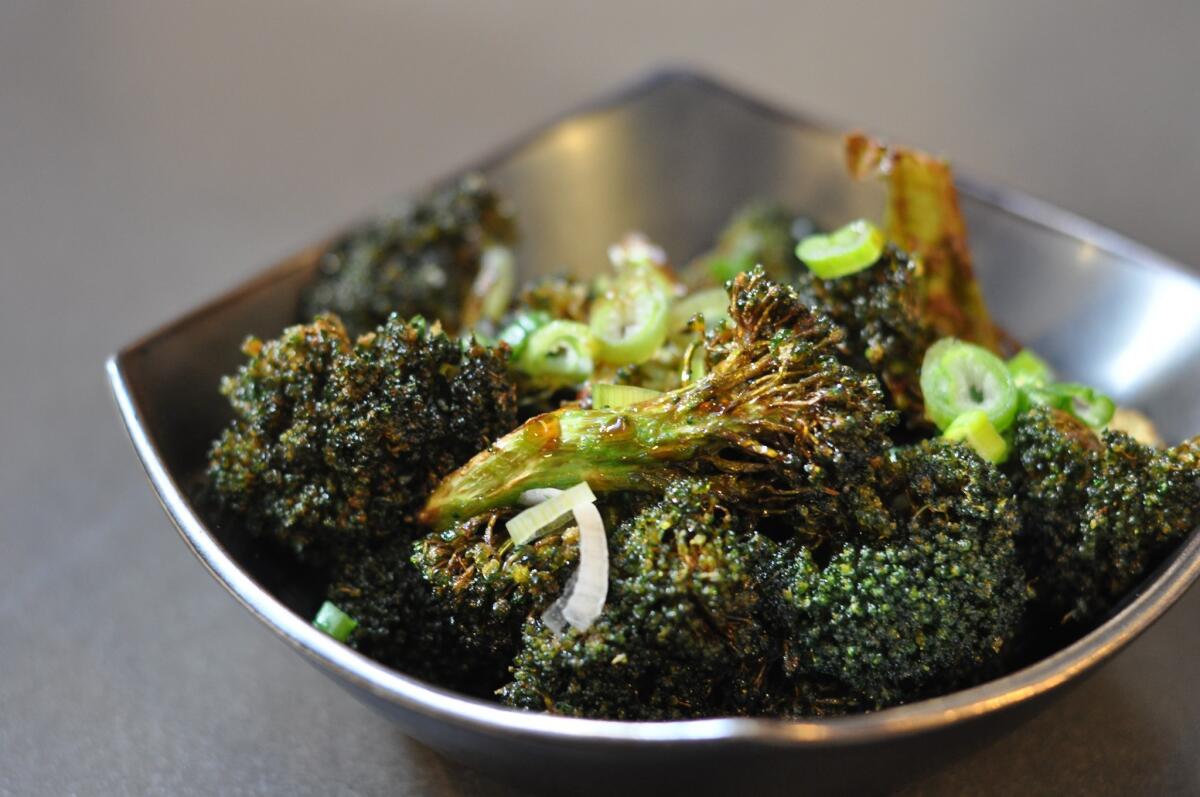 If you still have problems getting your kids or anyone else to eat broccoli, then you clearly haven't been cooking the stuff the right way. Specifically: the way chefs Ilan Hall and Rahul Khopkar have been making it at Ramen Hood, their vegan noodle counter at downtown L.A.'s Grand Central Market. It's a deceptively simple dish: make an easy, zingy sauce, then quickly deep-fry the vegetables and toss on a few bits of scallion. Ta-da. Just double the recipe: You'll never see a pound of broccoli disappear so fast.
Recipe: Fried broccoli from Ramen Hood »
Hibiscus and goat cheese tacos from Jeanne Kelley
There are many places you'd expect to find hibiscus, also called jamaica, the dried, deep crimson flowers that are often put into teas and aguas frescas. Inside a taco is not one of them. Yet that's what food writer Jeanne Kelley did with the stuff, folding corn tortillas around the braised chile-spiked flowers, then adding goat cheese and queso fresco, cilantro and cumin. The results were kind of astonishing. And since you'll probably never find these in any restaurant, you'll need to make them — likely again and again —yourself.
Recipe: Hibiscus and goat cheese tacos from Jeanne Kelley »
Orange oregano roast chicken from Diana Henry
Cookbook writer Diana Henry has a gift for homey yet inventive dishes, and this one, of chicken thighs cooked with oranges, fresh oregano and lots of garlic, then topped with an olive-oregano gremolata, is stunning. When we made this, as part of a cookbook review, we ended up in the Test Kitchen, gathered around the hot All-Clad sauté pan, the air perfumed with herbs and citrus, all silently eating from the pan.
Recipe: Orange oregano roast chicken from Diana Henry »
Anthony Bourdain's Lasagna Bolognese
Anthony Bourdain's latest cookbook, "Appetites," is his first since 2004, and it's also one of his most personal, with recipes that he cooks at home for his wife and young daughter. Thus this lasagna recipe, an exceedingly hearty dish that uses Bolognese sauce, bechamel sauce, two kinds of cheese — and chicken livers. Will you make this for your kid? You really, really should, even if you neglect to mention the chicken livers.
Recipe: Anthony Bourdain's Lasagna Bolognese »
Salted caramel shortbread bars
There are few things in this world better than good salted caramel. So imagine making your own, thickly layering the stuff over a rich strata of shortbread and sprinkling some Maldon salt over the top. This is what Test Kitchen Director Noelle Carter did earlier this year, for which everyone in and around the Test Kitchen was utterly grateful. Of course, if you make this, at some point you'll have to hide it, if not from other people then certainly from yourself. It is that difficult to stop eating it.
Recipe: Salted caramel shortbread bars »
Recipe: Lamb chops from Windrose Farm
Bill and Barbara Spencer grow apples, greens, squash and many other things on their 50-acre Paso Robles farm, Windrose Farm. They also raise sheep, which they sell to some of the best restaurants in Los Angeles. This year, Bill Spencer gave us his recipe for lamb chops, a simple but spectacular dish that uses a marinade of fresh herbs and not too much else. You'll never want mint jelly again.
Recipe: Lamb chops from Windrose Farm »
Ricebar's Tinola
If you love Things in a Bowl, and lately it seems we all do, then you should be having lunch at Ricebar, chef Charles Olalia's tiny Filipino counter restaurant in downtown L.A. Olalia is making the food he grew up with in the Philippines, but with serious technique — unsurprising, given that his prior gig was as exec chef at Patina. Olalia's chicken and rice bowl is fragrant and soothing, spiked with chile leaves, ginger, garlic and fish sauce.
Atole de fresas al rescoldo from Taco Maria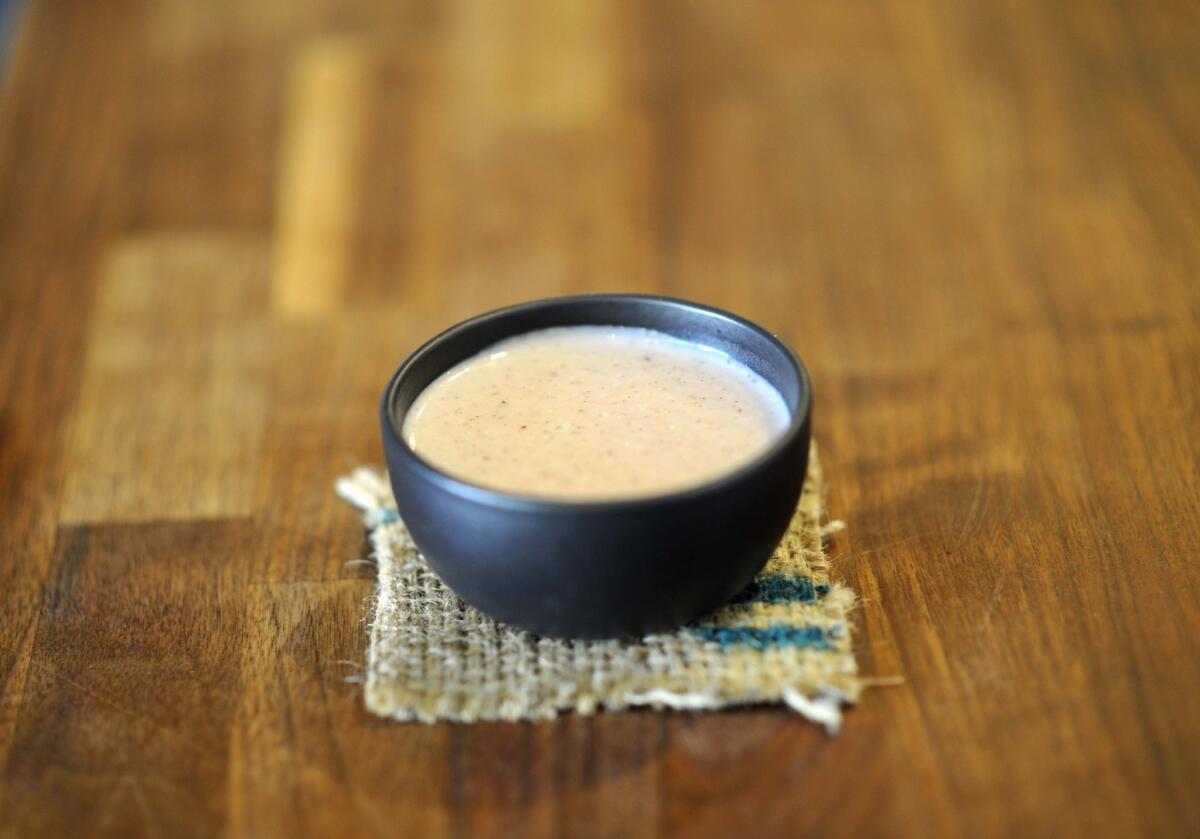 Atole, the warm drink made from masa, or cornmeal, is pretty wonderful stuff. In the hands of Carlos Salgado, the chef-owner at Taco Maria in Costa Mesa, the drink is transformed by the heirloom Masienda blue corn masa he uses, and the strawberries he chars first, then blends into the other ingredients. The results? A warm, hopelessly delicious drink. Salgado sometimes serves it as the final course of his tasting menu. If you make it yourself, forget the fancy tasting menu and have it for breakfast.
Recipe: Atole de fresas al rescoldo from Taco Maria »
Dominick's spaghetti and meatballs
The legendary Hollywood restaurant Dominick's may have closed a year ago, but its equally legendary spaghetti and meatball dish lives on, thanks to chef Brandon Boudet's recipe. You can also order the dish at Little Dom's in Los Feliz, but this is the sort of thing that begs to be made at home: pot of sauce simmering on the stove for a good three hours, then the enormous meatballs added, then dished out over a giant bowl of spaghetti and not a little Parmesan cheese.
Recipe: Dominick's spaghetti and meatballs »
Flame-roasted eggplant spread with lemon and garlic
Food writer Amelia Saltsman does brilliant work with local farmers market produce, and her recipe for what she called "an ethereal kind of baba ghanouj," based on her mother's Romanian fire-roasted eggplant salad, is a terrific way to use seasonal eggplants. If you're going to the trouble of roasting the eggplants this way, you might want to make a lot of this stuff: It's that difficult to stop eating.
Recipe: Flame-roasted eggplant spread with lemon and garlic »
Stout beer and mustard wings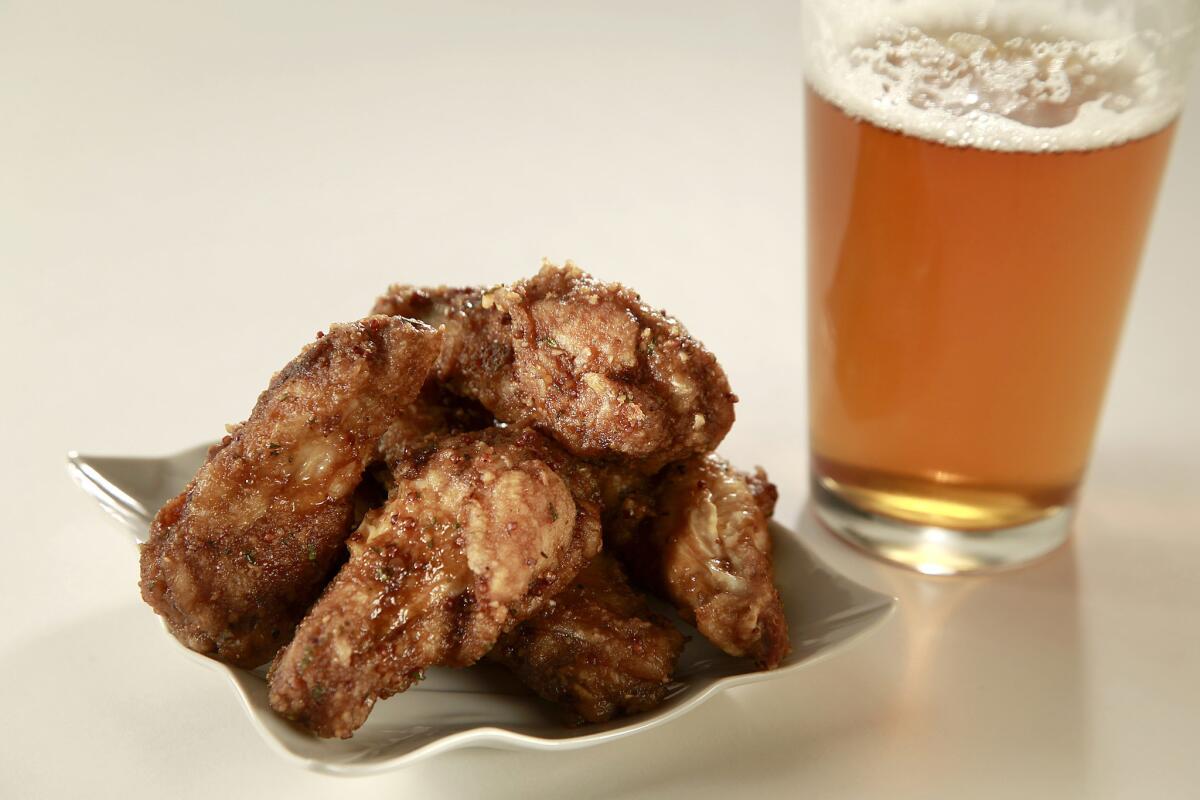 Beer and chicken wings are two basic food groups for many people, so combining them into one recipe made perfect sense to Test Kitchen Director Noelle Carter. Here she uses stout, along with whole grain mustard, garlic, minced thyme, malt vinegar, grated Parmesan and soy sauce. And since the booze cooks off, you have even more of an excuse to pair these wings with a few pints.
Recipe: Stout beer and mustard wings »
Cherry rye hand pies
Pastry chef Sarah Lange (formerly at Elysian, now baking for her own online shop Bearclaw Kitchen) makes hand pies using a spectacular rye puff pastry dough and a compote of cherries, Madeira, vanilla and balsamic vinegar. The flaky triangular pies are sprinkled with caraway seeds, a nod to the traditional pairing of caraway and rye, and they're way easier to fit in your pocket than a loaf of rye bread.
Recipe: Cherry rye hand pies »
Get our L.A. Goes Out newsletter, with the week's best events, to help you explore and experience our city.
You may occasionally receive promotional content from the Los Angeles Times.