Food Truck Report: New Vivace Pizzeria truck offers Leopard-spotted pies for Neapolitan pizza fans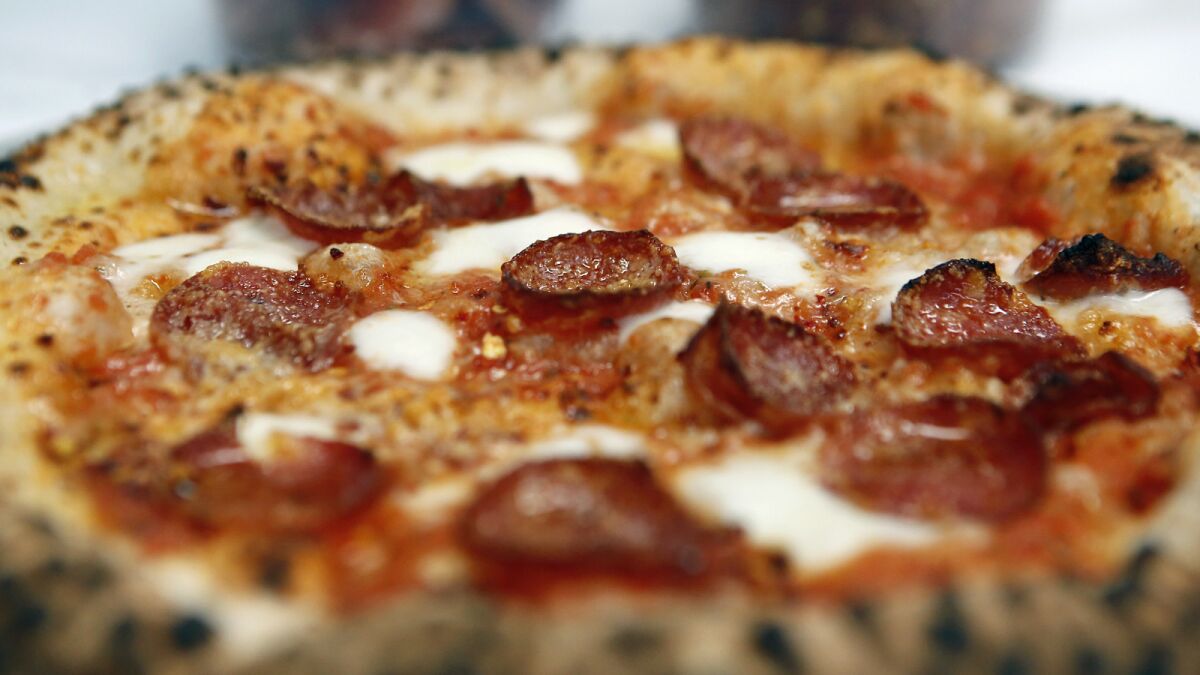 "I've always liked playing with fire," said chef Erik Vose, owner of the new Vivace Pizzeria food truck.
On a recent Sunday, the truck was parked at the Angel City Brewery in downtown Los Angeles. The forecast for that day: 98 degrees. Vose tossed a piece of white oak wood into a Naples, Italy-built, 5,500-pound Acunto Mario oven. Sparks flew. Flames curled up and out of the candy-red oven. His slight frame pressed against the oven wedged into the corner of his food truck, Vose seemed in danger of melting.
"The oven is really, like, 1,000 degrees, but you can put your hand on the outside because it's really well-insulated," Vose said. "I shut it at the end of the night, and when I open it in the morning, it's still 600 degrees."
Vose launched the truck about a month ago to feed his obsession with wood-fired pizzas. It's a passion that took hold while working at Sotto, chef Steve Samson's pizza palace in Pico-Robertson, known for its bubble-flecked pies.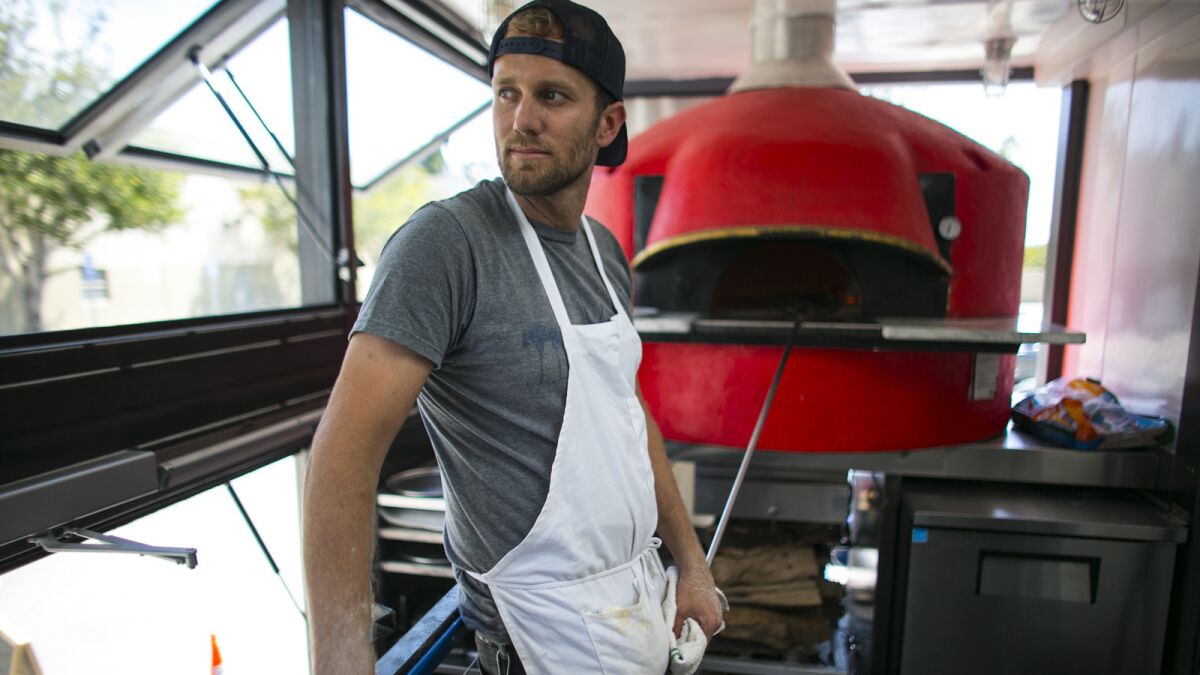 "I worked front of house at a bunch of places but really wanted to open a restaurant of my own," Vose said. "I walked in the back door at Sotto when they had been open for a month and said, 'Hey, I'll work for free.' I thought I'd rather just go in and work for free somewhere and learn on the job rather than go to culinary school."
Vose worked with Samson and Zach Pollack at Sotto for more than a year. (Pollack is the chef at Alimento in Silver Lake who recently opened his own pizza restaurant, Cosa Buona, in Echo Park.) Vose started as a line cook, worked the grill and eventually learned how to make pizza.
"I got into bread-making and became obsessed," said Vose, who later took a job baking bread for Ca' d'Oro Bakery in Inglewood. "I was making bread at home and I made a little proofing box with a timer on it."
Vose worked at the bakery for a year, baking bread every day, then decided to open the pizza truck. But he had to find the right truck and the right oven. So Vose had the box taken off a refrigerator box truck, the frame reinforced and a shipping container welded to it. The result is an extra tall truck, big enough to handle the weight of the oven.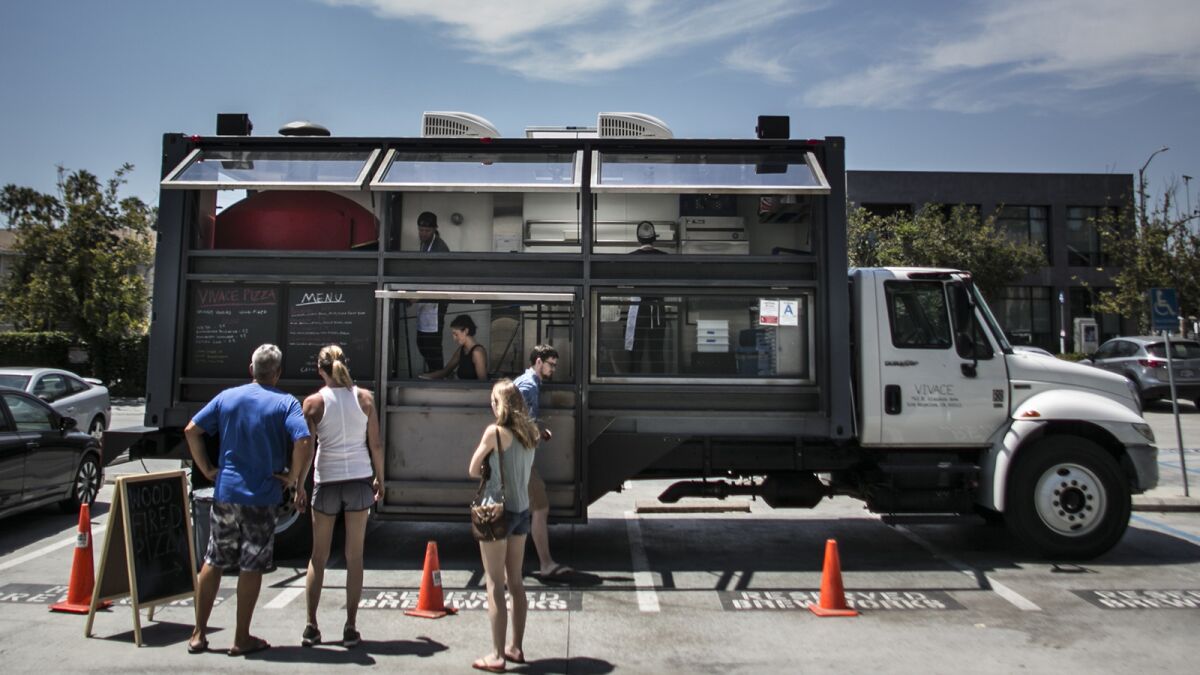 If you covet a leopard-spotted pizza crust, the type of Neapolitan pie spotted with bubbles of black char, then this truck is likely your next food destination.
Vose, who ferments his dough for two to four days (he gets all his flour from Central Milling) and uses a starter from San Francisco, may make the most spotted pies in the city, with some bubbles approaching the size of golf balls, others as big as quarters and some no larger than pinpricks.
Vose says the spotting is a result of many variables, including the high heat of the oven and his mixture of flour. (With the oven floor anywhere from 870 to 925 degrees, the pizzas cook in about 60 to 75 seconds.) The bubbles don't offer much flavor, but they turn the crust into a rugged landscape of crunch and chew, a distinct texture sensation that carries over to the cheese and even the rounds of salumi on top of the pizza.
Vose typically makes about three kinds of pie each day, varying the menu. He passes raw San Marzano tomatoes through a food mill, then adds garlic, olive oil, kosher salt and Sicilian dried oregano to make his sauce — that pure tomato flavor comes forward on each pie, regardless of the toppings.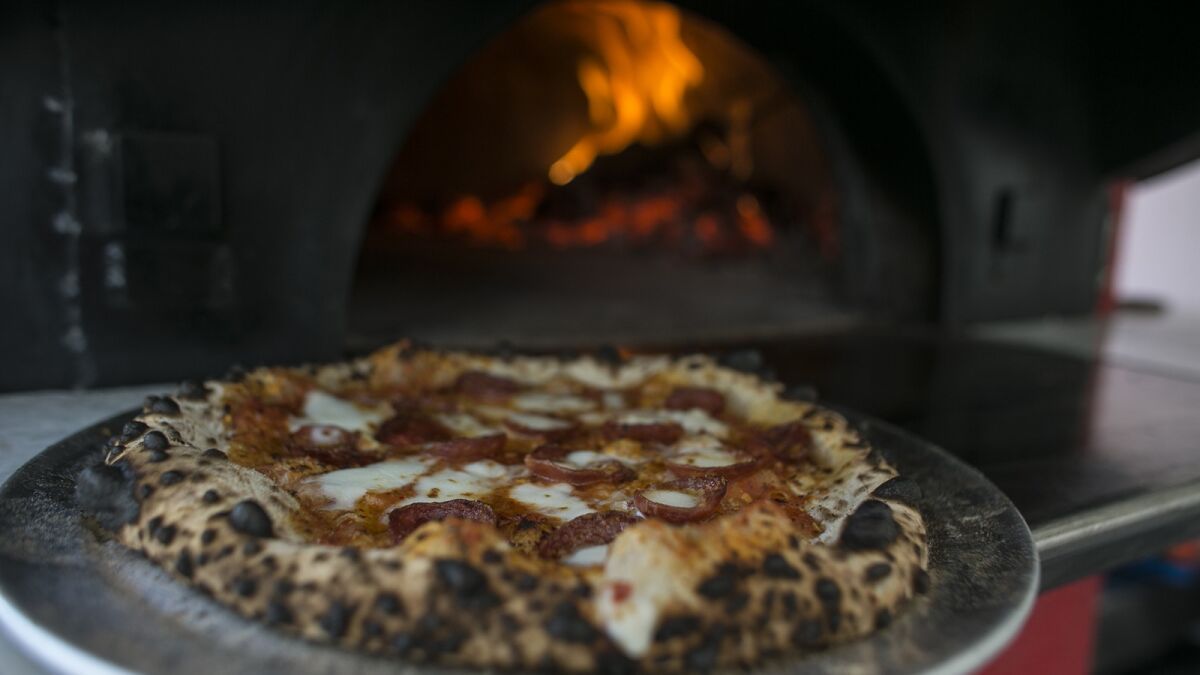 One recent day, the tomato sauce was used as the base for a Margherita pizza made with mozzarella and basil; a spicy "pepperoni" pie topped with Calabrian salumi from Guidi Marcello in Santa Monica, where Vose gets most of his ingredients. And there was a sausage pizza made with tomato sauce, mozzarella and crumbled bits of sausage. Vose gets his mozzarella and ricotta from Gioia Cheese Co. in El Monte. And he has a butcher making the sausage for him, as there's no space to grind and make sausage on the truck.
Vose's approach to topping the pie is anything but precise: a glob of sauce here, a not-quite-round piece of mozzarella there.
"I try to keep it pretty simple; I just want to make pizza, and I don't want to complicate things too much."
The plan is to eventually open his own restaurant, but after looking for a space in L.A. for two years, Vose decided the truck was the best way to get started. Its schedule is posted at www.vivace.la.
"What I really want to do is find a lot or something where I can park the truck and be there every single night," Vose said. "Maybe put up some lights and picnic tables."
ALSO:
5 great L.A. pizzas you probably haven't been eating enough of
This pizza is made of cheese. And yes, we're talking about the crust
Jonathan Gold willingly waits in line for hours at Pizzana, where Neapolitan pizza goes L.A.
Get our L.A. Goes Out newsletter, with the week's best events, to help you explore and experience our city.
You may occasionally receive promotional content from the Los Angeles Times.