Review: Jonathan Gold finds strong flavors and a splendid bar at Here's Looking at You in Koreatown
The Holstein rib-eye at the Koreatown restaurant Here's Looking at You is a wonderful piece of meat, dry-aged for 30 days and enhanced with melted radish butter.
(Katie Falkenberg / Los Angeles Times)
Mackerel with marigolds at Here's Looking at You.
(Katie Falkenberg / Los Angeles Times)
A dish of Stracciatella cheese includes the tangy Japanese pepper purée yuzu kosho, dotted with toasted pumpkin seeds and served with slabs of charred Bub and Grandma's bread.
(Katie Falkenberg / Los Angeles Times)
Here's Looking at You also features a great bar with cocktails like the Folk Hero, with persimmon-infused tequila.
(Katie Falkenberg / Los Angeles Times)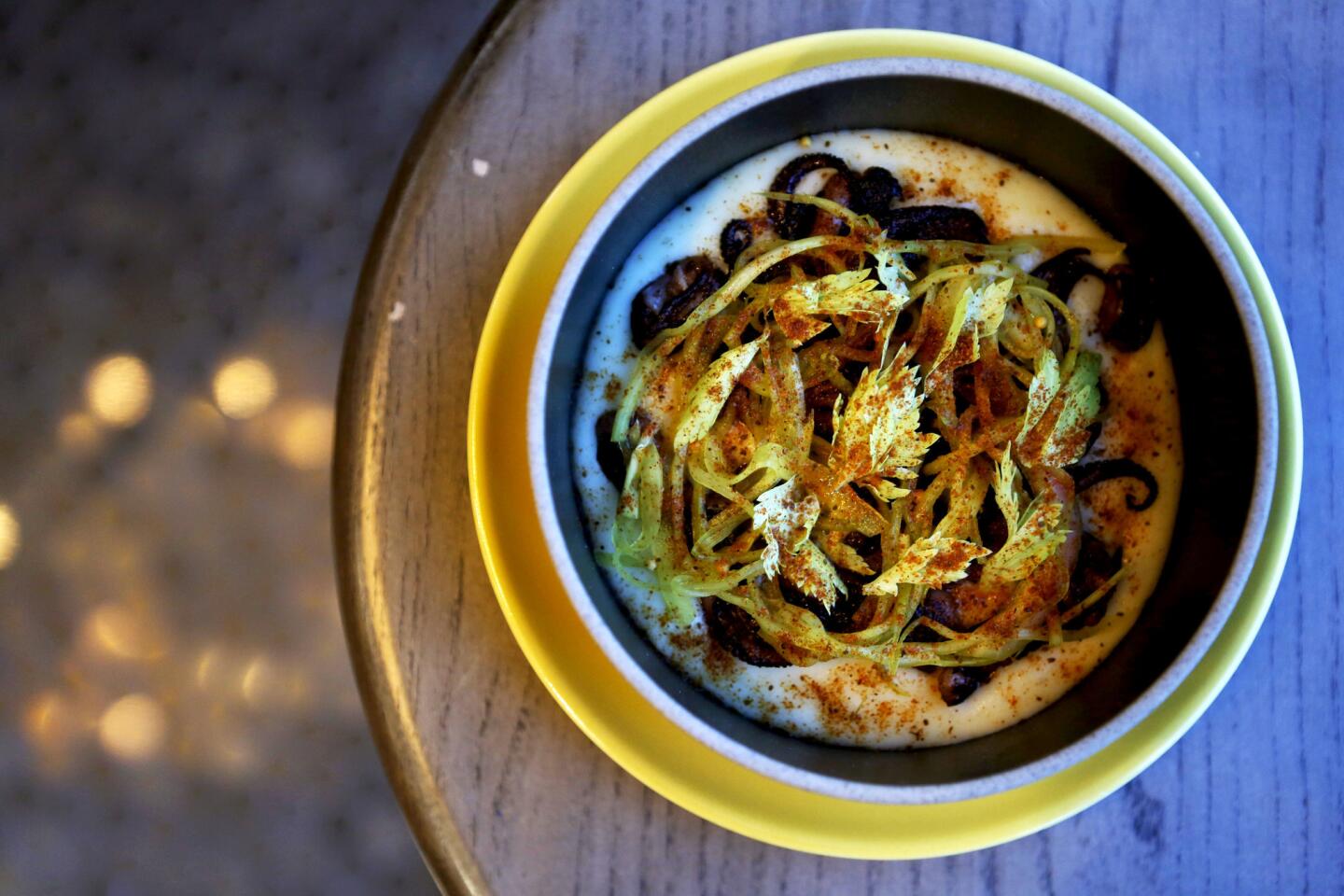 An octopus dish at Here's Looking at You.
(Katie Falkenberg / Los Angeles Times)
Chef Jonathan Whitener takes on the menu at the Koreatown bistro Here's Looking at You.
(Katie Falkenberg / Los Angeles Times)
The Weston martini at Here's Looking at You.
(Katie Falkenberg / Los Angeles Times)
Bartender Aly Iwamoto pours a Folk Hero cocktail at the restaurant Here's Looking at You.
(Katie Falkenberg / Los Angeles Times)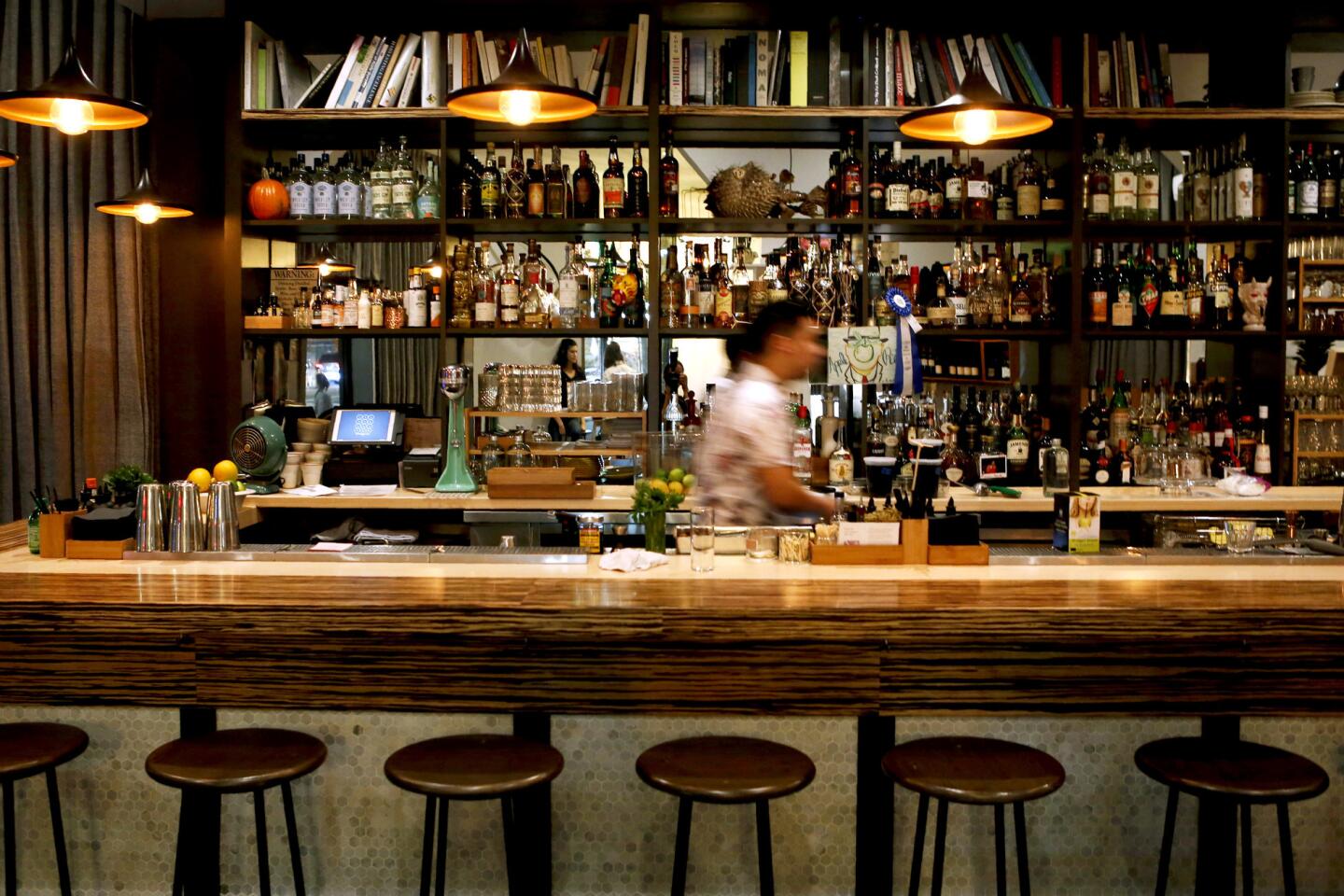 Don't miss the bar at Here's Looking at You, which serves up inventive cocktails.
(Katie Falkenberg / Los Angeles Times)
Restaurant Critic
In a Times op-ed a few weeks ago, the architect Thom Mayne suggested Koreatown as a candidate for future hyperdensity, doubling the population of what is already the most densely populated neighborhood in Los Angeles. If you have ever tried to find a parking spot anywhere around dinner hour, you might think that maximum density has already been achieved.
But with its explosive growth, Koreatown has already become the locus of a certain kind of restaurant, even if the area hasn't yet achieved Hong Kong-level residential density, and not all the restaurants are necessarily Korean. Beer Belly is the model of a modern Los Angeles gastropub. At Le Comptoir, Gary Menes prepares vegetables with kaiseki-like precision. The Walker Inn serves its cocktails in tasting-menu flights. Roy Choi chops and channels the idea of hotel food at the Line. Post-Koreatown cooking tends to be spicy, nimble and adept at crossing cultural boundaries; quick to reference street food traditions but with farmers market ingredients; and look back to an idealized agrarian idea of California. Post-Koreatown restaurants are also alcohol-friendly, consistent with the model of social drinking in an era of Uber and convenient mass transit.
Here's Looking at You is a corner bistro from Jonathan Whitener and Lien Ta on the site of a former cheesesteak shop, all Edison bulbs, neo-midcentury cabinetry and a blend of post-punk and old-school hip-hop that has become to this kind of restaurant what Sade and David Byrne's Brazilian compilations were to the last generation.
You would expect a splendid bar in a restaurant like this and there is one, with cocktails designed by Allan Katz and Danielle Crouch, formerly of Caa, that are remarkable in their inventiveness, including a cognac swizzle dedicated to the late Ships Coffee Shop; a lovely tincture of brandy and old amontillado sherry called Sacred Squirrel; and the Bettencourt, which combines bourbon, sweet potato liqueur and a toasted marshmallow garnish into a cocktail whose sweet, heady smack may awaken memories of the casserole your sainted aunt Mary used to bring to the house every Thanksgiving. If you dine at the bar itself, you have a shot at the evening's bar pie, a slab of fruity deliciousness denied to the mere dining-room customers whose tables stand 18 inches away.
Whitener comes to Here's Looking at You from a stretch as chef de cuisine at Animal, the meaty, eclectic restaurant that redefined Los Angeles cuisine as a collection of the stuff that kitchen dudes eat themselves when they're pretty sure that nobody is looking. Animal is always one of the restaurants that visiting chefs stop in at when they visit town; its owners Vinny Dotolo and Jon Shook are kitchen folk heroes. And it is easy to see traces of Animal in Whitener's cooking: strong flavors, jolts of acidity and torn Asian herbs, and a tendency to stuff hints of umami almost everywhere it might conceivably belong — anchovy and Chinese sausage in the tomato salad, sumac with the beets, and fish sauce in the ketchup-like pure smeared under the fried soft-shell prawns.
Is Whitener averse to trends? Probably not. The bony, chewy hamachi collar is caked in the ruddy spice mixture you may recognize from Howlin' Ray's hot chicken, and you have seen the combination of soft sweetbreads and crunchy whole mustard seeds before. The nicely fried boneless trout nestles into a mound of hummus whose flavor recalls a side dish at Zankou. If you are looking for avocado salad, steak tartare, pork belly, Nobu-style sashimi or porridge, you will find them here.
But that porridge — it's kind of extraordinary; equal parts rice and foam, gently soured with buttermilk and unripe grape juice, rising up in great billows around the filet of sturgeon that is nominally the focus of the dish.
Almost every chef in town has flirted with shishito peppers in the last couple of years, but Whitener's version may be the best: hard-seared and arranged on the side of a large, rustic bowl at whose bottom puddles the sauce you usually find drizzled onto a summertime veal tonnato. Stracciatella cheese, the creamy mess of mozzarella strands you've been seeing in modern Italian restaurants lately, is frosted with the tangy Japanese pepper pure yuzu kosho, dotted with toasted pumpkin seeds and served with slabs of profoundly charred Bub and Grandma's bread. (You will also find that bread with the chile-red steak tartare – the combination of char, blood and a dab of eggy aioli is supposed to echo the sensations of Korean galbi.) And the 30-day dry-aged Holstein rib-eye, which at $120 is vastly more expensive than anything else on the menu, is a wonderful piece of meat, tender and funky, burnt and juicy, salty and enhanced by a blob of melted radish butter, definitely worth eating on somebody else's dime.
To finish, you may as well go with a sliver of the yuzu tart with white chocolate or a scoop of the rainbow sherbet – if you can't get the waiter to sneak you a piece of illicit bar pie.
Here's Looking At You
An Animal alum opens a corner bistro in Koreatown.
Location: 3901 W. 6th St., Los Angeles, (213) 568-3573, hereslookingatyoula.com
Prices: Vegetables, $10-$13; seafood, $12-$27; meat, $17-$34 (more, much more, for steak); desserts, $7-$12.
Details: 6 to 11 p.m. Mon. and Wed.-Thurs; 6 p.m. to midnight Fri.-Sat., 6 to 10 p.m. Sun. Credit cards accepted. Full bar. Valet parking behind the restaurant on Oxford Avenue.
Recommended dishes: Shishito peppers; soft-shell prawns; beef tartare; 30-day aged Holstein rib-eye.
Get our L.A. Goes Out newsletter, with the week's best events, to help you explore and experience our city.
You may occasionally receive promotional content from the Los Angeles Times.