6 great restaurants for spicy food
Spicy food is glorious stuff, particularly in times of duress, or when the weather is unreasonably chilly, or when you've misplaced that bottle of Double Chicken Brand Sriracha you still keep in your bag. So which restaurant to head for when the need for a dose of chiles calls? Here are a half-dozen places around town where what's on the menu can blow both your mind and the Scoville scale.
Jitlada
Jonathan Gold dishes on the Jazz burger, an off-menu item at Jitlada in Thai town, a site of pilgrimage for spicy food lovers.
A friend of mine once made it her life's mission to taste every dish on Jitlada's list of southern-Thai specials, a document that filled several dense, typewritten pages. As crab simmered with sataw beans followed frog legs with pumpkin, acacia omelets and curried fish kidneys, a lesser woman might have reverted to the comforts of coco mango salad and whole turmeric fish. And as soon as she'd finished her yearlong project, chef Suthiporn "Tui" Sungkamee slapped on another few dozen dishes, including fried silkworms with chile and the mysterious black-pepper chitlin. In the battle between an inventive Thai chef and an adventurous palate, the chef is going to win every time. Jitlada is that rarity: a popular restaurant as well-loved for its most challenging dishes as for its versions of Thai clichés.
5233 Sunset Blvd., Hollywood, (323) 667-9809, jitladala.com.
Chengdu Taste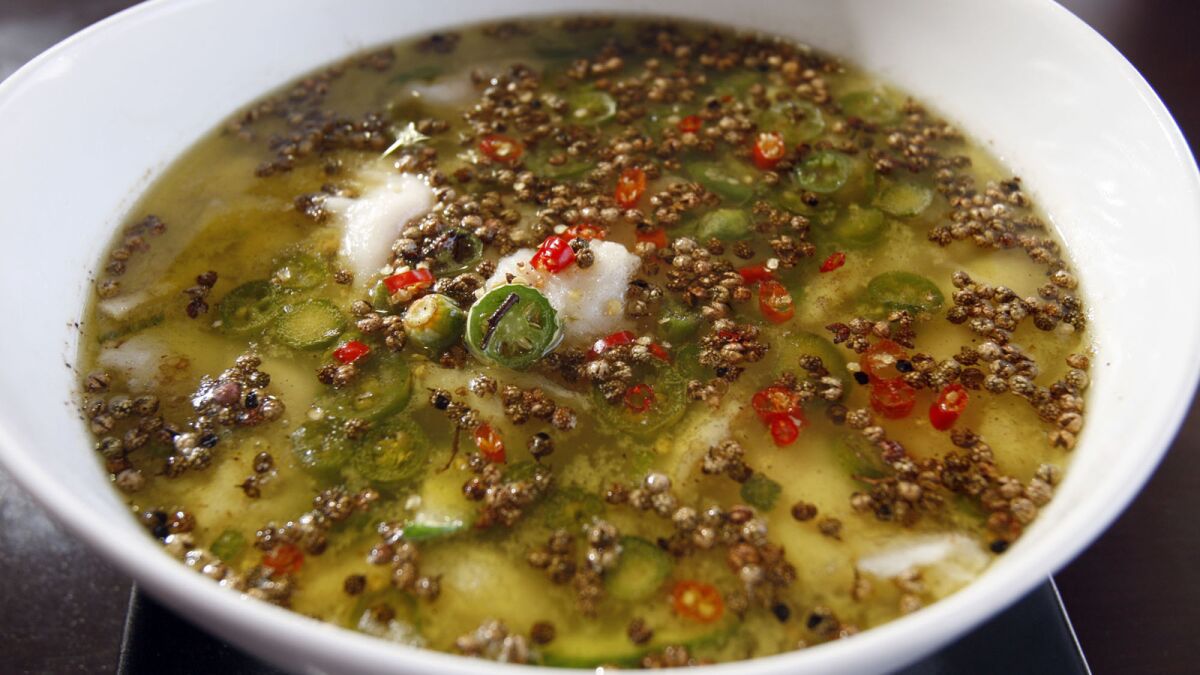 If your experience of Sichuan food is mostly from the Chongqing-style places that have popped up in the San Gabriel Valley in the last few years, you will probably find the Chengdu-style cooking at Chengdu Taste lighter, cleaner and less likely to wake you up in the middle of the night with chile-oil-induced nightmares. The food is still quite spicy, flavored with a vast array of fresh, dried, pickled and ground chiles, but the vivid scent of Sichuan peppercorn comes to the front in quite a few dishes, and the overwhelming sensation, even in dishes common to both kinds of restaurants, such as the sliced beef in chile oil called fu qi fei pian, mapo tofu, or the chile-accented room-temperature noodles called dan dan mian, is of numbness rather than pain.
When you order both Numb-Taste Wonton and boiled fish with green pepper sauce, the waiter may well bring out the latter dish first, a huge bowl of fillets submerged in a broth whose upper inch includes sliced serrano chiles, a big handful of Sichuan peppercorns and lots of peppery oil, because he believes that the sauce on the floppy, delicate dumplings will obliterate your ability to taste the subtleties in the fish. The spectacularly tender fish is numbing enough (you're not supposed to drink the broth), but the almost electric charge of the peppercorns brings out the flavor of the fillets and the chiles — the taste flits around your lips and tongue with the weird vibrancy of a flashing Las Vegas sign — where the pepper sauce with the wonton obliterates everything in its path, like a mysteriously pleasurable punch in the mouth. Sichuan pepper is said to alleviate tooth pain, and I have no reason to doubt it.
828 W. Valley Blvd., Alhambra, (626) 588-2284.
Howlin' Ray's
What happens when you take your first bite of Nashville hot chicken, say the Howlin' Hot fried chicken at Chinatown's Howlin' Ray's? You burn your fingers, for one thing — the bird is just out of the fryer, and you'll probably want to tear the quarter-chicken in half for easy eating — as a good bit of the red seasoning paste will work its way up your fingers and under your nails. You will aim to get as much of the fragrant skin as possible between your teeth, and you sigh with relief; the experience is of salt, crunch and garlic, overlaid with the musty pungency of dried peppers, not nearly as bad as you thought. It is excellent fried chicken.
Then the punch of heat lands — you may experience it almost as a blow to the chest. Your lips swell. Your scalp erupts in sweat. Your throat begins to close. You unconsciously mop your forehead with the back of your hand and suddenly there is a situation up there too, a sensation you may have experienced the last time you napped an hour too long on the beach. Your bloodstream floods with adrenaline, but then the endorphins kick in, and you float on an eddy of bliss for a moment or two. Then you go back in for some more. The hot chicken has won.
727 N . Broadway, No. 128, Los Angeles, (213) 935-8399, howlinrays.com.
Chichen Itza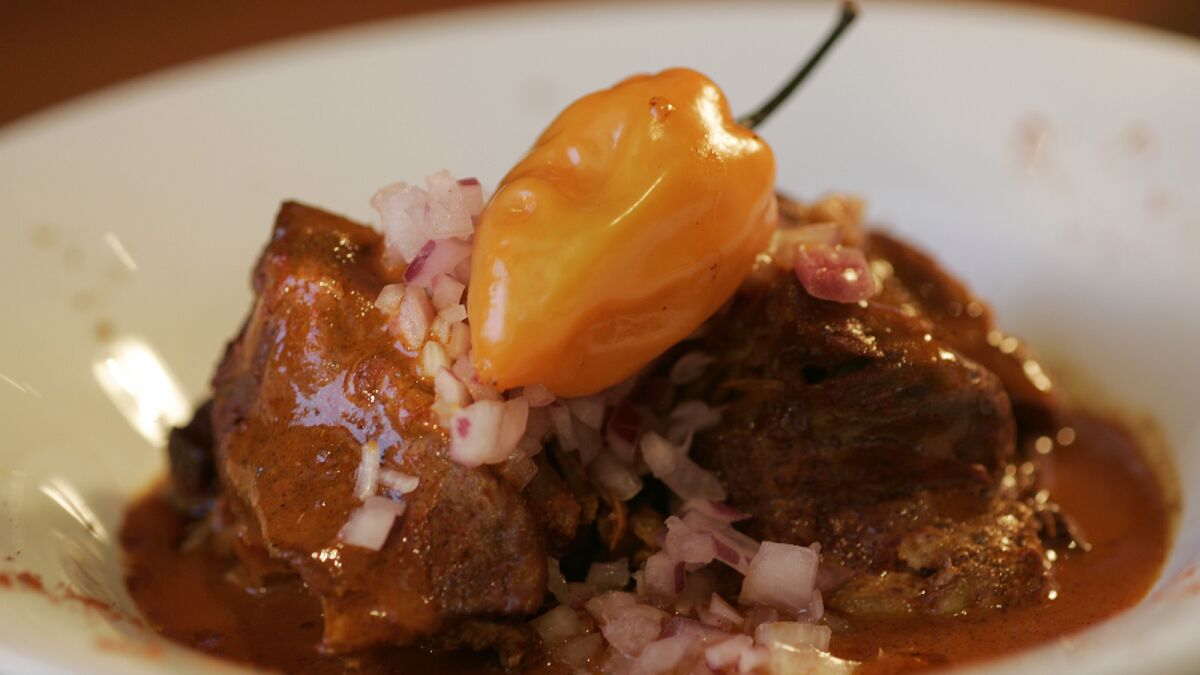 At Chichén Itzá, when you order a panucho, which is a split tortilla stuffed with black beans, fried crisp and drizzled with citrus, you will be presented with an orange habañero salsa, which is hot enough to make a whole classroom of third-graders cry. What you want to do, of course, is ask instead for the green habañero salsa, flecked with bits of charred skin, which is hot enough to make the first salsa seem like ketchup. Such is the way of Yucatecan cuisine. This lunch counter in the La Paloma complex near USC is the most serious Yucatecan restaurant in town, specializing in Maya dishes such as codzitos, egg-stuffed papadzules, and cochinita pibil that may have pre-dated Columbus, as well as modern Yucatecan dishes such as poc chuc and the Merida version of Lebanese kibbe. Wash it down with vivid-green drink made from the chaya leaf or the refreshingly tart agua fresca made from guanabana.
3655 S. Grand Ave. (in Mercado La Paloma), Los Angeles, (213) 741-1075, chichenitzarestaurant.com
Dongpo
There's that la zi ji: slightly glazed, sprinkled with sesame seeds, and beautifully crunchy; saturated with salt, oil and a numbing blast of Sichuan peppercorn. I like the bony, superhot, almost burned la zi ji at some other restaurants in town, and I've made it almost a mission to find the best — the ones at Lucky Noodle King, Chuan's, and Spicy City aren't bad. But the la zi ji at Dongpo is splendid, as compulsive as a treasure hunt, chopsticks darting through the mountain of chiles for stray nuggets of meat, an activity you will pursue like a Pavlovian, for long minutes after the last bit of chicken has definitely disappeared.
400 S. Baldwin Ave., Arcadia (in the Westfield Santa Anita mall), (626) 538-4580, meizhourestaurants.com.
Also, more or less, at 10250 Santa Monica Blvd., Los Angeles (in Westfield Century City mall), (310) 788-0120.
Sun Nong Dan
The galbi jjim at Sun Nong Dan is Hendrix shredding a Bob Dylan song or David Choe slapping paint onto a wall, all the sensations of the dish run through a distortion pedal and cranked up to 10. You'll be getting the dish extra-spicy (although the waiter will try to talk you out of it), and the amount of garlic that will seep out of your pores afterward is almost surreal. The pot that it comes in is hot enough and thick enough to crisp the cylinders of rice noodles, tteok, put a light char on the meat and keep the scarlet braising sauce bubbling long enough to reduce to a thick, insanely flavorful sludge that both coats and saturates the turned carrots and potatoes.
If you have ordered it with cheese – you have to order it with cheese – a waiter scoops a big handful of white gratings over the top and bazookas it with a torch, creating several small fireballs along the way for effect until the mass breaks down into oozing, char-flecked rivulets that stretch from your chopsticks like pizza goo.
3470 W. 6th St., Suite 7, Los Angeles, (213) 365-0303, www.sunnongdan.com.
MORE FROM JONATHAN GOLD
Jonathan Gold's 10 best dishes of 2016
Now you can ask food critic Jonathan Gold for advice anytime
Jonathan Gold picks 6 places for rainy-day pho
Get our L.A. Goes Out newsletter, with the week's best events, to help you explore and experience our city.
You may occasionally receive promotional content from the Los Angeles Times.