Jonathan Gold picks 5 places for rainy-day pho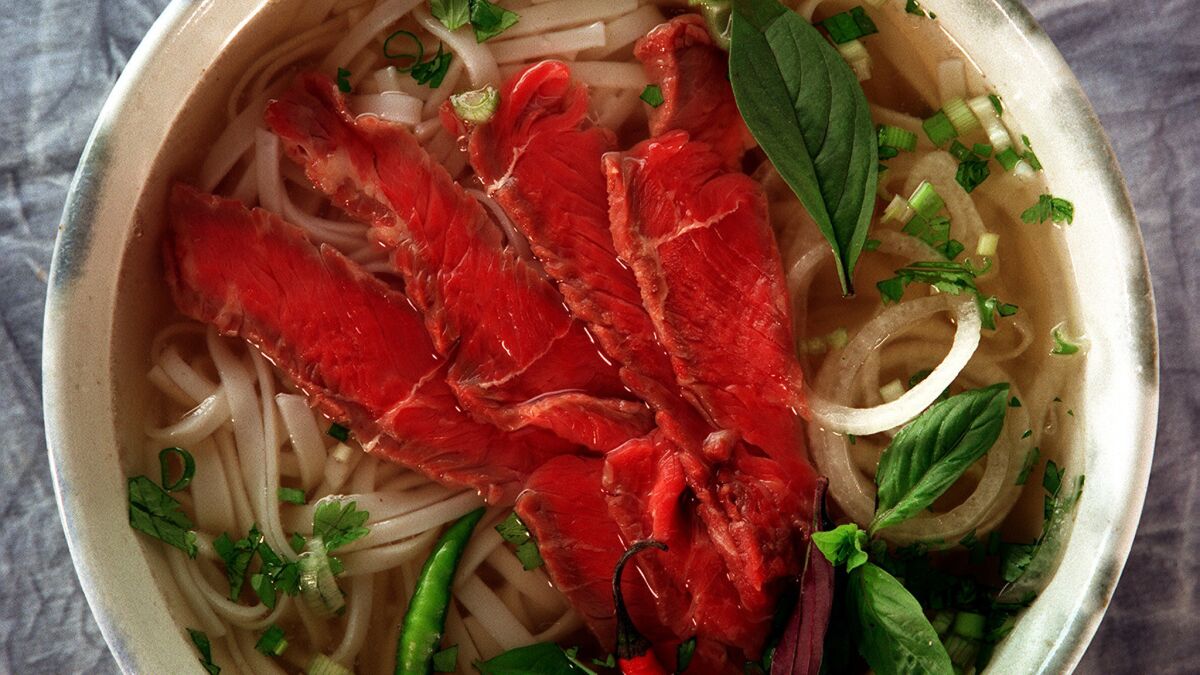 Is there anything more annoying than the friend who corrects your pronunciation of pho, insisting that you call the Vietnamese beef noodle soup "fuh" instead of "foe" – that girl who rolls her eyes at the idea of a restaurant called "9021Pho?" Perhaps not. But when the weather is damp, the radio news guys talk about mudslides and you feel like crawling back into bed, there may be no better restorative than a steaming bowl of pho, even when it requires a 40-minute drive.
Lucas goes to Orange County with chef Shawn Pham for some of the best Vietnamese food you can find outside of the country itself.
Pho 79
If you look in the window of the original Pho 79 in Little Saigon, you can probably still see a review I wrote back in the Reagan administration; a review old enough to run for the House of Representatives. Pho 79 was the first great pho restaurant in California, and the pho dac biet, beef noodle soup with a bit of everything and a big hit of star anise, hasn't really changed since then. It's one of the most reliable phos in town. It was only recently though that I discovered the pho thit nuong with Vietnamese grilled pork and broth the color of black coffee. Are the flavors of the pork pho a little muddied, almost gravy-like? Perhaps. But with a squirt of lime and a few shreds of torn basil, it is better than all right.
9941 Hazard Ave. Garden Grove, CA 92843, (714) 531-2490, pho79.com
Pho Filet 2
A spinoff of the famous Pho Filet from the pho-intensive strip of South El Monte, specializing in Hanoi-style pho bac, a minimalist soup highlighted by a sprinkling of fresh ginger and a largish hunk of soft, bloody filet mignon hacked up like a guy who had lost a razor fight. Pho bac is pretty different from jazzy, amped-up Saigon pho – it's quieter, less dependent on the flavors of caramelization, and uncluttered by the half-dozen meats common in southern-style pho. The newer Pho Filet seems like a step up, a larger, busier place with a long menu of Vietnamese specialties that don't happen to be pho – and perhaps most important, a shorter wait on weekends. The greens plate accompanying the pho bac is especially abundant, with not only a coupe of different kinds of fresh basil and the requisite mountain of bean sprouts, but also rau ram and sawtooth herb to stir into the broth if that's your thing. And you can get an avocado shake.
2643 San Gabriel Blvd., Rosemead, (626) 280-1899
Golden Deli
You are here to eat cha gio, of course, the cigar-size fried imperial rolls whose crunch you can hear as far away as Downey. But while you are eating the cha gio, and sipping strong filter coffee, and wondering why a Vietnamese noodle shop has such an enormous selection of cupcakes, you are also probably slurping at an enormous bowl of pho. Golden Deli's pho may suffer from thin broth, slightly gummy noodles and enough sodium to cause hypertension in a boa constrictor, but it is the pho that you dream of when you are marooned in gastronomic wastelands like Tokyo or Rome.
815 W. Las Tunas Drive, San Gabriel, (626) 308-0803, goldendelirestaurant.com
Pho Huynh
Speaking of pho districts, one must take into account the weird concentration of Vietnamese noodle shops in South El Monte, a small town with almost no Vietnamese residents but with a concentration of pho shops unprecedented even in Little Saigon. The most popular of these is undoubtedly Pho Huynh, whose pleasantly gamy pho broth practically vibrates with what we shall call umami; a crude but wild broth that wants you to dance.
9706 Garvey Ave., South El Monte, (626) 350-6688.
East Borough
This isn't pho, not exactly. But the proprietors of East Borough should be congratulated on their sandwich combining pho's simmered beef, the French bread and pickled vegetables of a banh mi sandwich, and a little side bowl of pho broth for dipping, into their "pho baguette," a mashup of the two Vietnamese dishes everyone knows with a Los Angeles French dip, a jolt of inspiration that may be up there with the Chinese chicken salad, the Beijing duck pizza and the galbi taco. Congratulations all around.
2937 Bristol St. Costa Mesa, CA 92626, (714) 641-5010, east-borough.com
Updates
2:50 p.m. Nov. 5, 2019: This story has been updated to reflect the closure of Noodle Guy.
---
Get our L.A. Goes Out newsletter, with the week's best events, to help you explore and experience our city.
You may occasionally receive promotional content from the Los Angeles Times.