Jonathan Gold's 6 favorite Asian fried chicken joints in the L.A. area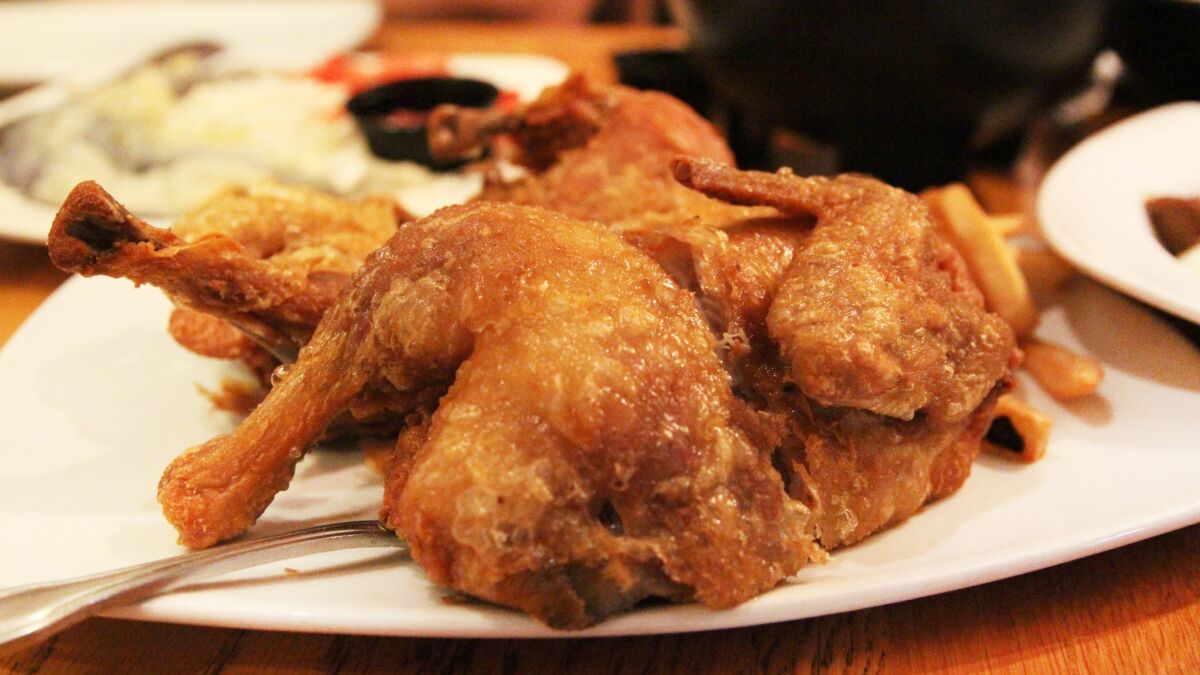 Does Los Angeles live by Nashville hot chicken alone? No — not as long as there's a universe of Asian fried chicken too.
Max's Restaurant
Is Max's the Coco's of the Philippines? Yes, Max's is kind of the Coco's of the Philippines, the Glendale outlet of a biggish, aggressively normal chain that just happens to serve pancit and pinakbet instead of tuna melts and Cobb salad, although if you want to get Pepsi instead of a calamansi juice, that's on you. Max's calls itself The House That Fried Chicken Built, and unless you're planning on going on a crispy pata binge, the chicken is pretty much the right call, lightly vinegary, beautifully crisp and served with banana ketchup. Don't forget to get a halo halo for dessert.
313 W. Broadway, Glendale, (818) 637-7751.
A new Los Angeles Times Food series devoted to the best fried chicken in Los Angeles, hosted by senior food writer Jenn Harris.
Merry's House of Chicken
Indonesian fried chicken tends to be pretty good to begin with, often long-marinated with garlic, sweet soy and other good things, often simmered to a lovely tenderness before it hits the hot oil, often slammed with chile heat. Merry Istiowati has been known for her Javanese fried chicken for a while in West Covina — when she ran her ayam goreng as a special in the noodle shop she used to cook in, it sometimes seemed as if there was a warp in the space-time continuum. But her ayam goreng kremes at Merry's House of Chicken may be even a step beyond that — rubbed with spices, steamed and fried at the last moment to a kind of supernal crunch. And if that crunch wasn't enough, the ayam goreng kremes is showered with a handful of additional crunch, fried rice-flour crumbs that almost bury the bird in golden-brown happiness.
2550 E. Amar Road, Suite A5, West Covina; (626) 965-0123.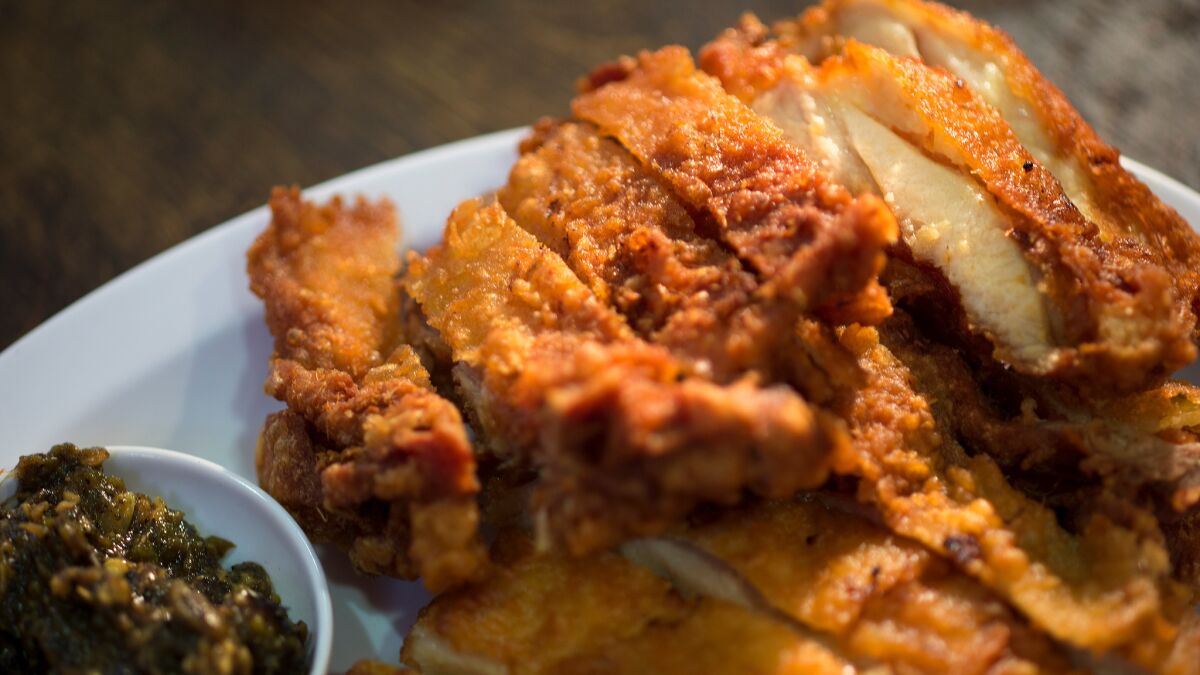 Night+Market Song
Thai fried chicken — what could go wrong? But at Night + Market Song, whose menu is evenly split between crazy-pop takes on Thai classics and the kind of things Thais themselves tend to enjoy after a long night of fun, you are basically going to get your chicken on chef Kris Yenbamroong's terms. The crunchy, garlicky fried chicken thighs, perhaps the most accessible thing on the menu, used to be served with a fragrant, spicy Northern Thai condiment made with roasted green chiles … and steamed water bugs, which functioned more like an exotic, fragrant, slightly bitter herb than they did like what you imagined insects might have tasted like. Now the chicken, very good by the way, is served with a somewhat more conventional nam prik noom. If you make it in for lunch, there are also fried chicken sandwiches. Water bugs are not included — there's ranch dressing instead.
3322 W. Sunset Blvd., Silver Lake, (323) 665-5899.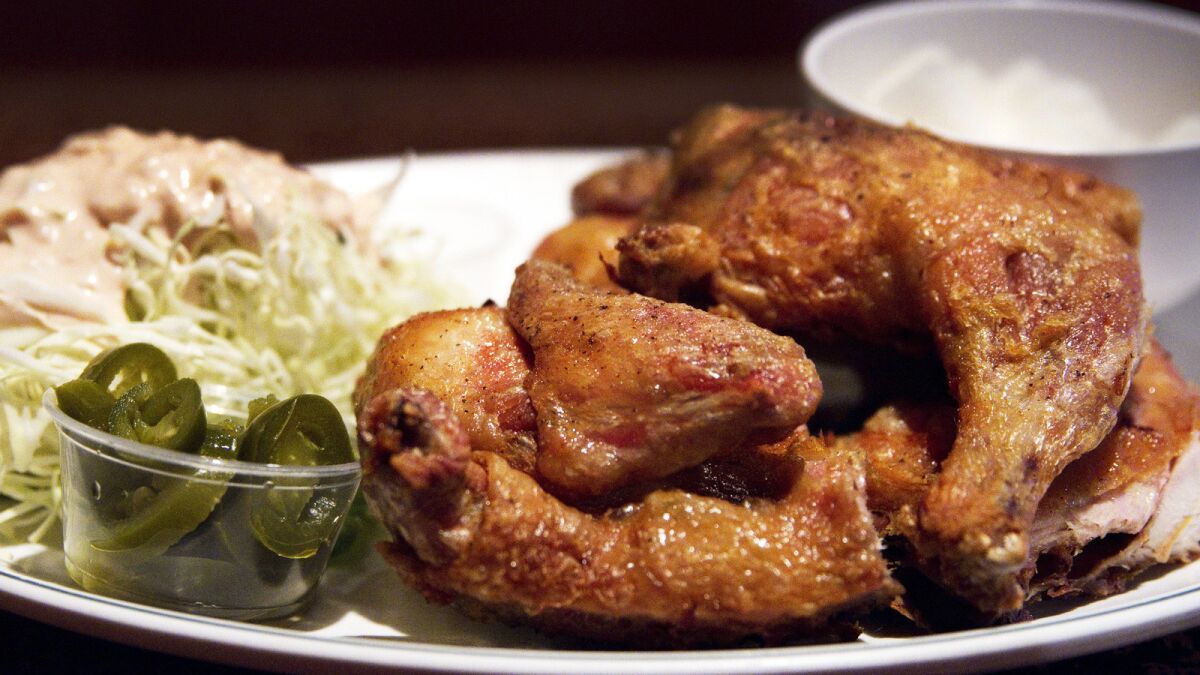 OB Bear
Fried chicken was the fad that swept Koreatown a few years ago, fueled by the tremendous success of Kyochon, Bonchon and their imitators, and it became nearly impossible to walk a block in the area without running into one variation or another. But now that the craze has died down, I'm starting to return more and more to OB Bear for an older style of tavern fried chicken —the whole fried game hen but mostly the spicy, salty blazing-red fried wings that have ruined more shirts than any other in Koreatown, and are the perfect accompaniment to too much beer. Should you also get a leek pancake? Do you even need to ask?
3002 W. 7th St., Los Angeles, (213) 480-4910.
Tokyo Fried Chicken
If Japanese fried chicken were a thing, it would probably be the deep-fried chunks of karaage that show up on the better izakaya menus, or perhaps the wisps of fried chicken skin you see every so often. But what the endless line curling into the parking lot outside Tokyo Fried Chicken is waiting for is something a bit different — closer to what you might think of as Korean fried chicken than to anything explicitly Japanese, which is to say well-marinated, triple-fried, with brittle, almost translucent skin. There are honey-bear squeeze bottles filled with tart, thin ponzu sauce; a nice list of Japanese craft beers and sides that include a formidable dish of collard greens braised in dashi and a plate of soy-candied carrots with bacon — maybe it is Japanese after all, or at least Japan by way of Memphis. But my favorite part may be the single glove you are issued with which to handle the hot chicken. You too can feel like Michael Jackson, at least for the length of time it takes to gnaw on a wing.
122 S. Atlantic Blvd., Monterey Park, (626) 282-9829.
Dongpo
Let us contemplate the phenomenon of la zi ji, known in Sichuan-style restaurants as spicy fried chicken, Chungking fried chicken, Chongqing spicy chicken, chicken with chiles, or spicy diced chicken. A proper plate looks like an Iowa nutritionist's nightmare — a vast, scarlet heap of fried dried chiles (there for fragrance; you don't eat them), punctuated occasionally by a scrap of garlic or scallion, that all but conceals fried chicken bits – it looks like the aftermath of a Chinese New Year firecracker assault. The version served at Dongpo, the elegant outpost of a Beijing-based chain, is more uptown than other la zi ji in town: slightly glazed, sprinkled with sesame seeds, and almost delicate in its crunch; saturated with salt, oil and Sichuan peppercorn.
400 S. Baldwin Ave., Arcadia (in the Westfield Santa Anita mall), (626) 538-4580.
Los Angeles Times Food videos
On Now
How Tito's Tacos food is made
9:52
On Now
Testing gas and induction stoves to see which is better
9:12
On Now
How to make this extra limey guacamole
6:55
On Now
Exploring Afro-Mexican cuisine at Tamales Elena in Bell Gardens
11:03
On Now
Alice Waters: How to Start a Food Revolution
24:02
On Now
The pastrami taco from Mexican-inspired Jewish pop-up Malli
5:38
On Now
When is a nugget not a nugget? (And which one is best?)
13:14
Get our L.A. Goes Out newsletter, with the week's best events, to help you explore and experience our city.
You may occasionally receive promotional content from the Los Angeles Times.