Q&A: Jonathan Gold asks himself why Vespertine is No. 1 – and whether he even likes it
Why is Vespertine No. 1 on the 101 list this year?
Because Jordan Kahn is playing with modes of dining that have never before been articulated. Because months after your meal, images and juxtapositions will flash through your thoughts, as vivid as they were the evening of your dinner. Because Verspertine is in its way perfect.
But isn't the experience alienating? You tend to spend half of everything you write about a Kahn project explaining why most people are unlikely to enjoy it.
This is true — I do spend a lot of time thinking about how a young couple from Tarzana might save up for a nice night out and end up not just confused but angry about the fruit leather, dried kelp and clouds of smoldering frankincense. If you're going to Vespertine — and of course, I encourage everybody to visit Vespertine — you should know what you are getting into, just as you would before seeing "Lulu" at the L.A. Opera.
Do you like Vespertine?
I do. But I'm not sure that it's a relevant question. I have no doubt that Kahn and his team have their customers' pleasure somewhere in their list of aesthetic priorities, but I'm guessing it's pretty far behind other considerations. I am occasionally reminded by the essay "Who Cares If You Listen" by the fabulously dissonant composer Milton Babbitt. I also think about the scene in Albert Brooks' "Defending Your Life" where Brooks insists on trying some of the food his defense attorney Rip Torn is eating — not meant for little brains, Torn explains — and even the space-station food sequence in "2001.'' The point of Kahn's food is to keep you off-balance, to resemble nothing you've ever intentionally put in your mouth. At this he succeeds.
But shouldn't you have waited until next year, when the restaurant's concept is perhaps better-realized?
As I said, Vespertine is perfect now — the staff executes Kahn's vision flawlessly, from the teff salad with the halibut to the ecclesiastical demeanor of the waiters. And it's hard to predict what the restaurant might be like next year. Some of my favorite places — Ume no Hana, Porridge and Puffs, Joachim Splichal's Max au Triangle — have had short lifespans. Plus, the next year will see new restaurants from April Bloomfield, Daniel Humm, Ori Menashe, Jessica Largey and David Chang, plus recently opened restaurants from Jean-Georges Vongerichten and Dave Beran. Who knows how things are going to shake out?
Wouldn't you rather go to Providence?
Possibly. But also possibly not.
But Dialogue! But MTN! But ink.well! But Sari Sari Store!
All of them are quite good — especially Dialogue, which has the potential to be one of the best restaurants in California. But they're very new, and I'm not sure that any of them has quite caught their stride yet. Let's talk again next year.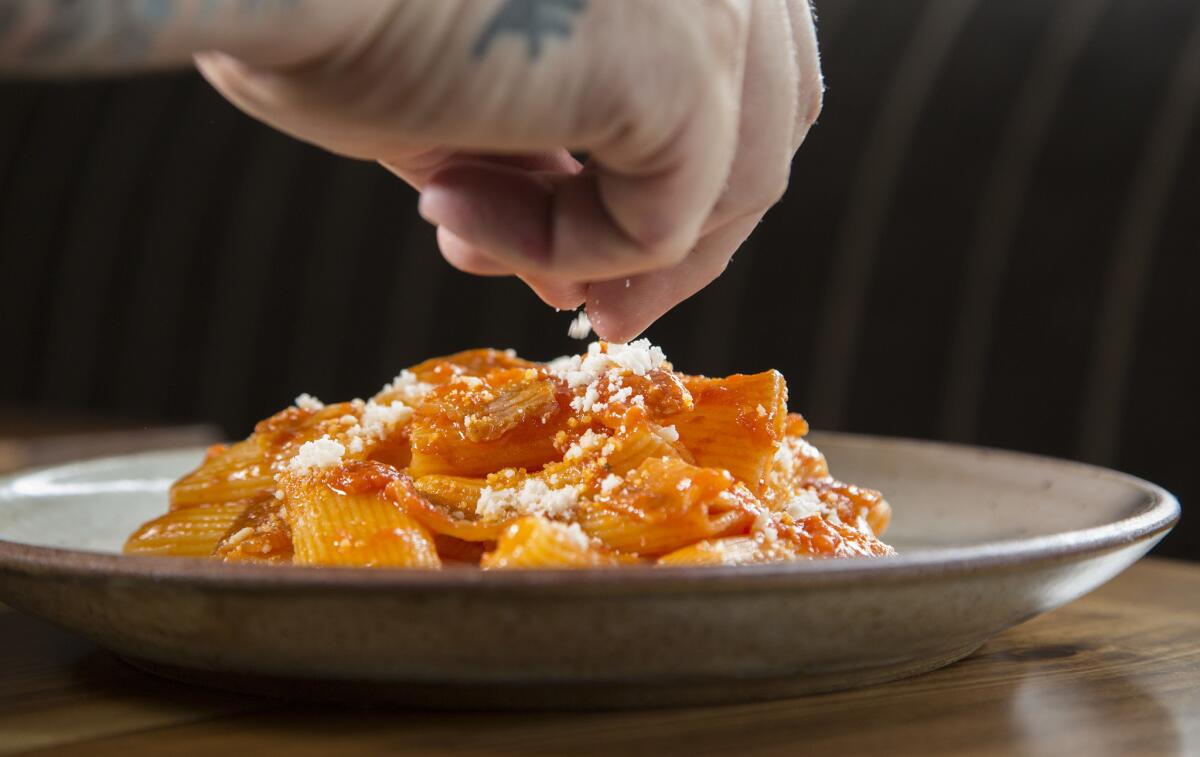 Esquire just named Felix the best new restaurant in the United States. How on earth could you leave them off the list?
I like Felix. I like Evan Funke, who possesses a rare gift for central Italian flavors. The restaurant is deservedly popular — I like going there. But Felix is primarily a pasta restaurant, and I disagree with Funke on what pasta might be. I am on the side of suppleness, noodles that feel almost alive under your teeth. His aesthetic leans toward the severe end of the spectrum, where pasta is wet on the outside and barely cooked at the center. Some people call this style filo di ferro, "iron string," pasta cooked just a few seconds short of al dente. I think Funke's pasta goes a few steps before even that. Does this call for pistols at dawn? I hope not!
10 restaurants I was sad to leave off the 101 this year:
Golden Deli. It has the best spring rolls in the observable universe.
Jon & Vinny's. We had a strict two-restaurants-per-chef rule this year. It also affected Trois Familia, Bäco Mercat, Son of a Gun, Tavern and other splendid dining rooms.
Gwang Yang. In the end, there was room for only one Korean barbecue restaurant, and Park's is sui generis. Kang Ho Dong Baekjeong also lost out here.
Musso & Frank Grill. In a way, the most L.A. of L.A. restaurants, where we often go for Caesar salads, martinis and the knowledge that molecules from Faulkner's exploded liver are still floating around the room.
Szechuan Impression. It is difficult to be the second-best Chengdu-style restaurant in the age of Chengdu Taste. A lot of things — bobo chicken, smoked pigs' ears, pork belly steamed with garlic — are even better here.
Babita. Imagine a town with so many great Mexican restaurants that the intricate Sinaloa-style cenaduria cooking of Babita falls off the list.
Marugame Monzo. Absolutely splendid udon made to order and first-rate tempura. Why does ramen always snag the Japanese noodle slot? Habit, I guess.
Yu Chun. When the temperatures get up into triple digits as they have this week, there is nowhere you would rather be than in front of a slushy bowl of Yu Chun's superb chic naengmyeon, noodles so cold that they can give you an ice cream headache.
Pie n' Burger. Because some things can never be bested.
Bulgarini Gelato. Leo Bulgarini makes the best gelato in the United States.
Not enough restaurants in my neighborhood — I'm canceling my subscription!
Love and Salt. A perfectly charming Italian restaurant with first-rate cocktails, in the center of Manhattan Beach.
Hummus Bar & Grill. In a city increasingly obsessed with smooth, full-flavored hummus, the version in this Tarzana standby is the creamiest of all.
Mantee Café. Of the zillions of Lebanese-Armenian restaurants in town, this Studio City kebab parlor may be closest to its origins in Beirut.
Marche Moderne. Can you drop by for chopped salad, arms full of Hermès and Chanel bags, after a morning of shopping at the South Coast Plaza? Not since it recently moved to Newport Beach. But the terrines, the duck confit with figs, the langoustine with sea urchin risotto — you're set.
Krua Thai. Still the best pad Thai noodles in town, conveniently located in West Covina and North Hollywood.
Playa Amor. Mole tot poutine, sure, but not just mole tot poutine. Delicious, cocktail-fueled dining in Long Beach, both part of and poking fun at the modern Mexican cuisine movement.
Renu Nakorn. The crew behind Lotus of Siam, sometimes considered the best Thai restaurant in the country, broke off from this Norwalk restaurant decades ago. Yet the cooking, especially the fiery Isaan salads and the Chiang Mai noodle dishes, is still pretty much unchanged from its heyday. Still the best crispy rice salad in town.
Merry's House of Chicken. Why is the best Indonesian fried chicken in town hidden in a Walnut Hills minimall? That's not really important right now, is it.
Brent's Deli. Why yes, Brent's probably is the second-best delicatessen in Southern California — the best, actually, if what you're looking for is kasha varnishkes, stuffed derma, or chicken in a pot. Two equally inconvenient locations in Northridge and Westlake Village.
Dal Rae. This corner of Pico Rivera has surely changed since the days when the biggest Ford plant in California was just down the street, pinky rings were in fashion and Rosemead Boulevard was the quickest way to the ponies at Del Mar. But the pepper steak, the tableside Caesar salad and the Old-Fashioneds pulsing with sugar – they haven't changed at all.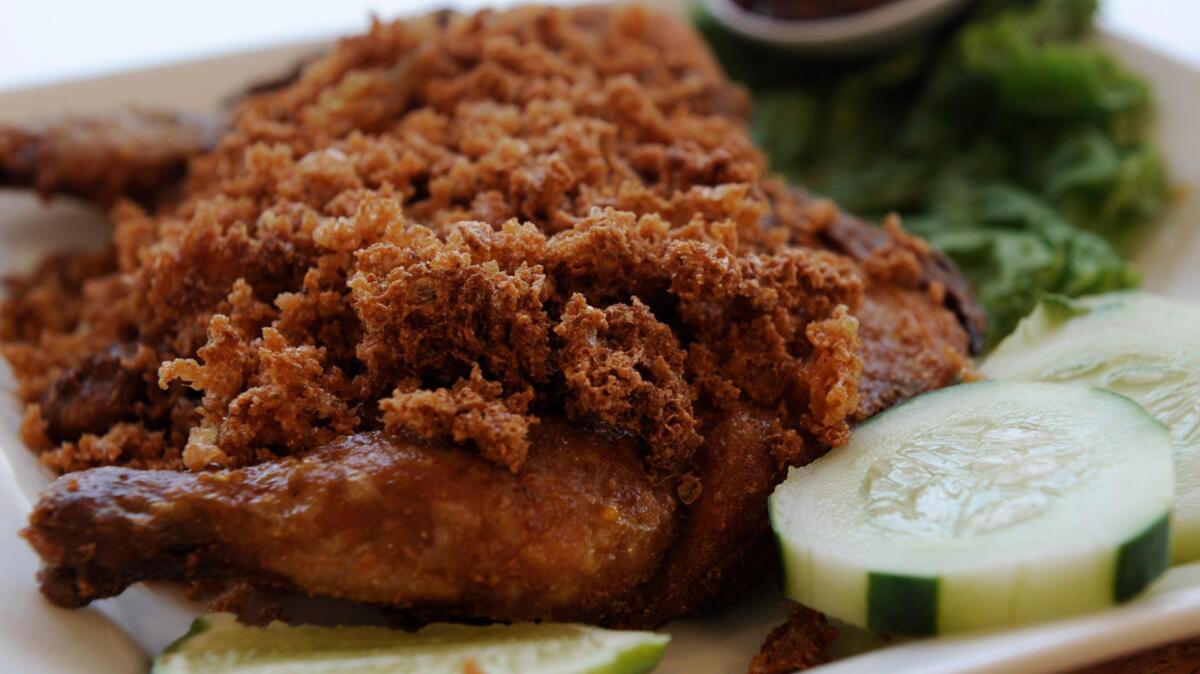 Get our L.A. Goes Out newsletter, with the week's best events, to help you explore and experience our city.
You may occasionally receive promotional content from the Los Angeles Times.