Vespertine, a new Culver City restaurant from chef Jordan Kahn, will combine food and architecture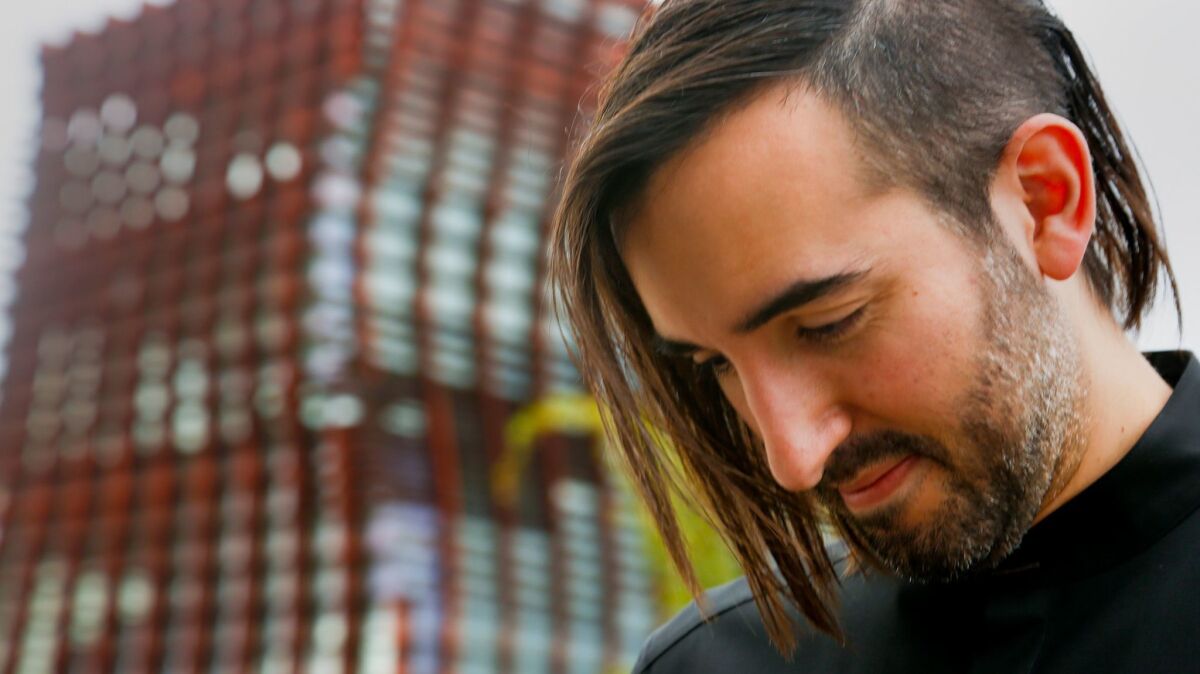 For more than three years, Jordan Kahn has been harboring a secret.
The 33-year old chef, previously best known for his cooking at the now-closed Beverly Hills restaurant Red Medicine, where he transformed appetizers into terrarium foodscapes and served birch ice for dessert, last year opened Destroyer, an all-day cafe in Culver City's Hayden Tract.
Destroyer seemed like an odd choice for a comeback. Why would a chef whose career has taken him through some of the most decorated kitchens in the country — French Laundry, Per Se and Alinea — be serving poached chicken salads to the office lunch crowd? Destroyer has 16 seats, counter service and until last week served lunch with disposable cutlery. Critics praised it, chefs congratulated him and everyone collectively scratched their heads.
On a raw, gray day in early February, Kahn stood on the sidewalk outside Destroyer and pointed at an undulating grid of glass and steel across the street. "That's it," he said, of the Eric Owen Moss construction, two stories of a checkerboard-like facade twisting up from the ground. The building is the site of Vespertine, a 22-seat experimental restaurant Kahn will open this spring.
For those who have followed Kahn's career, it shouldn't be surprising to learn that he has been secretly plotting a tasting menu loosely inspired by the music of John Cage, the manifestos of Moss, and his own personal interest in astronomy. (Vespertine is a botanical term referencing flowers that bloom in the evening.) Kahn has never been a chef to do what was expected.
In September, when he opened Destroyer, he did so without a press release, a website or a social media account. During the first two weeks of service, diners had to message strangers on Instagram just to get the address, a gesture that was both maddening and thrilling in an age of instant gratification.
Kahn tried to pay Yelp $500 not to list Destroyer, but word inevitably got out and the crowds arrived to find one of L.A.'s most promising chefs serving $14 bowls of congee that looked more like Guillermo del Toro landscapes than rice porridge. In the context of Vespertine, Destroyer makes a lot more sense.
Given today's media landscape, when every piece of plywood and liquor license is cause for reporting, it takes a magician's sleight of hand to keep a project like Vespertine under wraps. The secrecy, Kahn says, took enormous effort, and afforded him the luxury of time to dream about what a restaurant could be.
The low-key opening at Destroyer provided 10 days of press-free service for his cooks to ease into the space and sort out any kinks before they were pointed out to them publicly on Yelp.
"It's the same reason why I choose to not look at media and press and reviews," Kahn says. "I needed time to be on my own to understand what it is."
So what is Vespertine? A restaurant that will serve a $250 tasting menu twice a night to 22 guests, but also a unique collaboration between a chef and an architect.
Kahn and Moss first met in 2014 when the chef was courted by the Platform, a nearby development seeking culinary talent for its empty storefronts. The Platform's materials featured images of the neighborhood, including shots of Moss' idiosyncratic buildings, which caught Kahn's eye and steered him to the Hayden Tract.
Touring the warehouse district turned office park is like walking through a retrospective of Moss's 30-year career. (It's not uncommon to see gaggles of architecture students cruise through the neighborhood.) The landscape, developed under the supervision of Moss' longtime patrons Frederick and Laurie Smith, is dotted with 40 of the architect's buildings, most of which look more like transformers than office space.
Vespertine is Moss' first restaurant project, and his hand can be seen in every design facet, from the custom banquettes and water pitchers to the outdoor garden, which will sequester seating areas amid dunes of vegetables and herbs.
"The most exciting piece is the way that discourse takes place," Moss says from behind the paper-strewn desk at his office, a block from Vespertine. "Restaurants are usually very singular," but the intention at Vespertine, Moss adds, is to "erase the line" between architecture and food.
"Jordan said to me the other day, 'Moss, go make me a dish and I'll make the food that will go in the dish.' Who would say that as a chef?" he says.
If it sounds like a conceptual art project, it should. The number of creative partners involved in Vespertine is more appropriate for a Hollywood production than a restaurant opening. The uniforms ("they're more like garments," says Kahn) were created by fashion designer Jona Sees. An "experiential soundtrack" composed by the Austin, Texas-based group This Will Destroy You, is intended to do for dinner what scores do for movies and television. (The group composed songs for the movies "Moneyball," "The Room" and "Foxcatcher.")
The ceramics are from Ryota Aoki, a Japanese potter who harvests his clay from a mountainside outside Nagoya. Spoons will be hand-forged by a jewelry maker in Kanazawa, Japan.
And then there's the food — roughly 20 courses that Kahn says will zigzag like a seismograph instead of a traditional progression from light and acidic to rich and heavy.
Kahn prefers to detail what won't be on the plate rather than what will: no puréed dots, no crumbles, no nasturtium leaves and absolutely no rampant fermentation.
What does excite him are ingredients, such as black sapote, kelp blades and beef from a biodynamic ranch in the high desert. Aromatic ingredients like Buddha's hand, birch and redwood will show up on the plate as well.
Kahn's pastry chef background means a facility with technique, but don't expect what he calls the "rustic comfort food" of Destroyer.
Rather than taking inspiration from a specific culture or regional cuisine, Kahn lists architecture as one of his main influences. "I've been fascinated by Brutalist architecture lately," he says. "It's not gentle or delicate. There is an element of this food that is going to be a little bit severe."
For now the menu consists of a list of ideas spanning 12 Word documents on his computer, and over the next six weeks he and his team will turn three years of ideas into dinner.
"It's interesting," Kahn says, reflecting on his creative process. "It happened in a very backward way. Typically the food is what propels these kinds of restaurants, but in this instance the food is trying to catch up with the rest of it."
3599 Hayden Ave., Culver City, www.vespertine.la.
ALSO:
Make 2017 your best wine year ever
Bar Moruno at Grand Central Market is closing
Why you'll probably want to head to Silver Lake for soft serve, even in the rain
Get our L.A. Goes Out newsletter, with the week's best events, to help you explore and experience our city.
You may occasionally receive promotional content from the Los Angeles Times.