Make 2017 your best wine year ever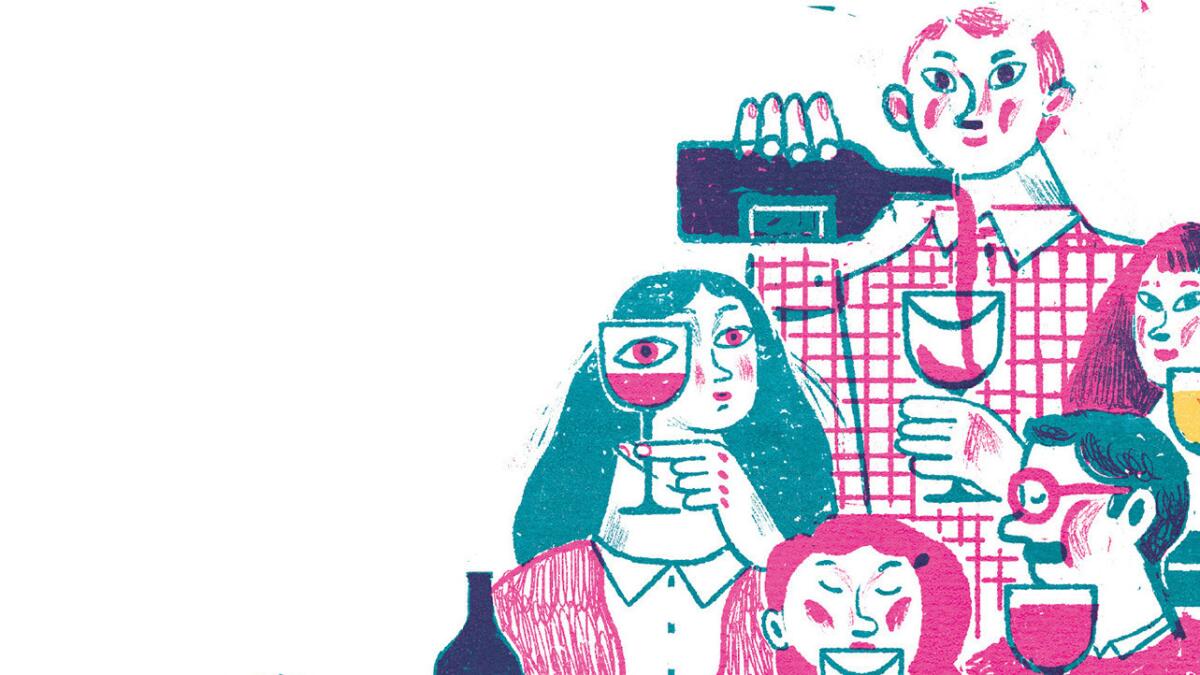 It's a new year, filled with new opportunities, and as the political landscape takes ungainly shape, it's a year that will certainly be spent drinking. So as you scan the headlines and find yourself reaching for the bottle, why not make good use of the opportunity? Instead of picking up just any bottle, try expanding your wine options for 2017.
In terms of price, you don't need to upgrade, that is unless your wine tastes keep you in the $10 to $12 range. If that's you, then for every third bottle, spend an extra five to 10 dollars and see how much more quality that upgrade can buy you. In most other instance, the recommendations below are lateral movements; in most cases, it's easy to stay under $25. Here are some suggestions.
This is the year you drink tangy whites
Angelenos have been easing away from traditional California Chardonnay for years now, toward leaner, fresher, more high acid whites. Some of this thirst was quenched by Pinot Grigio, until its dilute insipidity was too boring to bear. But there are plenty of high-toned, tangy, palate-arresting whites out there, and this is the year to try them. Think Pinot Blanc, more savory and bracing than Pinot Gris, from Oregon, Alsace or Germany (known there as Weissburgunder); think Furmint and Hárslevelü from the Tokaj region of Hungary; or think Muscadet from Sèvre-et-Maine, the bracing ocean-adjacent Loire wine region, and the official oyster wine of France. These wines are lean and crisp, defined more by movement than length or weight in the mouth, and excel with the light flavors of our early spring.
Three to try: Chehalem Willamette Valley Pinot Blanc, Samuel Tinon's tangy, delicious Tokaj Furmints or the tactile, mineral Muscadet sur Lie from Domaine de la Pépière.
This is the year you try wine from another state
The L.A. wine market is one of the largest, most diverse and most robust in the country, and by extension the world. But its bread-and-butter consumers have a modest chauvinism with respect to California wine, and it comes at the expense of the rest of the country. Wine, after all, is made in all 50 states, and made well in about half of them. You can of course buy wines from Oregon and Washington — they're known quantities — but wines from New York's Finger Lakes, from Virginia, from Arizona, Idaho and Colorado are worth checking out too.
Five to try: Start with a sparkling rosé from New Mexico stalwart Gruet or the Spanish-inspired blends of Dos Cabezas or Caduceus in Arizona. Or uncork the racy Rieslings of the Finger Lakes, which are distributed in California in ever increasing numbers, including two of my favorite wineries, Hermann J. Wiemer and Ravines.
Or do this: Open a bottle of Oregon Pinot Noir alongside one from the Sonoma Coast and contrast. Or take a Bordeaux-inspired blend from the Napa Valley — Frog's Leap's Rutherford Red, for example — and pour it alongside one from Walla Walla, like L'Ecole No. 41's Perigee. The results will be revelatory.
This is the year you go back to Australia
Ten years ago, Australian exports were in a moribund state. Quality wines had been squeezed out of view and out of the market by Yellow Tail and its ilk, a torrent of cheap, treacly wines without character, definition or sense of place, wines with cutesy names and cartoon animals on the labels, known collectively as Critter Wines. Serious producers watched on the sidelines as a nation's entire vinous output — with a wine tradition as old as our own — was conflated to the category of the critter.
In a decade, all that has changed. While the critters still have a foothold in the market, artisan winemakers from all over that continent are making thrilling, elegant, balanced, hauntingly complex wines, graceful reds made from Grenache and Shiraz, bracing Rieslings, toothsome Semillons, irresistible Pinot Noirs and Rhône-style blends.
Three to try: Brokenwood's thrillingly dry and long-lived Hunter Valley Semillons, Jamsheed's ethereal cool-climate Syrahs from the Yarra Valley, or the Fugazi Grenache from Ochota Barrels, a wine that's as spicy and as strident as a punk anthem.
This is the year you stop talking about orange wine and just drink it
The wine press loves the color orange — more articles about orange wine have been written in the last two years than have been written, well, maybe ever. All this attention is a bit like jumping on a train that hasn't moved in 2,500 years. It's an ancient method, probably the original way white grapes were processed: As long as there's been wine, there's been orange wine.
Broadly speaking, orange wine is a white wine that has undergone extended skin contact, for a modest pigmentary and textural enhancement. It's aromatically savory, with a granular weave that seems thick and crepuscular, like a slurry of minerals: Weird for a white wine but compelling all the same. Like sour beer, dry ciders and sweet wines — like a lot of things in life — it's a bit of an acquired taste.
Two to try: Wind Gap's Russian River, Fanucchi-Wood Road Vineyard Trousseau Gris, a wine that takes on a slight orange haze and a bit of weight due skin contact but remains tangy and fresh. Or try Pheasant's Tears Rkatsiteli, a Georgian wine made in a qvevri, or wax-lined clay amphora. If honey wasn't sweet, it'd taste something like this.
Get our L.A. Goes Out newsletter, with the week's best events, to help you explore and experience our city.
You may occasionally receive promotional content from the Los Angeles Times.