The Mexican drink michelada is beer with benefits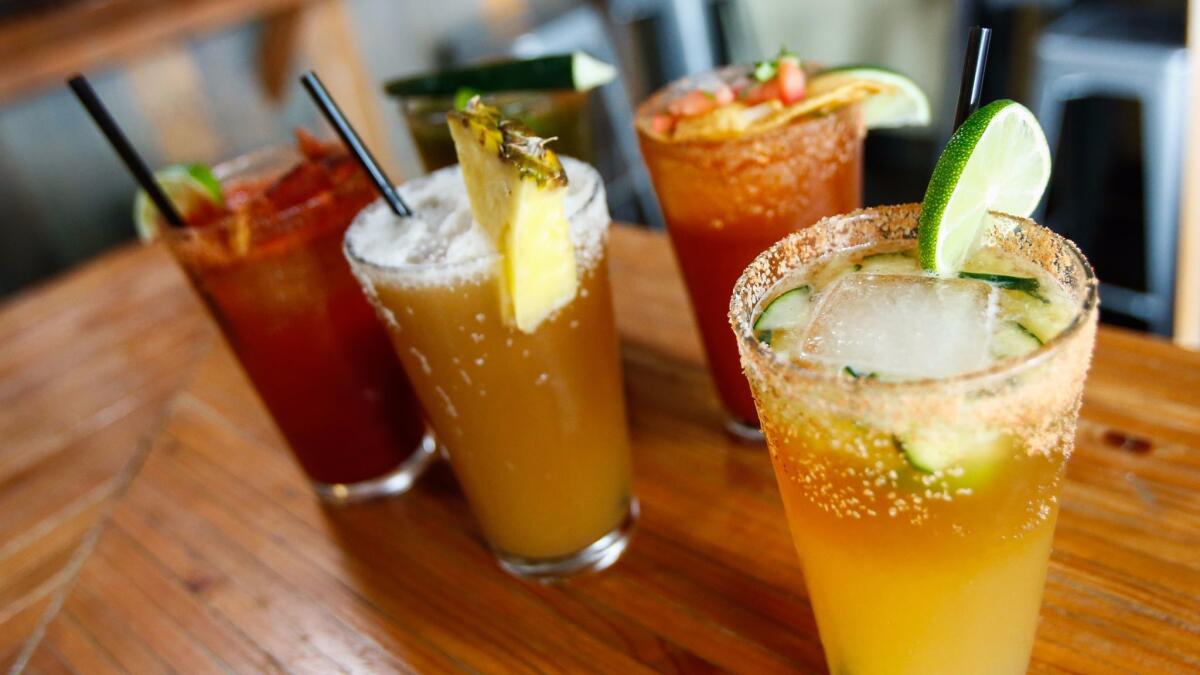 What exactly is a proper michelada? I'd love to hear a debate on this subject between my opinionated relatives who live on the border of Arizona and Mexico and Pati Jinich, the host of PBS' Emmy-nominated "Pati's Mexican Table," who has her own strongly-held ideas about things. Ask my Nogales cousins, who've explored what seems like every corner of Mexico, and they'll describe a sort of super spicy Mexican Bloody Mary that calls for beer instead of vodka. To them, a michelada means light Mexican-style beer like Modelo Especial, a couple glugs of Clamato juice, a squeeze of lime, lots of Valentina hot sauce, all served in a pint glass.
But when I shared my relatives' list of must-have michelada ingredients to Jinich, a bit of horror crept into her high voice.
"I remember getting angry the first time I ordered a michelada and it was made with tomato juice," says Jinich. "I thought that was heresy! You're destroying the beer."
I remember getting angry the first time I ordered a michelada and it was made with tomato juice
— Pati Jinich, host of "Pati's Mexican Table"
Born and raised in Mexico City, Jinich believes there are only two real micheladas — a "classic" and a "michelada preparada," both of which require a frozen mug with a salted rim, ice, freshly squeezed lime juice and beer. The "preparada," says Jinich, also calls for condiments such as Tabasco, salt, pepper, hot sauce and, for umami, Maggi liquid seasoning, a fermented wheat flavor enhancer.
Of course, a michelada is a drink that people even spar over how it got its name. The most bandied about explanation is that it's a shortening of mi chela helada or "my cold beer." What goes into a michelada fluctuates from region to region in Mexico — or even more microscopically, whose house in what neighborhood you're in. But almost every michelada offers the same reward: When it's blisteringly hot — and micheladas are typically thought of as a day drink or a morning-after hangover cure — is there anything more refreshing than a spicy beer cocktail with lots of ice cubes in a tall glass?
At Taco María in Costa Mesa, Carlos Salgado's triumph of michelada hews closer to Jinich's idea of the beverage. Served in a squat beer glass rimmed with black salt, it tastes of lime juice, a dark-red base made of ancho chiles and black garlic, and frosty Victoria lager.
At the Hungry Cat in Hollywood, David Lentz's bar team came up with an Asian-inspired michelada that resembles a layered cocktail: At the bottom is a dark seam of tamari, which is used instead of Maggi seasoning or soy sauce. For heat, there's a strata of hot sauce made by running oven-roasted Fresno chiles and onions through a Champion juicer. The glass is filled with lime juice, a dash of Sriracha and ice cubes, then rimmed with chile salt. It arrives with a sturdy striped straw for swirling the ingredients around, and a can of Tecate so you can refill and adjust the flavors.
In 2015, when Ricardo Diaz was working on his menu for his Whittier-based Colonia Publica, he wanted to come up with a beverage list that reflected what he called "an update of the Mexican bar experience, a modern cantina, but without the full liquor license." Inspiration came in the form of nine different micheladas, including the Roja, a classic interpretation with Clamato juice (score a point for my relatives), as well as a tropical fruity one called a Cocochelada, a spin on a piña colada consisting of pineapple, coconut and Negra Modelo.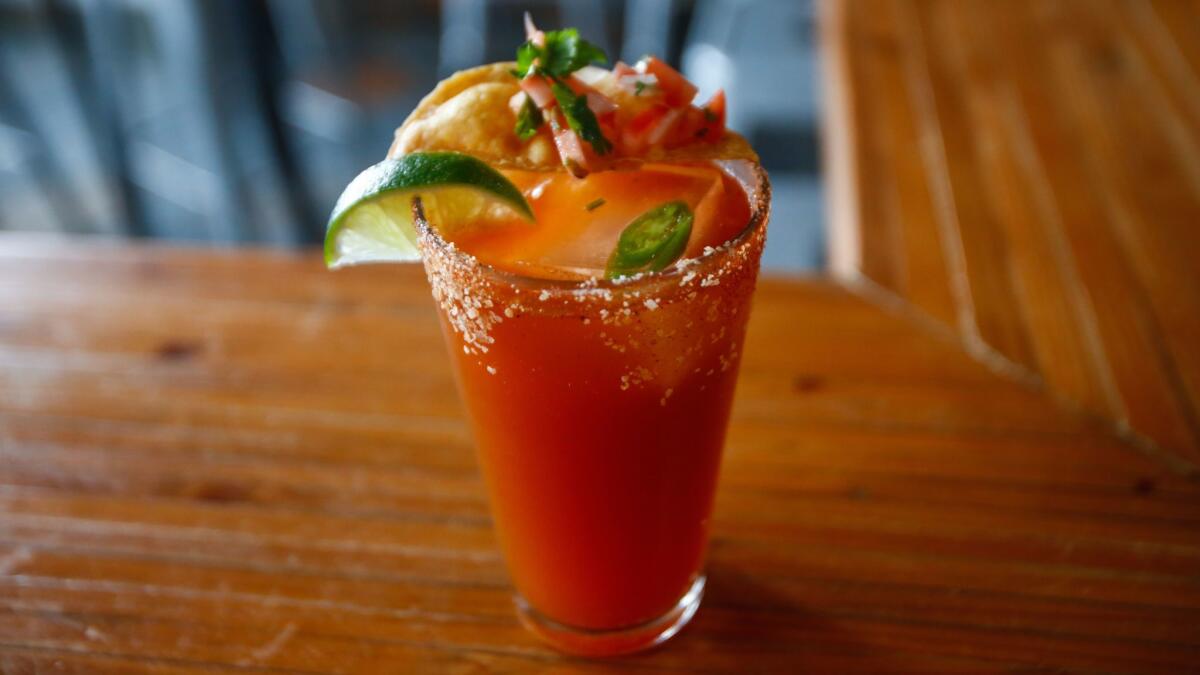 Diaz's free-wheeling takes on the michelada incorporate everything from tamarind to cayenne-infused agave; the Chamaco comes with a strip of candied bacon as a garnish. Jalapeño aguachile is what makes the Verde sing. But during his trial-and-error phase Diaz learned an important lesson. Sometimes, as with his IPA-Lada, a craft beer – in this case, a grapefruit IPA – becomes the essential component.
Just as often, though, his culinary memories became his guide. "I was trying a lot of different craft beers and it seemed like something was off," says Diaz. "So I went back to using the Mexican lagers — growing up, that's what micheladas were always made with — and my comfort sensors just instantly shot up. It was like, 'This is what a michelada is supposed to taste like!' "
Which raises the question: What is a michelada not supposed to taste like?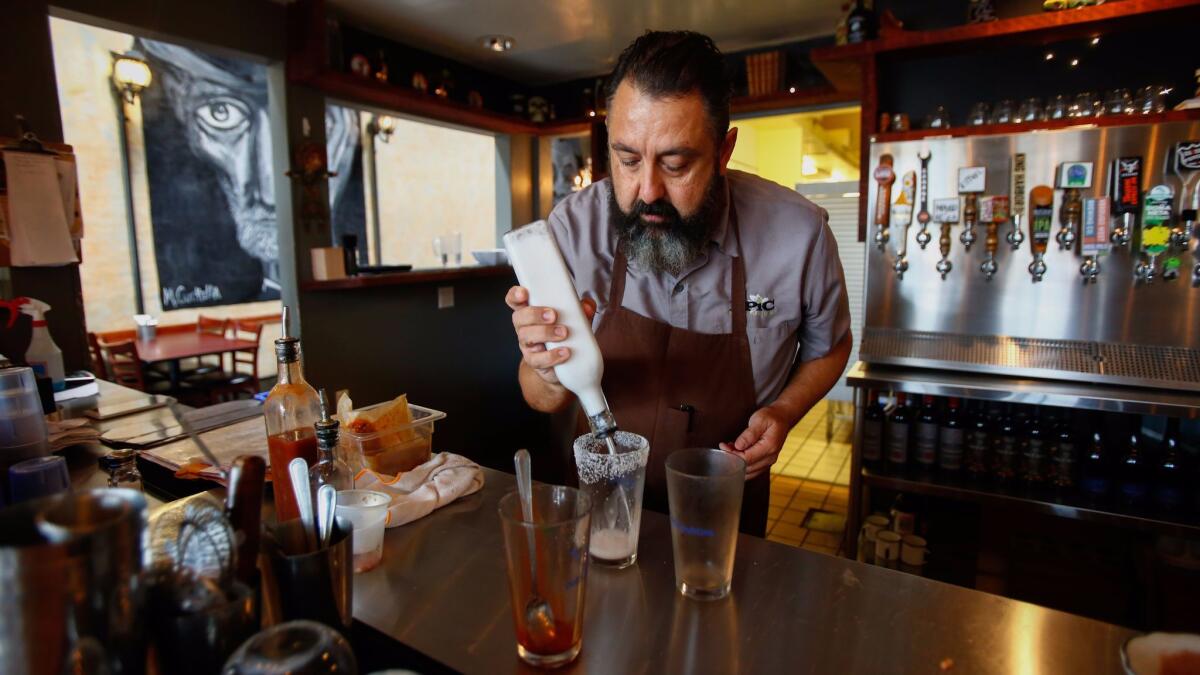 In the midst of filming the sixth season of her show, Jinich remembers finding herself in the tiny Oaxacan town of Hierve el Agua, at a stand that offered something called the Crazy Michelada. What else could she do? She had to order it. The vendor got busy. By the time the Crazy Michelada was complete, a blur of at least 10 ingredients had been shaken into the glass, including Valentina, Maggi seasoning, ground chile, chamoy sauce, Tabasco, Miguelito Chile en Polvo, Worcestershire sauce and Bufalo hot sauce.
"It was completely brown," she said, sounding like Gordon Ramsay in the anguished throes of a kitchen nightmare. "Let's say it was highly seasoned."
Get our L.A. Goes Out newsletter, with the week's best events, to help you explore and experience our city.
You may occasionally receive promotional content from the Los Angeles Times.