10 classic L.A. restaurants that have stood the test of time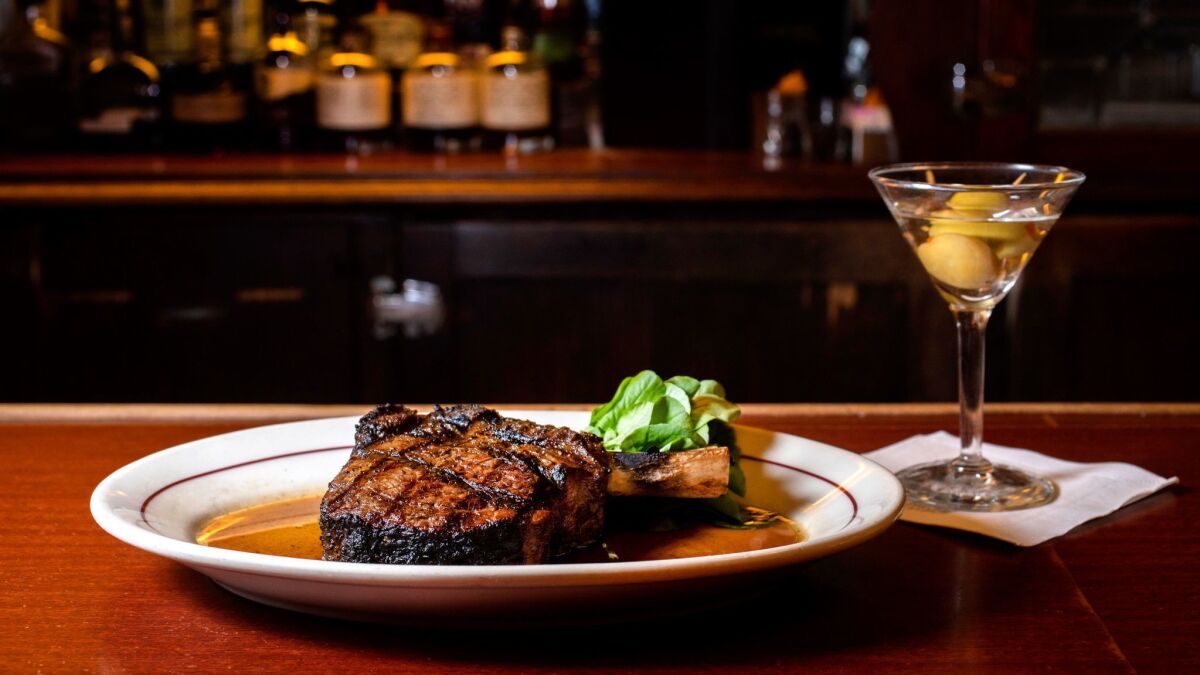 In addition to our 101 Restaurants We Love list, we put together a bonus list of 10 classic restaurants that are essential to Los Angeles.
Bay Cities Italian Deli & Bakery
Open since 1925, Bay Cities is a destination market where you can pick up wine, baguettes and fresh burrata. At the deli, get the Godmother: a strata of mortadella, prosciutto, Genoa salami, capicola, ham and provolone mortared by pickles and dressing on crusty bread.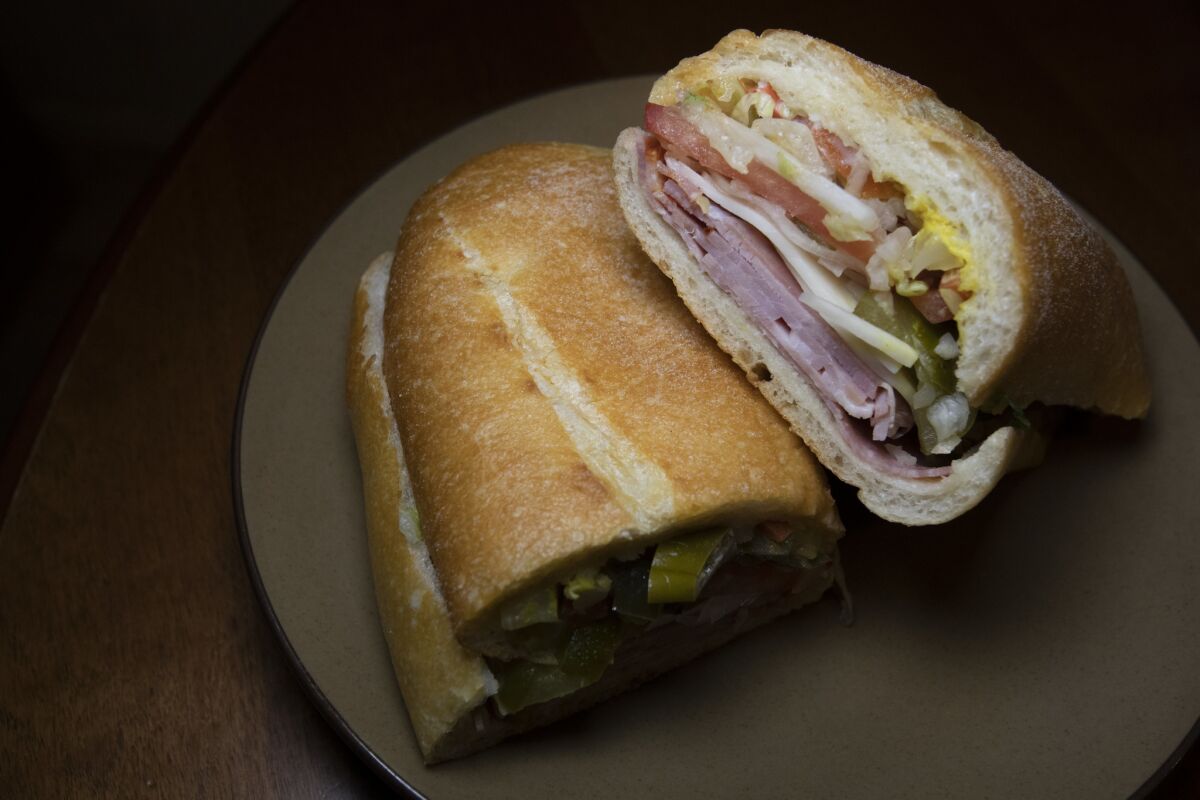 1517 Lincoln Blvd., Santa Monica, (310) 395-8279, baycitiesitaliandeli.com. Sells wine and beer. Lot parking. Credit cards accepted. $$
Beverly Soon Tofu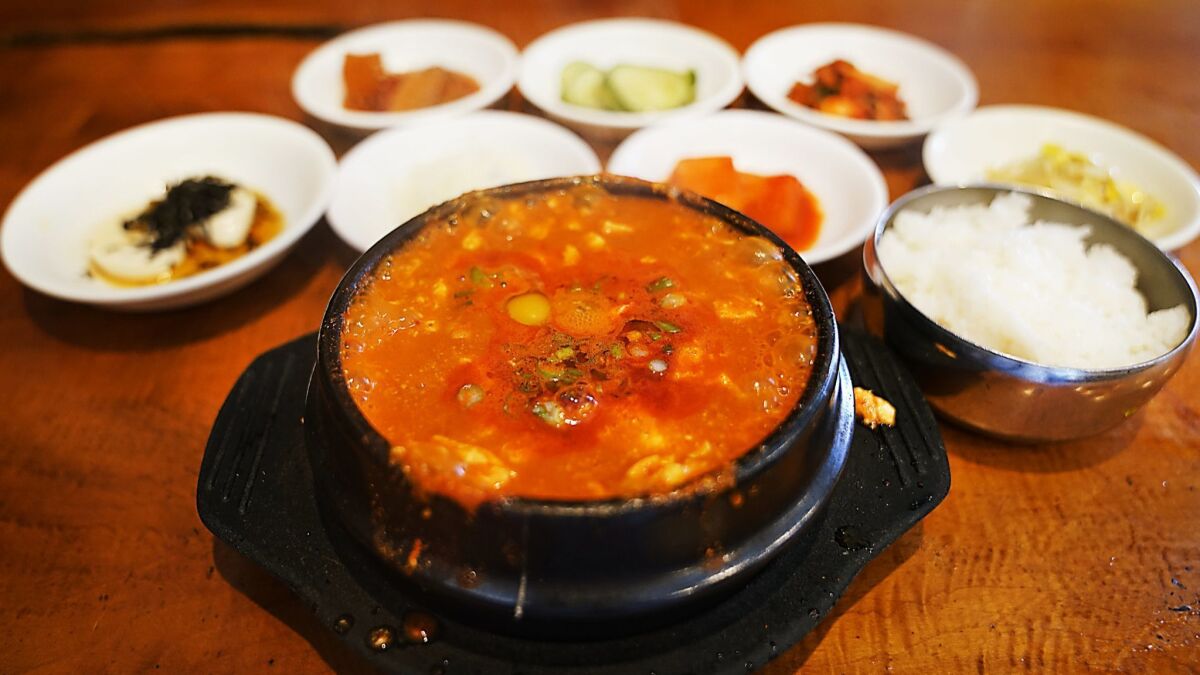 When Monica Lee opened her soon tofu restaurant in 1986, it was the first of its kind in L.A. It's still one of the best places to order the cauldrons of spicy soft tofu, as well as pretty great dolsot bibimbap, galbi and bulgogi. Get a spot at the long wooden table and watch the line of pots bubble and steam.
2717 W. Olympic Blvd., Suite 108, Los Angeles, (213) 380-1113, beverlysoontofu.com. Beer and wine. Lot and street parking. Accepts credit cards. $$
Border Grill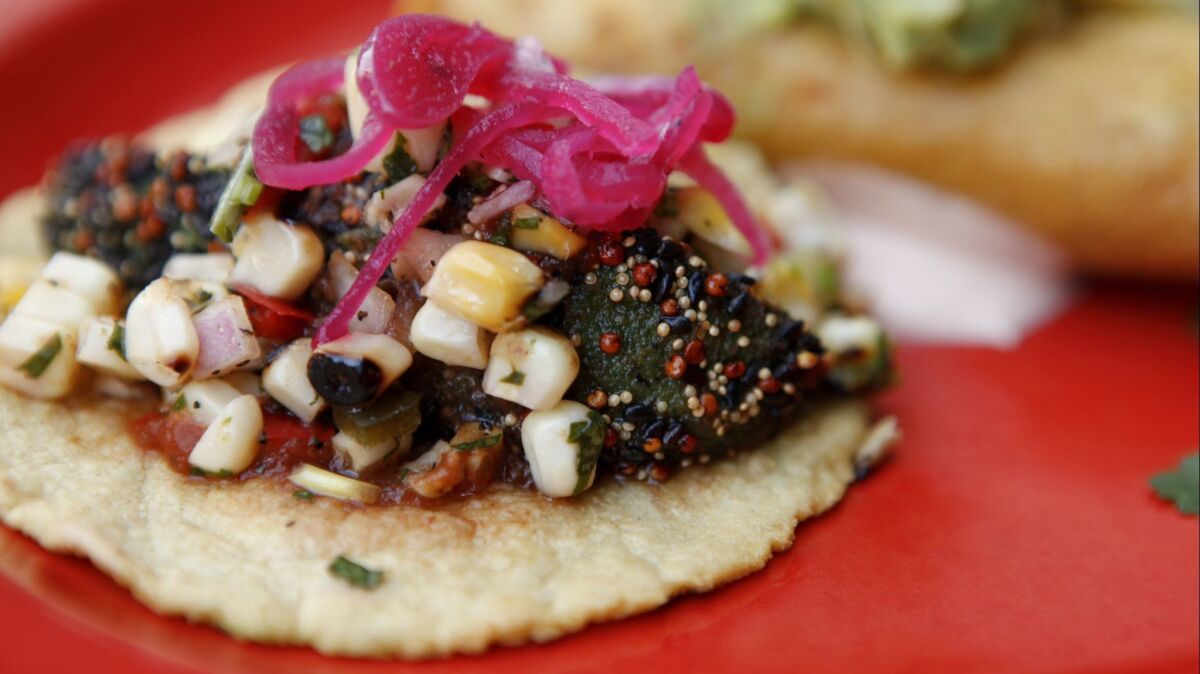 Susan Feniger and Mary Sue Milliken have been making Mexican food in L.A. for decades, in versions of their Border Grill restaurant, which moves, expands and contracts, and also comes in truck form. Their margaritas and tamales, tacos and quesadillas, even their quinoa bowls, are L.A. on a plate.
445 S. Figueroa St., Los Angeles, (213) 486-5171, bordergrill.com. Full bar. Valet and underground lot parking. Credit cards accepted. $$
Canter's
There may be better Jewish delis in L.A., but Canter's is the most nostalgic, maybe because the same family has owned it since the '30s. There's the expected menu of matzo ball soup, brisket, corned beef Reuben and all those knishes — but it's the homey specials, and the staff, that keep you coming back.
419 N. Fairfax Ave., Los Angeles, (323) 651-2030, cantersdeli.com. Full bar. Private lot and street parking. Credit cards accepted. $
Daikokuya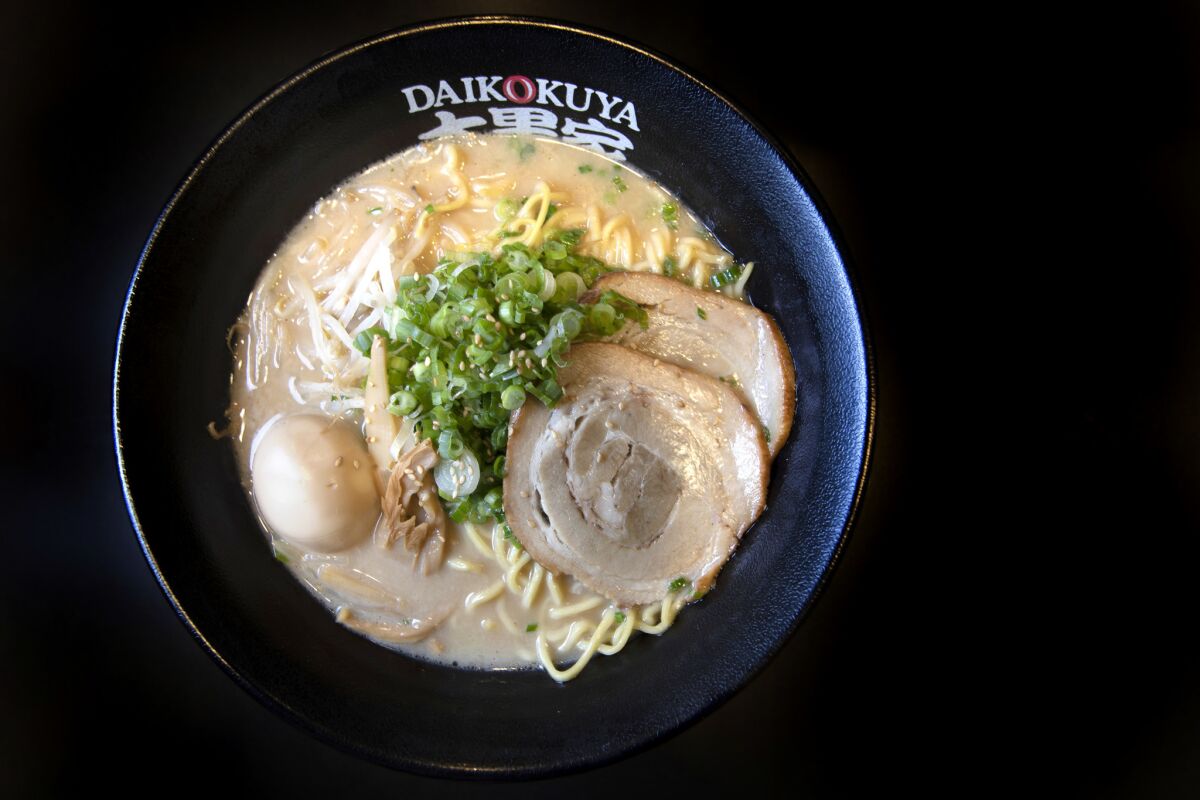 Long before the ramen craze hit L.A. there was Daikokuya, a counter noodle spot in Little Tokyo that felt decades older than it was even then: vinyl booths, faded movie posters and huge bowls of tonkotsu ramen that now seem retro, even minimalist. The gyoza are terrific too.
327 E. 1st St., Los Angeles, (213) 626-1680, daikoku-ten.com. Also at other locations. Beer and wine. Street parking. Cash only. $
Lawry's Prime Rib
Step into a place where people still dress up and the plush booths make you feel like the most important person in the world. The restaurant has been around for 80 years, providing diners with a place to celebrate over a plate of good prime rib, still carved at the table.
110 N. La Cienega Blvd., Beverly Hills, (310) 652-2827, lawrysonline.com. Full bar. Valet and street parking. Credit cards accepted. $$$
Leo's Tacos
Imagine a taco truck crossed with a flash mob and you get the idea of what the parking lot at La Brea and Venice looks like nightly. The al pastor, carved from trompos set up by the truck at night (though it's open in daytime) and topped with smoky pineapple, is like an urban myth that's true.
1515 S. La Brea Ave., Los Angeles, (323) 346-2001, leostacostruck.com. Also at other locations. No alcohol. Lot and street parking. Cash only. $
The Musso & Frank Grill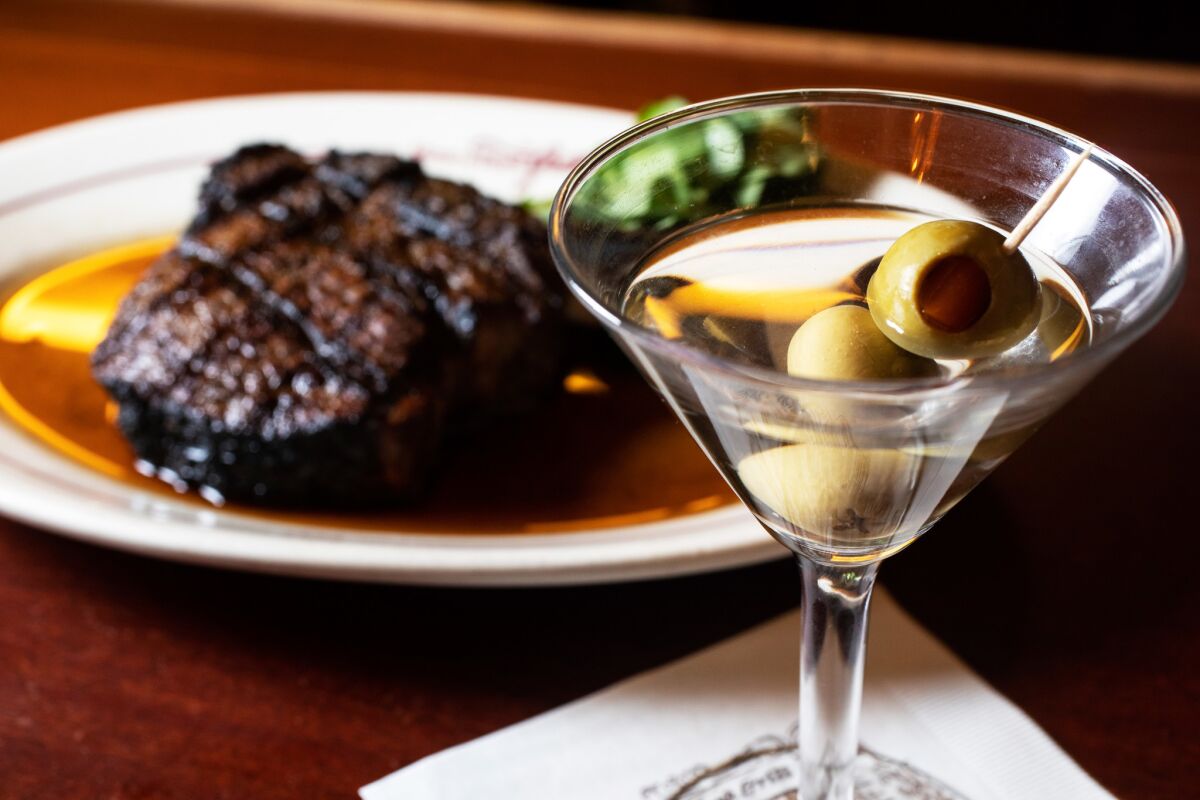 Open for almost a century, with waiters who've worked there for half that time, this is Hollywood pre-Prohibition dining. Order calf liver with onions, a New York strip steak, or linguine with clams — wash them down with a martini, and maybe have another with dessert.
Interactive map: Explore the Times' favorite places to eat in 2018 »
6667 Hollywood Blvd., Hollywood, (323) 467-7788, mussoandfrank.com. Full bar. Validated parking in rear. Credit cards accepted. $$$
Philippe the Original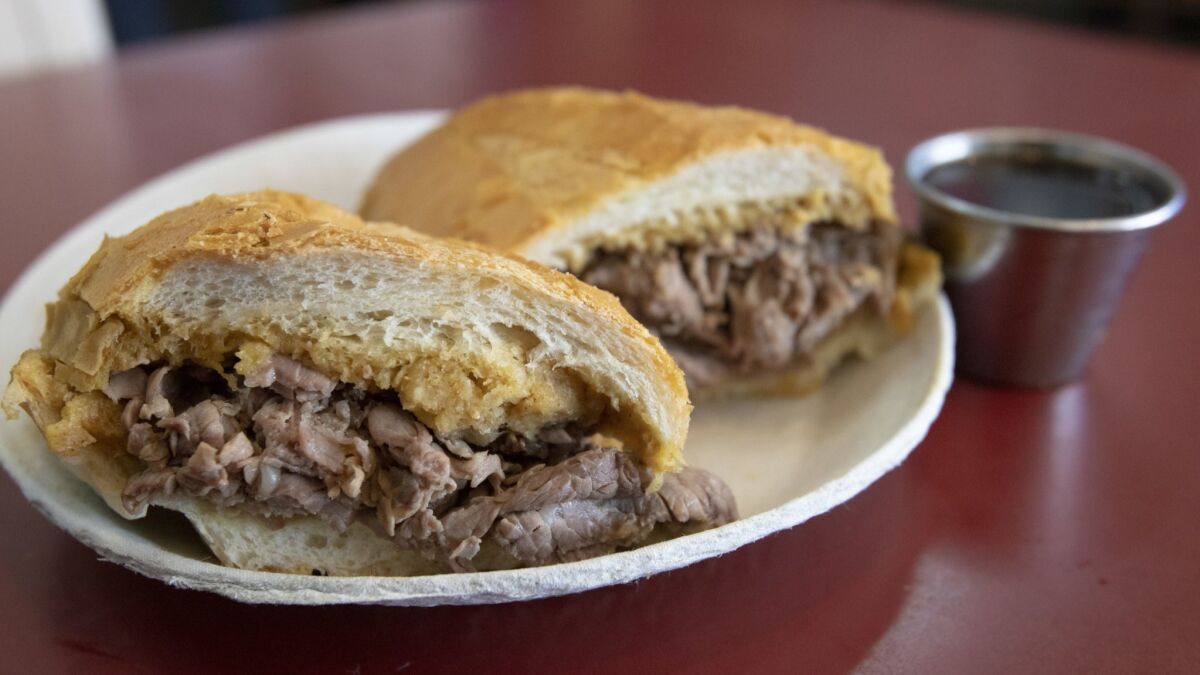 One of the oldest restaurants in L.A. and the inventor, by most accounts, of the French dip sandwich, Philippe is like an operational museum. The French dip — a crusty French roll dipped in the jus from whichever of the roasted meats you choose, plus optional cheese — is best ordered double-dipped.
1001 N. Alameda St., Los Angeles, (213) 628-3781, philippes.com. Beer and wine. Lot and street parking. Accepts credit cards. $
Pie 'n Burger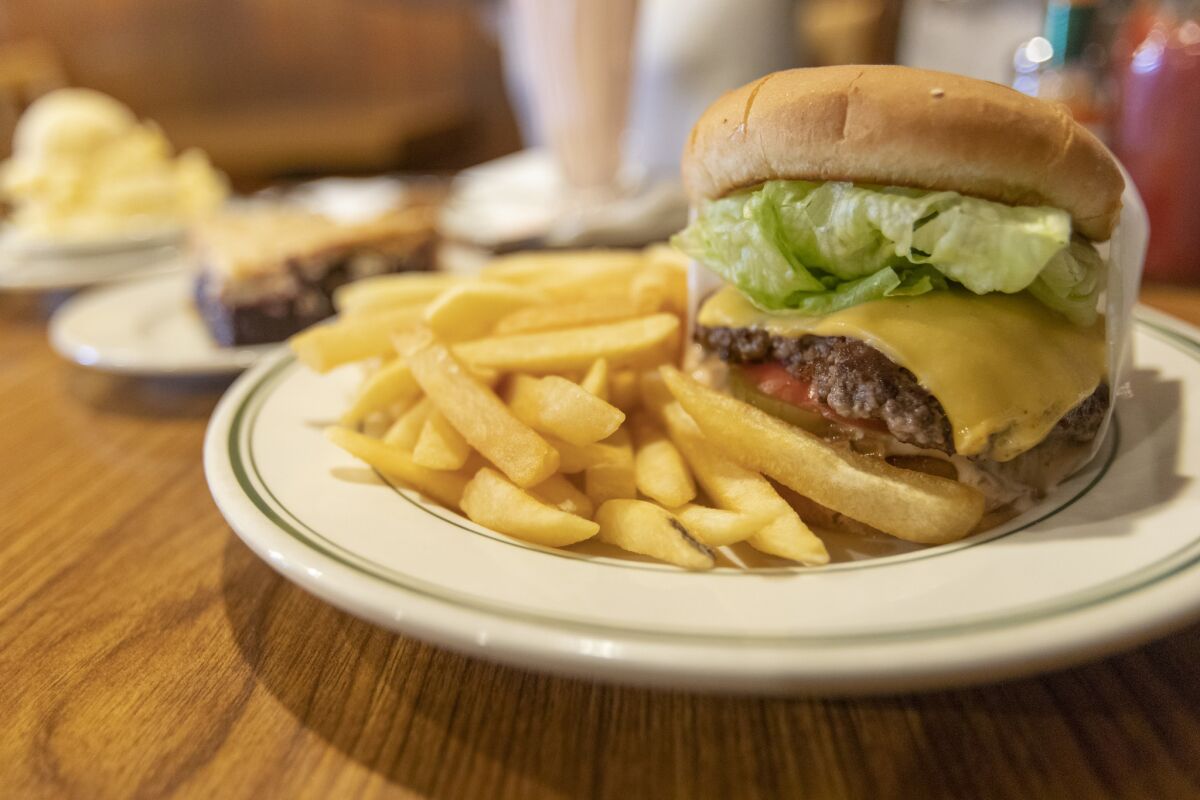 Nothing much has changed in the last 50 years at this Pasadena burger counter joint, which is most of its charm. The burgers come with iceberg lettuce, Thousand Island dressing and American cheese and are wrapped in white paper. There are maybe 20 pies on the menu, including Dutch apple and olallieberry. Enough said.
913 E. California Blvd., Pasadena, (626) 795-1123, pienburger.com. Beer and wine. Street parking. Cash only. $
Instagram: @Jenn_Harris_
---
Get our L.A. Goes Out newsletter, with the week's best events, to help you explore and experience our city.
You may occasionally receive promotional content from the Los Angeles Times.