In search of perfect pastrami: Your guide to the Jewish delis of Los Angeles
My life began in the tufted brown leather booth of a deli. In the fall of 1985, my mother went into labor mid-bite through a knackwurst at Nate 'n Al deli in Beverly Hills. I spent my childhood kicking the vinyl booths at Langer's near MacArthur Park. This is where my father, a real estate broker, eats lunch at least once a week. I've been eating the pastrami here since my teeth came in.
Most Sundays during my childhood, my parents would drive me and my sister from Pasadena to the San Fernando Valley to share a smoked fish platter at the now-closed Solley's Deli in Sherman Oaks. When I was stressed in college (somewhere around twice a week), I visited a nearby Jerry's Deli in Irvine for a bowl of matzo ball soup and half a pastrami sandwich with an extra side of Russian dressing. I could be found many weekend nights in my 20s, drunk on Jägermeister shots in the Kibitz Room attached to Canter's Deli, watching a friend's band.
While the deli culture in Los Angeles isn't as robust as in New York City, if you grew up in this city, chances are you can trace at least one significant life moment to the Saran-wrap-laden counters of a Jewish deli. Is it a style of food and dining that's fading away into an abyss of small-plates restaurants? I sure hope not. Those metal trays full of orange knishes, rice pudding, stuffed cabbage and smoked fish represent a comforting sort of cultural exchange — remnants from early Los Angeles immigrants. As do the 10-page menus, bottles of Dr. Brown's soda and snappy servers who seem to always remember your order, your last hangover and your last boyfriend.
Here is a guide to 14 Los Angeles, Jewish-style delis, for when you need a dose of nostalgia and a sky-high sandwich full of hot pastrami.
Art's Deli
Art Ginsberg opened the Studio City deli on Ventura Boulevard in 1957. After Ginsberg died in 2013, his son Harold took over the restaurant. Its neon sign and tiled exterior give the restaurant a diner facade. Inside, the burnt-red leather booths are separated by wood paneling, each Formica table has its own bottle of mustard, and along the walls, there are blown-up photos of the deli's pastrami sandwiches and bowls of soup — what Ginsberg called "Jewish pornography."
Behind the counter: Art's gets its bread and pastries from Bea's Bakery in Tarzana. The bagels are from Western Bagel, and the pastrami, from RC Provisions, is steamed in house.
Order this: This is where you should take your family on a Sunday morning for a fish platter. They tend to pile on enough smoked salmon and white fish to feed at least a group of five, and the bagels are perfectly toasted. For the pastrami aficionados, try the Pastrami Sky High sandwich, which includes the golden deli flavor trinity of Russian dressing, coleslaw and pastrami. The rye bread is slathered with Russian dressing (deli speak for Thousand Island dressing), a heap of sweet coleslaw and about three inches of paper-thin pastrami with a texture that almost melts.
12224 Ventura Blvd., Studio City, (818) 762-1221, artsdeli.com.
Brent's Delicatessen & Restaurant
Ron Peskin and his wife, Patricia, took over Brent's Deli in Northridge in 1969 (it originally opened in 1967), and they opened a second location in Westlake in 2006. The Peskin family, including Ron's son Brent, daughter Cari and son-in-law Marc, run the business. The original location in Northridge is in a strip mall and shares a wall with a dive bar called the Stovepiper. The restaurant, awash in a sea of varying shades of brown, feels more like a log cabin than a deli.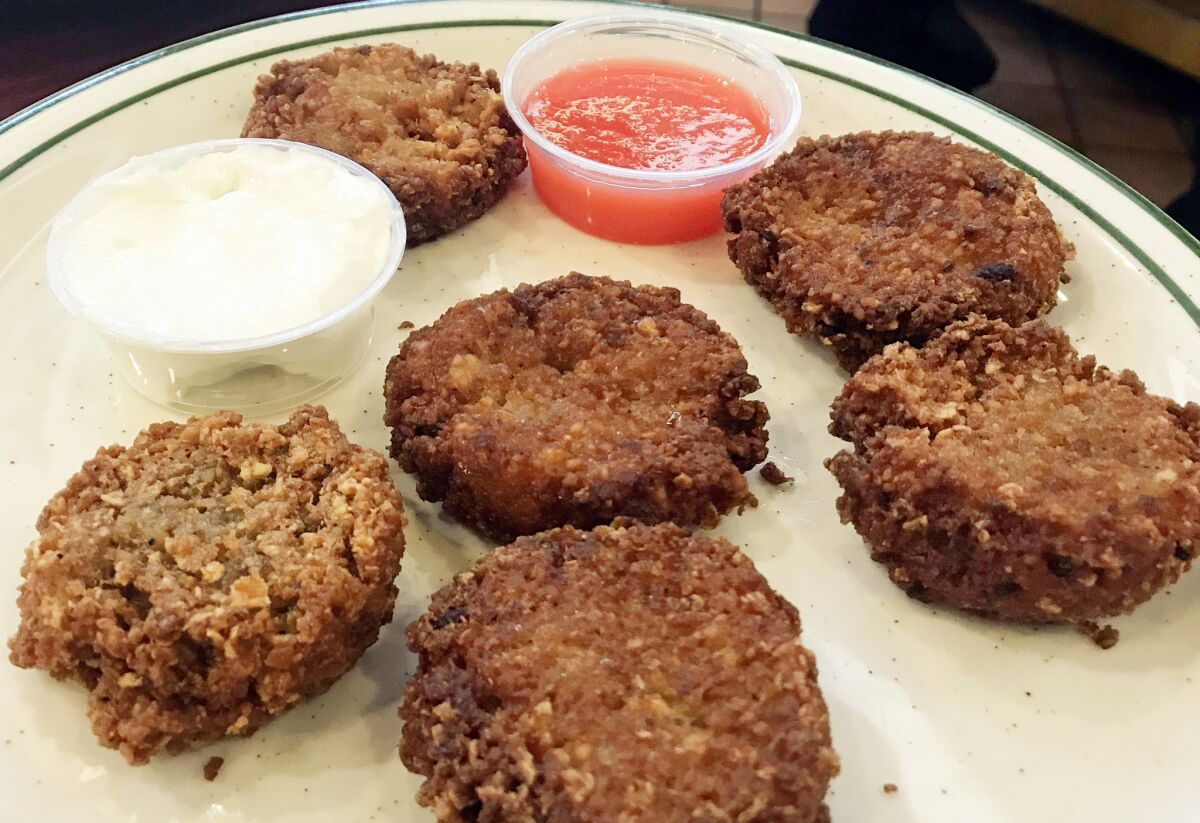 Behind the counter: The deli gets its bagels from Western Bagel and its breads from Delicious bakery and Wild Flour bakery. It makes all of its desserts except for the danishes and Chinese marble cookies, both made by Delicious bakery. The knishes, cheese blintzes and kishka are all made in house. The pastrami comes pre-seasoned from RC Provisions, and the pickles come from the local company A1 Eastern.
Order this: Brent's makes some of the best latkes in Los Angeles, served full size or mini, with a side of cherry apple sauce the color of a pink highlighter. The sauce tastes like someone spilled their cherry Slurpee into the jar of apple sauce. But it's oddly addictive in a cloyingly sweet, I-know-I-shouldn't-be-eating-this sort of way. The black pastrami Reuben is also quite good, served on double-baked rye with sauerkraut and Swiss cheese.
19565 Parthenia St., Northridge, (818) 886-5679, www.brentsdeli.com.
Canter's Deli
Alex Canter's great-grandfather Ben Canter opened Canter's Deli in Boyle Heights in 1931. In 1948, Canter's moved to Fairfax a few blocks north of the Original Farmers Market and has been there ever since. Alex and his family still oversee the operations of the 30,000-square-foot, 24-hour restaurant that includes a bakery upstairs and a pickle room downstairs. It's been a popular late-night hangout and refuge for celebrities for decades. In the '80s, you might have seen the entire Guns N' Roses crew at a booth. When Barack Obama was president, he stopped by to nosh and shake hands with diners. To stay current, the Canter family redid the menu in 2012 and added gluten-free bread and a vegetarian Reuben. Alex also started Ordermark, a delivery software that helps restaurants, including his own, organize delivery orders for delivery apps, such as Uber Eats, Postmates and DoorDash.
Behind the counter: Canter's used to cure and smoke its own meat, but Alex said that due to high demand, they now have RC Provisions make their pastrami according to the restaurant's specs. The pickles are made in 55-gallon barrels in the pickle room, and the pastries and breads are all made upstairs. Canter's bakes its own egg, cheese and poppy seed bagels and gets its water and onion bagels from an unnamed outside source.
Order this: The matzo ball soup is always served hot and tastes like someone's grandmother made it. The broth has a hearty, robust chicken flavor, and the matzo balls are lighter than most. And because most of the baked goods are made upstairs, you can bet that cheese bagel or black-and-white cookie is going to be fresh.
419 N. Fairfax Ave., Los Angeles, (323) 651-2030, www.cantersdeli.com.
Factor's Famous Deli
Abe and Esther Factor opened the Pico-Robertson deli in 1948. In 1969, Holocaust survivor Herman Markowitz bought the deli and ran it until he died in the '70s. His daughters Suzee and Susan run the deli, which in May celebrated its 70th anniversary. Walking into the dining room is like walking through a time machine. Old movie posters and photos of celebrity visitors blanket the walls.
Behind the counter: Factor's has one of its vendors prepare pastrami to its specifications, then they slow roast it at the restaurant for four to five hours. The bagels are from Bread Los Angeles in Montebello, and the rye bread is made using a special recipe by Beverlywood Bakery. And the restaurant double bakes it before it hits the table. Those Saran-wrapped black-and-white cookies out front also come from Beverlywood Bakery.
Order this: One of the best things at Factor's comes free when you sit down. The sliced pickled cucumber salad with slivered white onion and sprigs of dill is the ideal counterpart to a fatty pastrami Reuben. And the chopped salads here are better than most, topped with things such as Muenster cheese and turkey or jicama and grilled corn. And they are served with a pair of silver tongs that will bring you right back to your grandma's table.
9420 Pico Blvd., Los Angeles, (310) 278-9175, factorsdeli.com.
Freedman's
This is a modern deli, dreamed up by siblings Jonah and Amanda Freedman, who are from Canada. They were struck by inspiration while sitting at Langer's two years ago. "How cool would it be if this was open until 10 p.m. and you could have a martini and good music?" asked Jonah. So the two opened their own deli, in an Echo Park strip mall, and developed a menu of re-imagined grandma deli classics with the help of chef Liz Johnson, who has since left the deli. And they introduced a full craft cocktail menu as well.
Read Jonathan Gold's review of Freedman's »
Behind the counter: Freedman's cures and smokes its own meats in house, smokes its own salmon and sturgeon, and cures its own sea trout. The deli also makes what Jonah dubs his own version of a Toronto-style bagel, that's a cross between a smaller Toronto bagel and a hulky, chewy New York-style bagel. The rye bread and the challah come from Diamond Bakery.
Order this: It would be smart to order everything mentioned in Times restaurant critic Jonathan Gold's review. But if you have to narrow it down (just a little), don't miss the brisket, carved tableside and served with smoked bone marrow and Pommes Freedman (ultra crisp tater tots on steroids). The Reuben is an excellent version of the classic sandwich, layered onto crisp rye bread that has been properly buttered. You can sample all of the smoked and cured fish on the fish plate. And if you're there for lunch or brunch, the fried green tomato sandwich on a bagel slathered with smoked Hatch chile cream cheese will make you wonder why no one thought of this combination before, and why smoked Hatch chile cream cheese isn't served on more things.
2619 Sunset Blvd., Los Angeles, (213) 568-3754, freedmansla.com.
Fromin's Delicatessen & Restaurant
Fourth-generation deli owner Dennis Fromin opened Fromin's on Wilshire Boulevard in Santa Monica in 1979. In 1990, Fromin partnered with his friend Maurice Solomon, who now owns and runs the deli with him. While the restaurant recently introduced gluten-free bread and bagels, manager Sergio Castro says that "the menu is pretty much the same as it was in the beginning because we have customers who are regulars, and they know it by heart." The crowd here, as at most delis, leans toward geriatric, and on a recent Thursday night, a total of about six women walked in, dressed in intentionally-not Juicy Couture velour sweat suits. And, no, they were not from the same party.
Behind the counter: The bagels are from Western Bagel, and the breads and pastries are from Bea's Bakery. And Castro says the restaurant "brines and cooks" its own pastrami, brisket and corned beef.
Order this: While most of the deli classics are fairly standard, the cheese blintzes here are their own revelation. Where most versions of the blintz are heavy and dense, the Fromin's blintzes tend to be on the lighter side, perfectly browned and with just enough cheese in the middle.
1832 Wilshire Blvd., Santa Monica, (310) 829-5443, www.frominsdeli.com.
Greenblatt's Deli & Wine Shop
Herman Greenblatt opened the Sunset Boulevard deli in 1926. In the 1940s, the current owner, the Kavin family, took over. Greenblatt's, like Canter's, was a celebrity hangout and is still a place where business meetings can be overheard at the next table. There's a downstairs area next to the wine shop and an upstairs dining area as well. It's more fun to sit at a booth downstairs so you can watch the servers whisk up the stairs with arms stacked with pastrami sandwiches.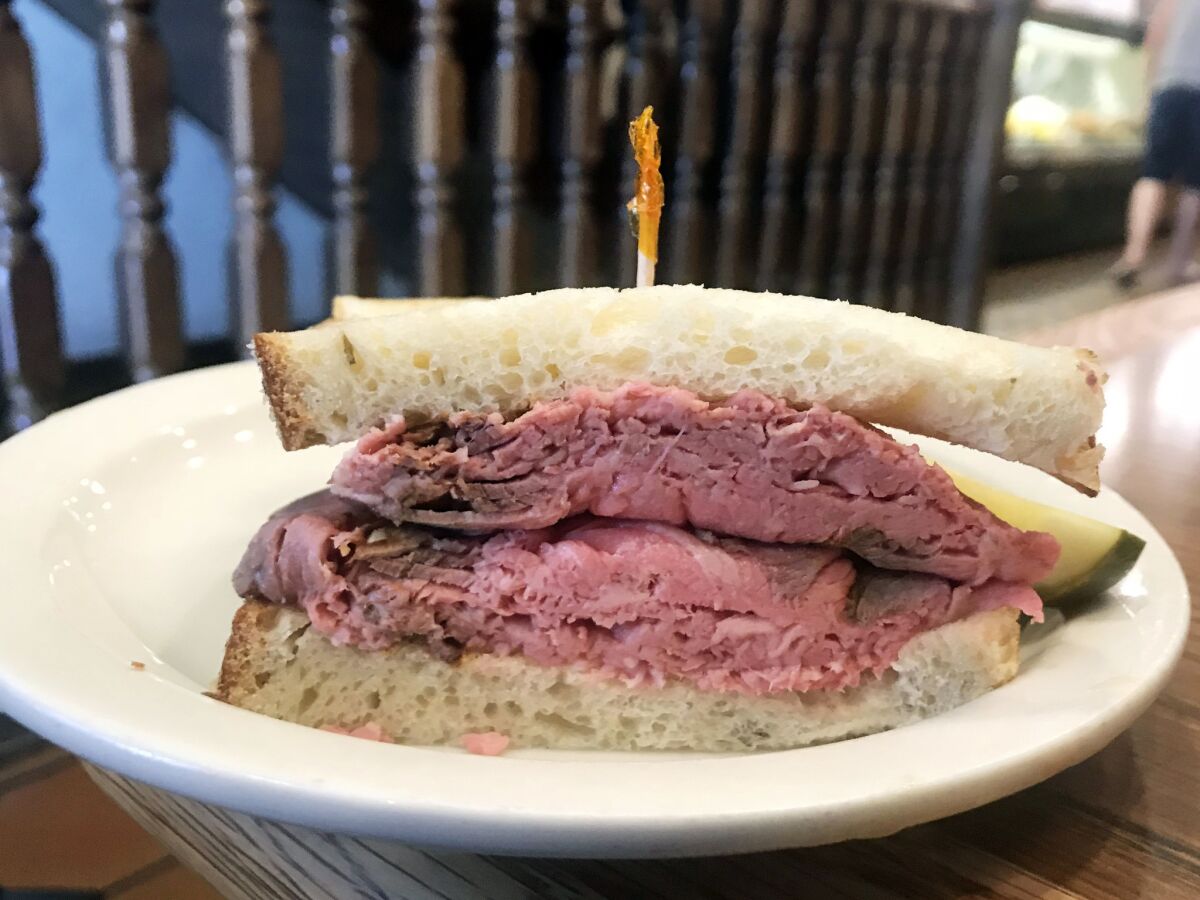 Behind the counter: Greenblatt's cures and cooks its own meats, including the pastrami. The bagels and some of the bread are from Diamond Bakery, and some, including the rosemary bread, is from La Brea Bakery. The cakes and desserts are from La Mousse bakery.
Order this: While the pastrami sandwich is consistently good, the rare roast beef is excellent. The thinly sliced roast beef borders on elegant, and the meat tends to be so tender it actually becomes a part of the bread, transforming the sandwich into a sort of deli meat pocket. It's best served on the olive oil rosemary bread, or plain white bread, no mustard required.
8017 Sunset Blvd., Hollywood, (323) 656-0606, www.greenblattsdeli.com.
Izzy's Deli
Owner Izzy Freeman says he hasn't closed his Santa Monica deli, located in a brick building at the corner of Wilshire Boulevard and 15th Street, for a 24-hour period since it opened almost 45 years ago. He might shut it down from time to time for cleaning and renovations, but never for more than a couple hours. Over the years he's made some adjustments to the menu to keep current, including a new happy hour menu introduced about six months ago, and a new appetizer section, a "south of the border" Mexican food section and a kale salad a couple of months ago. "We're open 24 hours so the appetizers work really well at 2 or 3 in the morning when you're drunk," he says.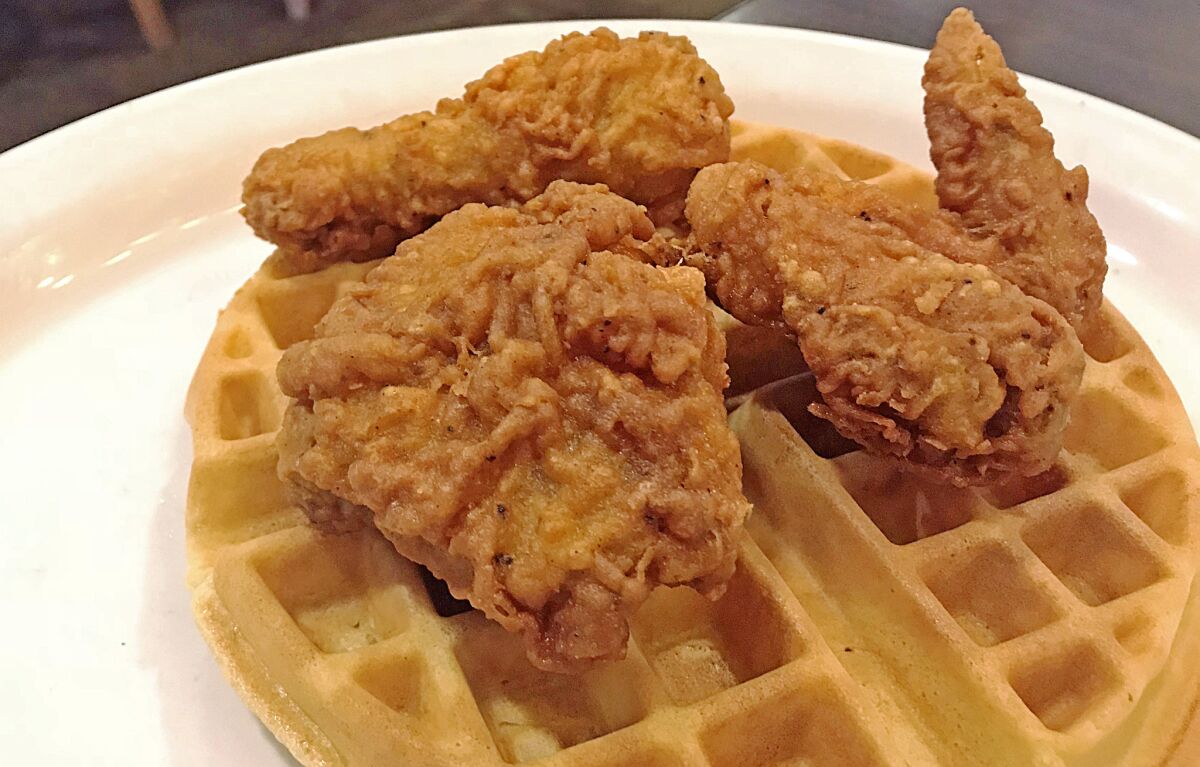 Behind the counter: The deli makes its own latkes and soups. The bagels are from Brooklyn Bagel Co., and the rye bread and cakes are from Bea's Bakery. Freeman has been getting his pastrami and corned beef from Rose Shore since the deli opened in 1973.
Order this: While the pastrami and corned beef sandwiches are all solid, if you're in the mood for something different, try the latkes or the fried chicken and waffle. Yes, the fried chicken and waffle. The waffle is light and airy, and the chicken batter is perfectly crisp. The latkes lean more toward disks of fried mashed potatoes than shredded potato cakes, making them feel just a tad heartier than other versions.
1433 Wilshire Blvd., Santa Monica, (310) 394-1131, izzysdeli.com.
Label's Table
Bruce Krakoff has been running Label's Table on West Pico Boulevard, since 1981. The no-frills restaurant, which originally opened in 1974, serves its food on styrofoam plates, on red plastic trays, with plastic cutlery. But you do not come here for the atmosphere. Krakoff knows most of the patrons, who form a line at lunch, and diners are frequently overheard running into each other over a bowl of split pea soup.
Behind the counter: The deli gets its bread from Diamond Bakery, the bagels from Western Bagel, its smoked fish from Acme in New York and its meats from Russaks Meats. The deli also makes all its own soups, latkes, blintzes and knishes.
Order this: The hot brisket sandwich is not for the timid eater. It's a solid three inches of chopped meat piled high and haphazardly onto slices of rye, with a heavy slather of yellow mustard. The fat in the brisket melts ever so slightly into the bread, creating the perfect mustard meat juice spread for the sandwich.
9226 W. Pico Blvd., Los Angeles, (310) 276-0388, labelstables.com.
Langer's Delicatessen-Restaurant
Current owner Norm Langer's parents, Al and Jean Langer, opened the deli in 1947. Norm runs the deli with his wife, Jeannette, and their daughter Trisha. In the Los Angeles deli world, Langer's is king. Tourists from all over the world make the trek to Alvarado and 7th Streets for a pastrami sandwich on double-baked rye bread. And locals deem this place a national treasure.
Behind the counter: Langer's gets its pastrami, corned beef, roast beef, tongue and chili from RC Provisions, which prepares them to the restaurant's specifications. And that famous rye bread, which is baked a second time before service, comes from Fred's Bakery on Robertson Boulevard. All of the pastries are made in house.
Order this: Gold, our critic, has called the pastrami sandwich at Langer's "the best pastrami sandwich in America." I'm not about to argue with him. The hand-cut thick slices are piled onto that double-baked rye bread that's both crisp and soft, and sturdy enough to handle the wonderfully fatty meat. Gold likes his with a dab of yellow mustard. But if you're into that holy trinity of deli flavors, get the No. 19, which comes with coleslaw, Russian dressing and a slice of Swiss cheese. You should also order the pastrami chili cheese fries, advertised on table tents on every table.
"They were a fluke," Norm recently told The Times. "I'm standing behind the counter and one of the waitresses says, 'I got a customer who ordered chili cheese fries and wants to know if we'll put pastrami on it.' " So they put pastrami on the fries. Norm proceeded to make a second order to try behind the counter. The love for the fries was unanimous. He then made a third order, took a photo, and had the table tents made. They sold 60 orders the Saturday they were introduced.
704 S. Alvarado St., Los Angeles, (213) 483-8050, www.langersdeli.com.
Lenny's Deli
When the 53-year-old Juniors deli closed in Westwood in 2012, Lenny Rosenberg took over the 11,000-square-foot space at the corner of Westwood and Pico boulevards and opened Lenny's Deli in 2013 (he previously had opened a Lenny's Deli in the Palisades, but it closed after two years). The restaurant boasts one of the more expansive bakery cases in town, with trays full of chocolate madelbrot (and gluten-free madelbrot!) rugelach and black-and-white cookies. And Lenny's is one of the few restaurants that still offers Shabbat dinners.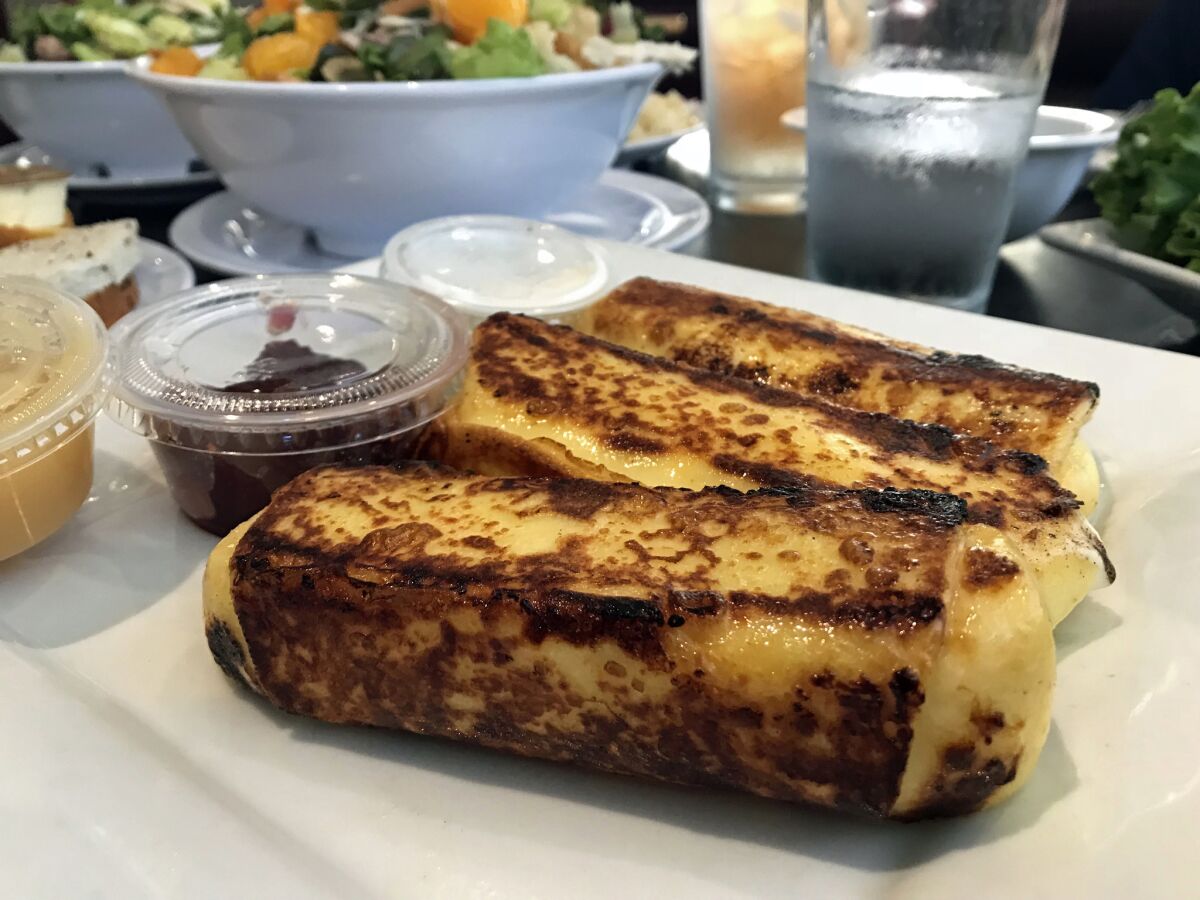 Behind the counter: Lenny's makes all of its own breads and bagels, soups and blintzes. The pastrami and smoked fish are provided by unnamed outside vendors.
Order this: My great-aunt believes the North Atlantic lox platter is the best in town, and I agree. The salmon is sliced thin and draped artfully on the platter. It has a milder fish flavor than what you might be used to on a deli platter, and it's just a tad sweet. The latkes are more potato doughnuts than the traditional grated potato cakes. It's actually difficult to stop eating them. The blintzes are also some of the best in town, perfectly browned and plump with a mix of farm cheese and cream cheese.
2379 Westwood Blvd., Los Angeles, (310) 475-5771, lensdeli.com.
Mort's Deli
Mort's is what you think of when you imagine a deli. The deli counter is full of cold cuts, salami hang overhead and the shelves are stacked with cans of Heinz vegetarian beans and borscht with beets. Mort's has been around since 1968, opened by the late Mort Medway, who died in 2013. The current co-owner, Lana Pavlick, has been working at the deli for more than 30 years and runs Mort's with partner Gary Drexler.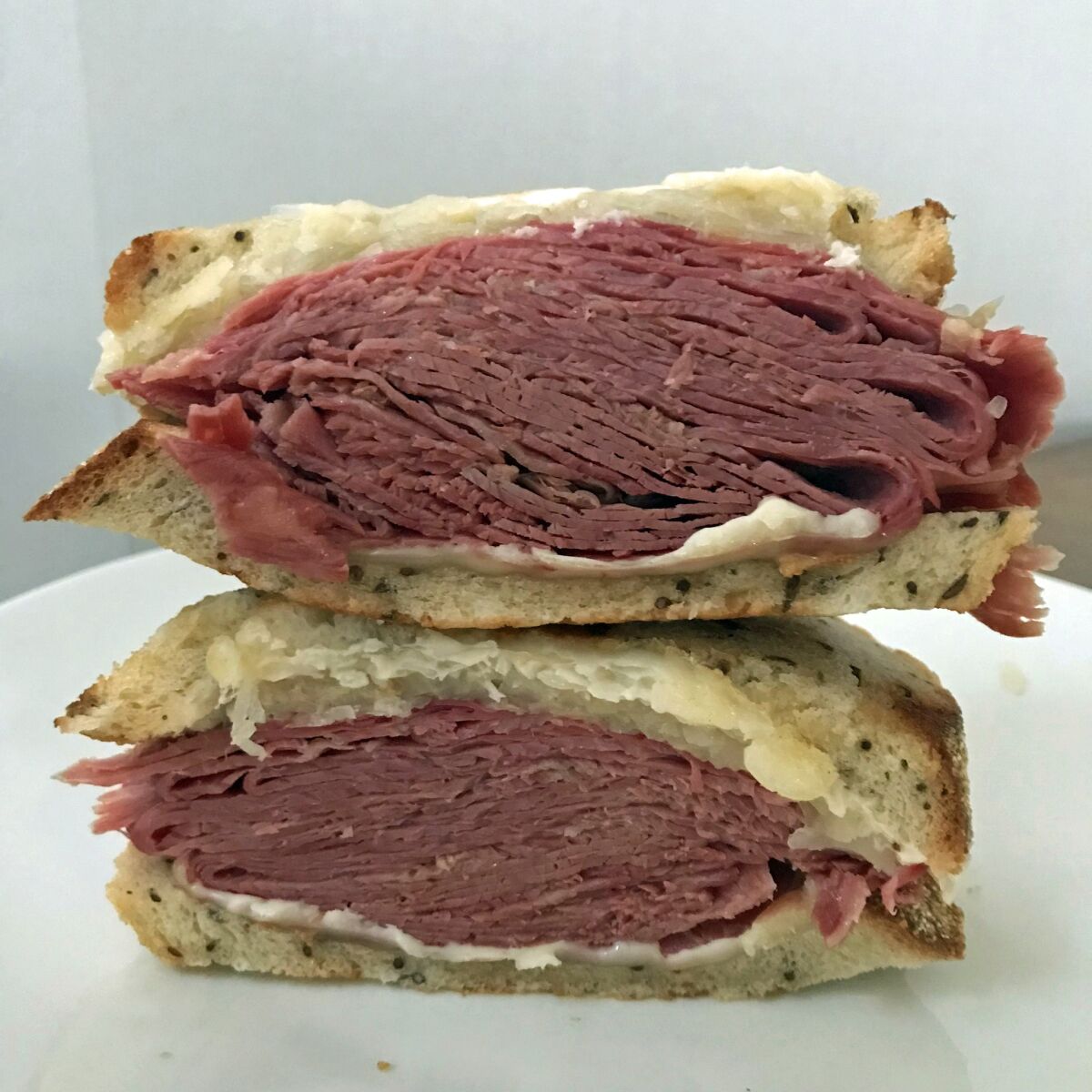 Behind the counter: The deli gets all of its bread and pastries from Bea's Bakery, which is conveniently attached to the deli. The smoke fish is flown in from New York, and the corned beef is made in house.
Order this: The corned beef Reuben is a supreme iteration of the sandwich, with hot beef that is liberally spiced and tender, zingy sauerkraut and rye bread that is properly buttered and grilled. It's simple, yet refined in both its construction and components. And because Bea's is right next door, why not get a couple of black-and-white cookies, and an alligator pecan pastry to go?
18452 Clark St., Tarzana, (818) 345-3700, www.mortsdelitarzana.com.
Nate 'n Al Delicatessen
Nate Rimer and Al Mendelson opened Nate 'n Al in Beverly Hills in 1945. While Mendelson has since died, his family still owns and operates the deli. The well-lit deli case is neater than most, and the people waiting for their lox platters in front of it are generally happy. On the weekends, the crowds waiting for a seat at one of the tufted leather booths frequently spill out onto the sidewalk. And there's always a chance that you might spy Larry David at the next table. While there were rumors of it closing or a move earlier this year, the restaurant staff responded with a firm "no" when asked if either would happen any time soon.
Behind the counter: The deli gets its rye bread from Diamond Bakery and double-bakes it at the restaurant. An outside vendor prepares the deli's corned beef and pastrami using a proprietary blend of spices. And the smoked fish is flown in from New York.
Order this: Most of the menu at Nate 'n Al's, from the matzo brei (torn matzo and eggs) to the matzo ball soup, is consistently good. And the latkes, with their jagged edges and defined pieces of grated potato and onion, are likely the closest version you'll find to homemade at a deli. If you're going the sandwich route, the Hollywood is a substantial work of art, built with wedges of hot corned beef, sweet coleslaw and Russian dressing. And the hot dogs (ask for grilled!), actually snap.
414 N. Beverly Drive, Beverly Hills, (310) 274-0101, natenal.com.
Uncle Bernie's Delicatessen
Norman Green took over the Fromin's deli in Encino and turned it into Uncle Bernie's in 2011. And the deli is named after Green's actual Uncle Bernie. The deli feels more like a sports bar than a deli, with brick and green painted walls, wood paneling and TVs in the dining room. But the shopping center locale, the menu, and the older clientele, all scream deli.
Behind the counter: The deli makes its own eclairs, apple strudel, cheesecake and lemon meringue bars. Bea's Bakery makes the rest of the pastries and the breads, and Western Bagel is behind the bagels. Uncle Bernie's gets its pastrami from a brand called Sabra Maid.
Order this: If you haven't tried kreplach, this is the place to do it. The over-sized dumplings consist of a chewy dough stuffed with seasoned ground beef. While most delis serve kreplach boiled, in chicken broth, the ones at Uncle Bernie's are deep fried until crisp and served with grilled onions. The eclairs are also oversized, light and airy and with a center completely packed with rich pastry cream.
17615 Ventura Blvd., Encino, (818) 990-6346, uncleberniesdeli.com.
Wexler's Deli
Co-owner and chef Micah Wexler boasts a serious resume that includes chef at the now-closed Mezze restaurant, sous-chef at Craft and line cook at L'Atelier de Joel Robuchon. He's taken his fine dining experience and applied that ethos to pastrami, bagel sandwiches and smoked fish. He and Michael Kassar opened the first Wexler's at Grand Central Market in downtown L.A. in 2014. They have since opened in Santa Monica and Century City, and have a deli planned for Palm Springs.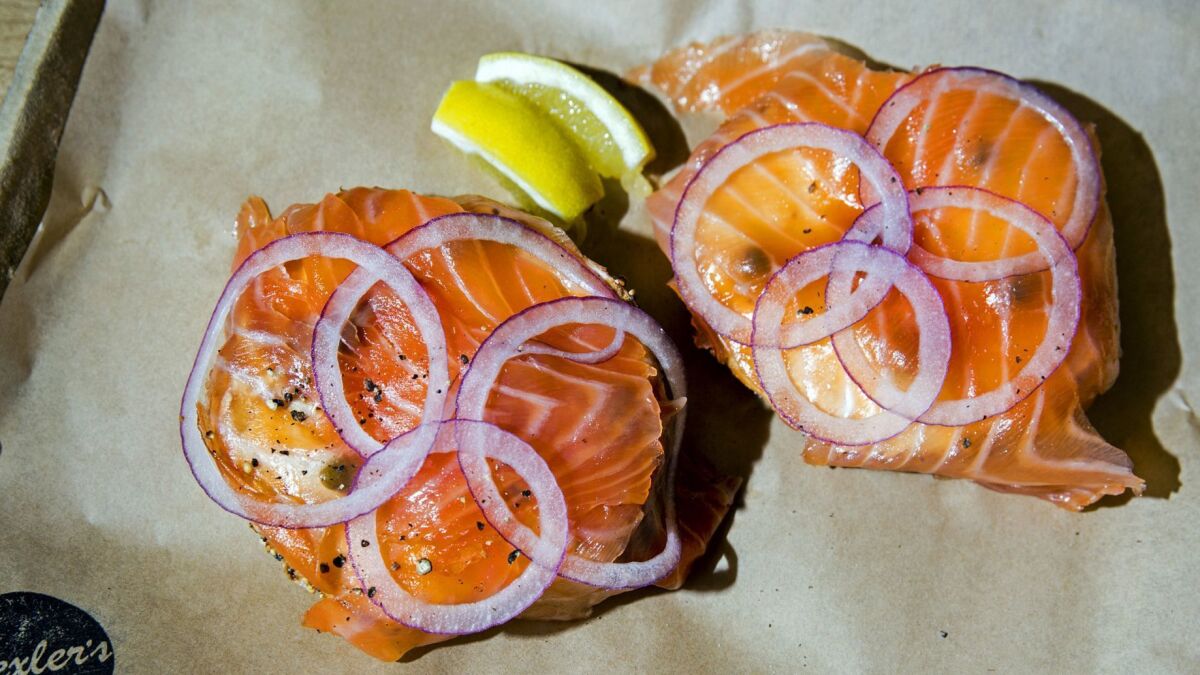 Behind the counter: Wexler actually cures, smokes and steams his own pastrami. He also smokes his own fish. Wexler has a local bakery make the bagels using his recipe, and he has Etchea Bakery bake the rye bread, also using his recipe. Wexler's rye bread is made with half rye flour and half bread flour for a stronger rye flavor, but with the soft texture you're probably used to.
Order this: You could order any of the sandwiches on the menu and be perfectly happy. But while the pastrami is delicious, the lox, smoked sturgeon, barbecue cod, double-smoked pastrami lox and white fish salad are likely second to none. The lox and slivers of onion approach translucent, delicately layered on a bagel with a thick slab of schmear.
616 Santa Monica Blvd., Santa Monica, (424) 744-8671, www.wexlersdeli.com.
Editor's note: We recognize this list doesn't include all the Los Angeles delis, including the great Italian, Russian and Scandinavian delis. If you have a favorite, please let us know in the comments section below.
Instagram: @Jenn_Harris_
Get our L.A. Goes Out newsletter, with the week's best events, to help you explore and experience our city.
You may occasionally receive promotional content from the Los Angeles Times.