Head to Cluck2Go in Pasadena for your new favorite Hainan chicken and rice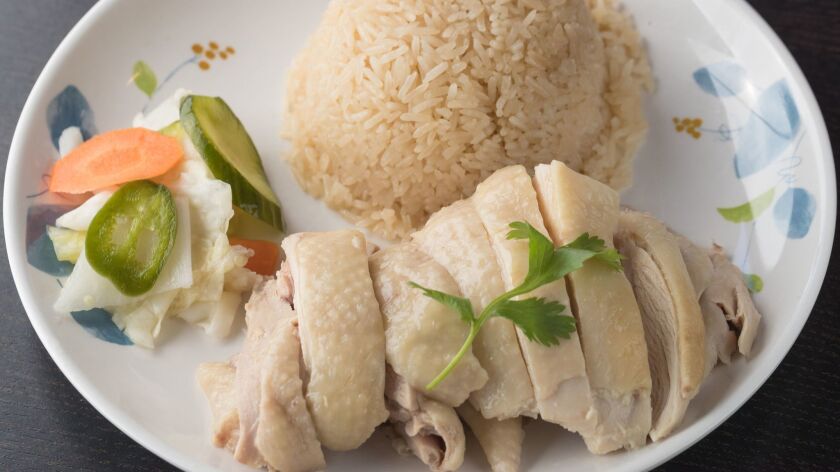 What it is: Owner Qi Yang and his daughter Jenny Yang opened Cluck2Go restaurant a little more than a month ago in Pasadena, near Pasadena City College. The father-and-daughter team also own Man Chan Cuisine in Rowland Heights. Cluck2Go specializes in Hainan chicken and rice, the classic dish that originated in the Hainan Province in southern China, and consists of seasoned poached chicken and white rice served alongside chile and ginger dipping sauces. Yang and her father were investors in Asian fast food restaurants in Torrance and Arizona before opening Cluck2Go and Man Chan Cuisine.
Where you're at: The restaurant is on a stretch of Colorado Boulevard just West of Allen Avenue, next to a game center (where kids gather in packs to play board games and trade cards) and a slew of chain restaurants (Chick Fil-A, Panda Express, Carl's Jr.). It's a tiny, casual storefront with a couple of tables inside and almost no decor.
What you're eating: You are here for the Hainan chicken and rice, one of the most comforting dishes of all time. The recipe is one Qi developed after taking over Man Chan Cuisine from its previous owners in 2012 (it was on the menu there, and is now the focus of Cluck2Go). Jenny says she and her father saw a lot of things they needed to change about the restaurant, including the chicken. "They were using frozen chicken," says Yang. "We agreed if we wanted it to be better, we had to use quality ingredients." So they partnered with Wing Lee Farm in Chino to get fresh birds. Her father also traveled to Singapore and Taiwan to research Hainan chicken and work on the recipe.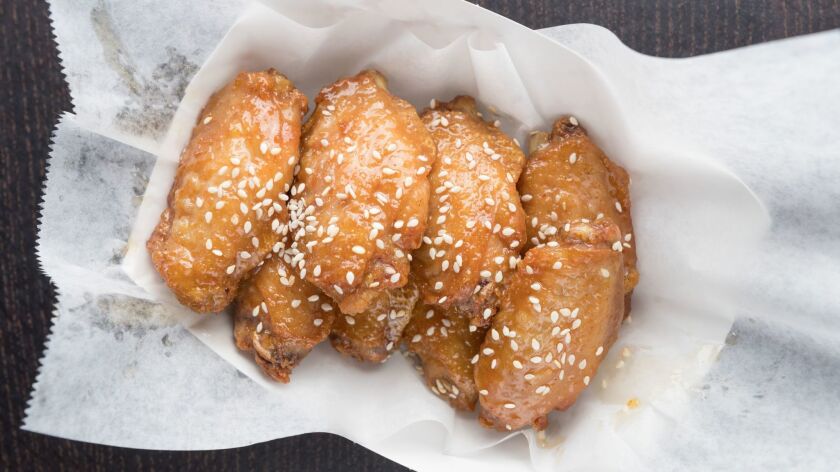 The version here is better than most, poached in a broth with lemongrass, ginger and "lots of other Southeast Asian seasonings," according to Jenny. And the rice is steamed using the broth the chicken cooks in, continuously on low heat all day. Qi seasons his rice with lemongrass, fried garlic and ginger as well.
The chicken is juicy — an inherent result of the poaching — and redolent with the lemongrass used to flavor the broth. The rice, served in a heap on the plate, is fragrant with garlic and ginger, cooked until just soft, and full of the flavor of the chicken. The dish comes with a bowl of broth — more of a light, clean liquid than an unctuous soup — for sipping or dipping.
The chile and ginger sauces that arrive with the chicken and rice are like torqued-up versions of the ones you may have had elsewhere, like at Savoy, the Hainan chicken specialist in Alhambra. Both sauces include ginger, but the chile has a zap of vinegar along with the red chiles. The combination of chicken, rice, chile and ginger sauce is simply addictive.
You should order this too: The Yangs are just as adept at cooking chicken wings as they are Hainan chicken. The honey garlic chicken wings are crisp and sticky, reminiscent of the wings you might find at a Korean dive bar — the perfect precursor to your plate of chicken and rice. You can also order the Hainan chicken pho; a steaming bowl of broth with chicken, thick chewy noodles and leaves of softened cabbage.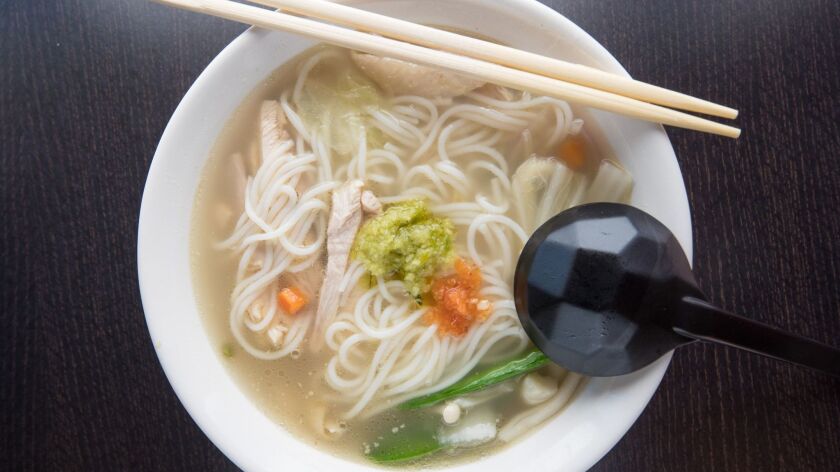 And they may be listed under "appetizers," but you'll probably want to order the deep-fried buns for dessert. The knots of fried dough are excellent fluffy doughnuts served alongside a cup of sweetened condensed milk for dipping.
And this: If you want a boba tea, you'll need to head down the street to Au79 Tea Express. But Cluck2Go does serve wintermelon and chrysanthemum teas. And if you must eat your deep-fried buns as an appetizer, there's coconut jelly for dessert, served in an actual coconut.
Info: 1771 E. Colorado Blvd., Pasadena, (626) 765-6674.
---
Get our new Cooking newsletter.
You may occasionally receive promotional content from the Los Angeles Times.