Meet the sequined, Elvis-haired ringmaster who fights childhood hunger with quips and hard work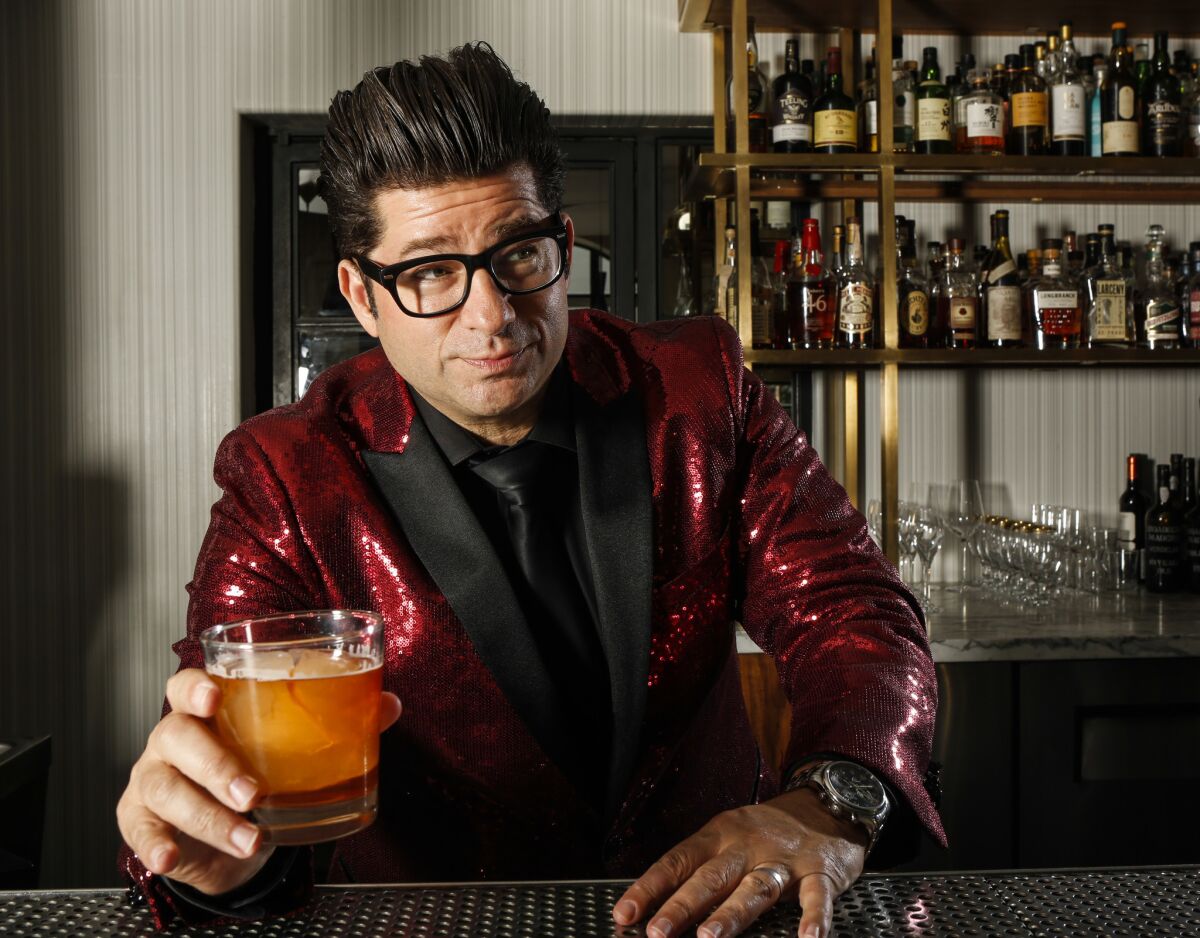 Billy Harris is a throwback. Dressed like a cross between Johnny Cash and late-period Elvis, with a jet black pompadour, a wardrobe of sequined jackets, glasses as big as safety goggles and a delivery that's more Catskills than Comedy Central, Harris has built a career that seems as much a magic act as the stunts he pulled on his mother as a 6-year-old.
He's an old-fashioned master of ceremonies, but for the food world, hosting charity dinners at some of the best restaurants in the country and doing events with a catalog of chefs that reads like its own Michelin Guide.
And though he presents himself like a Vegas showman, Harris is one of the faces, these days maybe the most recognizable one, of No Kid Hungry, the campaign arm of Share Our Strength, a Washington, D.C.-based nonprofit that's working to end child hunger.
Raising money for a good cause has become an increasingly prominent aspect of restaurant culture, with high-profile chefs putting their names and kitchens in the service of battling hunger, funding cancer research and other profoundly worthy projects. What Harris does is fill in the gap between cause and kitchen — and to put on a show in the process. A self-described culinary emcee, he's a retro impresario: equal parts dinner-theater host, auctioneer, cruise director, maître d' and ringmaster.
"I've been on stage my whole life," says Harris, who just turned 50 and lives in the Hollywood Hills with his wife and daughter. He grew up in Cherry Hill, N.J.; his parents are from Jersey, his grandparents from Brooklyn. Harris was Boberowski before Ellis Island, he says. "It's a great stage name; I should bring it back.
"My dad's whole side of the family were performers," says Harris, including the vaudeville and Broadway entertainer Georgie Jessel, a cousin, for whom Harris' 12-year-old daughter Georgie is named. Jessel, Harris likes to point out, was called "the toastmaster general of the United States," and Jessel seems not just a relative but a kind of patron saint.
Harris names his gigs like a checklist: "I was a kid actor, did commercials, got into stand-up, worked on cruise ships, did the comedy magic shtick."
After getting a theater degree from San Francisco State, he moved to New York City to continue acting and started hosting events and emceeing banquets. When the auctioneer at a school fundraiser fell ill, the friend who was doing the event told him, "You're funny, you're loud, you talk fast. You can do this." As Harris puts it now: "Since I now auction at 50 to 60 fundraisers a year, this was probably an important moment."
What Harris brings to the table — whether it's at the fine dining palaces of Thomas Keller's Per Se, Daniel Boulud's restaurant Daniel, Nancy Silverton's Osteria Mozza or a more chummy dinner of pizza with Chris Bianco or barbecue with Adam Perry Lang — is access, but also a particular kind of camaraderie.
He's a conduit and professional friend, the guy who brings folks together because after 20 years of events he knows everybody and because he's doing this for a reason. Sure, you get to have April Bloomfield or Roy Choi cook you dinner, but you also fund dinner for kids who often don't get it at all.
"Through his blend of persuasion, humor, passion and advocacy, he's able to take our message beyond the usual activists who care about childhood hunger," says Billy Shore, who with his sister Debbie founded Share Our Strength in 1984. "The relationships he's forged with so many of America's best chefs is like an asset that merits protection at Ft. Knox."
Share Our Strength estimates that just the auctions Harris has done over the past decade, at more than 100 No Kid Hungry events, have raised more than $10 million.
"I met Billy at an event, I'd be guessing which one. I'm a sucker for charity events," says Neal Fraser, chef-owner of Redbird, the downtown Los Angeles restaurant in the former rectory building of the deconsecrated Cathedral of St. Vibiana. Vibiana, now an event space co-owned and operated by Fraser and his wife, Amy Knoll Fraser, is a familiar venue for Harris. He helped host the annual Beefsteak event, a carnivorous evening that draws folks such as Jimmy Kimmel and Mindy Kaling to benefit the L.A. Food Bank, at Vibiana recently — in a red-sequined flapper dress, headband and pearls.
Fraser says: "He's killing himself out there, whether he's raising $500 or $500,000. He doesn't have a stand-in, who he sends out with the suit and the hair."
In addition to the No Kid Hungry dinners, Harris also hosts such high-wattage events as Tales of the Cocktail, Cochon 555 and the Bocuse d'Or. (Asking chefs like Boulud and Keller to do charity events is a lot easier when you're sitting between them in a greenroom.)
He's also expanded his repertoire to include Hanging With Harris videos — grilling fish cheeks with Michael Cimarusti; making sweetbread shawarma with Michelle Bernstein — as well as a dinner series of his own, which also benefits charity. And all of this is documented on his Twitter and Instagram feeds.
Harris says he's on the road 200 days a year, sometimes hitting five cities in a week. "I feel like it's time for people to step up and pet the pony," Harris says. "Which is an old W. C. Fields line. No one knows what it means, but for me it means you should give some more money."
"It's been an interesting evolution of the business," says Joe Allegro.
Allegro, who is now with Feed the Children, was director of culinary relationships at Share our Strength, where he produced a dinner series and brought in Harris to do auctions.
"We went down to RadioShack and bought a microphone. He did jokes, he did magic tricks, a live auction, and he killed it. He doubled our numbers," Allegro says.
"Chefs were behind the scenes, but now they're so far out in front that it's hard to pull them back sometimes," says Allegro, whose friendship with Harris dates back 20 years, to when Allegro helped launch the Food Network. "And restaurants are a place you think of; they have the environment to host and to help people. I wouldn't think of going to an accounting firm to feed the community.
"Billy has been able to emotionally appeal to people by making them smile rather than embarrassing them — he's kind of like Don Rickles in that way," Allegro says. "He's way better than the standard auctioneer at Sotheby's or somewhere; that rattling of numbers doesn't really work."
What does work seems to be Harris' distinctive atavistic mash-up: vaudeville for the social media era. "Childhood hunger is so hard; the numbers are so staggering, it's hard for someone not to be involved," Harris says. "You can't put a price tag on any of this." So he'll continue to hit the road and hit up folks for a good cause.
"I'm always on tour. And I do come with sequins."
---
Get our L.A. Goes Out newsletter, with the week's best events, to help you explore and experience our city.
You may occasionally receive promotional content from the Los Angeles Times.