What we're into: The egg salad sandwich at Konbi in Echo Park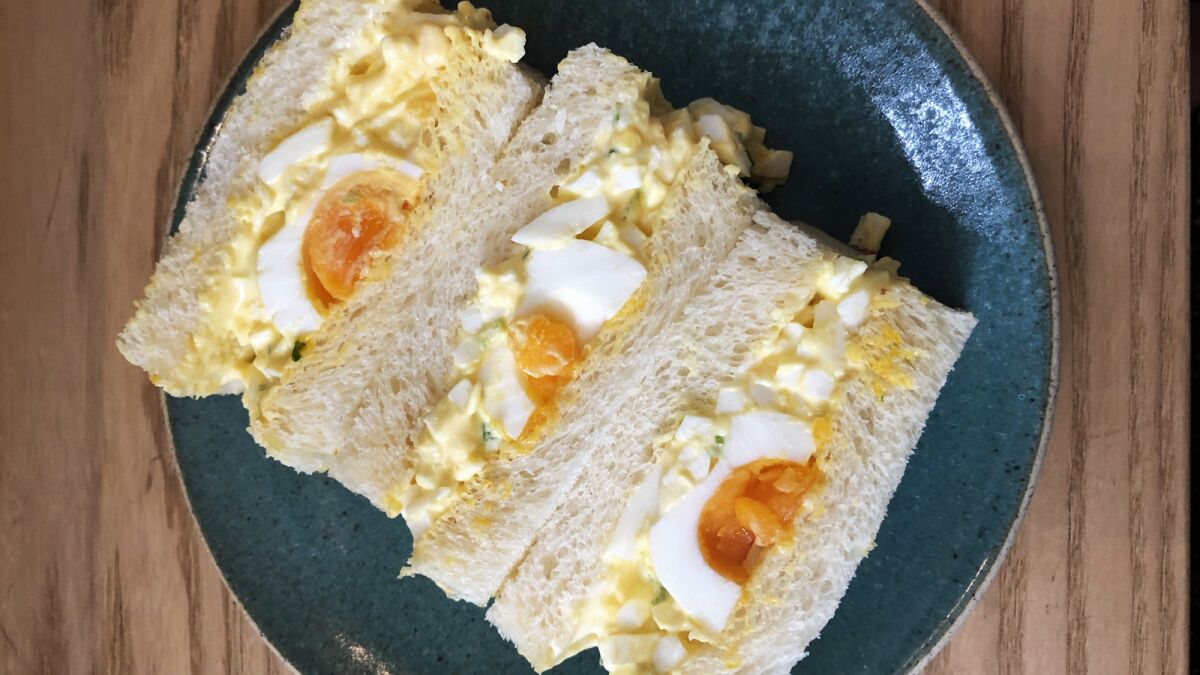 Every hungry friend and travel food writer to visit Tokyo comes back with the same not-so-secret secret tip: Eat the meals between your meals at a convenience store. These are not special places — the 7-Eleven in whatever train station you're in, at the Lawson's down the block from your hotel. Get the sandwiches, the pre-packaged sandwiches, the same things that are dreary nightmares at every minimart and airport grab-n-go in the States.
Konbi, an Echo Park restaurant as narrow as a bowling lane without the bumpers, has brought the magic of those Japanese convenience store sandwiches to Los Angeles. The proof of Konbi's efforts is its ability to make an egg salad sandwich — a sandwich that is so often so bad — into something transcendent, a thing of ethereal lightness and supernal satisfaction.
Chef and co-owner Nick Montgomery employs two egg preparations for the egg salad, including a rough-chopped hard-boiled egg and a soft-boiled egg, which he nestles into the middle of the sandwich. He and co-chef/owner Akira Akuto say they went through at least 15 egg farms before deciding on the eggs from Chino Valley Ranchers, which have a tangerine-colored yolk. And they crack through about 1,000 eggs a week at the restaurant.
Montgomery uses Kewpie mayonnaise to achieve the egg salad's velvety texture, a French dijon mustard for a little bite and crème fraîche for added oomph. He scoops the salad onto two slices of pillow-soft milk bread made by local baker Andy Kadin of Bub and Grandma's Bread. Then he cuts the sandwich in three, creating the perfect egg salad to bread ratio, with a vibrant pop of orange yolk in the middle of each slice.
In a world where "add a fried egg" has taken over menus everywhere, it's nice to see an egg salad sandwich given the star treatment. My Google flight tracker is trained on Tokyo to test these against the options at the first Family Mart I stumble across, but until then, a drive to Echo Park will do.
1463 Sunset Blvd., Los Angeles, (213) 278-0007, konbila.com.
Instagram: @Jenn_Harris_
Get our L.A. Goes Out newsletter, with the week's best events, to help you explore and experience our city.
You may occasionally receive promotional content from the Los Angeles Times.