Christina Tosi is opening her L.A. Milk Bar dessert shop this Saturday, with crack pies — and an ice cream truck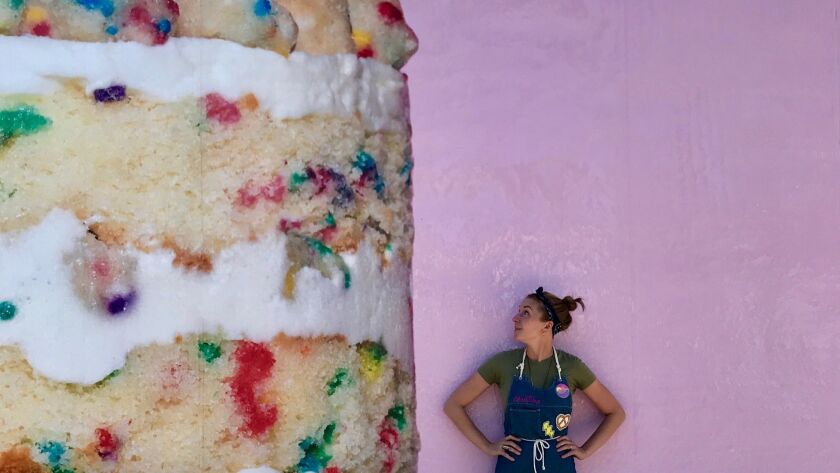 This Saturday , Angelenos who have long been waiting for pastry chef Christina Tosi to open her dessert shop Milk Bar will finally get their sugar fix. Milk Bar will open its doors to a retail store, dessert classroom, production kitchen and distribution center in Fairfax.
"It's the whole wonderland," said Tosi on Monday, as her staff tested recipes in the kitchen.
The Ohio-born pastry chef worked in the kitchens of Bouley and wd~50 in New York before teaming with chef David Chang, first as the pastry chef at his Momofuku restaurant and then to open a series of Milk Bar shops as part of the Momofuku Restaurant Group. The L.A. Milk Bar is Tosi's 15th location, and the two-time James Beard Award winner's largest shop yet.
The nearly 4,000-square-foot space is in a Melrose Avenue strip mall in a location that was previously a laundromat and a Baskin-Robbins. Not only do regular hours start on Saturday, but also the first of Tosi's dessert classes (a birthday cake class for $195, with proceeds going to Cookies for Kids Cancer).
This Milk Bar is the third shop, along with one in New York City and a second in Washington, D.C., that is built around a classroom, where Tosi and her staff offer classes that teach participants how to make some of her signature desserts, including birthday cakes, truffles and crack pie (classes in October will include pumpkin dulce de leche cake and truffles).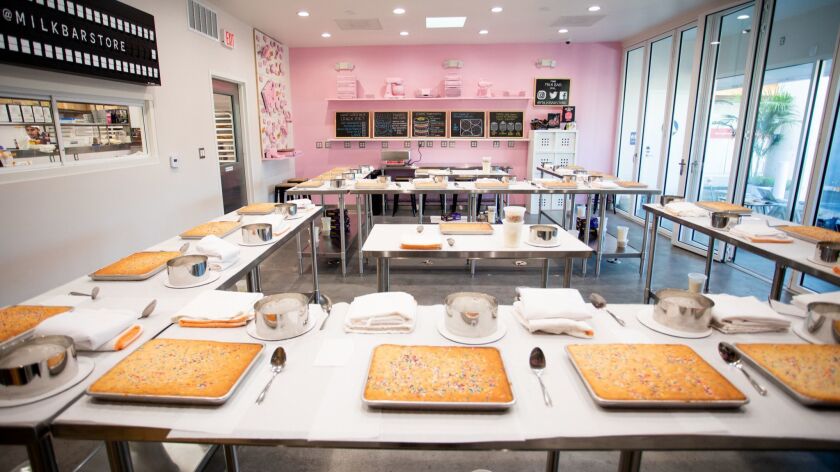 Saturday will also mark the debut of Milk Bar's first ice cream truck, a retrofitted 1969 Chevrolet milk truck that will be in the parking lot serving $1 cereal milk soft serve on opening day.
The Los Angeles Milk Bar is a bright and airy pink-and-metal space, with tables and chairs outside, and a pick-up window open on the side street, next to a massive photograph of a Milk Bar birthday cake on the pink wall of the building.
The shop has shelves stocked with cookie mixes, Tosi's cookbooks, cookies in bags, scarves and pins; coolers and cases filled with truffles, crack pies, and whole cakes; a soft-serve ice cream machine with two flavors: cereal milk and pineapple fo'sho whip; and a La Marzocco machine for espresso drinks featuring Counter Culture coffee. You can also order cereal milk, birthday cake and crack pie lattes, as well as milkshakes and "milkquakes," spoonable ice cream treats.
On the menu too are savory breads called "bombs" filled with scallion cream cheese and bacon; pastrami; pepperoni; and chorizo and eggs. Other items include elote cornbread, pistachio-lemon brioche.
"We're going to have crazy piñatas that you can order and buy," says Tosi. And folks planning parties can rent out the classroom — and the ice cream truck.
The classroom, open even when class isn't in session, is decorated with old turntables and cassette tapes. And in it, the Milk Bar Lab, a window to the kitchen where, when a pink light goes on, you can get a ticket (also pink) and buy whatever the kitchen is currently making. (There will also be an 800 number that you can call to find out when this is open and what's cooking.)
"The spirit of Milk Bar will be here," said Tosi. "Do you need some cookie dough? You can come in and hang out, plug in."
Milk Bar: 7150 Melrose Ave., Los Angeles, (323) 297-3250, milkbarstore.com; Instagram @milkbarstore. Hours: 11 a.m. to midnight, Tuesday, Wednesday and Sunday; 11 a.m. to 2 a.m., Thursday, Friday, Saturday.
---
Get our weekly Tasting Notes newsletter for reviews, news and more from critics Bill Addison and Patricia Escárcega.
You may occasionally receive promotional content from the Los Angeles Times.