Piero Selvaggio is closing Valentino and opening a restaurant in Newport Beach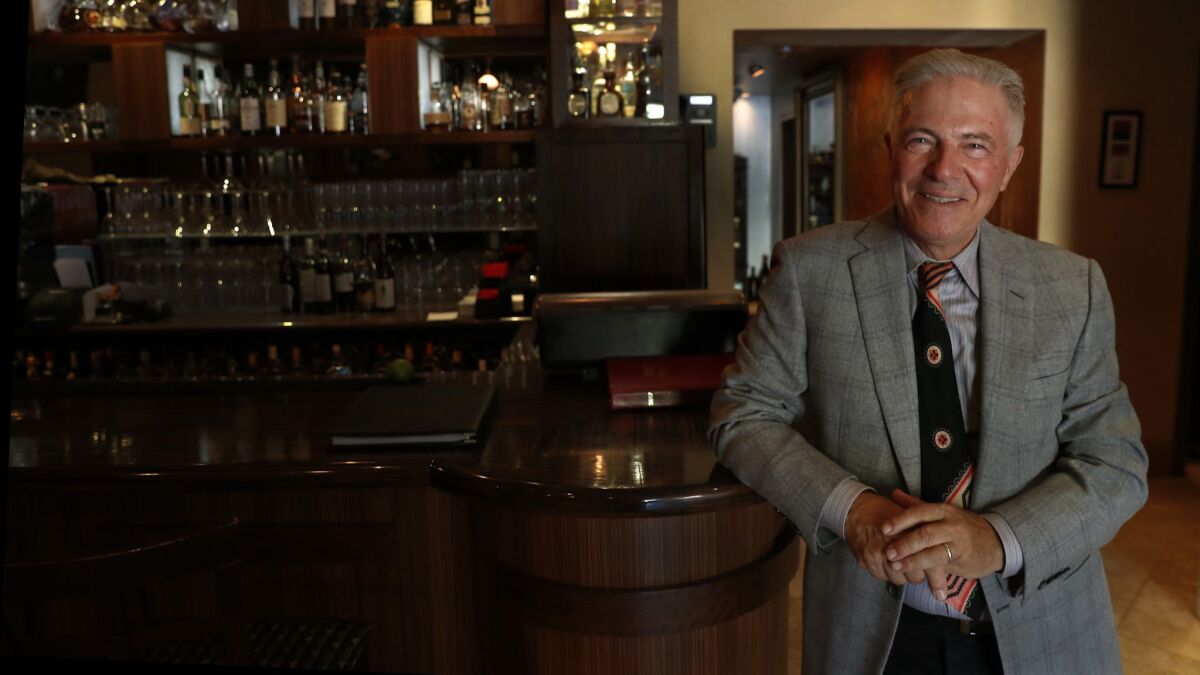 From the closing of a Los Angeles landmark to new dim sum in Las Vegas. Here's what's happening in our food and drink world.
Moving south
Restaurateur Piero Selvaggio has announced that he will close Valentino, his Santa Monica Italian restaurant, at the end of the year. The restaurant, credited with introducing Angelenos to authentic Italian ingredients such as prosciutto, balsamic vinegar and white truffles, opened on Pico Boulevard in 1972. The restaurant's last night of service is Dec. 31. Selvaggio says he plans to open a new Italian restaurant in Newport Beach called Louie's Newport, in October.
For the record:
2:45 p.m. Aug. 7, 2018An earlier version of this post said the Newport Beach restaurant was called Loui's at the Waterfront. The restaurant is named Louie's Newport.
"It wasn't a sudden decision but the conclusion of a big chapter," Selvaggio recently told The Times. He listed Valentino for sale in 2013, but took the restaurant off the market a couple of months later and decided to keep the restaurant, and introduce a new menu. "It has been a long, difficult decision, mostly based on a restaurant that has been my American dream, my claim of fame, my mistress."
Selvaggio and Valentino helped usher in a new wave of Italian cooking in Los Angeles, and some of this city's best Italian chefs, including Angelo Auriana (Factory Kitchen) and Steve Samson (Sotto and Rossoblu) cooked in the Valentino kitchen. In the '80s and '90s, a table in Selvaggio's dining room was one of the most coveted in the city.
Selvaggio is hoping to take the "heart" of Valentino and bring it to Louie's, where he will be managing partner. He says his friend and restaurateur Ron Salisbury (El Cholo, the Cannery) approached him with the idea to open a restaurant in the Newport Beach area. Louie's is named after the late World War II veteran and Olympic runner Louis Zamperini, who was Salisbury's babysitter. The restaurant has taken over the space formerly occupied by the Ritz restaurant.
"At Louie's, the emphasis will be a little more like an Italian steakhouse with great meats and fun pastas," said Selvaggio. Valentino, 3115 Pico Blvd., Santa Monica, (310) 829- 4313, valentinosantamonica.com. Louie's, 2801 Pacific Coast Highway, Newport Beach.
Vegas dim sum
The Palms Casino Resort in Las Vegas will open a location of Tim Ho Wan, the Michelin-starred dim sum restaurant, in 2019. The restaurant is part of the hotel's $620-million renovation that includes new restaurants from chefs Bobby Flay, Michael Symon and Marc Vetri. The 5,055-square-foot restaurant will serve classic dim sum dishes such as its famous baked BBQ pork buns, steamed egg cake, deep fried spring rolls, siu mai and shrimp dumplings alongside dishes specifically created for the Las Vegas location. There are Tim Ho Wan restaurants in Southeast Asia, Taiwan, Macau and Australia. 4321 W. Flamingo Road, Las Vegas, (702) 942-7777, www.palms.com.
Another slice
If you've tried the cacio e pepe pizza at Pizzana in Brentwood, you understand the hype. Pizzaiolo Daniele Uditi is making some of the most innovative Neapolitan-style pizzas in Los Angeles. And now he's announced that he and partners Candace and Charles Nelson of Sprinkles cupcakes and Caroline and Chris O'Donnell (the actor and his wife) plan to open a second location of Pizzana in West Hollywood in early 2019. The restaurant will be located on Robertson Boulevard in the former Ed's Coffee Shop. The West Hollywood Pizzana will serve antipasti and salads as well as the pizza Uditi is known for. And Nelson, who is responsible for the desserts at Pizzana, will oversee the restaurant's dessert menu, with sweets such as olive oil chocolate cake and salted caramel panna cotta. Existing: 1172 San Vicente Blvd., Brentwood, (310) 481-7108, pizzana.com. Upcoming: 460 N. Robertson Blvd., West Hollywood.
Burger up
Chef Jason Harley, the man responsible for the excellent doughnuts and fried chicken at Birdies in downtown L.A., has opened a burger restaurant in South-Central called Baby J's Burgers. The menu consists of single or double cheeseburgers with classic, spicy or BBQ sauce; milkshakes; and cookies and brownies for dessert. While the menu is limited, Harley is serving a couple of off-the-menu items such as a vegan burger, made using a recipe he created for actress Pamela Anderson when he worked as her private chef. Harley is also making a CBD-infused matcha green tea ice cream shake. 1030 E. 25th St., Los Angeles, (213) 536-5080, www.babyjsburgers.com.
Instagram: @Jenn_Harris_
Get our L.A. Goes Out newsletter, with the week's best events, to help you explore and experience our city.
You may occasionally receive promotional content from the Los Angeles Times.