L.A.'s breakfast king is back with cacio e pepe cream cheese bagels in Highland Park
Are bagels the new avocado toast? They could be.
Tinfoil Liquor & Grocery in Highland Park is about to launch a lineup of breakfast bagels that owner Jeremy Fall hopes will change the breakfast game in Los Angeles.
"There is such a bagel culture on the East Coast, but not here in L.A.," says Fall. The L.A. native has a thing for breakfast. After opening nightclubs, he turned his attention to mornings with Nighthawk Breakfast Bar, a restaurant that specializes in new and boozy versions of classics breakfast foods. There's a location in Venice, Fall just opened one in Chicago and he has one planned for the Beverly Center. Fall is not yet 30.
"I wanted to create something different for L.A., and integrate breakfast here in a creative way," he says.
So Fall, who grew up going to Noah's Bagels, will start serving breakfast at Tinfoil, his Highland Park liquor store with a speakeasy deli in the back. For lunch, he serves deli sandwiches. Come March 5, he'll start slinging bagels.
Fall enlisted the help of a local bakery (he won't say which) to make bagels specifically for the Highland Park shop. And he worked with his team at Tinfoil to come up with the sandwiches, bowls and schmears on the breakfast menu.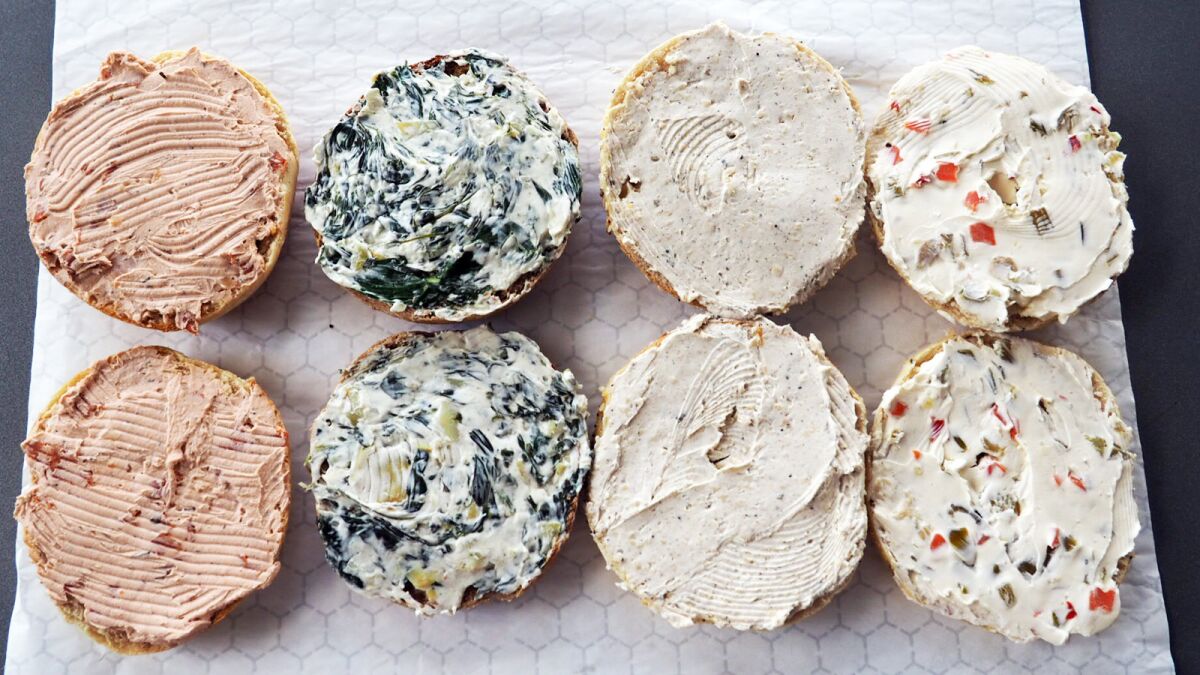 There are four bagels on the menu — plain, whole wheat, rye and everything. They're good, with taut, shiny crusts and chewy middles. You'll have more trouble choosing your cream cheese; there are six varieties, all made from scratch at the deli: cacio e pepe, plain (which actually has a hint of five spice), masago-scallion, pepperoni pizza, giardiniera and spinach-artichoke.
After spending time opening his Nighthawk: AM in Chicago, Fall says he became obsessed with giardiniera — thus the giardiniera cream cheese, made with bits of chopped pickled vegetables. And he says having multiple cheeses together for the cacio e pepe spread was a "no brainer." The effect is similar to the original dish: a carb coated in Parmesan and coarsely ground peppercorns.
The spinach-artichoke cream cheese is your favorite chain restaurant dip spread on a toasted bagel. And if you grew up in the '90s (or have kids who did), the pepperoni pizza cream cheese may make you nostalgic for a certain red box of frozen pizza bagel bites. The spread is pink from diced pepperoni. If you're struck by the irony of this stuff — the most nonkosher ingredient ever infused into a classically Jewish American sandwich — you're not the only one. But whatever your feelings on the matter, it tastes pretty good.
The masago-scallion could be the best of the bunch, with salty pops of orange roe and bits of scallion throughout the spread.
"I came up with a ham and cheese one — like a nod to a Hot Pocket — but it didn't work," says Fall. "I like to push boundaries, but it has to taste good."
The ham and cheese ended up on a breakfast sandwich called the Usual, made with pit-smoked ham, cheesy scrambled eggs and spicy mayo on a rye bagel. The What Happened Last Night sandwich involves two toasted everything bagel halves slicked with everything butter (butter with everything bagel spice) piled with house-cured bacon, cheesy scrambled eggs and chives. And the Spiel sandwich is Fall's spin on a classic bagel, lox and cream cheese, with the masago-scallion cream cheese, smoked salmon, arugula, red onion and tomato on a plain bagel.
Fall also has two breakfast bowls on the menu: the Reuben, made with house-cured pastrami, Swiss cheese scrambled eggs, red onion and sauerkraut; and the Morning Rafter, with smoked turkey, egg whites, avocado, spinach, Peppadew peppers and herb pesto.
The breakfast menu will be available daily from 8 to 11 a.m., or until the bagels run out.
A little more exciting than your average avocado toast, no? We'll see if #thingsonabagel catches on.
5900 N. Figueroa St., Los Angeles, (323) 507-2301, www.tinfoillg.com.
Get our L.A. Goes Out newsletter, with the week's best events, to help you explore and experience our city.
You may occasionally receive promotional content from the Los Angeles Times.