SOS: Fried broccoli from Ramen Hood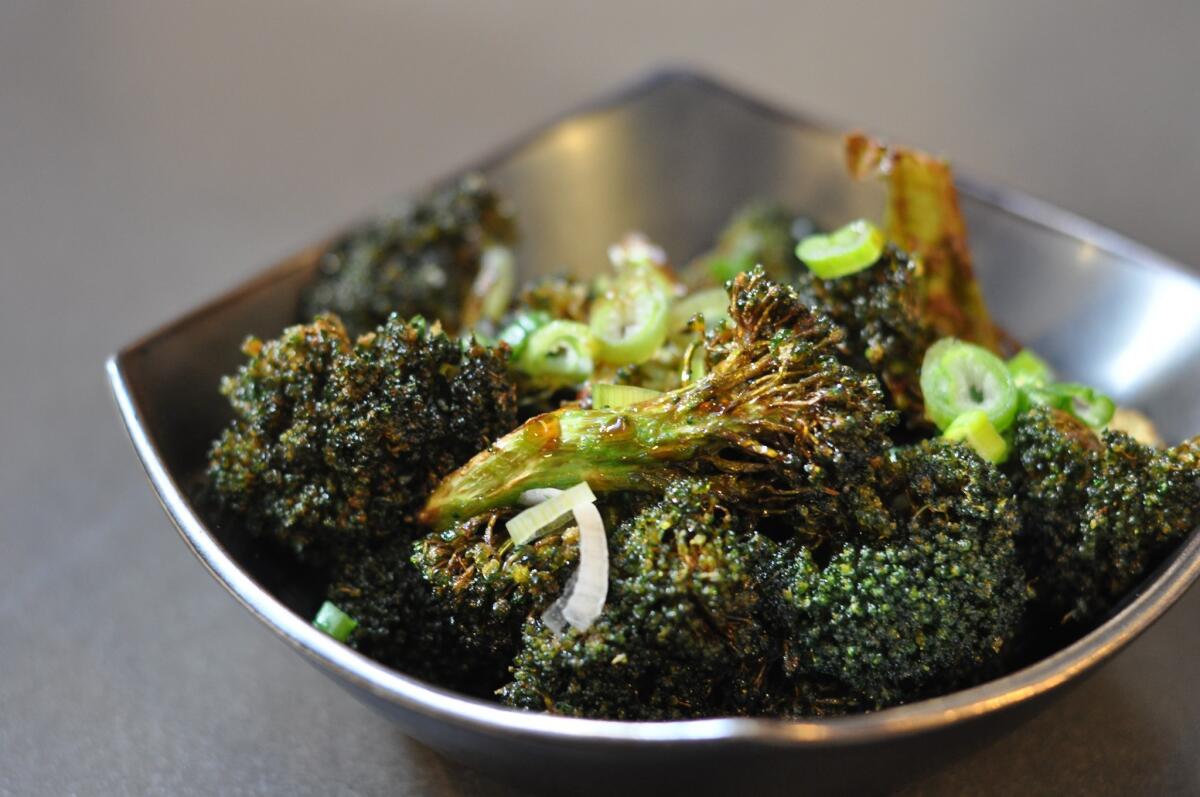 With vegetables, sometimes simple is better. In the case of the broccoli dish at Ramen Hood, the vegan ramen stall at Grand Central Market in downtown Los Angeles, simple means frying broccoli florets, dousing them with a pungent sauce and putting them in a bowl — then watching as the dish sells out, again and again, even if you change your restaurant. Let us backtrack. When chef Ilan Hall's restaurant the Gorbals was still open, in the nearby Alexandria Hotel, he was looking for a vegetable dish that was "outside the box," as Hall put it the other day. So he'd been grilling broccoli stems, kind of like shaved asparagus, and had all these extra florets. One day he threw them in the fryer. Then he made a sauce of malt vinegar, soy sauce, sugar and chile flakes, which he spooned over the results, with some scallions. Ta-da.
"It was a little bit of a joke," said Hall, describing the initial impulse as a riff on a David Chang recipe. "But then it sold out." Hall closed the Gorbals, then opened Ramen Hood with executive chef Rahul Khopkar, where the dish not only returned but is now one of the most popular dishes on the menu there too. Take a bite of the broccoli — crisp as tempura, the edges caramelized yet still the essence of the bright vegetable, loaded with the zingy sauce — and you'll see why people keep ordering it. If you're at the ramen counter, you'll probably order another one. If you're at home, you can just double the recipe. You're welcome.
RAMEN HOOD'S FRIED BROCCOLI
20 minutes, plus cooling time. Serves 2 to 4
SAUCE
1/2 cup malt vinegar
1/4 cup soy sauce
1/4 cup sugar
1/2 teaspoon chile flakes, more to taste
In a small saucepan, combine the vinegar, soy sauce, sugar and chile flakes and bring to a boil over high heat, stirring once or twice. Remove from heat and set aside to cool. This makes about 3/4 cup sauce, more than is needed for the remainder of the recipe; the sauce will keep for up to 2 weeks, refrigerated.
FRIED BROCCOLI
Oil for frying
1 pound broccoli, cut into florets (save the stems for another use)
About 1/4 cup prepared sauce, more if desired
Thinly sliced green onion, for garnish
1. Fill a large pot with enough oil to come up about 4 inches and heat the oil until it reaches 375 degrees. Fry the broccoli, in small batches until the pieces are a light brown color, 30 seconds to 1 minute. Drain the pieces well, and repeat until all of the broccoli is fried.
2. Place the broccoli in a bowl and sprinkle over the sauce, tossing the broccoli to coat. Drain the pieces and place on a platter, garnishing with the green onion. Serve immediately.
Each of 4 servings
Calories 87
Protein 3 grams
Carbohydrates 9 grams
Fiber 3 grams
Fat 5 grams
Saturated fat 0
Cholesterol 0
Sugar 4 grams
Sodium 304 mg
Note: Adapted from a recipe by Ramen Hood in Los Angeles.
Ramen Hood, 317 S. Broadway, Los Angeles, (213) 265-7331, www.ramenhoodla.com.
ALSO:
Food truck report: Pirozhki Russian bread buns from an Airstream trailer
L.A. County and Orange Country breweries win big at the World Beer Cup awards
Ginger fan? You'll love this pot de creme, plus tips for working with fresh ginger
Get our L.A. Goes Out newsletter, with the week's best events, to help you explore and experience our city.
You may occasionally receive promotional content from the Los Angeles Times.