Food Truck Report: A former business consultant from Spain is making some of the best sandwiches in the city, on a truck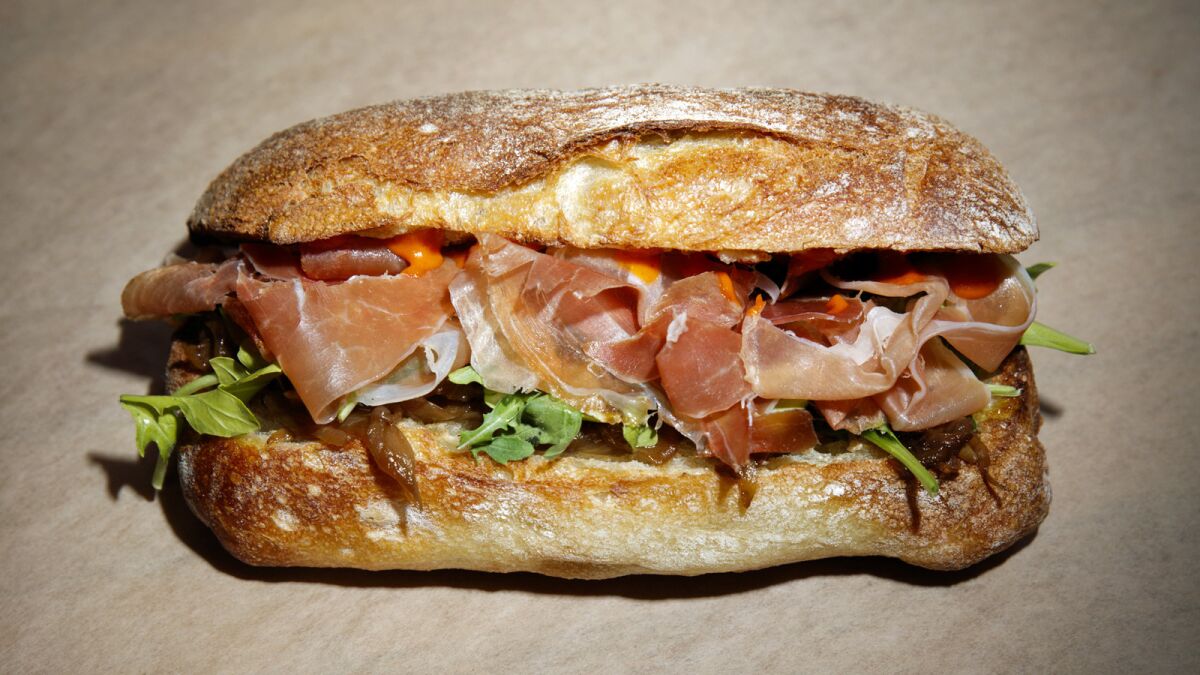 Victor and Sybil Roquin moved to Los Angeles in 2016 to follow the modern American dream — also known as quitting your day job to open a food truck. Sybil, a former business consultant from Barcelona, Spain, and her husband, Victor, a Frenchman who worked on sustainable development issues for the food industry, had been living in Paris for more than a decade when they decided to make a career switch based on a shared love of Catalan food. They spent the next couple of months in Barcelona, talking to local chefs, eating, drinking wine and working on their recipes before packing up and moving to L.A. to launch the Tumaca food truck late last year.
"When we decided to leave everything behind and jump into the unknown, our family and friends thought we were totally nuts — and we thought that they may be right," said Victor. "One year later, only one thing is sure. Starting this crazy adventure was the best decision in our life."

For the record:
11:11 a.m. Feb. 2, 2023A previous version of this article said Sybil Roquin is from Costa Brava. Her family is from Costa Brava but she is from Barcelona.
The truck is named after pa amb tumaca, also known as pan con tomate. The simple dish originated in the Catalonia region of Spain and consists of a slice of bread — sometimes toasted or grilled, sometimes not — that has been rubbed with a ripe tomato so that the juices seep into the top layer of the bread, softening it just so and adding a fresh tomato flavor.
Pa amb tumaca is typically finished with a drizzle of olive oil, some salt and maybe some ham. This combination serves as the core of the flavor profile for most everything on the truck.
"There are, of course, a few Spanish restaurants [in L.A.], but this is nothing compared to other cuisine influences from Asia, Mexico or even Europe," said Victor. "There is still a lot to be done to promote and give a more modern twist to this sometimes overlooked but flavorful and diverse cuisine."
The couple now spend their days on a fire-engine-red food truck doling out almost-traditional versions of excellent bocadillos, croquetas and patatas bravas.
A quick lunch at the truck may have you dwelling on the anatomy of a good sandwich — or, in this case, a bocadillo, the savory Spanish sandwich made with bread, meat and sometimes cheese. The Tumaca truck's Serrano ham bocadillo is a study in structure and well balanced flavor. First, you have the bread. The Roquins went through 40 bakeries before deciding on a ciabatta roll from Bub and Grandma's, former television writer Andy Kadin's bakery operation that supplies farmers markets and restaurants around town with loaves of bread.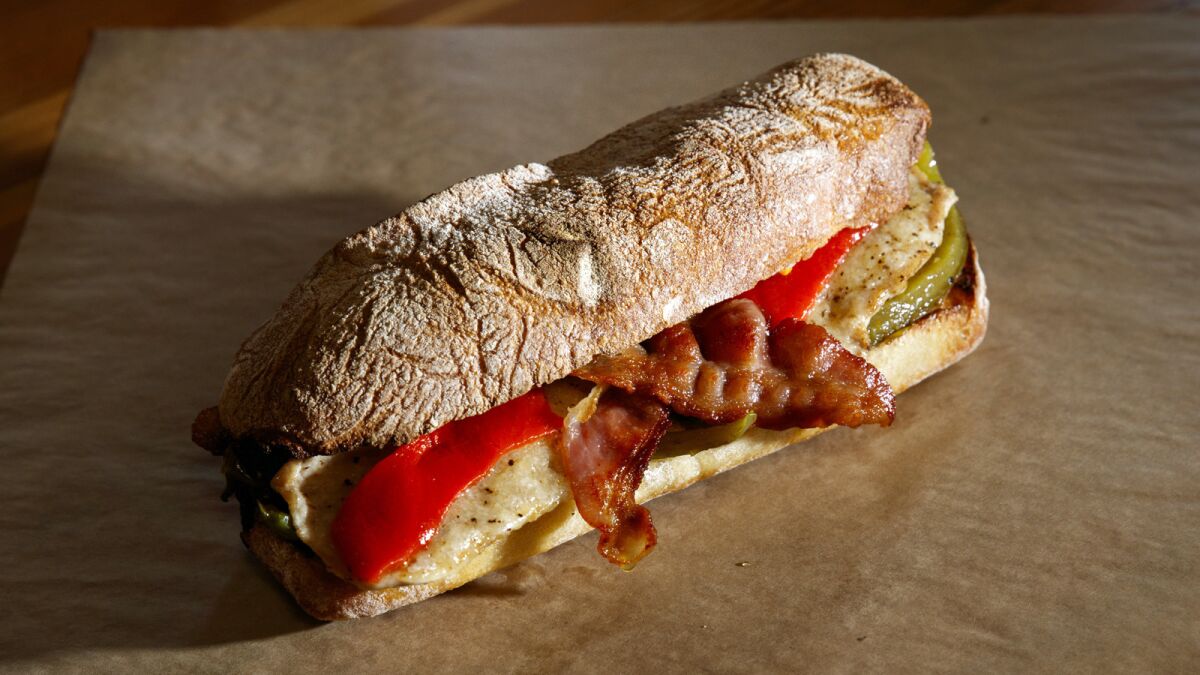 "It was a revelation," said Victor.
The roll is rubbed with fresh tomato; then comes a layer of brava sauce, a safety-orange-colored aioli spiked with hot paprika and sherry vinegar. The Roquins pile on ribbons of paper-thin Serrano ham, a mound of arugula, then add a spoonful of sweet, caramelized onion.
The couple's version of patatas bravas is called tumaca fries, presented as miniature blocks of not-quite-crunchy potato smothered in a garlic aioli with a sprinkle of paprika. The albondigas, golf ball-sized meatballs covered in a sofrito with hot paprika, is from a recipe from Sybil's grandmother and mother. And Victor says the lomo con queso, a monster of a sandwich filled with pork loin medallions, smoked bacon, melted Manchego cheese, roasted green peppers, Piquillo peppers and a romesco sauce, was adapted to "better suit local tastes."
The Roquins also enlisted the help of pork farm Peads and Barnetts, which they discovered at the Santa Monica farmers market, to make a version of Catalan black pepper sausage. Piparra peppers, chives, crispy onions and a mix of mayonnaise and brava sauce are used as toppings for the pork link, which is loaded into a squishy hot dog bun. (If you've had a Colombian dog topped with potato chips, the effect is similar.)
If you consider yourself a purist when it comes to pa amb tumaca, order the tostada de jamon. A slab of sourdough (also from Bub and Grandma's) is toasted until lightly crisp, then rubbed with tomato and topped with olive oil and Serrano ham.
The Roquins plan to eventually open a tapas bar with bocadillos and a selection of natural French and Spanish wines.
"But first things first, and the truck is a good way to test our concepts," said Victor. "But we really love L.A., both for the food and lifestyle, and we will spend all our energy to make it happen."
The Tumaca truck is popping up at Silverlake Wine every Monday with new specials; for a full schedule visit www.tumacatruck.com.
ALSO:
Culinary SOS: Chilled beet soup from José Andrés' restaurant, Jaleo
Saved by the Max, a 'Saved by the Bell' pop-up restaurant, is headed to L.A.
One of the best chefs in the country is opening a tiny fine-dining restaurant at the Third Street Promenade
---
Get our L.A. Goes Out newsletter, with the week's best events, to help you explore and experience our city.
You may occasionally receive promotional content from the Los Angeles Times.