Nervy white wines to quench summer thirst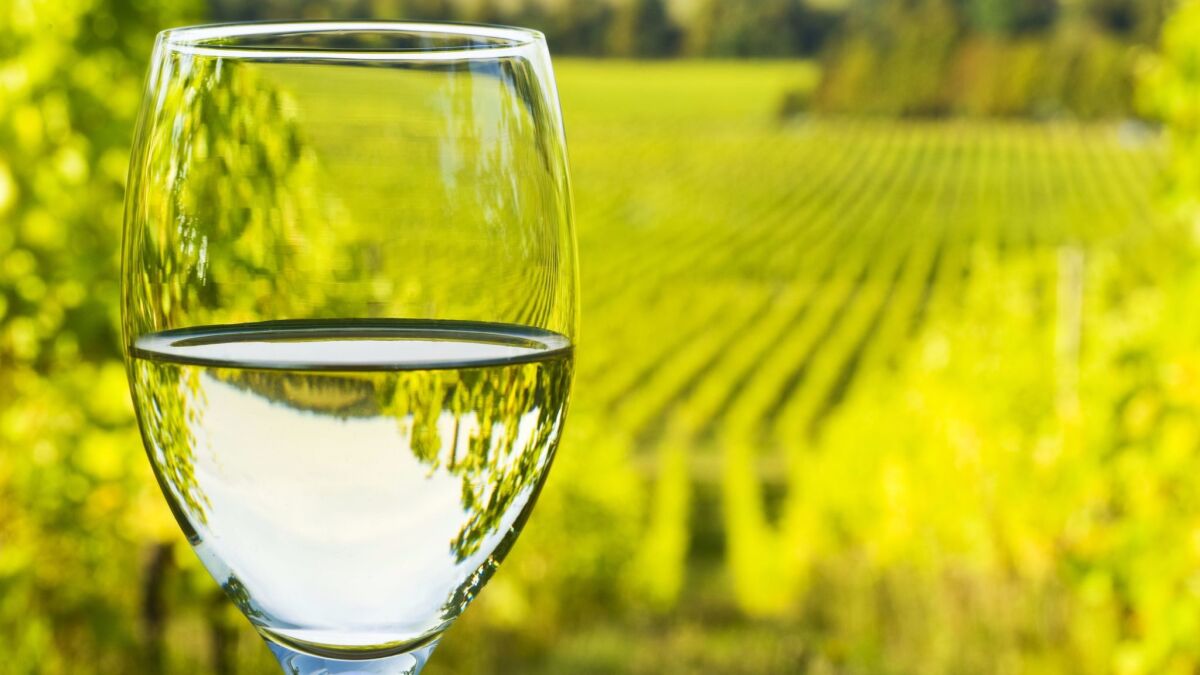 Here it is, the height of summer, when the mercury flirts with the 90s and the 100s. It's the time of year for wines that whine, wines so dry and high-pitched they seem almost mean — but none is better at quenching thirst on a hot day.
Before we go further, let's make one important point: Even the driest of wines aren't altogether dry. They've simply got enough acidity to offset sweetness. Most wines, indeed, most beverages, are built around this balancing — maintaining tension, providing contour, cantilevering the wine's sugars with complements of acid.
Imagine a teeter-totter, with the sweet component in one seat, acid on the other. Evenly weighted, the wine will not be perceived as too sweet, or conversely, too raw or biting. The best summer whites have levels of acidity that make them thrillingly, searingly dry — in fact if it weren't such a pejorative, now would be a good time to use the word "shrill."
This is just a fraction of what's out there, falling roughly into three broad categories; any one of these will feel like slapping your taste buds in the face.
Guided by bubbles
This is the "not so still wines" category, not to be confused with sparkling wines. It's the type of wine that goes to bottle so fresh, and so young, that CO2 produced at the tail end of fermentation gets trapped in the bottle. That additional fizz makes these wines especially mouthwatering.
Several countries have a wine tradition with modest natural fizz, but right now the most popular seems to be Iberian, like Avinyo's Petillant from Cava country (about $17), a vi d'agulla (Catalan for "prickly wine"). Vinho Verde, the remarkable green wine of Portugal, made from multiple varieties, is light in alcohol, bone dry in most instances and thoroughly refreshing. Look for Bartholomew Broadbent's pale green version, or the 2016 Minhadega (around $10).
More recently the wines of Basque Spain known as Txakoli have taken over the spring white set, made with Hondarrabi Zuri and other indigenous varieties, with fizzy, pithy, citrus rind flavors. For years now the standard-bearer for the region has been Getariako Txakolina from Ameztoi (about $19).
The key of citrus
A low pH fairly ensures a dry, crisp style. Citric acid, along with malic acid, are the very drivers of lemons, limes and apples, respectively; all contribute the impression of green or tart flavors, lime, lemon, Granny Smith apple.
White wines from northern Italy — Kerner, Sauvignon (Blanc), and a new find (for me), Friulian Verduzzo, will comply with lean, razor-sharp textures. American Trousseau Gris, from Wind Gap or Arnot Roberts, will also fit the bill. German dry (trocken) Rieslings are so designated because, acceding to demand, they've committed to drier styles — the dry wines of Donnhoff, Leitz, von Winning and Pfeffingen are especially electric.
But if I really want to put my tongue in a socket I turn to Australian Riesling, grown in high elevations in the Eden and Clare valleys, where cool nights and thick skins result in a style of exceptional brusqueness; herby, mineral and sharp, like sucking white rocks spritzed with lime juice. Grosset's Polish Hill and Pewsey Vale's the Contours are two of the category's go-to whites.
Mineral baths
Speaking of rocks, many dry wines possess an additional, lasting impression of granular, dusty minerality. In France, vineyards planted on chalk, limestone, gneiss, slate and not least the myriad geological strata of the Massif Central, often express a stoniness particular to their region. The regions of Champagne, Burgundy and the Loire Valley amount to poster children for minerality. In Burgundy the driest, most strident, most mineral elements are still from its northern reaches in Chablis, with Piuze, Dampt and Fevre being three exceptional domaines.
In the Loire you'll find minerality in Sancerre and Pouilly Fumé, as well as Muscadet from the coast, while Chenin Blanc, in its drier iterations ("sec") from Vouvray, Savennieres and Anjou, can be lean and tangy.
But a string of warm vintages and climate change have, for the moment at least, impeded the inherent nerviness in some Loire whites, allowing another indigenous variety, the late ripening Romorantin, to emerge as one of the region's ascendant lip smackers. The best examples come from Cour-Cheverny, especially the old vine white from Philippe Tessier, Les Sables. You won't find a more assertive white wine in the market today.
Unless, that is, you stumble upon a Furmint, the wild, stony Hungarian white with off-the-chart levels of acidity: Wheaty, brisk, savory and compact, the best of these, like the bracing Birtok from Samuel Tinon, are like sucking a lemon infused with a slurry of minerals, a salty, lemony bee sting of a wine — which is all you can ask for on a summer day.
K&L, Hi-Time; the Wine House, Woodland Hills; Lou Wine Shop; Everson Royce; DomaineLA, Bar & Garden; and Wine Stop are all sources for a good summer slap in the mouth.
ALSO:
Chef Michael Voltaggio is closing Ink, opening a new restaurant
The wine program at Bestia keeps getting weirder, with white wines leading the way
At Venice Beach's new pasta palace Felix, Jonathan Gold admires noodly views and Italian cooking
---
Get our L.A. Goes Out newsletter, with the week's best events, to help you explore and experience our city.
You may occasionally receive promotional content from the Los Angeles Times.