The wine program at Bestia keeps getting weirder, with white wines leading the way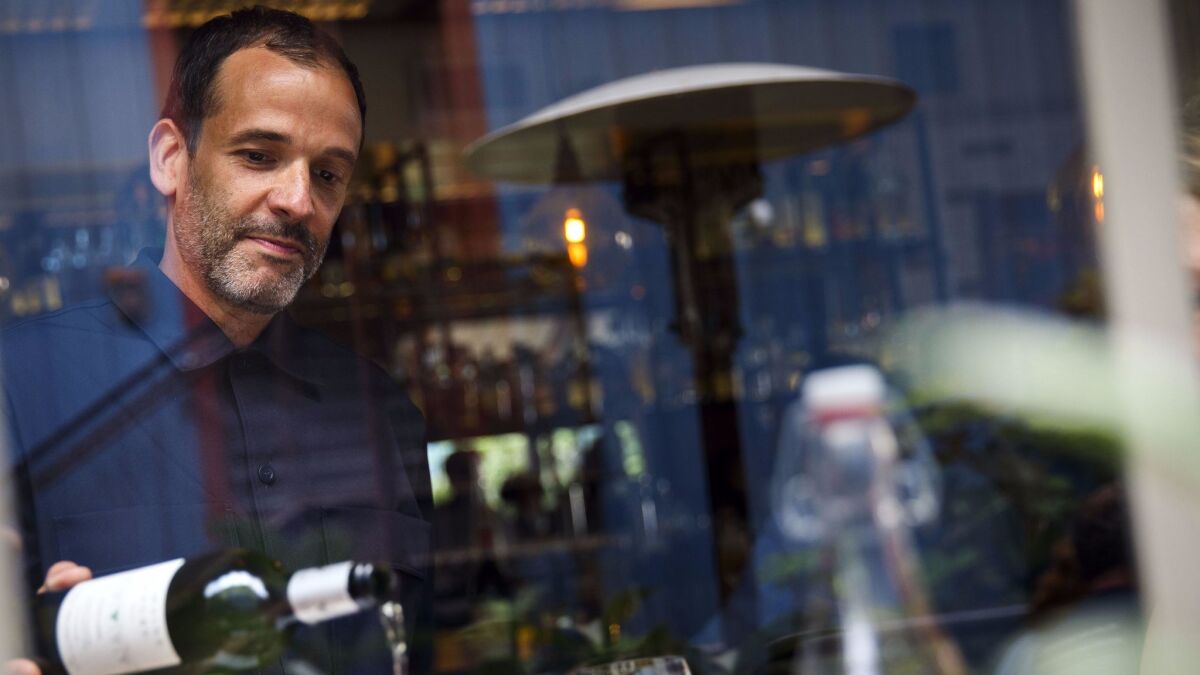 On a recent early Tuesday evening at Bestia, the Los Angeles restaurant that opened in late 2012 in the Arts District, the rush was already underway and Ryan Ibsen, 43, the restaurant's affable, thoughtful wine director, was already busy popping corks.
Imagine keeping wine in stock for this mad dash of a restaurant featuring Ori Menashe's spectacularly creative menu for which the term used most often to describe it, "rustic Italian," seems wholly inadequate. Imagine keeping the wine flowing ahead of 500 covers a night, a roiling agglomeration of the loud, the hip, the bespoke, the foodies, the almost famous, and Gustavo Dudamel, in a class by himself, who takes advantage of Bestia's late-night, post-performance hours.
Imagine pouring wine for Dudamel. It is a good reason to go deep in Spanish wines, which Dudamel loves and which Ibsen has covered, though a guest this charismatic and persuasive might serve as further motivation. Ibsen keeps wines off menu, in reserve, on backup, to fill holes, accommodate seasonal exigencies, and broaden the range of his guests' experience. The list changes every day. Partly it's because this is a program subject to extreme depletion, so you have to have a backup plan. But partly, too, it comes out of a tradition of edginess established long before Ibsen took over in 2015.
There remains a distinct whiff of agitprop in Bestia's wine program, which suggests that Ibsen is drawing from the legacy, or perhaps the residual energy, of Maxwell Leer, the restaurant's antic founding wine director. Leer's selections, and often his service, were as much about disruption as they were about accommodation.
Ibsen's approach has been to adhere closely to the tenor and flavors of Menashe's menu, which is Italian-inspired, more high-toned, more acid-driven. Ibsen likes to say that Menashe "brightens the corners" of all of his dishes, but that edginess, both literal and figurative, leads you away from many traditional Italian reds — toward mostly white wines. In fact, Ibsen guesses that he and his staff recommend white and pink wines over red wines at about 95% of the tables he serves, even with the veal tartare and the rib-eye.
This is a program, then, that comes off as not a little eclectic. Conventional varieties, your Pinot Noirs, Chardonnays and Cabernet Sauvignons are scarce; even wines you'd expect on an Italian list, like Tuscan reds, Piedmont reds, Italian classics, are embedded among Rosseses, Schioppettinos and Ciliegiolos, Timorassos, Kerners, and Grasparossas, not to mention Merenzaos (from Spain), Liatikos (from Greece) and Blaufränkisches (from Austria). Ibsen is there to translate of course, as are his lieutenants, Brett Watson and Jake Malmberg.
Like a lot of wine and restaurant professionals, Ryan Ibsen got into the wine business by way of the arts, working in restaurants as he pursued studies in film and music. In Seattle he worked at two restaurants with superb wine programs, Monsoon and Le Pichet, where it dawned on him that wine could be another of his creative outlets. "It was a relatable extension of how I spent my youth," he says, "digging deep for records no one had ever heard and then recommending them enthusiastically to whoever had an open mind."
He moved to New York, working in both retail and restaurant settings, but by the time he decided to leave in 2015 he'd begun to feel trapped by the Brooklynization of the wine scene there and its tendency to chase trends until they became clichés — where natural wines in particular had become so fetishized they seemed like notches on a belt rather than something to be enjoyed for their own sake. At Bestia some of these notches are in place, but it's hardly the only thing he offers.
"I like to think we have something for everyone who's willing to look under the rock of commercialism. We want to make it eye-opening without ever being inapproachable."
Diners in Los Angeles have been more than willing to come along for the ride. "They're particularly amenable to adventure," says Ibsen. "Nothing's off the table. You can move in any direction you want and people will come along."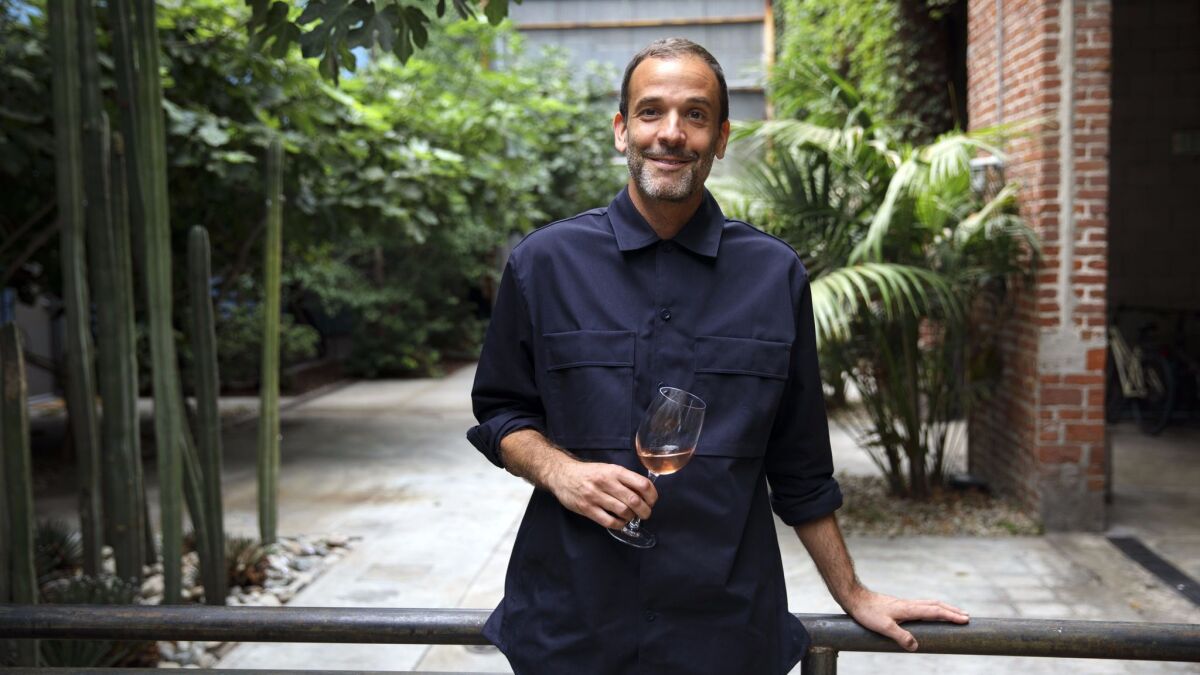 Wine director: Ryan Ibsen
Floor sommelier(s): Ibsen, Brett Watson, Jake Malmberg
Number of wines on the list: Roughly 125
Number of white/red: Currently 65 red, 45 white and some rosé and fizzy stuff
Least expensive: $45
Most expensive: $750
Median bottle price: $100
Percentage of domestic/imported: 25/75
Number of wines by the glass: 21
A pairing: Slow-roasted lamb neck with arugula, pickled fennel, black sesame, dill and salsa verde; paired with Caves Cooperatives de Donnas 2016 Nebbiolo Rosato 'Larmes du Paradis' Valle d'Aosta.
"Many folks will see 'roast' and 'lamb' and move toward putting together a hearty, rustic red wine pairing experience. That would work if you removed all other accouterments from the plate; the salsa verde, the pickled fennel, the dill, the arugula and the chile lemon vinaigrette are all at odds with 95% of red wines. And yet, underneath all that, is a large piece of very slowly cooked lamb. The Donnas rosato provides a red wine-ish oomph to meet the lamb, yet all the freshness and brightness that the remaining ingredients need."
Wine the chef has with dinner:
"Menashe often has a grilled branzino at the end of service, covered in fried herbs and accompanied with grilled lemon. I've given him a glass of Pigato or Vermentino (from Bisson, Punta Crena, etc.) from Liguria. Something that works in harmony in terms of flavor, and connects geographically."
Advice for the adventurous diner:
"A complete Bestia experience can be had without so much as a drop of red wine, or a heavily oaked white, or anything so assertive that it commands you, instead of you it. We try to use what we might call 'big' wine sparingly, preferring a kind of slow build that allows for plenty of bright, supporting refreshment up front."
---
Get our L.A. Goes Out newsletter, with the week's best events, to help you explore and experience our city.
You may occasionally receive promotional content from the Los Angeles Times.