29 Images
Food gift ideas
Digital scale
Digital scales make measuring ingredients for baking much more accurate, and you can use the tare function and add successive ingredients as well. With more recipes using weights, it's time to get on board.
About $30, widely available
(Glenn Koenig / Los Angeles Times)
Molecular gastronomy kit
This kit is just about good geeky fun. You get packets of agar-agar, calcium lactate, sodium alginate, soy lecithin and xanthan gum as well as all kinds of pipettes and tubing, and a DVD to show you how to use them. It's like a kid's chemistry set that lets you make your own spherical olives.
$58.95, molecule-r.com
(Kirk McKoy / Los Angeles Times)
Soda siphon
Nothing is quite as sophisticated as squirting your own pressurized soda water from a classic glass soda siphon into a rocks glass full of whiskey. It's how things were done in the 1920s and '30s in moody film noir movies, the kind where femmes fatale still shook up pitchers of martinis for afternoon picnics. Now that's living!
Prices vary. Bar Keeper, 3910 W. Sunset Blvd., L.A. (323) 669-1675, http://www.barkeepersilverlake.com
(Bar Keeper)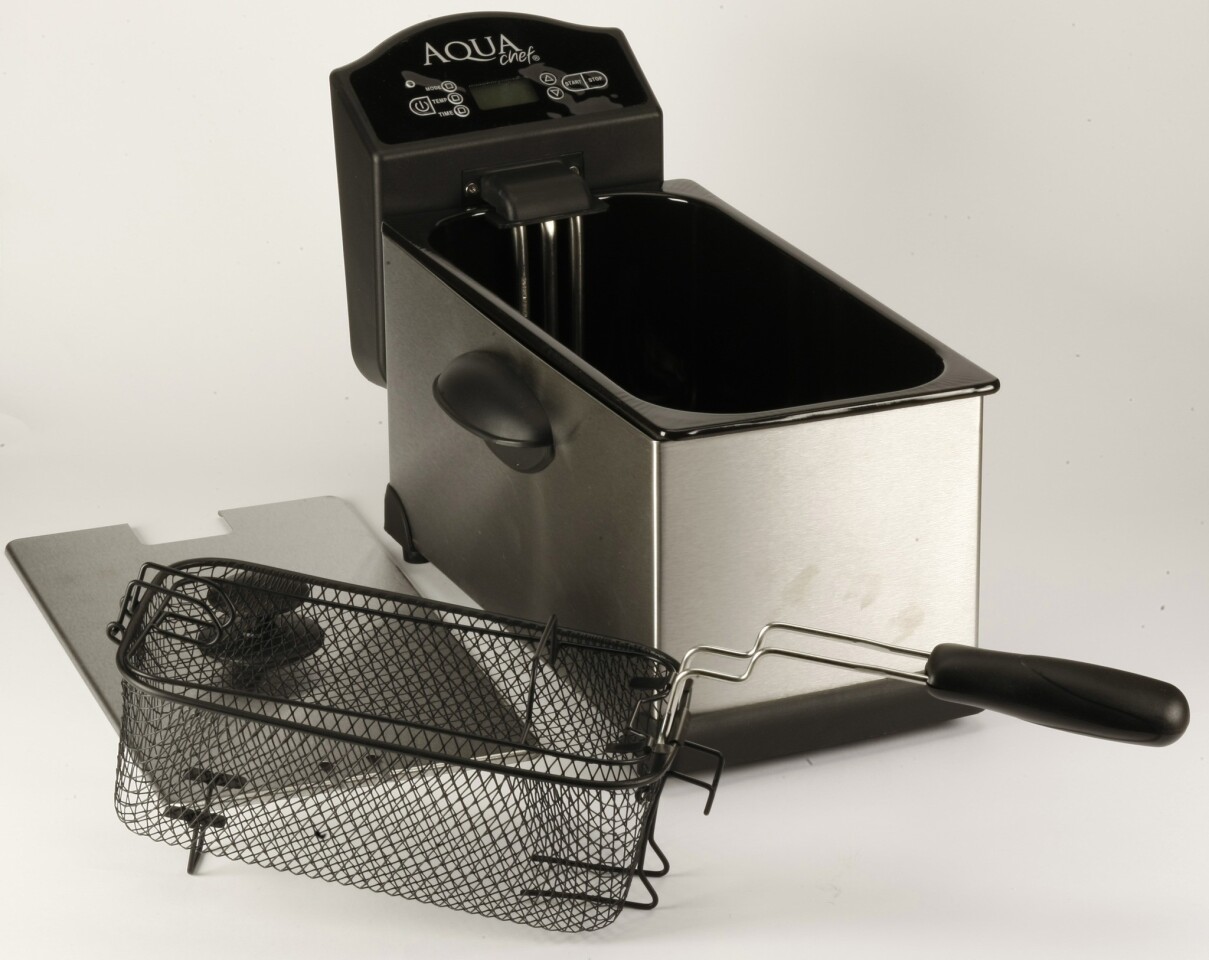 Aqua Chef professional oven
Finally, a sous-vide cooker for the rest of us! The water oven from Aqua Chef looks like a small home fryer but is made for extended cooking at low temperatures in water.
About $160, http://www.aquachef.com
(Kirk McKoy / Los Angeles Times)
Digital probe thermometer
Whether you're watching a roast in the oven or boiling sugar to a specific temperature on the stovetop, a digital probe thermometer makes it easy to stay on top of what you're cooking in the kitchen.
$20 to $30, widely available
(Glenn Koenig / Los Angeles Times)
Doughmakers cookie sheets
Recommended by top bakers, these are cookie sheets that will last for decades. Their heavy construction and special pebble-grain surface allow even browning and easy release. The set we have in the Times Test Kitchen is at least 10 years old, and they still work as good as new.
From $14 plus shipping, at various websites.
(Russ Parsons / Los Angeles Times)
Unicorn magnum plus pepper grinder
This is an excellent peppercorn grinder. It has a precisely cut, extra large grinding mechanism with a wide range of adjustability and an easy-to-fill storage chamber (with a sliding loader) that holds a lot (almost 11/4 cups) of peppercorns.
$45, http://www.unicornmills.com
(Glenn Koenig / Los Angeles Times)
Mortar and pestle
Smart cooks would choose a mortar and pestle any day over a spice grinder, or even a blender or food processor. Pounding with a pestle crushes and pulverizes spices, herbs and other ingredients to release more of the oils.
Prices vary, but you can find a good one for less than $50, widely available
(Mel Melcon / Los Angeles Times)
Vic Firth maple rolling pin
Everyone should have a good, basic rolling pin in the kitchen. These are solid rock maple and are fitted with stainless steel ball bearings for smooth, effortless strokes.
26 to $50, http://www.vicfirthgourmet.com
(Glenn Koenig / Los Angeles Times)
Tostapane
Why is bruschetta always perfect in Italy? Because they toast their bread on one of these, a thin, square sheet of perforated stainless steel, topped with a wire mesh screen. Pinpoints of flame work through the tiny holes, lightly charring the bread, crisping the surfaces without drying out the interior.
$29.95, http://www.toastercentral.com
(Glenn Koenig / Los Angeles Times)
Clay Coyote couscous steamer
Properly made couscous is steamed, not boiled. And while it may take a little longer to cook, there's a night-and-day difference in texture. Clay Coyote offers a lidded steamer in an array of beautiful glazes that is perfect for steaming couscous, meats and vegetables.
$65, http://www.claycoyote.com
(Glenn Koenig / Los Angeles Times)
La Chamba black clay comal
Perfect for heating tortillas, it also makes terrific quesadillas. Give one side of the tortilla a light spritz of olive oil, then lay it on the comal and add the fillings. It's also great for roasting chiles or tomatillos. Because of its concave shape, it's best used on gas stoves.
$29.95 for 12-inch comal and $39.95 for 13-inch comal, $39.95 at Toque Blanche in Half Moon Bay, (650) 726-2898, http://www.mytoque.com
(S. Irene Virbila / Los Angeles Times)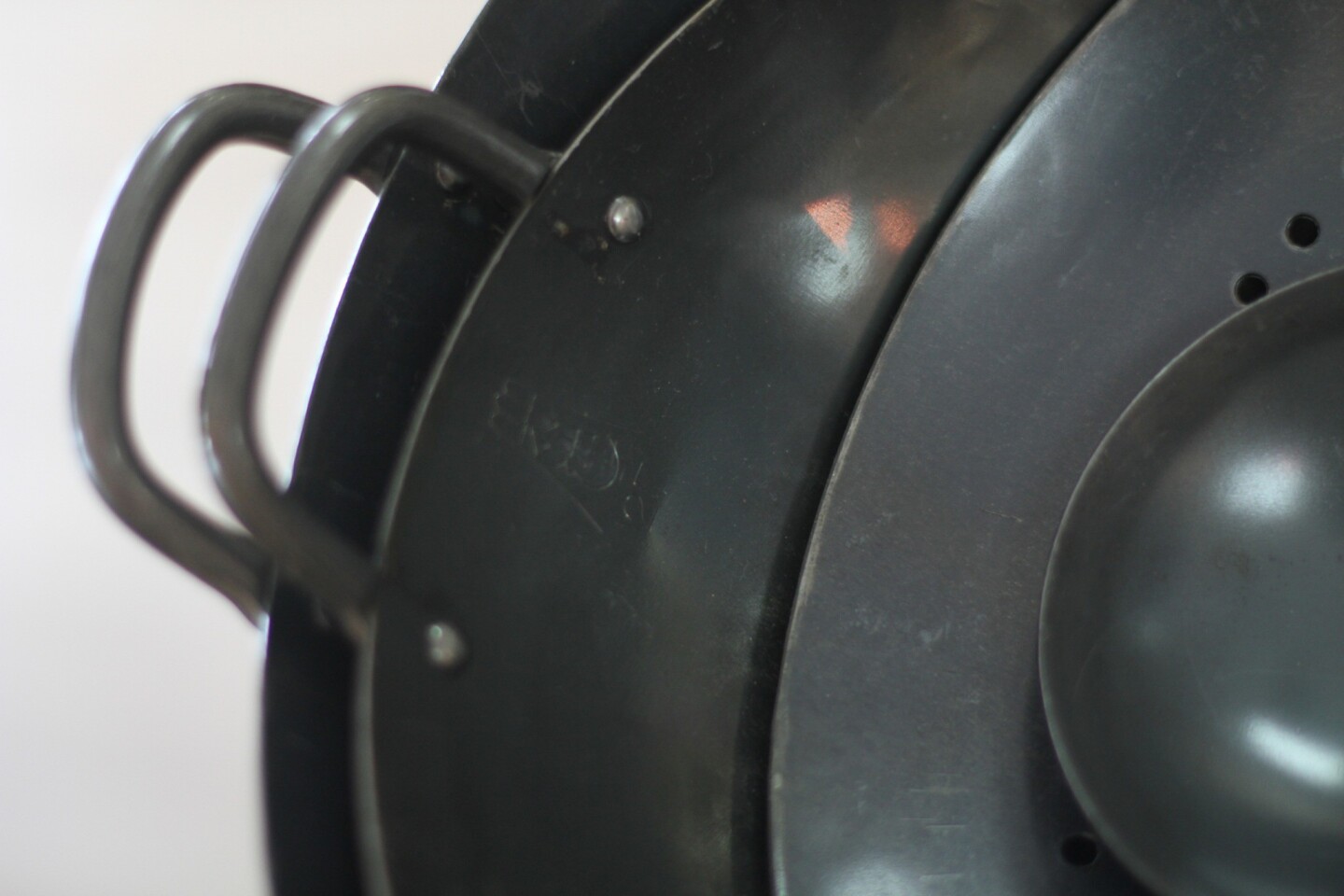 Japanese Wok from Hitachiya
These steel woks, hand-hammered in Yokohama, heat up fast, have a silky finish and clean up well too.
$58 to $102 at Hitachiya, Rolling Hills Plaza, 2509 W. Pacific Coast Highway, Torrance, (310) 534-3136, http://www.hitachiya.com
(Bob Chamberlin / Los Angeles Times)
Double-lid Donabe rice cooker
Naoko Moore of Echo Park brings in Japanese clay pots from the 180-year-old producer Nagatani-en in Iga, Japan. They're made of heavy clay and have a double lid that captures the steam. Rice cooked in this pot comes out perfect, each grain absolutely distinct, the way it is in a great risotto.
$120 to $325 at Toiro at http://www.toirokitchen.com
(Kirk McKoy / Los Angeles Times)
Sqirl Jams
Jessica Koslow makes jams, marmalades, chutneys and fruit butters from her edge-of-Silver-Lake production space in flavors such as Santa Rosa plum chutney and wild blueberry and tarragon jam.
$10 to $25. 720 N. Virgil Ave., No. 4, Los Angeles, (213) 394-6526, http://www.sqirlla.com; also available at specialty shops throughout L.A.
(Sqirl Jams)
Valerie Confections' super cho-co-food
Dried fruit, nuts and chocolate ¿ a favorite combination. A collaboration between L.A. chocolatier Valerie Confections and design group Commune Design, these are bars of caramel-y darkened milk chocolate with dried pears, apricots, golden raisins, macadamias, cashews, almonds, sunflower seeds and peanuts.
$60 for a set of three bars, 3360 W. 1st St., Los Angeles, (213) 739-8149, http://www.valerieconfections.com
(Valerie Confections.com)
Profumo del Chianti
Powder-fine seasoning salt from Tuscany's master butcher Dario Cecchini, scented with wild lavender, rosemary and bay. It is pretty much the Platonic ideal of finishing salt for most grilled meats, but we also like to toss freshly popped popcorn with a tiny pinch of this and a few drops of the best olive oil.
$19.95, http://www.formaggiokitchen.com
(Kirk McKoy / Los Angeles Times)
Trufflebert Hazelnuts
Toasted hazelnuts are delicious. Toasted and salted Trufflebert hazelnuts are something beyond that -- hazelnuts with a flavor that approximates what wine geeks are getting to when they talk about the hazelnut notes in a $120 bottle of Meursault.
$15 per 1-pound jar at Mozza2Go, 6610 Melrose Ave., Los Angeles, (323) 297-1130; or $9 per pound plus shipping at http://www.trufflebertfarms.com
(Al Seib / Los Angeles Times)
Miracle Mile bitters
Give that kooky cocktail fan a basket full of handcrafted small-batch bitters by local artisanal bitters maker Miracle Mile Bitters Co. Led by mad mixology scientist Louis Anderman, Miracle Mile makes flavors to take your cocktails to next-level places. Try gingerbread, sour cherry, yuzu and chocolate chile.
$25.95 per bottle, http://www.facebook.com/miraclemilebitters
(Miracle Mile Bitters)
Moxie Original elixir
You either love it, hate it or have never heard of it. But Moxie is a strong, earthy soda long favored by grandmothers living in the Northeast. Relive the romance of those days with a six-pack of the stuff. For a more mellow flavor, mix it with milk.
$1.95 per 12-ounce bottle at Galco's Soda Pop Stop, 5702 York Blvd., Highland Park, (323) 255-7115, http://www.sodapopstop.com
(Soda Pop Stop.com)
Aquarium of The Pacific membership
If you care about the state of seafood, this is a way to make a difference. The Long Beach aquarium's Seafood for the Future program encourages restaurants to make the right choices. And you can use your membership to go watch the anchovies swimming in circles.
From $55, http://www.aquariumofpacific.org
(Aquarium of the Pacific)
Vegan cooking classes from Spork Foods
Encourage your friends to eat vegan now and again by giving them a certificate for a vegan cooking class from Spork Foods. Jenny and Heather Goldberg, the sisters who run Spork Foods, know how to keep the lifestyle choice light and accessible for full vegans and dabblers alike.
$65 per person per class, http://www.sporkfoods.com
(Spork Foods.com)
Tonx coffee subscription
A delivery service for freshly roasted coffee, shipped within 24 hours of roast. Tonx sources green beans from around the world, roasts them and sends them to you every other week, either in standard (12-ounce) or half (6-ounce) bags.
$24 or $38 for a four-week subscription. http://www.tonx.org
(Tonx Coffee)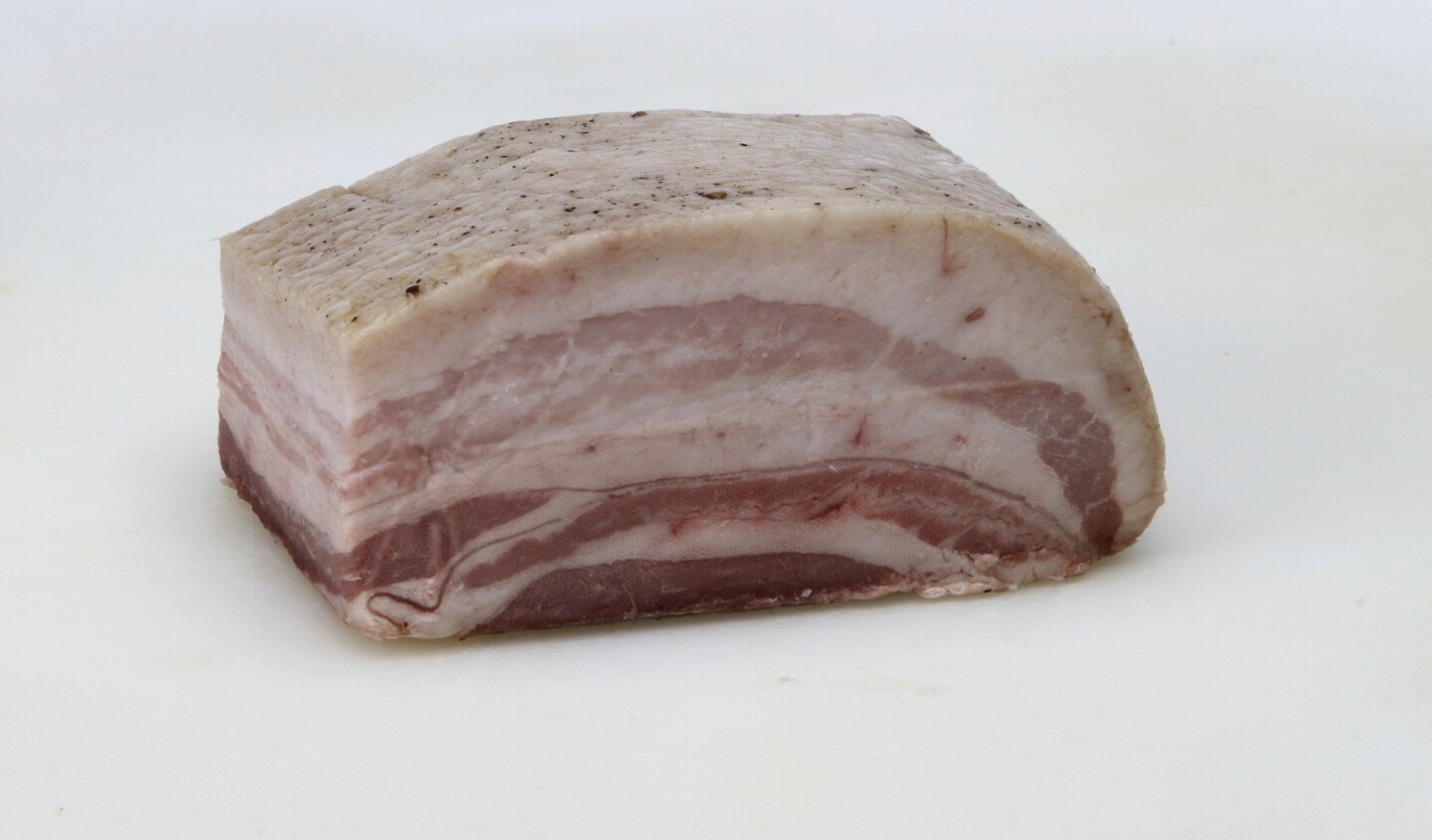 Storefront bacon
Now there's a local bacon good enough to sit belly-by-jowl with the nation's best; it's from Storefront Neighborhood Market, the deli owned by the meat-obsessives at sister restaurant Salt's Cure. Who wouldn't want a slab under the tree?
$11.45 per pound, 4624 Hollywood Blvd., Los Feliz, (323) 665-5670
(Glenn Koenig / Los Angeles Times)
Delivery service from Summerland Produce Co.
That eternally busy person in your life clearly needs a weekly home delivery of organic fruits and vegetables. Summerland Produce Co. has baskets crafted to fit every lifestyle and need, and recipes packed inside for those who freeze when confronted with locally sourced leafy greens.
$29 to $49 per week, http://www.summerlandproduceco.com
(Summerland Produce Co.)
Subscription to Canal House Cooking
Having trouble finding a food magazine that fits just the way you want to cook? Christopher Hirsheimer and Melissa Hamilton produce three cookbooks a year, full of thoughtfully chosen, absolutely delicious-sounding dishes. And there's no better food photographer than Hirsheimer anywhere.
$49.95, thecanalhouse.com
(Kirk McKoy / Los Angeles Times)
Vegetable prints
This set of four hand-printed block prints of Asian vegetables from Berkeley artist Rigel Stuhmiller is inspired by the fresh-picked produce of the world-famous Chino Ranch near San Diego. She also has a lovely 2013 farmers market calendar featuring watercolor illustrations of 75 fruits and vegetables.
$160 for the set of four; $15 for the calendar. Go to http://www.etsy.com and search for drenculture, Stuhmiller's store.
(drenculture / etsy.com)
Hedley & Bennett apron
Local apron maker Hedley & Bennett's stylish custom aprons are made with fabrics such as selvedge Japanese denim and Italian chambray. Designer Ellen Bennett offers lots of colors and styles; we're leaning toward an orange linen kitchen apron that reverses to a cotton stripe.
$45 to $75, http://www.hedleyandbennett.com
(Hedley & Bennett)
Bowl from Heath Ceramics
These wide, shallow bowls and platters are used to serve each course at Farmshop in Brentwood. They come from Heath, the Sausalito company that has a store in Los Angeles. Chef Jeff Cerciello favors luscious colors like coral and a blue that showed off the food and felt very special.
Heath Ceramics, 7525 Beverly Blvd. (between Sierra Bonita and Gardner), Los Angeles, (323) 965 0800, http://www.heathceramics.com
(Heath Ceramics )