Newsletter: Counter Intelligence: Jonathan Gold takes you into L.A.'s restaurants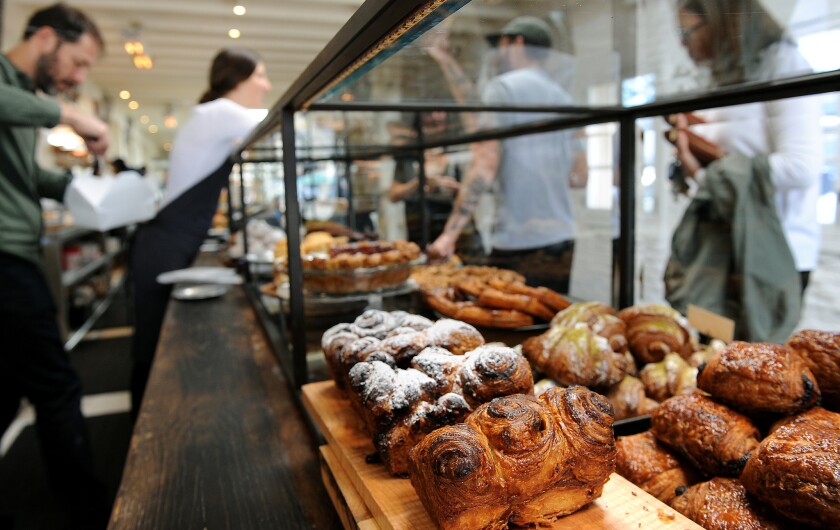 Beginning today, we'll be bringing you highlights of our weekly restaurant coverage, including my take on some of this town's more interesting spots to eat. Consider this an invitation to dine, masquerading as a letter in your in-box. Please join me and my colleagues every Saturday for an inside look at Southern California's food scene.
For all the chili-heads
It's been a good week here for Sriracha fans — and hot sauce lovers of all kinds. Jonathan met up with Roy Choi (Chego, Kogi, the world) and Alvin Cailan (Eggslut, Ramen Champ) in Chinatown for a hot sauce tasting test. The key question: Would it be a walk-off for Sriracha? If you haven't already, watch the video above to find out.
Jenn Harris hit the road to visit Taco Bell headquarters in Irvine for a sneak peek at the fast-food chain's new Sriracha Quesarito. She compares it to a "cheesy tortilla blanket for your beef burrito." But was it hot enough for her?
Which brings us to Jonathan's review of Gjusta, the newish hipster-ish restaurant in Venice from the folks who brought you Gjelina. Baklava croissant? Check. House-cured fish? Check. House-made hot sauce. Double check, especially because someone took it to the hot sauce tasting test. (No, it didn't win.)
Gelato University
S. Irene Virbila completed a one-day crash course on Italian ice cream in Downey. Yes, Downey. She learned many amazing things about butterfat and ice cream texture, lactose intolerance and how many people eat gelato in Italy compared to the U.S. You'd be surprised.
Pastry chef's favorite junk food
Michele Ferrero, the zillionaire king of Nutella, died on Valentine's Day at age 89. Perhaps he, of all people, would have appreciated the timing. It was a reminder to us to buy more Nutella. The hazelnut concoction, we've noted time and again, is to pastry chefs in L.A. what Sriracha is to the rest of us. So if you find even more Nutella in all those desserts at restaurants all over town, now you know why.
Notes from the food and drink underworld
Here's something new from the folks who brought you dineLA — L.A.'s first ever "Happy Hour Week." Yes, you read that correctly: Jenn Harris reports on the efforts to pull together an entire week of fun.
S. Irene reports on the high-end goings-on at a Napa wine auction.
We ask (and answer): Is the cult beer Pliny the Younger worth the long lines?
Our hot sauce forays inspired The Times' food writers to get together to create a glossary of the best condiments.
Oh, and one last thing. If you find yourself in Santa Ana, or nearby, keep our guide to the 4th Street Market handy. Tater tot poutine. Enough said!
Feedback?
We'd love hear from you. Email us at food@latimes.com
---
Get our new Cooking newsletter.
You may occasionally receive promotional content from the Los Angeles Times.