A love affair with Morocco's wines and cuisine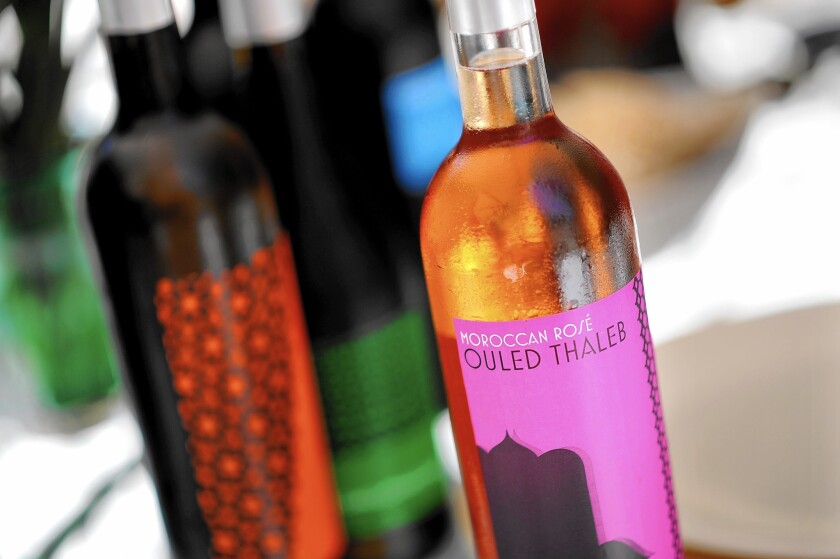 Moroccan wine? Really?
Most people draw a blank when confronted with the idea of wine from Morocco. They might know Paula Wolfert's masterful cookbook "The Food of Morocco" and they may have even cooked a cinnamon-scented bestila or lamb tagine with olives and preserved lemon. But the wine is almost completely unknown.
For the last 10 years, though, importer Didier Pariente has been crisscrossing the U.S., presenting the wines of Ouled Thaleb, the oldest working winery in Morocco.
It hasn't been easy persuading restaurateurs and wine shop owners to try bottles from what might seem an improbable place — Morocco is 98% Muslim, and most don't consume wine for religious reasons. The paradox is that most wine produced in Morocco is consumed there. "Nowhere is it forbidden in the Koran to make wine," Pariente says, opening his hands wide and smiling.
Counter Intelligence: Sign up for Jonathan Gold's weekly newsletter
He could talk for hours about the wines, the country with which he is clearly smitten — and the cuisine. Whenever he's there, he says, you can find him in some small alleyway, scarfing down grilled sardines from a street stall.
Sadly, no sardines were on the menu at the lunch he cooked at his relatives' Los Angeles home recently. Instead, tiny miniature tagine dishes held olives spiked with harissa, chickpeas seasoned with preserved lemons and carrots scented with cumin. To accompany this, Pariente pulled a bottle of Moroccan rosé from the outdoor fridge. Scented with strawberries, it was dry and pleasantly bitter on the finish. A blend of 60% Syrah, 30% Grenache and 10% Cinsault, this vibrant rosé shows the potential of Moroccan winemaking. The beauty is that this bottle is $14 or less.
Standing at the barbecue, Pariente brushed sea bass brochettes threaded with cherry tomatoes, zucchini and yellow bell peppers with chermoula, a marinade of olive oil with cilantro, garlic, paprika, cumin and a pinch of saffron. "My mother is from Fez, and this is her recipe — with a twist," he says. His family is Moroccan Jewish, but he grew up in France. He is incapable of following a recipe exactly. He doesn't measure. He just cooks.
He turned the brochettes over, and while they finished cooking he broke eggs into a tagine pot bubbling on the barbecue. Like paella, you can cook tagine on an outdoor grill.
With the fish, he poured a white wine made from the native Faranah grape blended with Clairette. "I call it a Moroccan Pinot Gris," Pariente says. "This is the wine they drink every day in Morocco." It's easy to see why — it's lovely, ripe and round — very easy drinking.
Pariente broke out a couple of reds for the tagine of kefta (beef and lamb meatballs) with tomatoes and poached eggs. Both reds were lightly chilled, always a good idea on a hot day. The Cabernet/Grenache blend is fresh and spicy, but the Syrah is buoyant and refreshing, pure fruit, the very definition of a quaffable wine. An absolute steal at $17.
"Morocco has a fabulous patrimony," Pariente says. "Every trip there, I discover something new — a parcel of 90-year-old Carignane on its own rootstock or another vast old winery left behind by the French."
Slowly, the wines are making inroads onto Los Angeles-area restaurants' lists. The Syrah is on Patina's wine list as a sommelier recommendation. L&E Oyster Bar, Bar Covell, Catch & Release, the Little Door, the Springs, Elf Cafe and Cleo are all pouring Ouled Thaleb wines. Increasingly, the distinctive colorful labels are showing up on the shelves of wine shops, including Buzz, Bar & Garden, Lincoln Fine Wines and Whole Foods.
Now, if Pariente could just convince wine producers in Morocco to try making micro-cuvées from some of those fabulous old-vine vineyards.
He's working on it.
---
Get our weekly Tasting Notes newsletter for reviews, news and more.
You may occasionally receive promotional content from the Los Angeles Times.