Jonathan Gold suggests 5 good L.A. sandwiches, for National Sandwich Day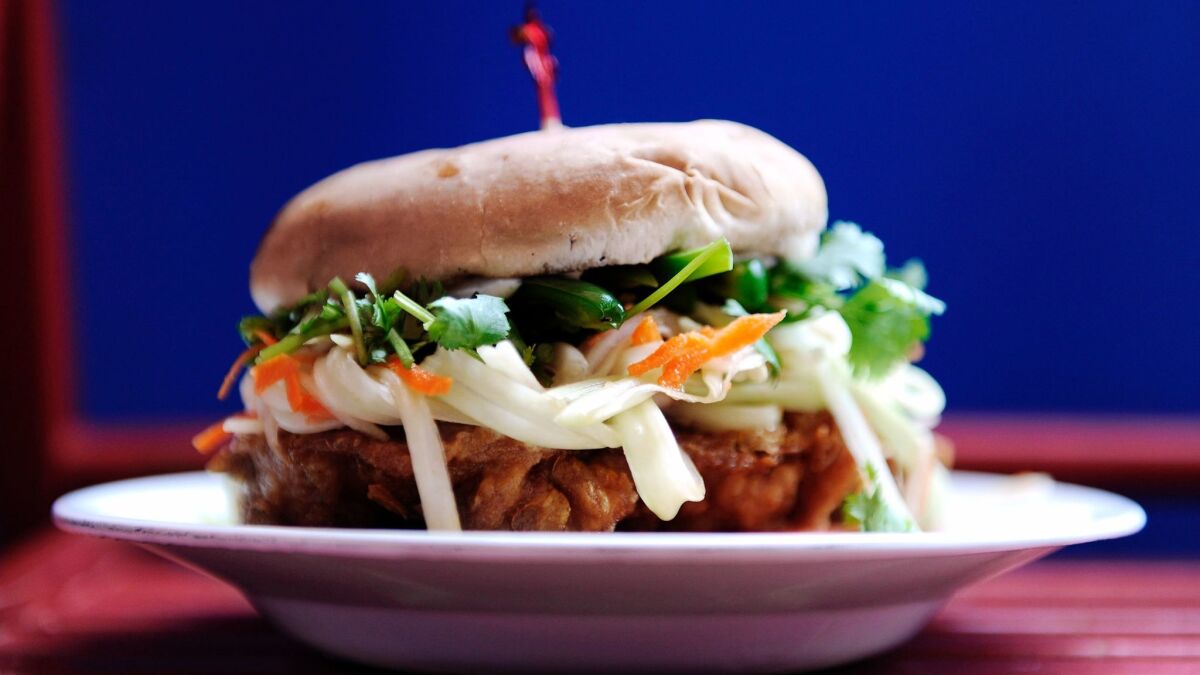 Restaurant Critic
It's National Sandwich Day? The holidays do seem to be coming earlier than ever this year. It seems as if National Deviled Egg Day was just yesterday! Anyway, a few good sandwiches. Which is as it should be.
The Sandwich
At Roma Deli, there is only the Sandwich. There is always the Sandwich. So if you suggest that perhaps you would like a little turkey instead of hot coppa on yours, or that you might prefer mozzarella instead of provolone or provolone instead of mozzarella, Rosario Mazzeo will shrug. The Sandwich is whatever he says it is, and although he has been known to change his mind on what the Sandwich might be, he will not change it for you. So you watch him slash open an Italian roll, dribble a few drops of olive oil, layer his finest meats and cheeses, and wrap the Sandwich in butcher paper. Or maybe you don't — these days there are always a few stacked up by the meat slicer. "Best sandwich you ever had," says Mazzeo. He just may be correct. 918 N. Lake Ave., Pasadena, (626) 797-7748.
Fried chicken sandwich
We have run across a lot of variations on the fried chicken sandwich since we first encountered one at Bakesale Betty in Oakland. And we have a lot of affection for the versions at Son of a Gun, Alimento, and Friends & Family — even for the extra-hot-fried-chicken sandwich at Howlin' Ray's, although that one sometimes seems like a giant chicken fillet with a vestigial bun at one end, like the fried poultry equivalent of a geoduck clam. But our hearts probably belong to the lunch-only fried chicken sandwich at Night and Market Song: crunchy, garlicky fried chicken thighs piled onto a bun with Thai papaya salad and ranch dressing. Would we be remiss here if we didn't mention that the fried chicken here used to be served with a nam prik made with Thai water bugs? No doubt. 3322 W. Sunset Blvd., Silver Lake, (323) 665-5899.
Cuban sandwich
Unless you have been living in a sad, faraway place, you probably know that a Cuban can be about as splendid as sandwiches can get, a split length of buttered Cuban bread, stuffed with roast pork, ham, Swiss cheese, a pickle chip and a garlicky glop sometimes known as mojo, with is then toasted in a sandwich press until the crust has annealed into something crisp and shiny and thin as a dime. The best Cuban sandwiches, I insist, are made with damp, mediocre baguettes, which crisp without drying out, giving the ingredients a chance to meld and the edges of the meat to become brown and crunchy – artisanal Cubans don't stand a chance. I have my differences with Café Tropical, and I no longer make special trips there for their guava pasteles, but the Cuban sandwiches are still my favorite in town. 2900 Sunset Blvd., L.A., (323) 661-8391.
Bánh mì
The bánh mì, the emblematic Vietnamese hoagie, has been in play lately, and sometimes it seems as if half the chefs in town are playing with the tang of its pickled carrots, the crunch of the toasted French bread, the play of the cured meats and the heat of fresh raw chiles. The gamy-hot-sweet flavor profile of bánh mì is as 2017 as it gets. But while I am happy to eat expense-account bánh mì, drive-thru bánh mì, and bánh mì from restaurants whose neon flashes Hot Baguettes, my specific hunger always takes me back to the dac biet - house-special - bánh mì and Buu Dien, a shabby, fragrant deli counter tucked into the back of a faded Chinatown strip mall. When you hit it right, Buu Dien's version will remind you of everything you may have loved about bánh mì in the first place, the crisp lightness of a fresh baguette, the interlacing of chiles and herbs, and the essential sploosh of soft liver pate, whose organy funk stays in the background but lifts the various slices of cured pork whatever into a delicate fugue of pig. 642 N. Broadway, Chinatown, (213) 617-8355.
Liverwurst sandwich
Is Joe Jost's the last real bar left in Los Angeles County? I'm guessing it's not, but when you're there on a stolen Thursday afternoon, nursing a pickled egg and a schooner of Busch, it can sometimes seem as if you're the only man left in the world. Conventional wisdom would have you choose a Joe's Special from the bar's short list of sandwiches, because the steamed Polish sausage wrapped with Swiss cheese into a single slice of bread can make a certain kind of man ugly-cry like nothing this side of the last act of "Death of a Salesman." Is that why I tend to get the liverwurst sandwich instead? Maybe. It won't be the best thing you've ever eaten, but it is a real bar sandwich, a solid 2 inches of pink, smoked meat with a thick slice of red onion, a jolt of strong mustard and clapped between two slices of sturdy rye. At the very least, it is an excuse to order a second schooner of beer. 2803 E. Anaheim Blvd., Long Beach, (562) 439-5446.
Get our L.A. Goes Out newsletter, with the week's best events, to help you explore and experience our city.
You may occasionally receive promotional content from the Los Angeles Times.