Review: Jonathan Gold keeps returning to Chong Qing Special Noodles for hard-rocking heat
Some of the dishes available at Chong Qing Special Noodles in San Gabriel are fried chicken with chilies, top, dandan mian noodles, left, and Chongqing noodles, right.
(Scott Varley / For The Times)
Sliceed pig ears with chile oil is served cold at Chong Qing Special Noodles in San Gabriel.
(Scott Varley / For The Times)
The cold display case at Chong Qing Special Noodles in San Gabriel features items such as braised beef and sliced pig ears.
(Scott Varley / For The Times)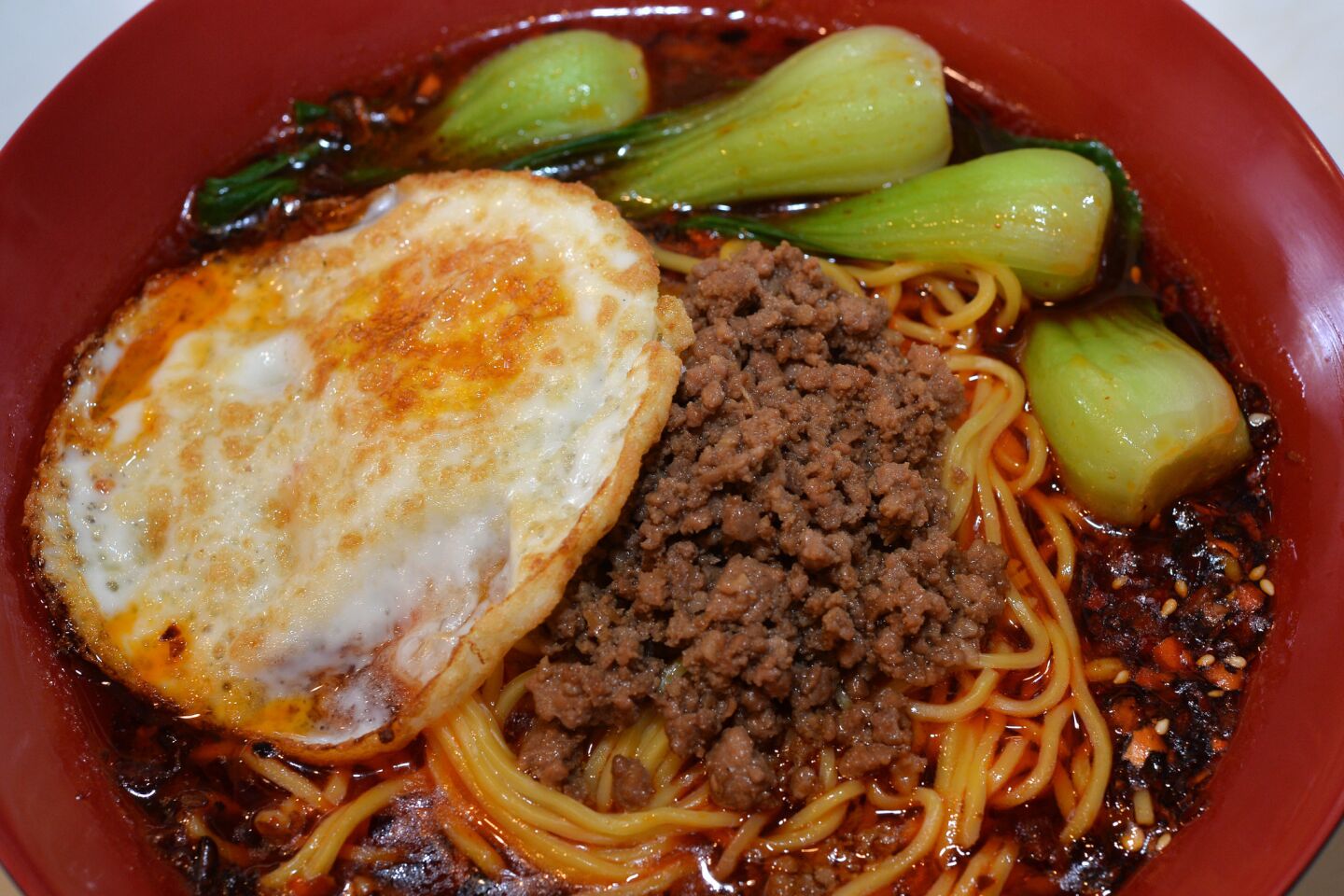 The Chongqing noodles with an egg, meat and bok choy served in a hearty bowl at the Chong Qing Special Noodles in San Gabriel.
(Scott Varley / For The Times )
Fried chicken with chiles at the Chong Qing Special Noodles Chinese noodle shop in San Gabriel.
(Scott Varley / For The Times)
Steam rises from the handmade noodles in the Biang Biang dish at Chong Qing Special Noodles in San Gabriel.
(Scott Varley / For The Times)
Sliced beef is served Sichuan style at the Chong Qing Special Noodles in San Gabriel.
(Scott Varley / For The Times)
A bowl of dandan mian noodles with bok choy at the Chong Qing Special Noodles in San Gabriel.
(Scott Varley / For The Times)
Tucked into a street side shopping center, Chong Qing Special Noodles serves up spicy Chinese food in San Gabriel.
(Scott Varley / For The Times)
Zhen Hai Zhang runs the woks in the kitchen at Chong Qing Special Noodles in San Gabriel.
(Scott Varley / For The Times)
Restaurant Critic
Did you make it to the Sichuan Summit, the panel, involving many of L.A.'s best Sichuan restaurateurs, that The Times put on as part of Food Bowl? You would have discovered the intricacies of Sichuan hot pot, the secret pride that chefs tend to take when competitors nick their signature moves, and the favorite Sichuan dish of people who cook Sichuan food for a living: twice-cooked pork, and it was unanimous. You may have heard mention of the 23 flavor combinations that characterize the cuisine, and learned about pickled chiles that had previously appeared only in the footnotes of Fuchsia Dunlop's cookbooks.
Yu Bo, who splits his time between Chengdu and California, gave a demonstration with Dunlop that involved his famous set of 16 cold vegetable appetizers — he had converted basically the entire backstage of the Million Dollar Theatre into a prep area — and a demonstration of his technique. As the designated onstage taster, I was handed a trompe l'oeil paintbrush constructed out of pastry, a spiky hedgehog-shaped dumpling filled with sweet beans, and a bit of broccoli stem that his giant cleaver had transformed into an intricate sparrow's wing, almost threatening flight.
And then he handed me a marinated sliver of what I believe was what the Japanese call yama imo, mountain yam, and I slipped into one of those fugue states where the ceiling fades away, the crowd disappears and the floor dissolves into fog, until what is left seems like a thousand flavors folding in on themselves, shimmering, a universe unto itself.
It is what wine people hope to experience when they spend $800 on a bottle of Burgundy. It is why sushi fiends beg for one of the precious few seats at Saito in Tokyo. Yu Bo accomplished it with a scrap of vegetable, a dab of oil and some green peppercorns. Yu Bo occasionally threatens to open something in the Los Angeles area — his in-home restaurant in Chengdu has been compared to a Sichuan El Bulli — but I have been pricing airline flights in case the idea falls through.
Still, while Mozart is divine, there also is a lot of pleasure in AC/DC. Spicy food is an imperative. Complexity sometimes loses out to exhilaration. And while I would never compare its food to anything that might emerge from the kitchen of Yu Bo, I have been spending a lot of time at Chong Qing Special Noodles.
The noodle shop is in a San Gabriel mini-mall a couple of doors down from Four Sea, which serves one of the best Taiwanese breakfasts in town, and occupies what for years was the hot pot restaurant Lu Gi. (I remember it best as the site of a short-lived northern Chinese restaurant that served a Uyghur-influenced dried lamb dish that the scholar and former Food section writer Charles Perry had read about in a medieval manuscript but had never seen. "Undeniably authentic," he said, spitting it into a trash can.)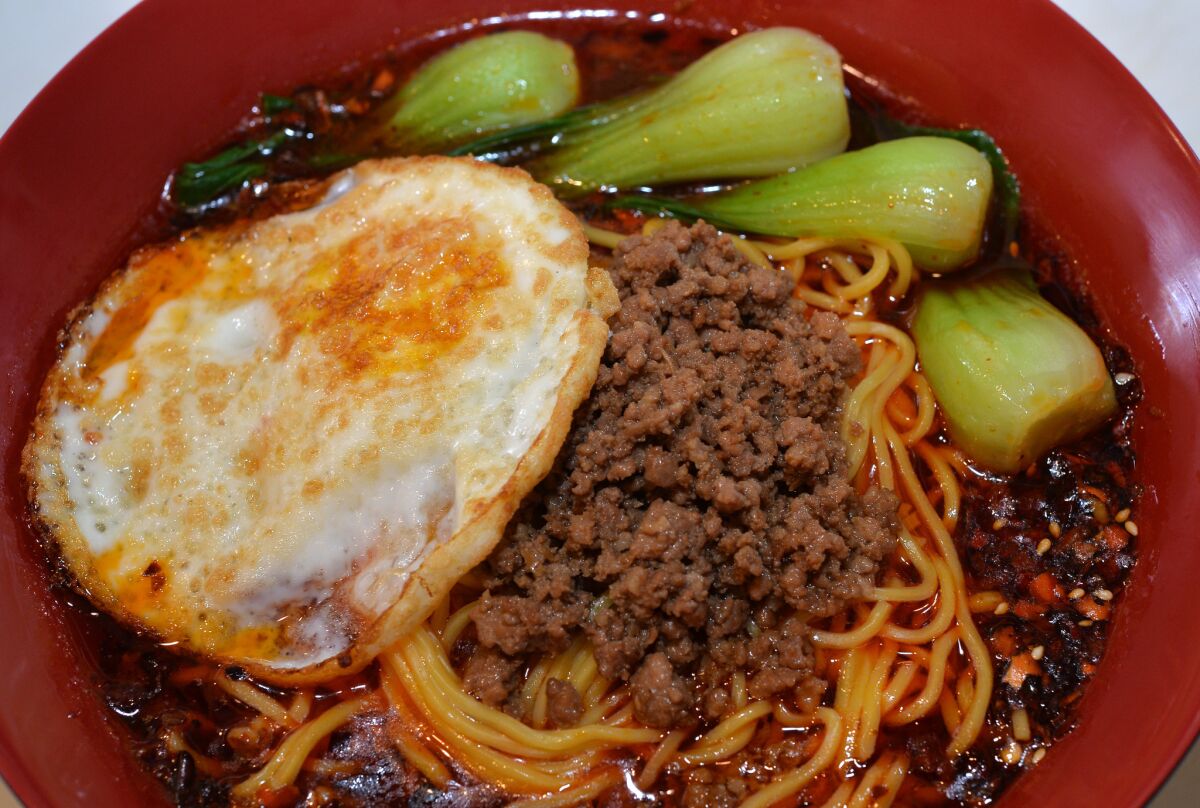 It is kind of a spinoff of the nearby Best Noodle House in Rosemead; Best's chef left to start the San Gabriel restaurant. Half of the tables seem to hold a big plate of what the menu calls Gele Mountain Chicken, the fried-chicken cubes tossed with dry chiles, which give the dish a lovely, smoky fragrance — in spite of yourself, you will spend 20 minutes hunting through the scarlet hillock for stray crunchy bits that you imagine eluded you the first time through. There is a menu of the usual Sichuan specialties under the "house special" heading on the menu, and you will be diverted if not especially thrilled by the workmanlike versions of fish boiled in a thickish chile broth; lamb stir-fried with cumin and chiles; and a serviceably spicy mapo tofu, soft trembly in its semi-vivid sauce.
If there are three or more of you, the house usually throws in a plate of what is sometimes translated as "saliva chicken," slices of poached, sliced bird lubricated with an irresistible amalgamation of sesame and chile oil. (The menu lists it as "cold steamed chicken with hot sauce," which is descriptive but misses the original's connotations of chicken so good that it makes you drool.)
But you are probably there for the noodles — even the non-spicy ones like the hand-pulled zha jiang mian, with pork and sweet, black bean paste; oniony Qishan noodles, from Shaanxi province, served with a big handful of minced pork; or hand-cut, fanbelt-thick noodles buried under a wokful of chicken stewed with carrots and potatoes, a close analogue to what the Shaanxi restaurants in town tend to call Big Plate Chicken.
The Chongqing noodles are thin, bouncy things, vibrating with several different kinds of chile heat, tossed with vegetables and pork — everything you want when you go out for Sichuan noodles, with a hard-fried egg on top.
And when you inhale a big bowl of the thick, hand-cut you po noodles tossed with vinegar, herbs and fragrant oil, chase them with a gulp of smoky plum juice, finishing with a plate of marinated cucumber, some sliced pigs' ears pressed into a translucent terrine, and maybe a huge bowl of fat wonton sluiced with chile oil, it is hard not to be happy. Chong Qing Special Noodles may not be especially refined, but sometimes it is exactly what you need.
::
Chong Qing Special Noodles
Spicy Sichuan noodles in a San Gabriel mini-mall.
LOCATION
708 E. Las Tunas Drive Unit B, San Gabriel, (626) 374-1849
PRICES
Cold dishes $1.99-$7.99; noodles $5.99-$9.99; house specials $6.99-$12.99.
DETAILS
Open 10:30 a.m. to 9:30 p.m. daily. Credit cards accepted. No alcohol. Lot parking.
RECOMMENDED DISHES
Chongqing noodles, you po noodles.
Get our L.A. Goes Out newsletter, with the week's best events, to help you explore and experience our city.
You may occasionally receive promotional content from the Los Angeles Times.