Seven great places for congee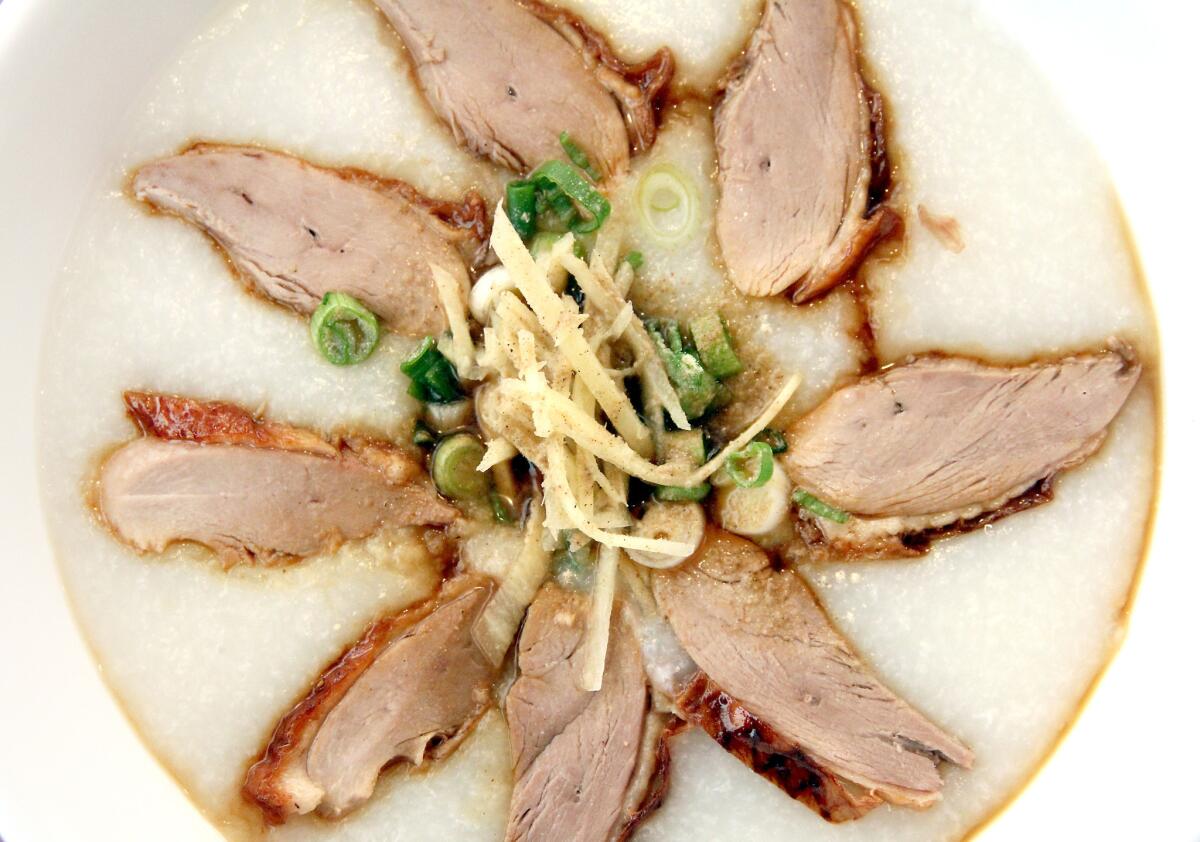 Los Angeles Times Restaurant Critic
Delicious Food Corner
If Siam Sunset is the most Thai place in Thai Town, and it is, then Delicious Food Corner, a breakfast place at the southern edge of Monterey Park, may be the most Hong Kong place in the San Gabriel Valley, which is saying a lot. Dim sum is for tourists, but rice porridge means home. So there are pork chops and eggs, Spam and eggs and rice omelets, brick toast with butter, strong milk tea. But in the morning at least, when waits can stretch for more than an hour on weekends, there is congee mostly — served with fillets of raw fish that poach in the heat of the broth; bouncy meatballs; bits of chicken and preserved egg; super-tenderized beef — which is probably the best in the SGV. With the congee you get fried noodles — no shrimp or anything, just noodles — or beautifully steamed rice noodles wrapped around fried crullers, or maybe both. It's starch on starch on starch with a side of milk coffee, just the thing to launch into the rest of your day. 2327 S. Garfield Ave., Monterey Park, (323) 726-0788.
Good Girl Dinette
Diep Tran comes from local Vietnamese restaurant royalty: the family that owns the Pho 79 chain, which has been keeping Southern California in spring rolls and bun since the 1970s. Pho broth runs in her veins. But what her Good Girl Dinette serves is less pure Vietnamese cooking than diner food inflected with Vietnamese flavors, soothing dishes that would be at home in any small town main square — her famous specialty is chicken pot pie. The Good Girl dish called Grandpa's Porridge, a loose, comforting rice porridge laced with ginger, chicken and cilantro, may be vaguely Asian, but always makes me think of needlepoint pillows, rocking chairs and well-worn wooden dining tables. 110 N. Avenue 56, Highland Park, (323) 257-8980, www.goodgirldinette.com.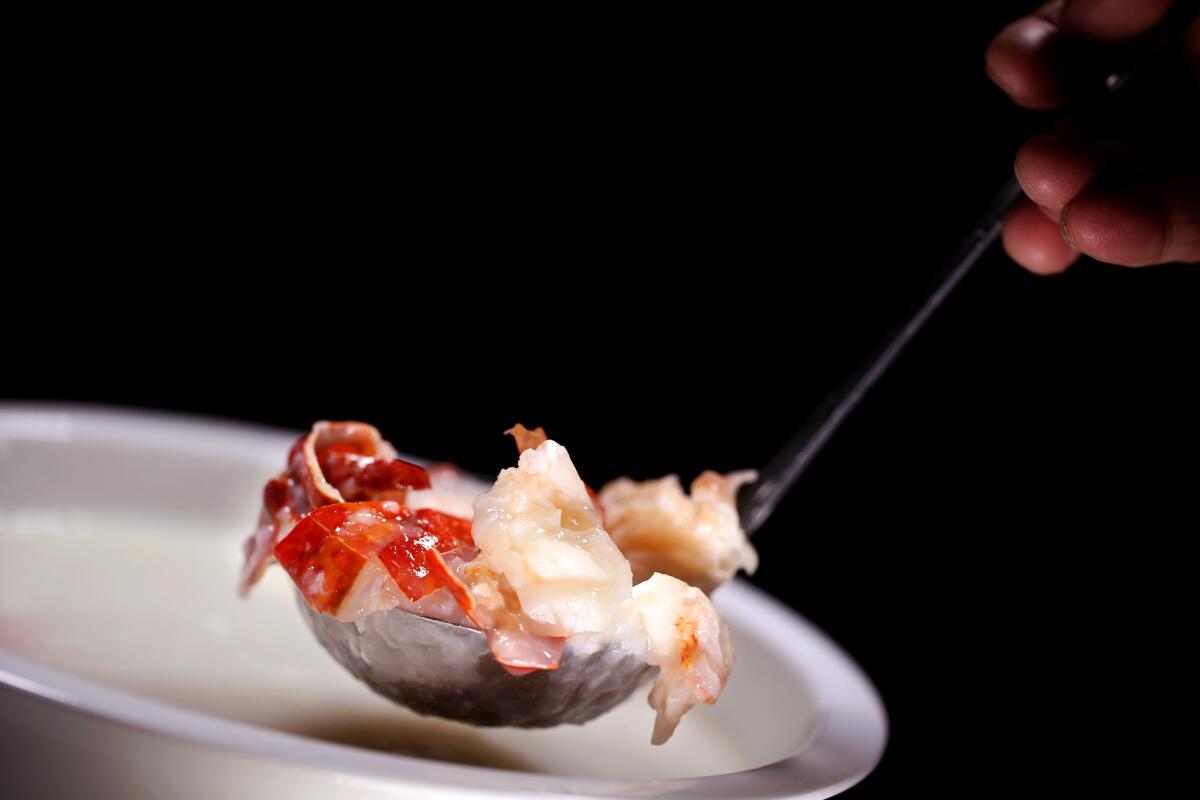 Grand Harbor
The last time I stopped in for dim sum at this new seafood palace, related to the equally palatial Happy Harbor in Rowland Heights, I tried to order a bowl of geoduck congee, a specialty that also features on its dinner menu. The thinly sliced longneck clam, boiled to order in specially outfitted carts, features in a lot of dim sum meals in high-end Cantonese restaurants. It seemed like a good call. But I have to commend the waiter — he pointed out that the congee was made with a whole live geoduck, and that I was probably looking at a $150 bowl of porridge. Suddenly, the live lobster congee, on special at $10.50, started to look like a real bargain. And it was delicious. 5729 Rosemead Blvd., Temple City, (626) 280-2998.
Harlam's Kitchen
When people discuss congee in the San Gabriel Valley, one restaurant that always comes up is Har Lam Kee, a nice Hong Kong-style noodle shop in Monterey Park. But for congee, the call is probably its sister restaurant Harlam's Kitchen, hidden in the back of a Rosemead food court. It's the stall where the people behind the counter are screaming, the dude at the wok is just a few inches from the order window, and the line is intolerably long. But, the congee is magnificent: smooth, brothy and just thick enough; generously laden with fish and such if you get the Lai Wan version, which you probably should; and served perilously close to boiling. The bowls are Styrofoam; the spoons flimsy plastic. And don't forget to grab as much of the splendid chile condiment as they'll let you get away with. 8150 Garvey Ave., Rosemead, (626) 573-3929.
Park's Hot Pot
Everybody knows what a Korean hot pot is — it's the honking communal pots of Spam-laced military stew you get at Chunju Han-il Kwan, or maybe at Roy Choi's Pot. Or the potato-pork neck soup you find at Yangji or Ham Ji Park. Or that giant crab pot at Ondal 2. Or the shabu-shabu-like jing-gee skhan at Seoul Garden. Actually, unlike the dozens of same-ish hot pot restaurants in the San Gabriel Valley, there may be no consensus. So the newish Park's Hot Pot restaurant, run by the same people who own Park's Barbecue, might as well be the template for Korean hot pot: like Japanese shabu-shabu with high-quality beef, the kind of neatly bisected broth pots — spicy/less spicy — you find in the Chinese places, and some of the best banchan, free small dishes, in Koreatown. And along with the usual tofu, mushrooms and cabbage to simmer with your meat, you can stir in hand-torn sujebi dumplings or the Korean herb ggaenip. What does this have to do with congee? When you're finished cooking your meat and vegetables in the hot broth, a waiter stirs rice into the enhanced liquid, adds seaweed and sesame oil, and leaves you with a delicious pot of porridge to eat as a last course. Ask for an extra little bowl of the intensely garlicky turnip kimchi to stir in: delicious. 808 S. Western Ave., Los Angeles, (213) 388-1717.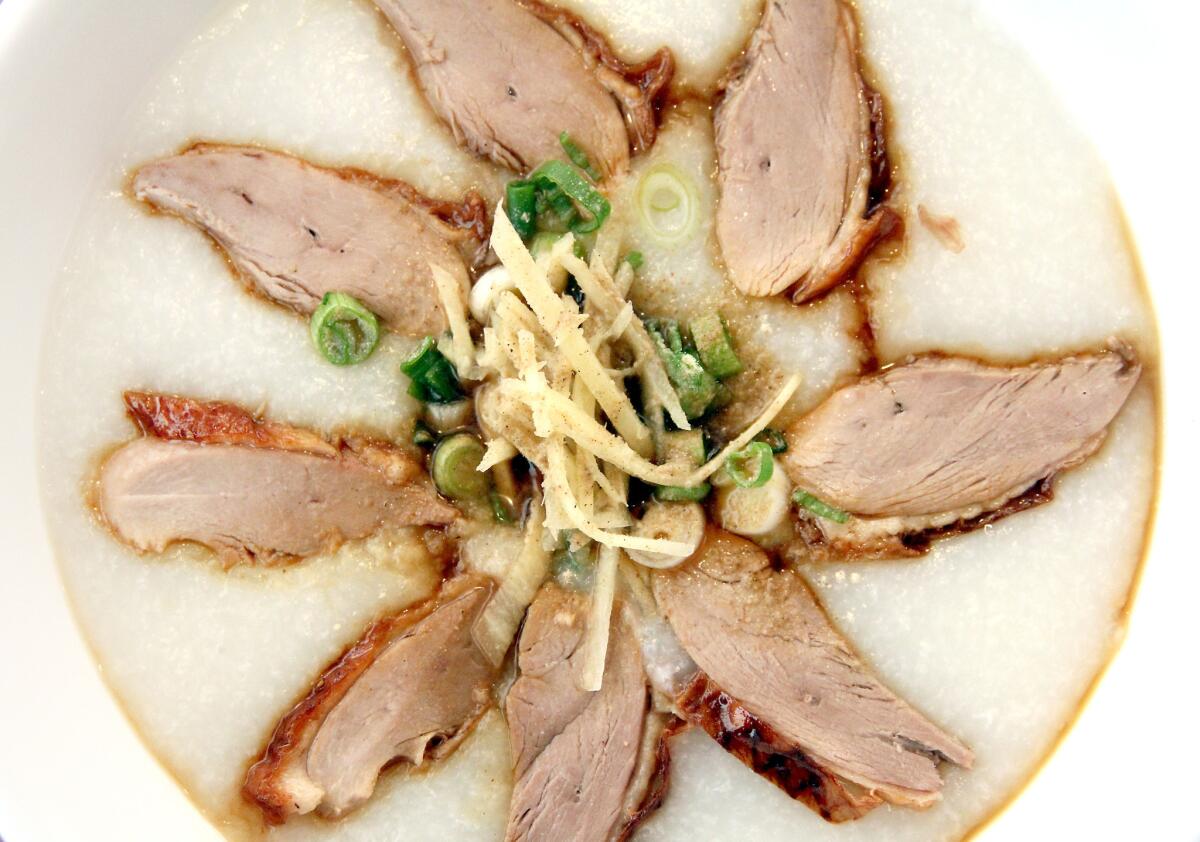 Siam Sunset
A faded diner stuck to a budget motel, blasting Thai newscasts and richly decorated with pictures of the king, Siam Sunset may be the most Thai restaurant in Thai Town, crowded with Bangkok expats, especially in the morning, when everybody comes for the jok, Thai congee. It's pretty plain; a thick, bland porridge you can order with roast duck, soured pork meatballs or thin fillets of fish that cook in the heat of the stock, although it becomes considerably more interesting when you swirl in fish sauce, chiles and pickled peppers, as if it were a dish of phat Thai. Jok is a blank surface on which flavors are incised. Do you want the Thai coffee? Not unless your idea of satori involves a mug of instant. But the tea isn't bad, and you might as well get a plate of hot Chinese doughnuts, served with a little saucer of condensed milk for dipping. 5265 W. Sunset Blvd., Hollywood, (323) 467-8935.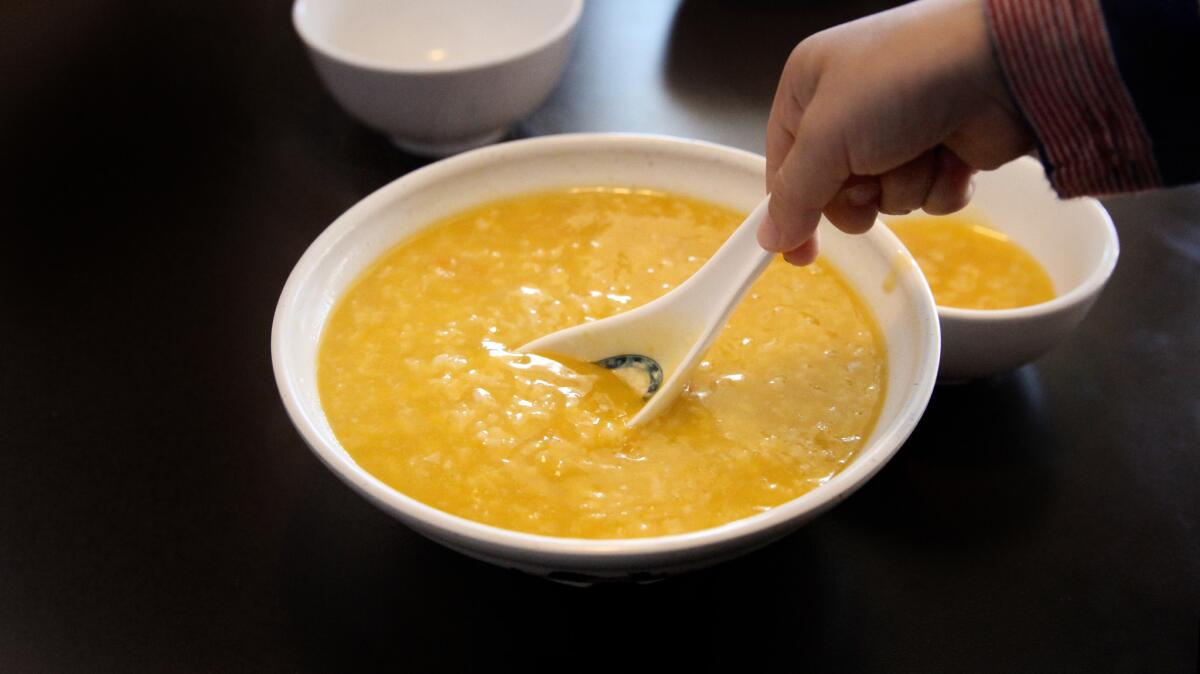 Yao's Restaurant
At first glance, Yao's is a pretty standard Dongbei-style restaurant, serving dishes from the northeast of China. There are particularly good, super-thin potato pancakes (as well as pancakes made with purple yam, horned melon or corn), steamed dumplings stuffed with cabbage or chives, pickled cabbage everywhere, and plenty of grilled, cumin-rubbed quail, chicken wings and skewered lamb. The proprietor is said to come from Yanbian, right above North Korea, and there is a certain crossover — some of the pickles in the deli case are pretty close to kimchi, and the thin, stretchy starch noodles in chilled broth are the spitting image of Korean naengmyun. But the Chinese name of the restaurant translates as Yao Kee Congee Shop. And though you'll find the kind of pumpkin porridge, millet porridge and red date porridge you might expect to see in a health-oriented Korean restaurant, the specialty seems to be bland, soothing Chinese-style rice porridge supplemented with vegetables, gargantuan shrimp or chewy shreds of braised sea cucumber. 1277 E. Valley Blvd., Alhambra, (626) 281-9261.
MORE JONATHAN GOLD REVIEWS
Mexicano at the Baldwin Hills Crenshaw Plaza
Andy Ricker's Pok Pok brings a genuine taste of Thailand to L.A.
Seafood Palace (its new name) is still your go-to for house-special crab
Get our L.A. Goes Out newsletter, with the week's best events, to help you explore and experience our city.
You may occasionally receive promotional content from the Los Angeles Times.