Jonathan Gold review: Mexicano at the Baldwin Hills Crenshaw Plaza
Chefs Jaime Martin del Campo and Ramiro Arvizu have duplicated many of their La Casita Mexicana offerings at Mexicano, though they've adapted some for the mall crowd. Here, the guacamole al tequila and a shot of Los Tres Tonos tequila extra anejo.
(Liz O. Baylen / Los Angeles Times)
The mole poblano with chicken is a house specialty.
(Liz O. Baylen / Los Angeles Times)
Mexicano is the second restaurant from chefs Jaime Martin del Campo and Ramiro Arvizu.
(Liz O. Baylen / Los Angeles Times)
Mexicano's traditional margarita.
(Liz O. Baylen / Los Angeles Times)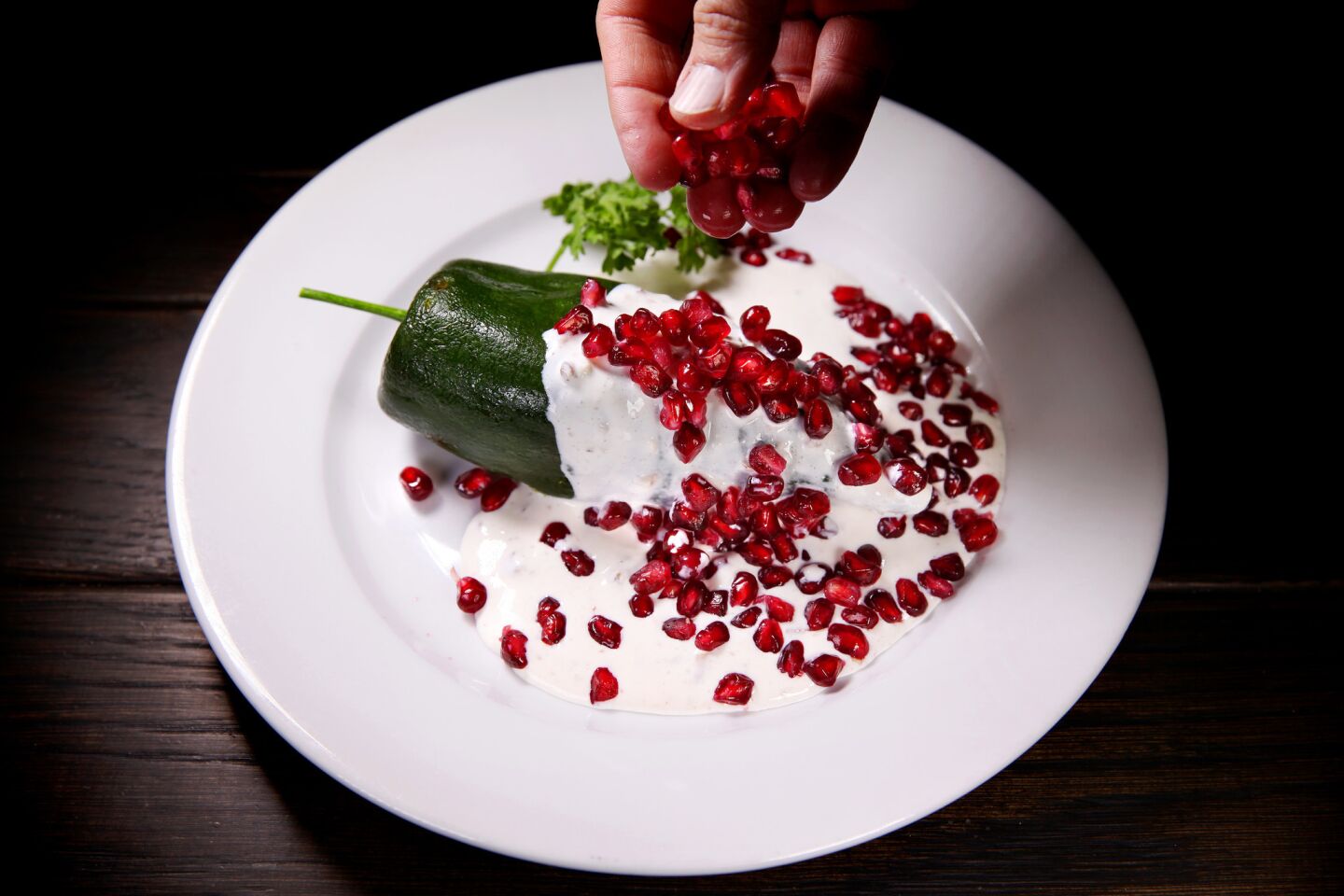 Chile en nogada: A poblano chile stuffed with ground pork, dried fruit, walnuts and candied cactus, and topped with pecan cream sauce and pomegranate.
(Liz O. Baylen / Los Angeles Times)
Jamaica margarita
(Liz O. Baylen / Los Angeles Times)
An outdoor table at Mexicano.
(Liz O. Baylen / Los Angeles Times)
Pumpkin flan
(Liz O. Baylen / Los Angeles Times)
The Placero
(Liz O. Baylen / Los Angeles Times)
The exterior of Mexicano.
(Liz O. Baylen / Los Angeles Times)
Los Angeles Times Restaurant Critic
Imagine your favorite Mexican restaurant transplanted into a mall. And I don't mean a boutique mall, where it is tucked away between the Gucci and the Prada, or an artfully weathered hipster mall of the sort you see in Santa Ana and Brooklyn, but a mall-mall, with a Forever 21 and a Lady Foot Locker, a Panda Express in the food court and a prime restaurant space hard by the Macy's and a quick hop from the multiplex.
Some parts of the experience are easy enough to picture: the double-height ceilings, the Day of the Dead tchotchkes set off in museum-like displays and the somewhat over-folkloric nature of the music. The patterned tile floor is exquisite, exactly the kind of effect you imagine the proprietors would have loved to install in their original, somewhat funkier restaurant. The margaritas — excellent margaritas, this is your favorite place after all — are served in heavy glass basins the size of cereal bowls, and the waiters upsell the guacamole (it's really good guacamole) almost the second you sit down. Everything is slightly exaggerated — the colors, the volume, the flavors, the golden light — and you may notice that almost every picture you snap on your smartphone looks as if it were taken in an expensive Cabo resort.
SIGN UP for Jonathan Gold's Counter Intelligence dining newsletter >>
Mexicano is the brother of La Casita Mexicana, the Bell cenaduría that has long been considered one of the best Mexican restaurants on the Eastside. Chefs Jaime Martín del Campo and Ramiro Arvizu are familiar figures on Spanish-language television — they tend to get mobbed by adoring grandmothers when they walk into local supermarkets — as well as pitchmen for Mexican avocados and supporters of community gardens. (They are what you get when you translate "celebrity chefs'' into Spanish.) Regulars at La Casita know to look for the regional specials listed on the chalkboard in front of the restaurant, the seasonal Mexican produce and the fantastic Central Mexican vegetarian dishes available during the six weeks of Lent. La Casita has expanded a couple of times and moves a lot of people through its dining room when it serves brunch chilaquiles on weekends, but it always seems like a personal statement.
The Baldwin Hills Crenshaw Plaza is a sleekly gigantic shopping center in the heart of the Crenshaw district, a '40s-era landmark remodeled to fit the swelling needs of South Los Angeles and the transit hub set to open just steps away. It has been called America's first suburban mall. Post + Beam, Govind Armstrong's polished shrine to Southern cooking, is in a low building in one part of the roughly triangular complex; three department stores occupy the corners.
Mexicano is the big-statement restaurant it needs to be, and if you love La Casita Mexicana, you are going to find a lot of the familiar dishes here in almost monumental form, sharp corners rounded off, and without some of the touches — grilled cactus paddles, funky fungi, delicate cream soups, super-hot salsa — that might not appeal to non-Mexican palates.
So guacamole is smooth and creamy, slightly underseasoned, served with big, round tortilla chips of just the right sort, and the stubby chicken taquitos, slicked with a mild tomatillo salsa, are dusted with a judicious amount of sharp cotija cheese. You can get a bit of tequila in the gooey queso fundido, and a plate of sautéed shrimp carefully seasoned with achiote and pineapple to resemble taquería-style pork al pastor.
Are the famous La Casita sauces here? They are, most of them: the black, complex mole poblano; the chile-red pepián made with ground pumpkin seeds; and a thick, seedy green mole — you can get enchiladas made with each of them or a combination plate that includes all three. Valentina sauce, a thinnish tomato puree sparked with, one assumes, the Guadalajara hot sauce of that name, shows up smothering one dish of crunchy fried chicken and another of lightly fried shrimp; a densely creamy seven-chile sauce blankets either chicken or a whitefish filet.
There is a really nice cecina here, perhaps even better than the one at the mother ship — slightly gamy dried beef, marinated, sliced thin and grilled just until the corners of the meat turn up and the edges begin to blacken, perfect for tucking into a warm tortilla with a dab of guacamole and a charred scallion. If you like the beef shank braised with guajillo chiles or the basic, tasty version of the Yucatecan classic cochinita pibil, pork shoulder slow-roasted with achiote paste and bitter orange, you'll find those here too. And Mexicano, like its predecessor, is renowned for its suave chile en nogada, a fat, roasted chile stuffed with beef, dried fruit and nuts, sauced with sweet, rich cream and sprinkled with crunchy pomegranate seeds — it is often regarded as Mexico's national dish, because the colors represent the Mexican flag.
Will Arvizu and Martín del Campo expand Mexicano's short menu, introduce regional flavors and experiment with the kind of earthy vegetable preparations and complex large-format dishes we've been seeing at places like Broken Spanish, Taco Maria and Corazon y Miel? We can only hope — modern Mexican cooking could use their knowing touch. In the meantime, there is that pumpkin flan to look forward to for dessert.
::
Mexicano
The chefs behind La Casita Mexicana head to the mall.
LOCATION
3650 Martin Luther King Blvd., Los Angeles (in the Baldwin Hills Crenshaw Plaza), (323) 296-0798, mexicanola.com
PRICES
Appetizers $8.45-$13.95; main courses $11.95-$17.95.
DETAILS
Sunday through Wednesday., 11 a.m. to 10 p.m.; Thursday through Saturday, 11 a.m. to 11 p.m. Credit cards accepted. Full bar. Lot parking.
RECOMMENDED DISHES
Chile en nogada; cecina al chipotle; enchiladas tres moles; seven-chile filet.
jonathan.gold@latimes.com

MORE REVIEWS:

At Baroo, a taste of the future
Curtis Stone's Maude in Beverly Hills
Get our L.A. Goes Out newsletter, with the week's best events, to help you explore and experience our city.
You may occasionally receive promotional content from the Los Angeles Times.