Review: Jonathan Gold finds splendid spicy fried chicken at the upscale Chinese restaurant Dongpo in Arcadia
Dongpo restaurant's sweet and sour red tilapia.
(Mariah Tauger / For The Times)
A pork bun at Meizhou Dongpo Restaurant.
(Mariah Tauger / For The Times)
Chef Ted Yang carves the Meizhou duck at Dongpo restaurant.
(Mariah Tauger / For The Times )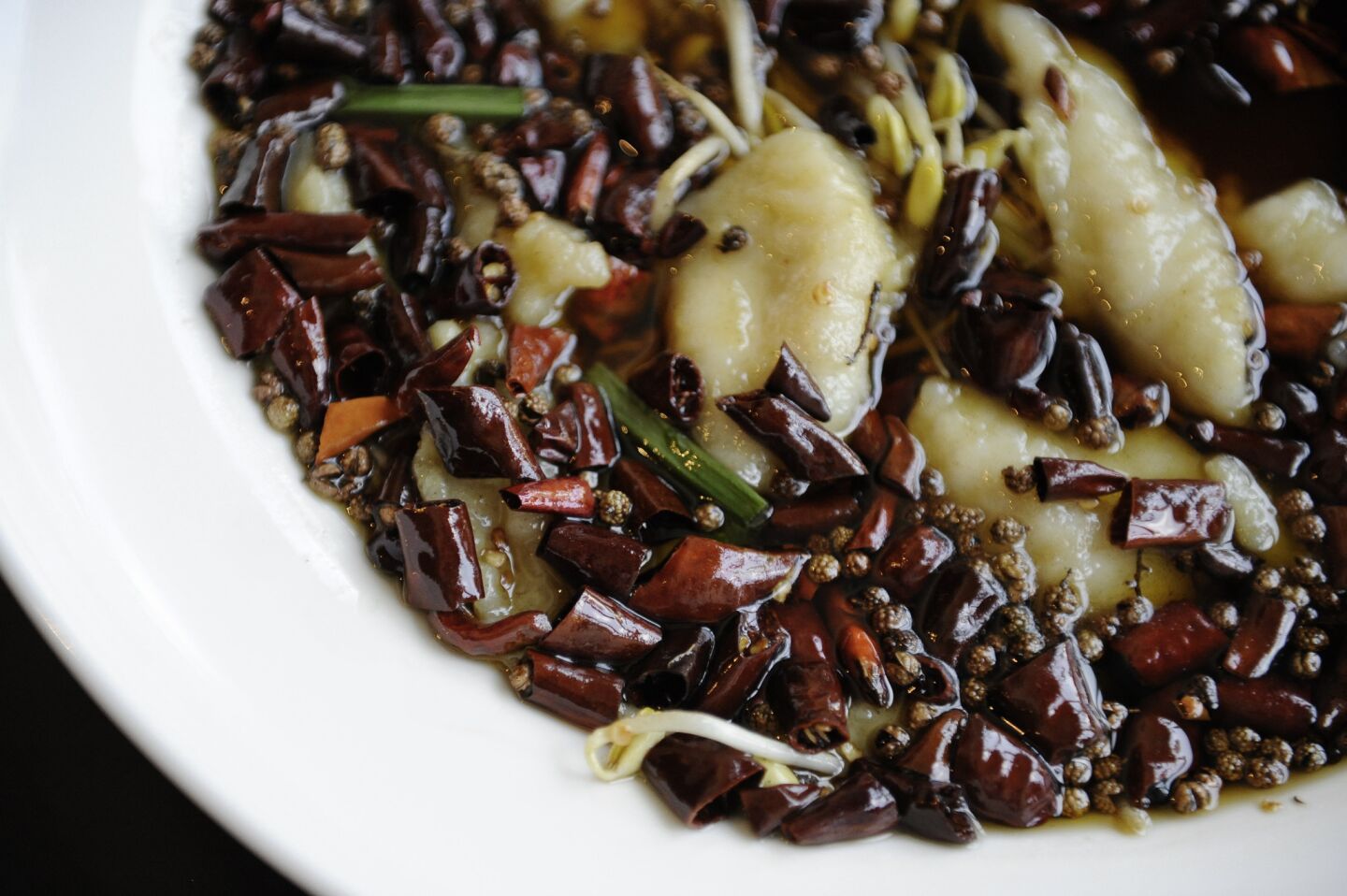 Dongpo restaurant's fresh fish in chile broth.
(Mariah Tauger / For The Times)
The minced chicken pudding in soup at Dongpo restaurant.
(Mariah Tauger / For The Times)
The Mapo tofu dish at Dongpo restaurant.
(Mariah Tauger / For The Times )
Patrons dine at Dongpo restaurant.
(Mariah Tauger / For The Times)
A chef carves the Meizhou roast duck at Dongpo restaurant.
(Mariah Tauger / For The Times)
Patrons dine at Dongpo restaurant.
(Mariah Tauger / For The Times)
A pot of hot tea at Dongpo restaurant.
(Mariah Tauger / For The Times )
Awaiting diners at Dongpo restaurant.
(Mariah Tauger / For The Times)
Let us contemplate for a moment the phenomenon of la zi ji, the known in Sichuan-style restaurants as spicy fried chicken, Chungking fried chicken, Chongqing spicy chicken, chicken with chilies, or spicy diced chicken. A proper plate of la zi ji looks like something out of an Iowa nutritionist's nightmares — a vast, scarlet heap of fried dried chiles (there for the fragrance; you don't eat them), punctuated occasionally by a stray scrap of garlic or scallion, that all but conceals a scattering of fried chicken bits. La zi ji looks like the aftermath of a Chinese New Year firecracker assault. To me, it is the essence of what great fried chicken might be.
The best la zi ji I've ever had in California was at the old Chung King restaurant in Monterey Park, arguably the first restaurant of the current Sichuan wave. The second best: maybe at the new Dongpo in the Westfield Santa Anita mall.
If you pay much attention to Chinese food on the Westside, you probably know about Meizhou Dongpo in the Westfield Century City mall, a modernist restaurant dominated by its dramatically placed pottery and candy-colored lighting, that was the first U.S. outlet of a well-regarded Sichuan-style chain based in Beijing. You might have wondered about the restaurant's highish cost, and that the specialty of this Sichuan restaurant seemed to be Beijing duck, but it was hard to ignore the fact that it was the first place west of the San Gabriel Valley with reasonably good Chongqing fried chicken, Sichuan sausage, and braised pork hock with chile.
Now, inevitably, comes the expansion of the Meizhou Dongpo empire. Restaurants are set to open soon in Irvine and Las Vegas, among other places. There is a modest Meizhou Express noodle shop next to the company's headquarters in a fairly non-Chinese area of Baldwin Park — the dan dan mian isn't bad. And as of a few weeks ago, there is Dongpo, an ocean liner of a restaurant near a supermarket-size herbalist and the hotpot giant Hai Di Lao in the southwest corner of the Westfield Santa Anita mall. Triple height, theatrically lighted, and decked out with walls of Chinese vases and what appear to be neatly bound manuscripts, the yawning new Dongpo could probably swallow all three local locations of Chengdu Taste and still have space for the banquet rooms at the back.
The Arcadia Dongpo is a different kind of Sichuan restaurant, you understand, more expensive, more luxurious and catering more to a general audience than your favorite Alhambra dive, less regional and a level or two less pungent, and less likely to hit you with the odd squishy bit. There is no alcohol license, at least not yet, so you will be drinking tea, thick watermelon juice, or pear sweetened with hawthorn instead of beer. Half the tables seem to have simple green salads on them next to the braised pig trotters and the little cups of steamed chicken soup.
There is a low stage at the front of the restaurant, on which as many as three or four chefs carve wisps of skin from gleaming ducks that appear from a kitchen. The captain by that table across the room sears Wagyu steaks like an old-fashioned French waiter. Noodles are portioned; tea is poured from glass kettles. The aftermath of dinner here in no way resembles the classic Sichuan-restaurant tableau, like a gory Francis Bacon painting splashed out in shades of red.
So you appear at the new Dongpo — the person at the front desk likes it if you have made a reservation. You are led to a table. And you make your way through the heavy illustrated magazine that serves as the menu, pausing by the specialties and trying to figure out what descriptions might correlate with dishes you know: beautiful mapo tofu, pudding-rich, sizzling with chile and still boiling hard in its crock when it arrives; salty string beans charred in the wok; meltingly rich wedges of eggplant with garlic and chile; fist-size steamed buns stuffed with spicy pork. The pork hock stewed with chile is delicious, and big enough that you will probably be eating the leftovers for a week.
If you are at all a fan of charcuterie, you should probably try the sliced Meizhou Dongpo sausage, coarse-ground, shot through with herbs, and spurtingly juicy. The beef in chile sauce is the Husband and Wife sliced beef that appears in most local Sichuan deli cases, but the Dongpo version is quite good, tingling with Sichuan pepper, especially the luscious cold sliced tripe. You may like the sweet, braised cubes of Dongpo pork, a traditional dish of Hangzhou, which are tasty enough but considerably more rustic than the carefully glazed version of the dish you may have encountered at the nearby Chang's Garden.
At some point during your visit, you will be coerced into trying the Beijing-style roast duck, and it won't be the worst decision you make all day. The skin, sliced off the back into crisp squares, has the proper flavor and crunch, delicate enough that the chefs suggest you sprinkle it with a little sugar instead of wrapping it in a pancake, and the breast is cut into meaty slices. The thin pancakes are a little gummy — they stick together in the steamer like rice paper — but the bean sauce, the slivered cucumber and the tiny brunoise of vegetables you tuck into the wrap are nice. After you are done, you are presented with the duck carcass, tightly wrapped, to boil into broth for your congee the next morning. Will you do better for the money at Duck House or Beijing Duck House? Perhaps. But the preparation is solid.
And there's that la zi ji: slightly glazed, sprinkled with sesame seeds, and beautifully crunchy; saturated with salt, oil and a numbing blast of Sichuan peppercorn. I like the bony, superhot, almost burned la zi ji at some other restaurants in town, and I've made it almost a mission to find the best — the ones at Lucky Noodle King, Chuan's, and Spicy City aren't bad. But the la zi ji at Dongpo is splendid, as compulsive as a treasure hunt, chopsticks darting through the mountain of chiles for stray nuggets of meat, an activity you will pursue like a Pavlovian, for long minutes after the last bit of chicken has definitely disappeared.
Dongpo
Upscale Sichuan cooking in Arcadia.
LOCATION
400 S. Baldwin Ave., Arcadia (in the Westfield Santa Anita mall), (626) 538-4580, meizhourestaurants.com. Also, more or less, at 10250 Santa Monica Blvd., Los Angeles (in Westfield Century City mall), (310) 788-0120.
PRICES
Appetizers, $4-$19.80; seafood $19.50-$26; meat dishes $15-$22; vegetables $10-$14; dumplings and noodles, $4.80-$10.
DETAILS
Open Sun.-Thurs., 11 a.m. to 9:30 p.m.; Fri.-Sat., 11 a.m. to 10 p.m. Credit cards accepted. No alcohol. Mall parking.
RECOMMENDED DISHES
Meizhou Dongpo sausage; spicy fried chicken with chilies; fish in chile broth; eggplant in garlic sauce.
MORE REVIEWS FROM JONATHAN GOLD
At Hanjip in Culver City, Jonathan Gold says get the stuff you don't see at other Korean BBQ joints
Jonathan Gold reviews Button Mash: Tofu balls! Arcade games!
Jonathan Gold finds much to like at Rose Café in Venice — pepperoni pizza with honey, anyone?
---