Review: Jonathan Gold finds much to like at Rose Café in Venice — pepperoni pizza with honey, anyone?
Chef Jason Neroni stands in the main doorway to the Rose Cafe in Venice.
(Genaro Molina / Los Angeles Times )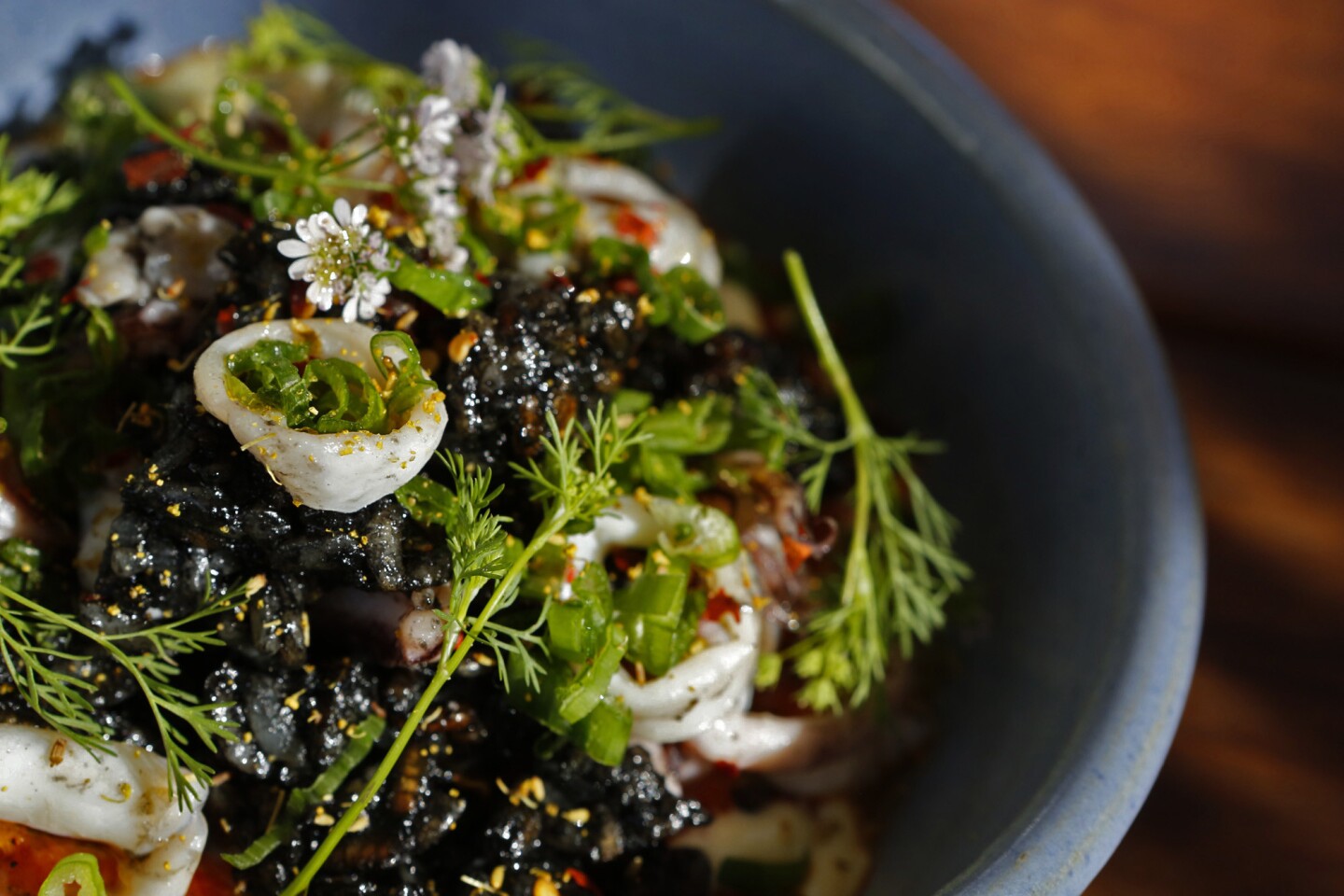 Paella with black rice is on the menu at the Rose Cafe in Venice.
(Genaro Molina / Los Angeles Times)
Customers dine inside the bigger-than-you-might-expect Rose Cafe in Venice.
(Genaro Molina / Los Angeles Times)
Cauliflower "T-bone" is on the menu at the Rose Cafe.
(Genaro Molina / Los Angeles Times)
Testa pastrami is on the menu.
(Genaro Molina / Los Angeles Times)
Chef Jason Neroni, right, talks to staff members.
(Genaro Molina / Los Angeles Times)
Chocolate tart is on the menu.
(Genaro Molina / Los Angeles Times)
Sugar snap peas at the Rose Cafe.
(Genaro Molina / Los Angeles Times)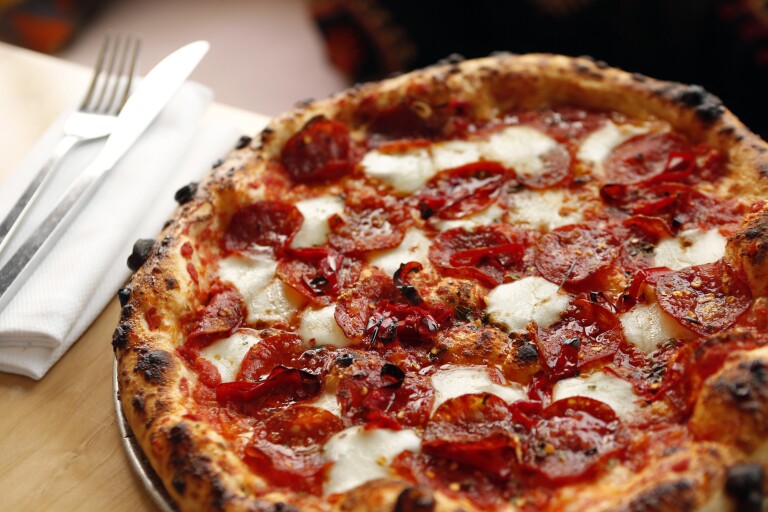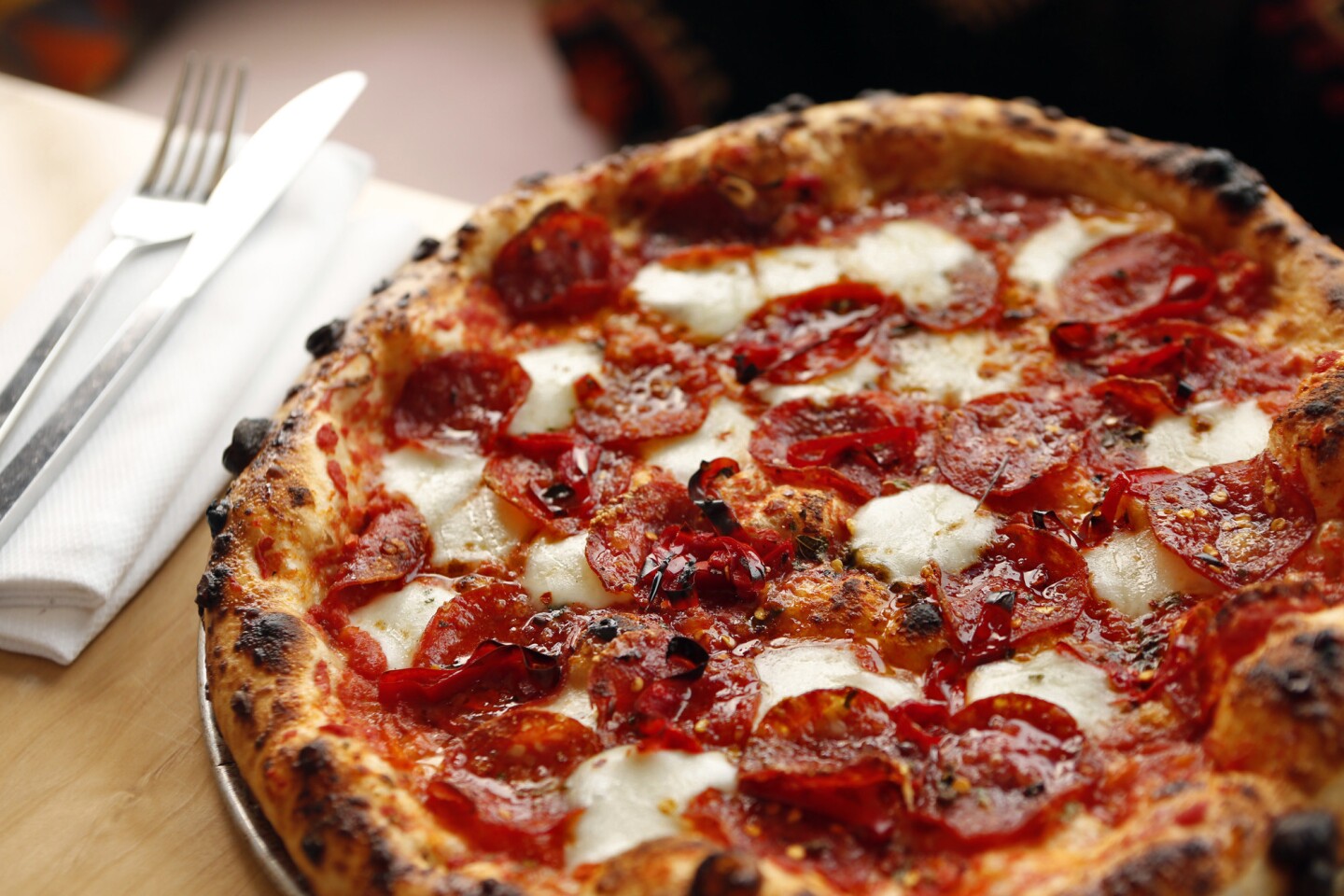 The Killer Bee pizza's toppings include pepperoni and honey.
(Genaro Molina / Los Angeles Times )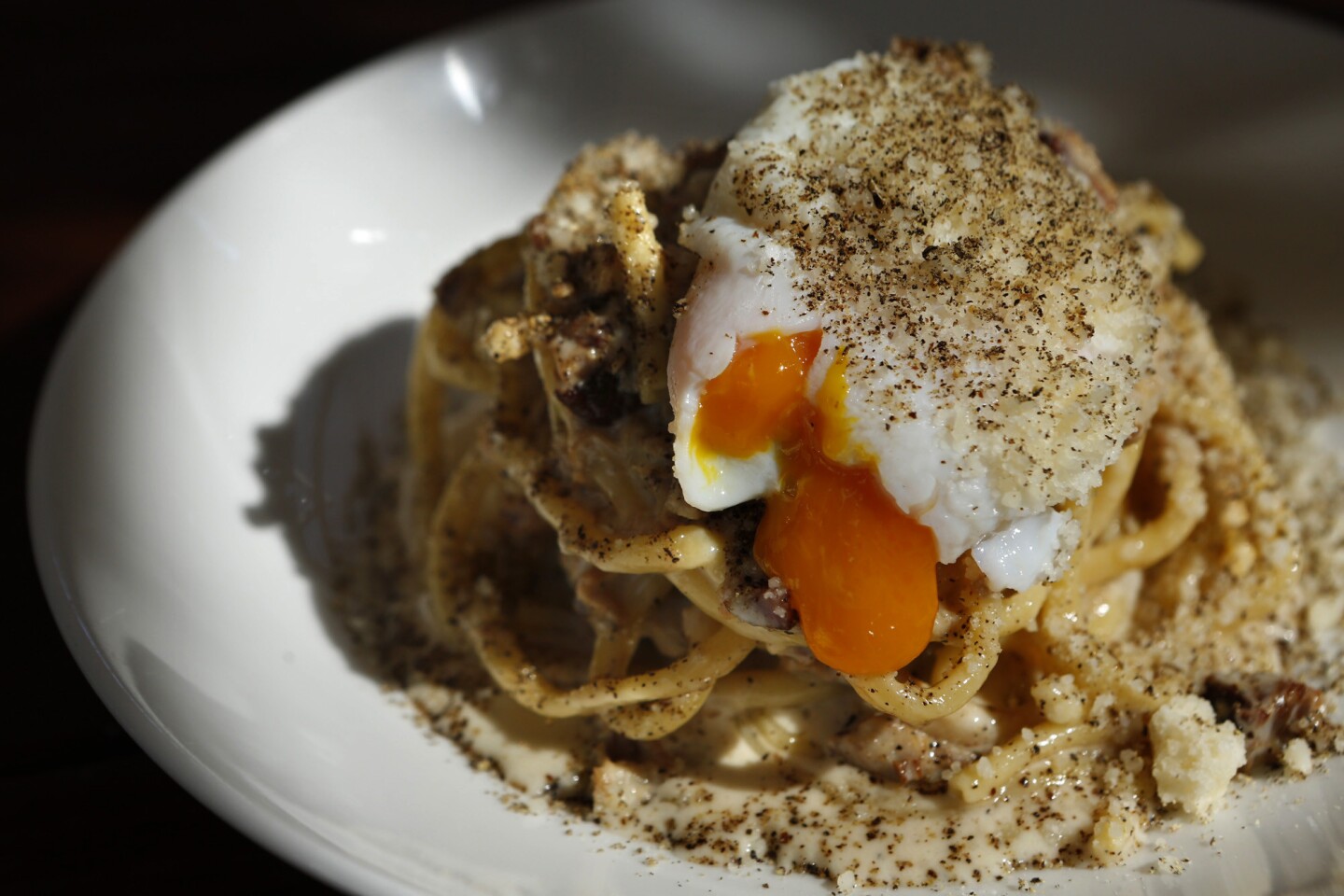 Smoked bucatini carbonara at the Rose Cafe.
(Genaro Molina / Los Angeles Times)
A customer exits through the main doorway of the Rose Cafe in Venice.
(Genaro Molina / Los Angeles Times)
You are in Venice. You have probably spent the last 20 minutes looking for a place to park. And you are walking into the Rose Café, a sprawling aircraft hangar of a restaurant that is somehow five times the size it appears from the street. Prints from skateboard-art godfather C.R. Stecyk III line the walls. Potted plants are suspended from the bar ceiling in macramé slings; the woven lamps hanging from the canopy over the patio look like something your mom may have picked up at Pier 1 in 1973. The wait for coffee and pastries in the morning is usually longer than the wait for a table on the vast patio.
Rose Café has been an institution in Venice since the late 1970s, a funky bit of stability in a neighborhood that changed its mood every couple of years and a hangout for what remains of the local arts community. The lovely mural of a rose on its exterior was — is — widely considered a civic treasure. The eggs Benedict and baked goods were iconic. You could always find a modest art show on the walls.
The neighborhood mourned when the restaurant was taken over by the Sprout Restaurant Group, the company whose restaurants include Bestia, Otium, Moruno and Republique. Sprout's currency is the celebrity chef; Rose Café, although you would often bump into someone like Frank Gehry or Arnold Schwarzenegger, was the opposite of a destination restaurant, a place you went in spite of the food, not because of it. But the space, remodeled by Studio Unltd (which also designed Bestia and Otium), is still pretty recognizably Venice. It's the kind of place where you know you can get a soy milk chai latte with your breakfast burrito even before you are presented with a menu.
The chef is Jason Neroni, whom you may remember from the original Superba just a few blocks up the street, where he practiced a sort of abstracted Italian cooking that included familiar tastes and textures without actually duplicating an actual Italian dish. Rose Café took awhile to put together — Neroni opened the short-lived Marina del Rey seafood restaurant Catch & Release in the meantime. And when Rose reopened, it seemed as if it had always been there: sprawling deli cases, massive bakery, loud bar and leafy patios, lubricated with Verve espresso in the morning and Nick Meyer-designed cocktails at night. There is something to be said for a wine list whose go-to hearty red seems to be a Turkish Öküzgözü instead of a Napa Cabernet and offers sparkling Müller-Thurgau instead of Champagne.
If you liked Neroni's cured meats at Superba, you will be happy with the charcuterie here: his famous "porchetta di testa," head cheese cured to resemble pastrami; seared thumbs of soft rabbit mortadella served with a fried quail egg; blinding-white lardo with mulberries; and a sweet, butter-smooth chicken-liver mousse with a bit of onion jam — or all of them served on a plank. It is hard to find fault in a plate of grilled asparagus topped with a fried egg and sprinkled with nasturtium blossoms (there are a lot of flowers and eggs on the plates here); or his signature grilled cauliflower "T-bone" frosted with capers, almonds and raisins; or a sweet-skinned roast chicken with carrots and soft, white rolls.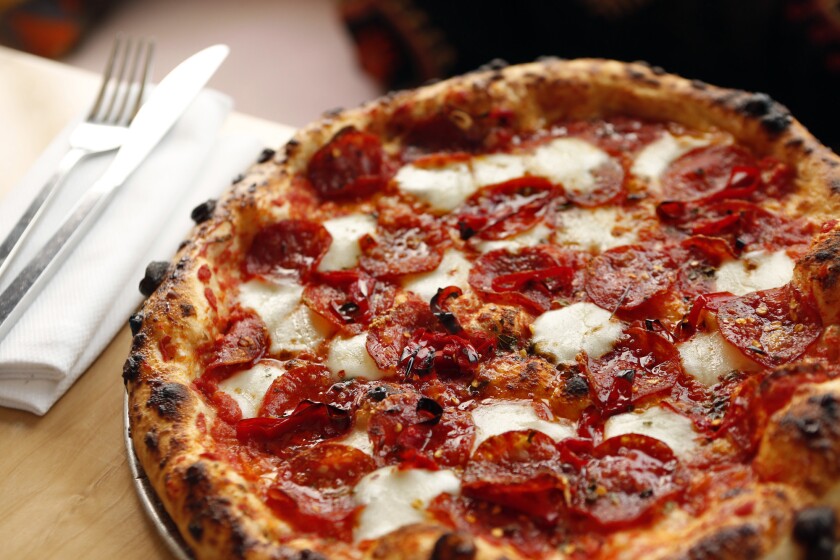 Still, it is a huge job to serve the multitudes who course through a crowded restaurant this large, and it is often difficult to get the details right. One afternoon plate of burrata, Puglia-style cream-stuffed mozzarella from the local cheesemaker Gioia, is dressed up with strawberries, arugula, blossoms and toasted bread, like a Nordic take on a Caprese salad. It was lovely to look at, almost a Mother's Day display, but the flavors clashed oddly, the herbs and the sugary tartness of the berries making the cheese taste more bitter than bland. Crisp Brussels sprouts, a highlight at Superba, seemed almost to collapse into their puddle of dark broth. Baked sugar snap peas were limp, greased rather than flavored by the little mound of whipped lamb fat that came with them.
Neroni is well-known for his pasta, particularly his creamy, lightly smoked bucatini carbonara and his spaghetti in a miso-enhanced cacio e pepe. He was one of the first chefs in Los Angeles to embrace what has become a dominant style of stiff, grainy house-made pasta. (Dried pasta is almost always better bought than made — make your own tagliatelle, but buy your penne.) And the pasta here, even the eggy pasta used to make the English pea agnolotti, tends to be distracting: tough, dry, soggy on the surface but barely cooked through. A dish of spaghetti with Dungeness crab and local uni should be luxurious, almost sybaritic. It isn't.
Still, there is a lot to like here, including the pork belly in a mild Thai coconut broth; the eggplant with cherries; the brunch avocado toast with fried duck egg; and the flaky chocolate croissants. I am fond of the pepperoni pizza drizzled with honey, which is improbably good. The crisp black fried rice with squid and aioli is not quite as delicious as its equivalent at Dudley Market a few blocks away, but it is good enough. The farmers market produce is first rate. And everyone should try the dense chocolate tart, as bitter as it is tart, at least once.
Rose Café
A Venice neighborhood landmark gets a big, cheffy upgrade.
LOCATION
220 Rose Ave., Venice, (310) 399-0711, rosecafevenice.com.
PRICES
Charcuterie, $10; appetizers, $13-$24; vegetable plates, $13-$16; pastas, $18-$25; main courses, $16-$150; desserts, $9-$12.
DETAILS
Open Tues.-Thurs., 7 a.m. to 10 p.m.; Fri. 7 a.m. to 11 p.m.; Sat. 8 a.m. to 11 p.m.; Sunday 8 a.m. to 5 p.m. Credit cards accepted. Full bar. Valet parking.
RECOMMENDED DISHES
Grilled asparagus; cauliflower "T-bone"; testa pastrami; Killer Bee pizza.
MORE REVIEWS FROM JONATHAN GOLD
Salt's Cure brings the city's best pork chop to its new location on Highland Avenue
Kagura does a crisp business in the pork cutlet known as tonkatsu
Shawn Pham's Simbal is what you might call a Vietnamese izakaya
---
Get our weekly Tasting Notes newsletter for reviews, news and more.
You may occasionally receive promotional content from the Los Angeles Times.