Review: At Hanjip in Culver City, Jonathan Gold says get the stuff you don't see at other Korean BBQ joints
Tricked-out Korean barbecue is the idea at Hanjip in Culver City. Order dishes you don't see at other joints.
(Allen J. Schaben / Los Angeles Times)
Chef Chris Oh holds beer and a 48-ounce tomahawk steak at Hanjip, a Korean barbecue restaurant.
(Allen J. Schaben / Los Angeles Times )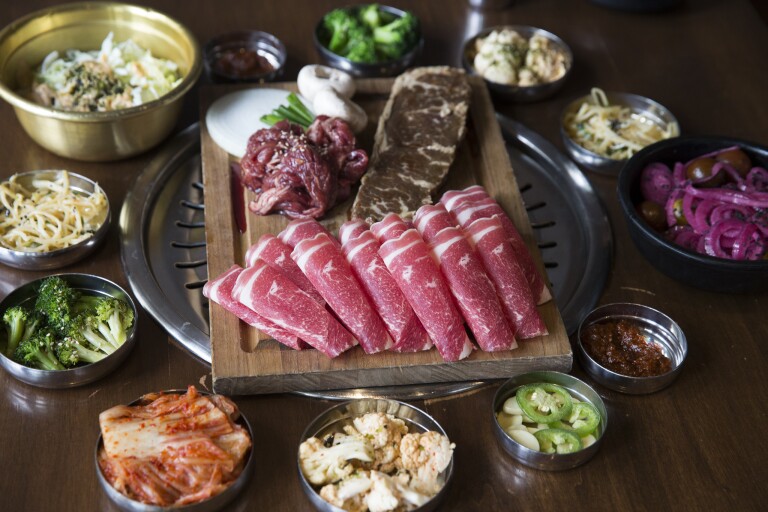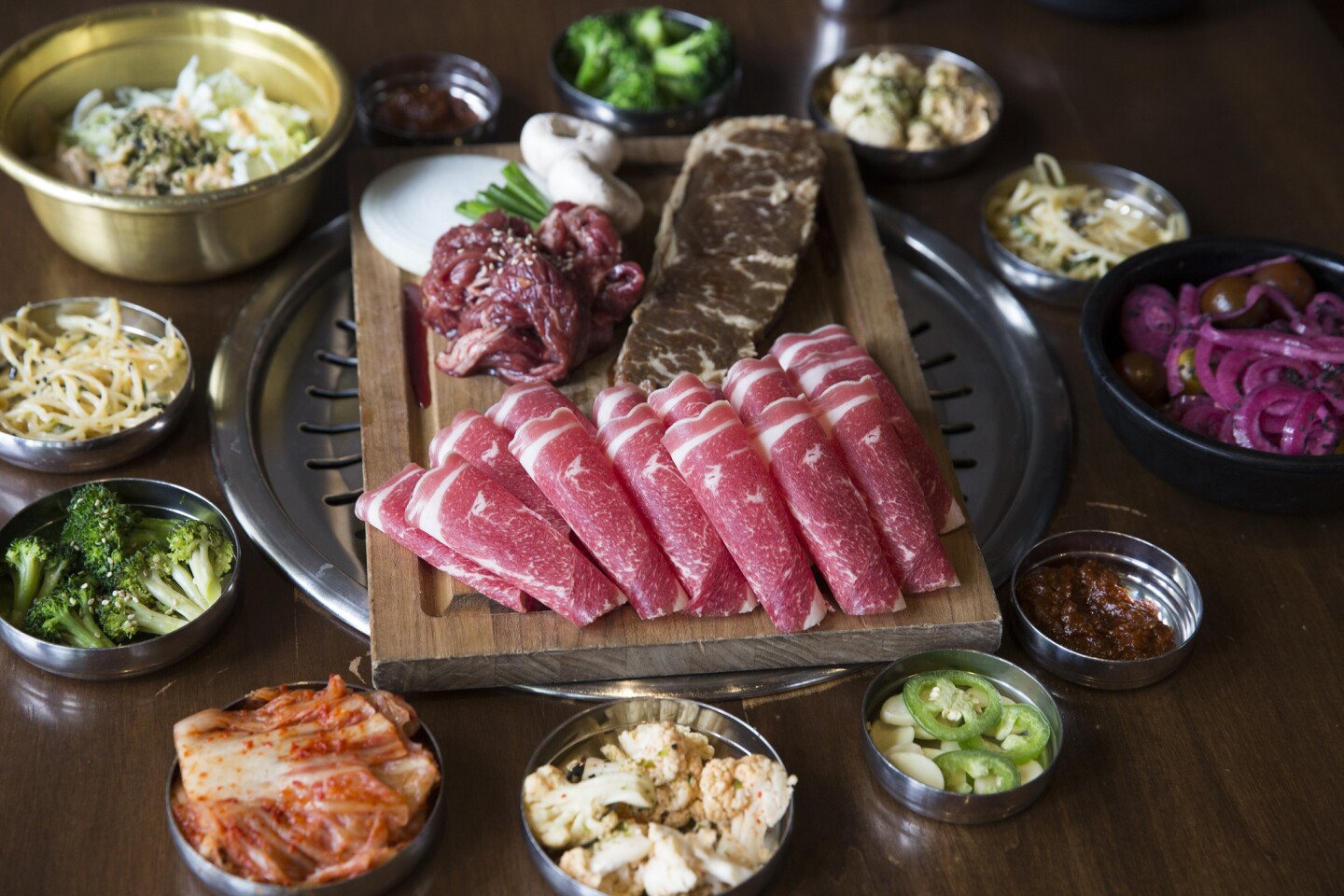 A dish of beef combo and table setting with banchan (side dishes) at Hanjip.
(Allen J. Schaben / Los Angeles Times)
Plain pork belly and table setting with banchan (side dishes) at Hanjip.
(Allen J. Schaben / Los Angeles Times)
Chef Chris Oh, center right, talks to Michael Clarke and Jennifer Hwang, center left, both of Playa del Rey, while they eat at Hanjip.
(Allen J. Schaben / Los Angeles Times)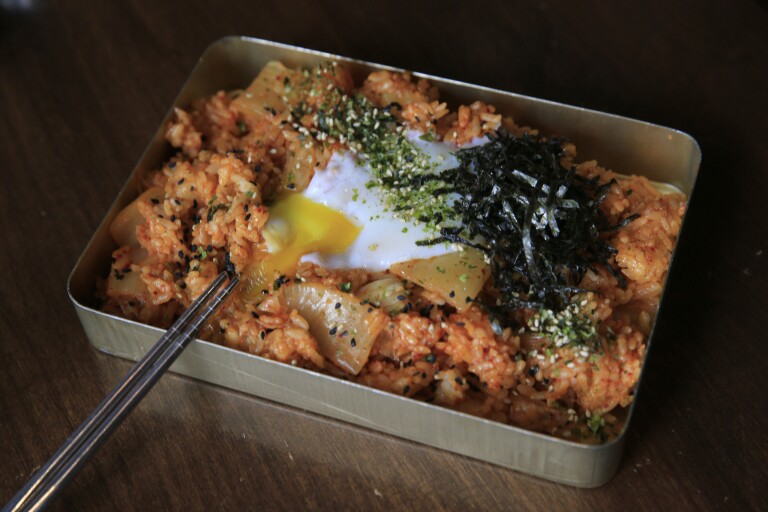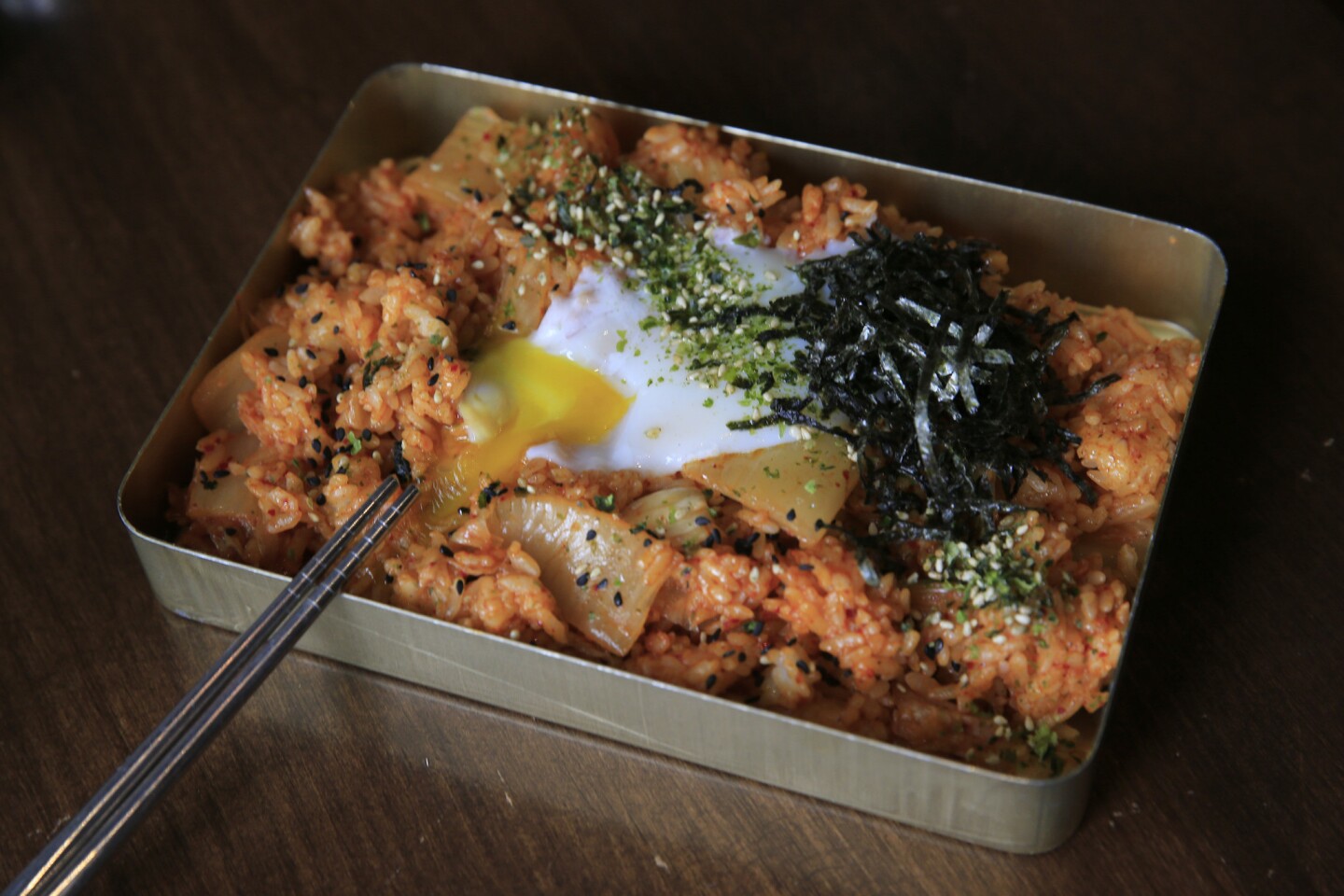 Kimchi fried rice at Hanjip.
(Allen J. Schaben / Los Angeles Times)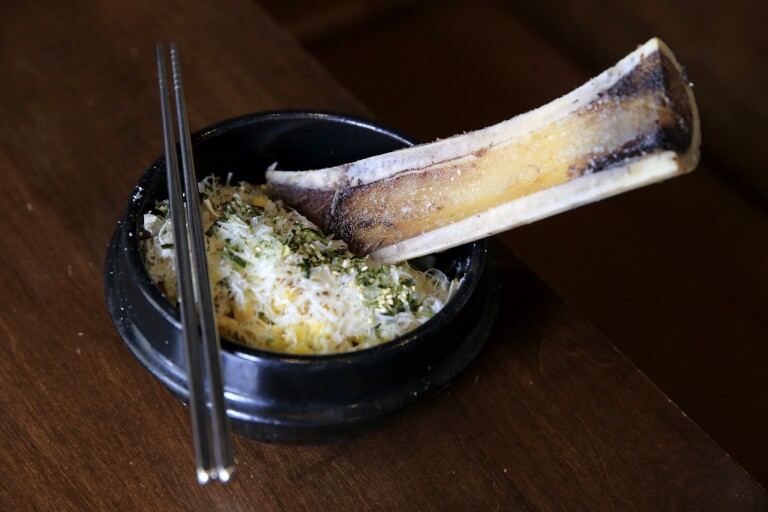 A dish of bone marrow corn cheese at Hanjip.
(Allen J. Schaben / Los Angeles Times )
Uni steamed egg at Hanjip.
(Allen J. Schaben / Los Angeles Times)
Michael Clarke and Jennifer Hwang, both of Playa del Rey, cook brisket at a table at Hanjip.
(Allen J. Schaben / Los Angeles Times)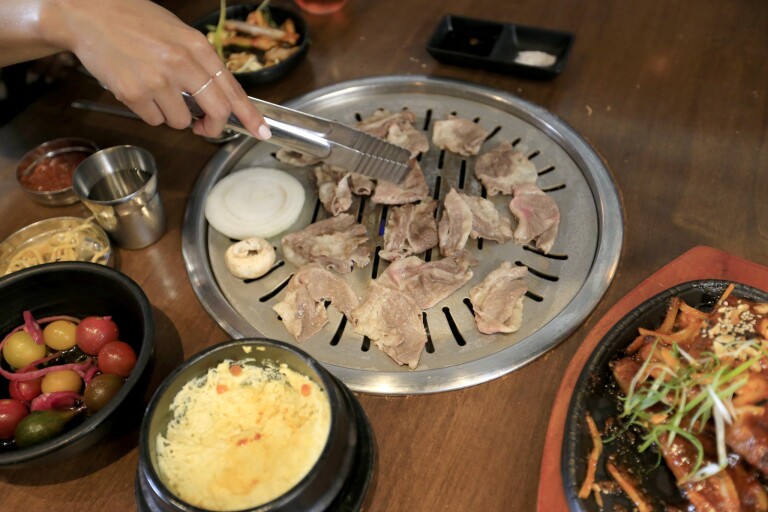 Jennifer Hwang, of Playa del Rey, cooks brisket at her table at Hanjip.
(Allen J. Schaben / Los Angeles Times)
Hanjip is an interesting addition to the tavern-heavy Culver City.
(Allen J. Schaben / Los Angeles Times)
The essential dish at Hanjip is probably the rib-eye, a handsome steak, prime or close to it, grilled to a beautiful medium rare. There is nothing like a steakhouse char on the meat — an attractive bronzing at best — and there is nothing in the way of a crust or aggressive seasoning, but the flavor is clear, and the beef is spurtingly rich. It's not A-5 Wagyu, but it is lovely. It might go nicely with a bottle of Lirac.
The rib-eye at Hanjip is cooked neither over hardwood coals nor in a 1,300-degree broiler, but on an underpowered tabletop grill, not by a chef, but by a server who stops by now and then with a pair of tongs. You are surrounded not by baked potatoes and wedge salads, but by basic banchan, side dishes of the Korean table, that include little bowls of bean sprouts, broccoli sprigs, sour kimchi and surprisingly addictive strips of dried squid. And the steak has been cut into little cubes for you after it has finished its sear, letting the edges blacken a bit before you snatch them from the grill with your chopsticks.
This is Western food served in a Korean context, satisfactory whether you enjoy it with red wine or a shot of soju, whether you dab your bite of steak with fermented soybean paste or sprinkle it with a grain or two of salt.
Hanjip is the creation of chef Chris Oh, whom you may know from the popular Seoul Sausage restaurants in Little Tokyo and off Sawtelle Boulevard, and restaurateur Stephane Bombet, who also owns Viviane, Faith & Flower and Terrine. The idea, Oh has said, was not to revolutionize Korean barbecue, but to trick it out with a little bling. And the restaurant, tucked into a storefront in downtown Culver City, does in fact resemble a bistro more than it does an old-school Koreatown restaurant, all black-and-white supergraphics, neo-retro wood paneling and sleek over-table venting systems that could pass as oversize lighting fixtures. The servers cheerfully assume that most of the customers are taking their first crack at Korean barbecue and themselves are often a bit confused when you ask about the possibility of salt with sesame oil or a few leaves of the Korean herb ggaenip.
If you were a purist, you'd be eating prime ggot sal at Park's BBQ or the mind-bending bulgogi at Gwang Yang BBQ. But instead you are just a few steps from the Sony lot, nursing a glass of lime soju laced with coconut milk and wondering about the beef poutine. If your evening has brought you to this tavern-intensive part of Culver City, there are worse places you could have ended up.
So there is that poutine, a souvenir of Seoul Sausage, which involves crisp Suzy-Q French fries, a squirt of mayonnaise, a pile of the sliced, grilled beef called bulgogi and a handful of the bright-red marinated onions that have spread from the Yucatan to half the restaurants in town — Oh's drunk-food classic. Or steamed buns stuffed with pork belly and a sweet sauce flavored with Korean chile, in the manner David Chang made popular at New York's Momofuku. Or the pot of fluffy steamed egg Koreatown restaurants sometimes throw in with the set dinners, but heaped with lobes of Santa Barbara sea urchin roe and a spoonful of salmon roe. Or fried pork rinds, chicharrones, with a kimchi-flavored dipping sauce. What you probably don't want are the things you may think you should be having, like the kimchi fried rice, which turns out to be a bland, under-realized version of dosirak, the shaken lunch box beloved at Kang Ho Dong Baekjeong, or the hot wings, which will not make the owners of KyoChon stay up nights.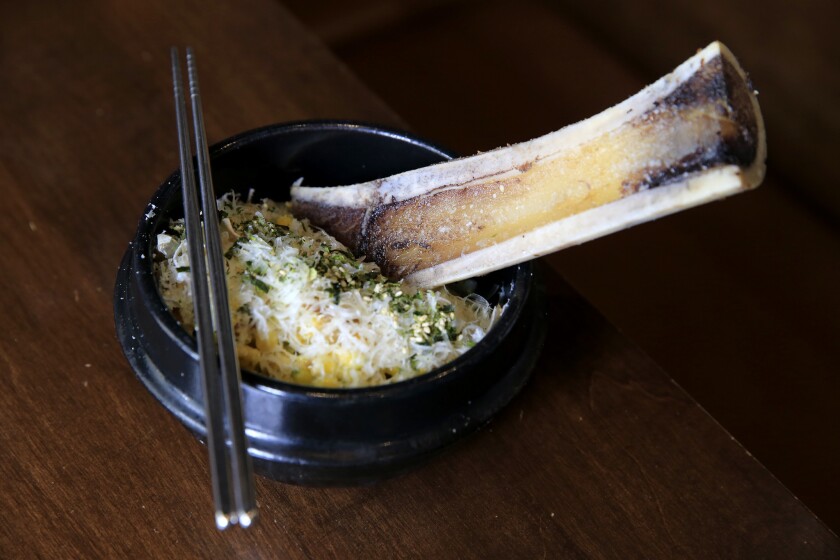 But Oh's cooking can be fun. The most imaginative of the dishes here is probably the corn cheese — more or less the same slurry of corn kernels and cheese that shows up in every Ktown after-hours bar, but slicked up a tad with cream and herbs, and with a smoking shin bone jutting from the mass like a steam funnel from the Titanic. You scoop the roasted marrow from the bone into the corn — not bad. And if you are inebriated enough, I hear, you can chug soju through the emptied bone. Tell me how that goes.
Most of the classic Korean barbecue meats are represented on the short menu, available either singly or as part of a combination. If you have spent time at any of the better Koreatown pork specialists, such as Palsaik or Honey Pig, you will find few revelations in either the pork belly or the underseasoned marinated pork shoulder at Hanjip, neither of which seems to crisp or caramelize. But the brisket is respectable enough, charred and chewy in the traditional manner, and the thick, marinated short ribs, meat rolled out in thick scrolls that caramelize and crisp on the tabletop grill, are delicious.
If you have made the choice to visit Culver City instead of Koreatown, you have also probably made the choice to indulge in Hanjip's watermelon soju, which is to say a halved watermelon shell filled with watermelon balls, Fruity Pebbles and Pop Rocks straight from the package, over which a bottle of soju is upended until the concoction shivers and shakes like a sugary Technicolor nightmare. Does that sound good to you? Stay strong, my friend.
Hanjip
Korean barbecue goes upscale in Culver City.
LOCATION
3829 Main St., Culver City, (323) 720-8804, hanjip.com.
PRICES
Barbecue dishes $23-$43 ($150 for tomahawk steak); side dishes $10-$19; combination dinners for 2-4, $49-$89.
DETAILS
Open daily, 11:30 a.m. to midnight. Credit cards accepted. Beer, wine and soju. Valet parking after 5 p.m. (except Tuesdays), and nearby city lot parking.
RECOMMENDED DISHES
Corn cheese with marrowbone; beef poutine; marinated short ribs; rib-eye.
MORE REVIEWS FROM JONATHAN GOLD
Jonathan Gold reviews Button Mash: Tofu balls! Arcade games!
Jonathan Gold finds much to like at Rose Café in Venice — pepperoni pizza with honey, anyone?
Salt's Cure brings the city's best pork chop to its new location on Highland Avenue
---
Get our weekly Tasting Notes newsletter for reviews, news and more.
You may occasionally receive promotional content from the Los Angeles Times.