Review: Jonathan Gold reviews Button Mash: Tofu balls! Arcade games!
Crispy tofu balls at Button Mash.
(Ivan Kashinsky / For The Times )
Chef Nguyen Tran at Button Mash.
(Ivan Kashinsky / For The Times)
Ginger wings with pickled mustard greens at Button Mash.
(Ivan Kashinsky / For The Times )
Mason Hankins, 26, and Roxy Lange, 30, play pinball on a date at Button Mash, a restaurant on Sunset Blvd.
(Ivan Kashinsky / For The Times )
Johnny Wilson, 25, plays games at Button Mash.
(Ivan Kashinsky / For The Times)
Cheese corn at Button Mash.
(Ivan Kashinsky / For The Times)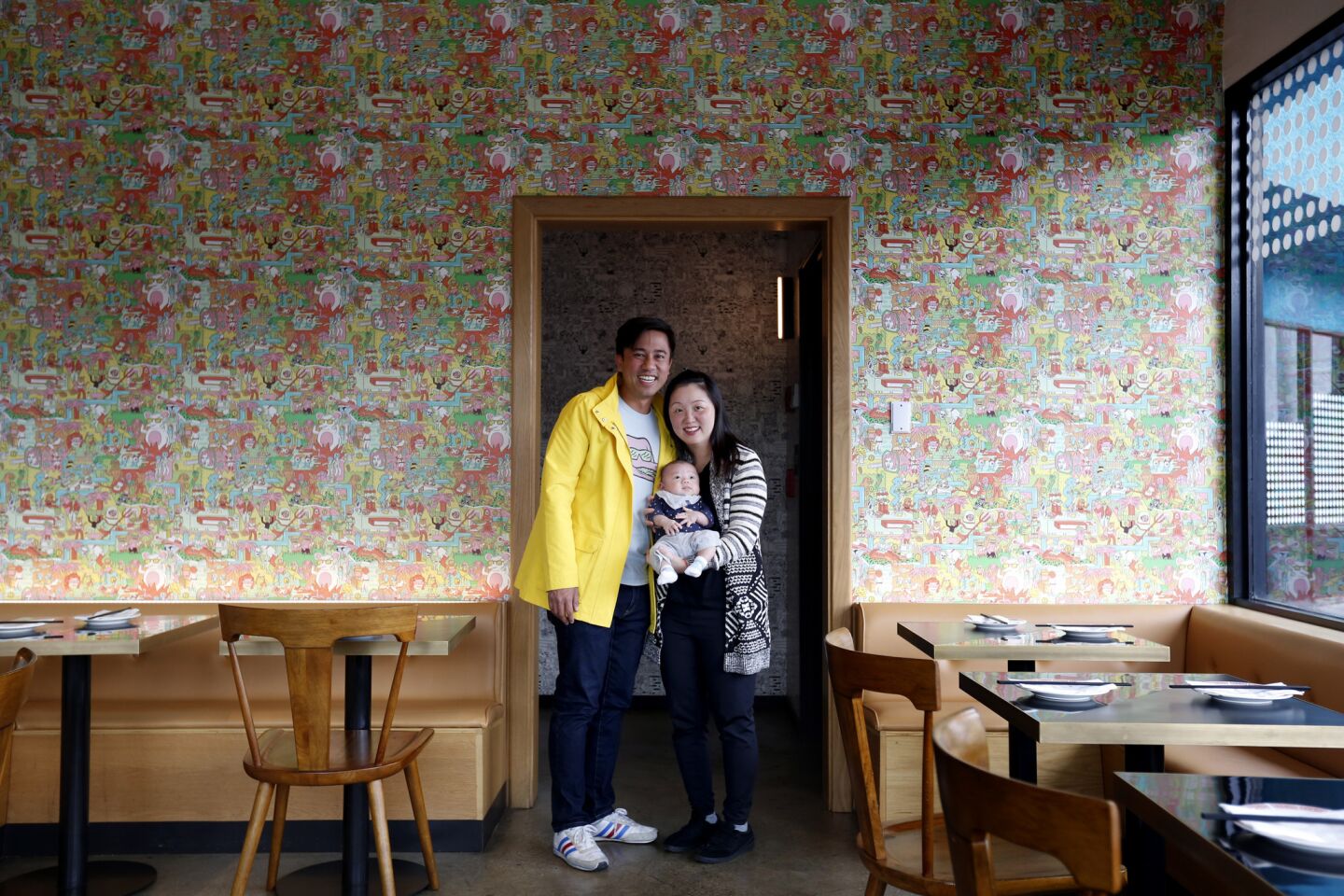 Nguyen and Thi Tran, chefs at Button Mash, with their son, Cillian (10 weeks).
(Ivan Kashinsky / For The Times)
A jackfruit sandwich at Button Mash.
(Ivan Kashinsky / For The Times)
Chef Nguyen Tran outside of Button Mash.
(Ivan Kashinsky / For The Times)
Spam fried rice at Button Mash.
(Ivan Kashinsky / For The Times)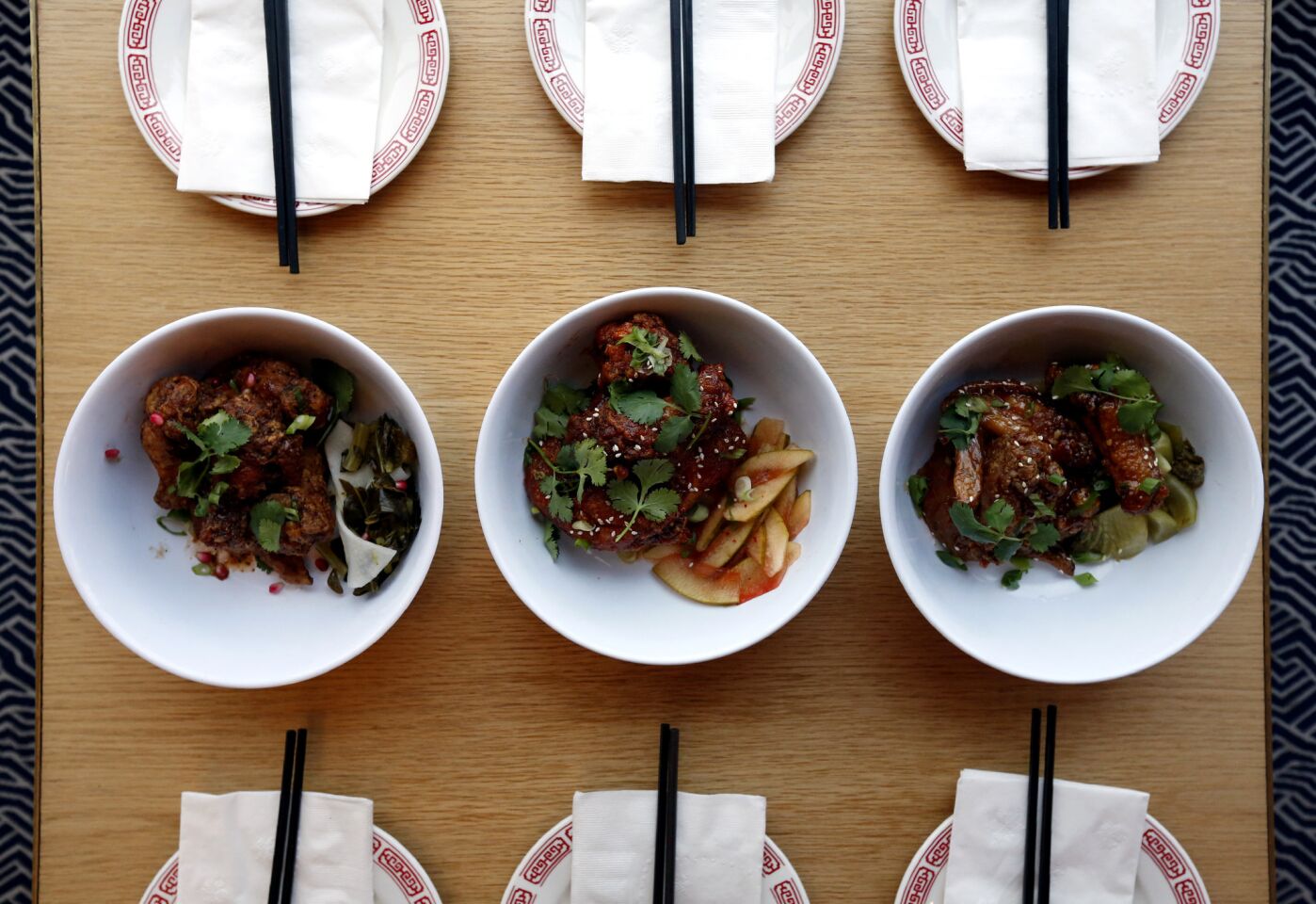 Tamarind wings with pickled kohlrabi, left, tangy wings with pickled watermelon rinds, ginger wings with pickled mustard greens at Button Mash.
(Ivan Kashinsky / For The Times)
People eat and drink at dusk at Button Mash.
(Ivan Kashinsky / For The Times)
Johnny Wilson, 25, outside of Button Mash.
(Ivan Kashinsky / For The Times)
Before we get on to the business of the review, I should confess that I have never been able to get past a dozen or so screens of the video game "Food Fight." I have never been able to chuck more than a pie or two at the murderous chefs. I have never figured out why a handful of peas will take down the white-toqued aggressors while a banana seems to whirl right past their heads. I have never reached the moment, beloved of the game's aficionados, where I manage to whiz slice after slice of watermelon at my adversaries, which seems to be the best way to rack up enough points to register on the leader board. I feed token after token into the machine. My avatar suffocates in a pile of goo. I contemplate transferring my allegiance to "Ms. Pac-Man."
"It's so ironic that you're playing that game," sniffs an onlooker.
I wonder for a moment whether my stack of tokens might serve the same pugilistic function as a roll of quarters. I shrug, and feed another token into the slot instead.
Button Mash may be the arcade you have been waiting for, at least if your taste in video games runs more toward "Frogger" and "Super Contra" than it does toward whatever 13-year-olds play when they get tired of pistol-whipping shock troopers on their big brother's "Halo 5." The games are mostly from what gamers call the Golden Age. The location, a few blocks from Dodger Stadium, is ideal for both the Echo Park crowd and those of us seeking an escape when Joe Blanton blows another one in the seventh. The ever-rotating tap list is richer in the dark and the sour than it is in enamel-stripping IPAs.
The tiny wine list, if you're into that sort of thing, is almost shockingly good, natural wines mostly, including tallboy cans of Fiction Red, and bottles of Prince in His Caves, an ale-dense Sauvignon blanc from Scholium Project, priced at about half of what you see it for elsewhere in town.
But probably more to the point, the kitchen at Button Mash is more or less under the supervision of Nguyen and Thi Tran, who guided the pan-Asian pop-up Starry Kitchen from its first days in a North Hollywood apartment building through its long run at the Grand Star in Chinatown. Thi Tran's Singapore-style chile crab, her crisped fish heads, and her forest-green fried tofu balls were enough to squeak Starry Kitchen onto the Times' 101 Best Restaurants list. The Trans, brand-new parents, are apparently working on a book and a food delivery concept at the moment; they are undoubtedly distracted. But their pan-Asian bar food, their idea of the dishes that drive a party, is light-years ahead of the grisly jalapeño poppers and frozen pizzas that pass for food at almost every other arcade. Even if it has been years since you've pumped quarters into the wheedling mass of "Street Fighter II," you might think Button Mash is worth a try.
So you squeeze past the doorman, find your way to the cash register, and put your name on the list. Unless you have reserved, you may be spending a bit of time contemplating the marvels of "Michael Jackson's Moonwalker" and a can of Stiegl Radler before a table opens up, probably in a room that has all the charm of a bowling-alley coffee shop. Half your party will dissolve back into the arcade; this is the time for that can of wine.
What are you going to eat? Chicken wings, probably, double-fried to a Korean fried chicken kind of crunchiness, slicked with a sticky sauce spiked with tamarind, which gives them the pucker of a Sour Patch Kid, or with a mildly spicy glaze flavored with the fermented Korean chile paste gochujang. And those crunchy fried tofu balls, painted with Sriracha mayonnaise. And maybe an oozing, caloric dish of mac and cheese spiked with bacon, or limp shrimp toast, or tiny roast peanuts flavored Singapore-style (although not forcefully enough) with fermented tofu.
At Starry Kitchen, Thi Tran's cooking veered distinctly toward the Vietnamese. And the best dishes here may be the Vietnamese-style party aesthetic, like the bun cha ha noi, grilled pork and ground pork patties in a sweet sauce, which you use to moisten rice noodles and herbs. Or the popiah — bo bia in Vietnamese — which are rounds of rice paper you moisten yourself in a container of warm water, and then fashion into spring rolls stuffed with bits of egg, marinated carrot, soy-soaked jicama, fried tofu and herbs.
At Button Mash, where the food tends to express the snackier side of the Starry Kitchen aesthetic, most of the cooking is a mash-up of Asian favorites and American junk food, things such as vegetarian hoagies made with jackfruit braised in Coca-Cola until it collapses into a sweet, stringy mass almost indistinguishable from pulled pork; oozing masses of Korean cheese corn given a Hawaiian jolt of salted plum powder; and roasted carrots sluiced with a sweet gel of chile, miso and garlic. You can have rice fried with vaguely Thai chicken marinated in galangal, or with a clean-out-the-fridge combination of carrots, cilantro and porky seared Spam. The noodle dishes — such as Korean bibim guksu with chile and Asian pear, or dan dan mian with pork and sesame paste — tend to be made with curly fresh Japanese ramen noodles where you might expect the ethnically appropriate pasta, and the substitution works just fine.
Are you going to want the almond tofu in soy milk for dessert? Probably — it's light. But as long as you're there, you might as well go for the herculean challenge of brick toast, slopped with peanut butter, Nutella, ice cream and fried bananas, to go with your final rounds of "Millipede." If you see me playing "Food Fight," wave hi.
Button Mash
Vietnamese fusion food in an Echo Park arcade.
LOCATION
1391 W. Sunset Blvd., Los Angeles, (213) 250-9903, buttonmashla.com.
PRICES
Snacks, $2-$9; sandwiches $9-$10; rice and noodles, $10-$15; large plates $18-$21; desserts $5-$9.
DETAILS
Open Tues.-Thurs., 5 p.m. to midnight; Fri., 5 p.m. to 2 a.m.; Sat., 4 p.m. to 2 a.m.; Sun., 4 p.m. to midnight. Credit cards accepted. Beer and wine. Street and limited lot parking.
RECOMMENDED DISHES
Tofu balls; double-fried tamarind chicken wings; popiah; Spam fried rice; almond tofu.
MORE REVIEWS FROM JONATHAN GOLD
Jonathan Gold finds much to like at Rose Café in Venice — pepperoni pizza with honey, anyone?
Salt's Cure brings the city's best pork chop to its new location on Highland Avenue
Kagura does a crisp business in the pork cutlet known as tonkatsu
---