Review: At El Coraloense, Jonathan Gold looks past the aguachiles' appearances and finds deliciousness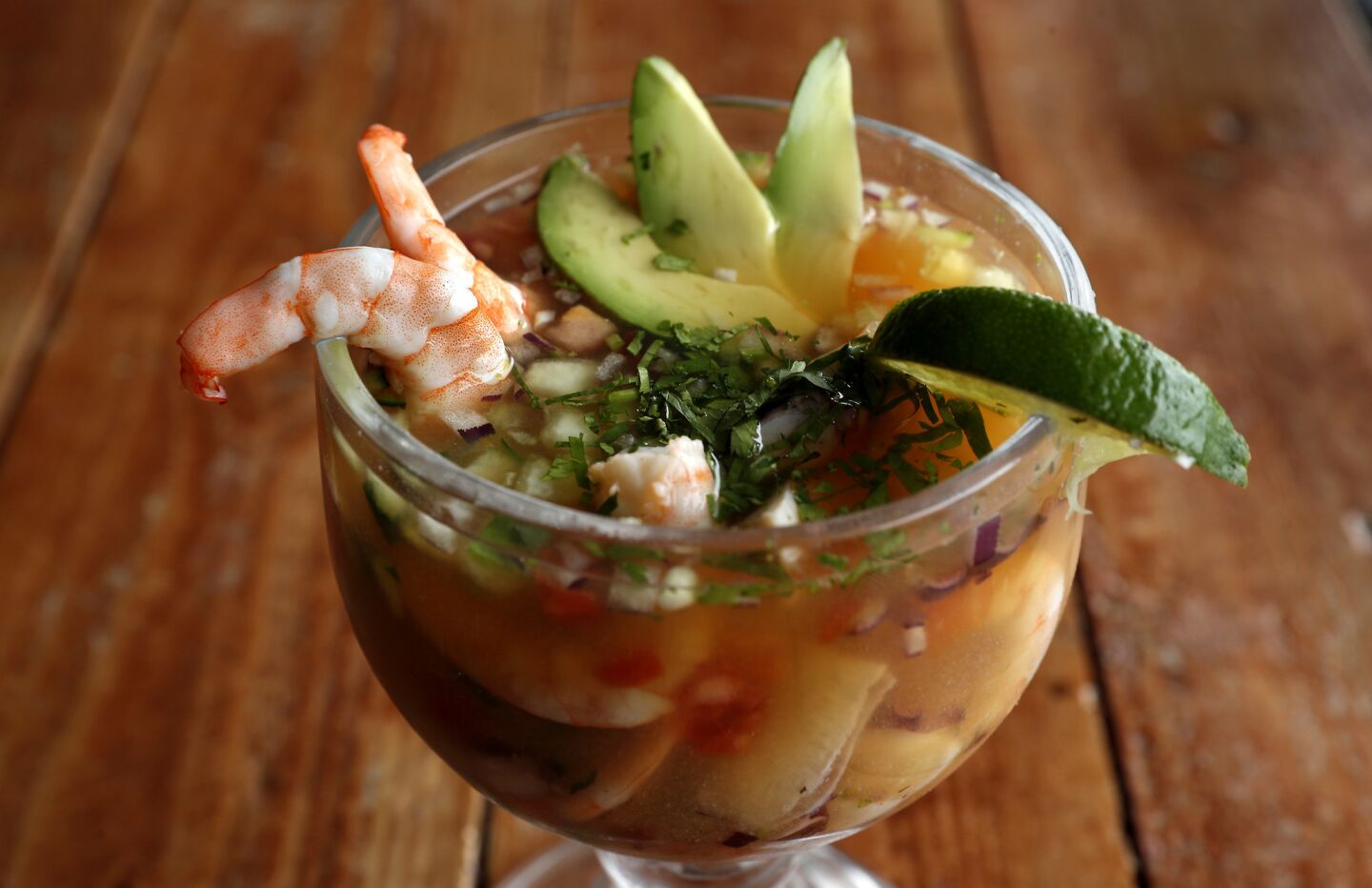 Campechana -- a shrimp, octopus and abalone cocktail -- is on the menu at El Coraloense, a family-run Mexican restaurant in Bell Gardens.
(Mel Melcon / Los Angeles Times)
Executive chef Natalie Curie, center, with sous-chefs Anwar Bautista, left, and Jessica Caporal.
(Mel Melcon / Los Angeles Times)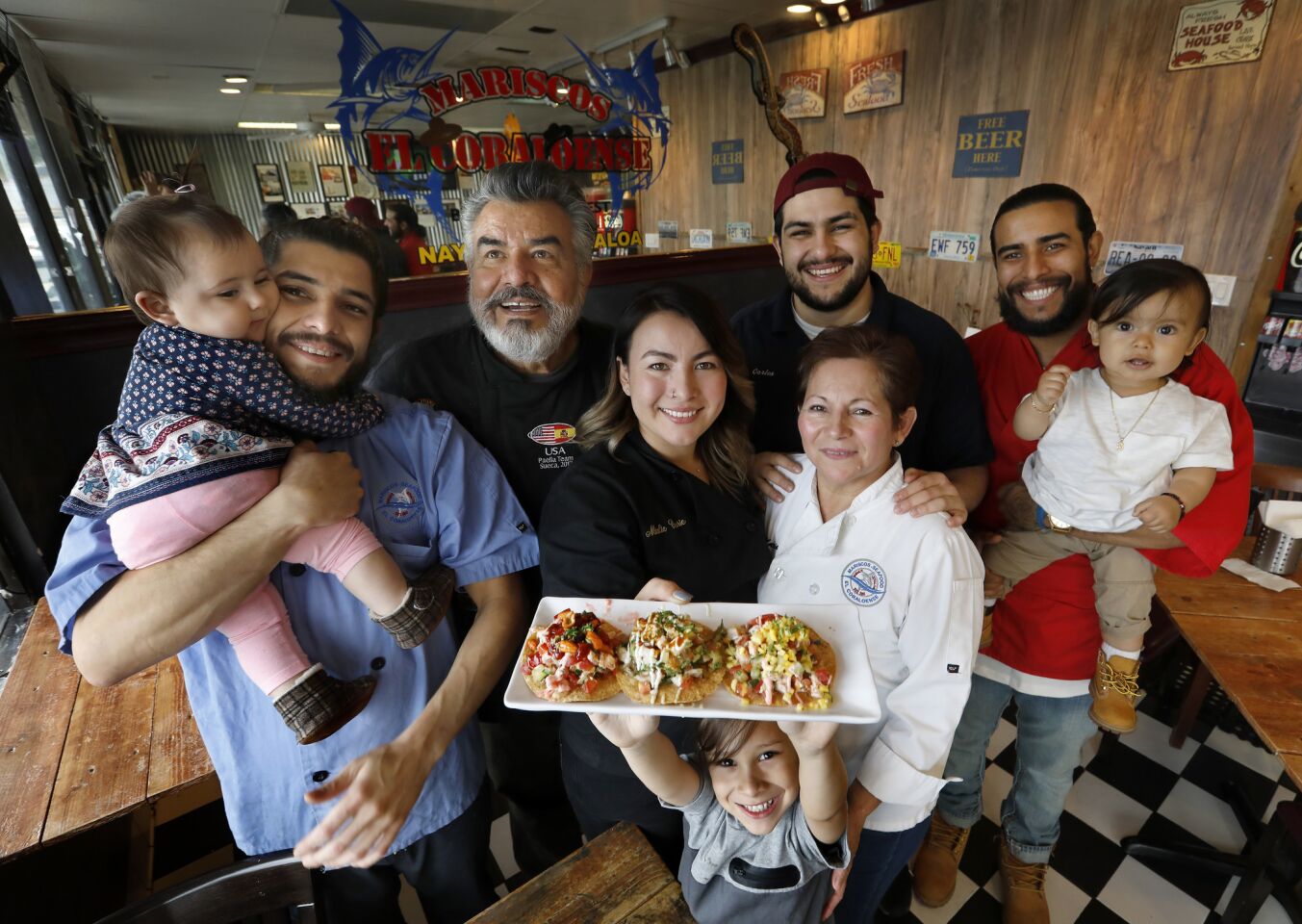 The Curie generations include, from left, young Ira, Marco, Leonardo, Natalie, Thanos, Maria, Carlos, Leonardo Jr. and young Quin. Leonardo Curie and his wife Maria are the founders of El Coraloense, and Natalie Curie is the executive chef.
(Mel Melcon / Los Angeles Times)
The ceviche sampler features, left to right, shrimp ceviche with habanero aioli, chile peanuts and candied mango chamoys, fish ceviche with lemon aioli topped with infused chile and walnut oil, and shrimp ceviche with chipotle aioli, topped with diced mango and powdered chile.
(Mel Melcon / Los Angeles Times)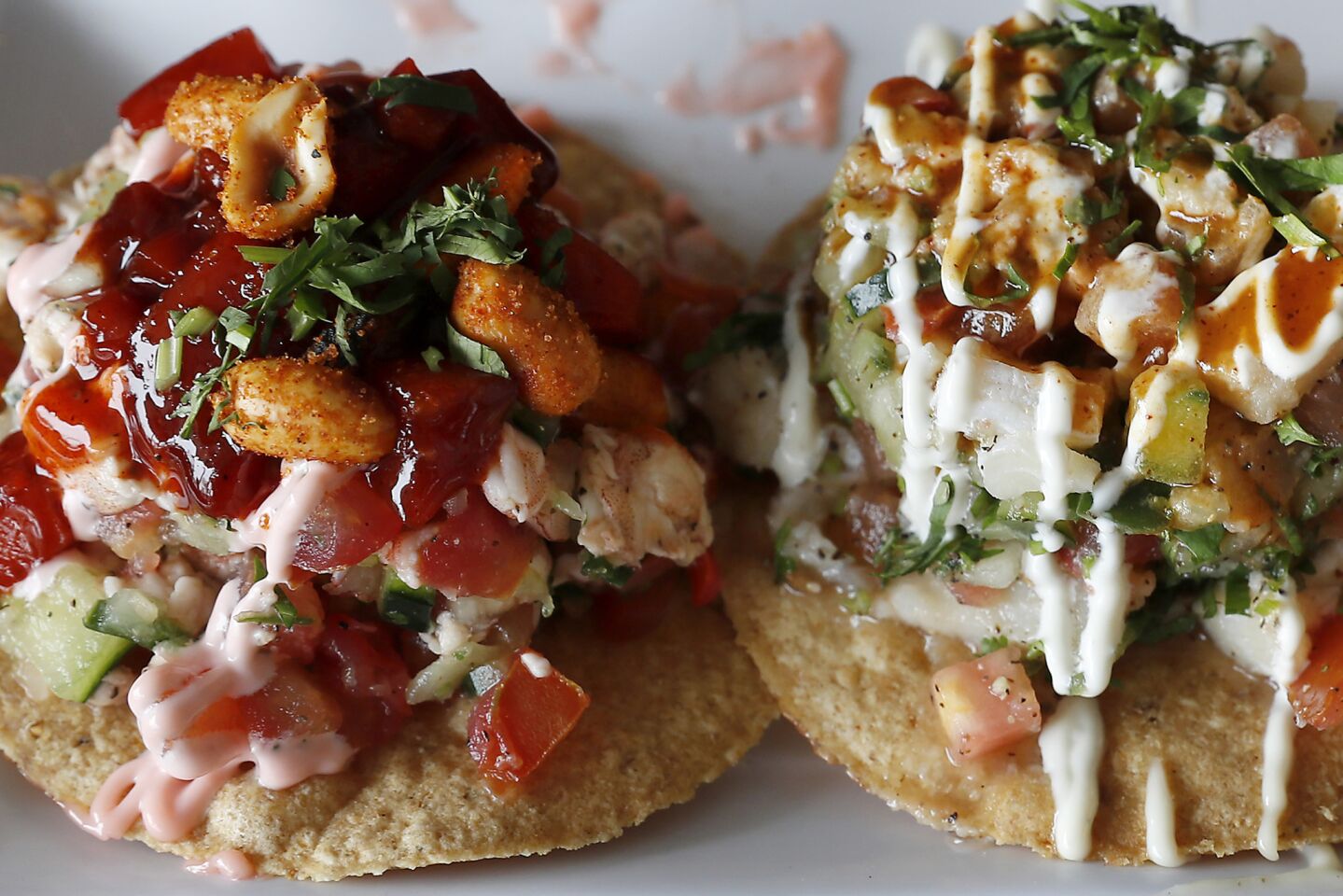 A closer look at the ceviche sampler.
(Mel Melcon / Los Angeles Times)
Executive chef Natalie Curie, center, with her parents, Leonardo and Maria Curie, founders of the restaurant.
(Mel Melcon / Los Angeles Times)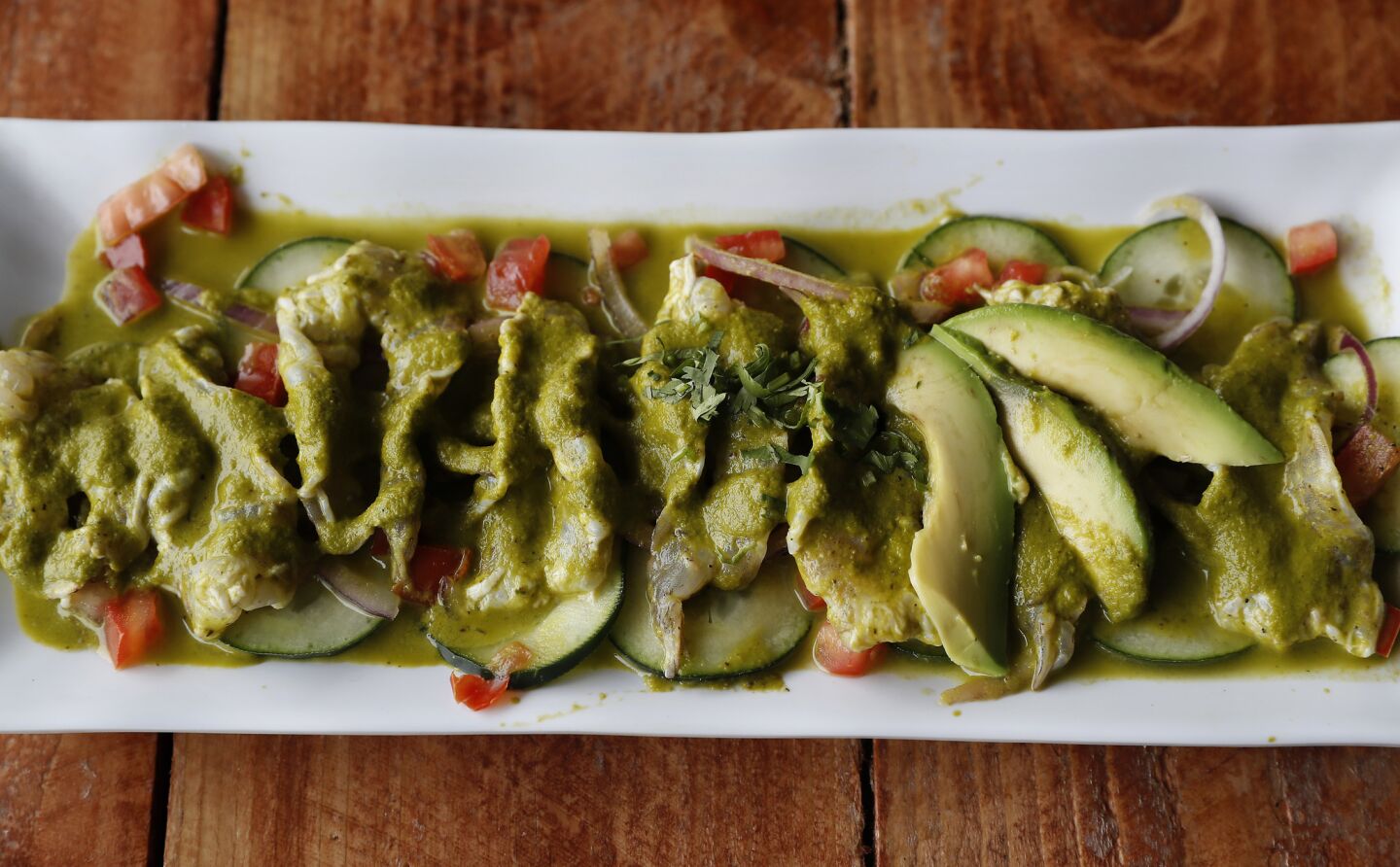 Shrimp aguachile -- butterflied shrimp marinated in cilantro and serrano pepper and chutney.
(Mel Melcon / Los Angeles Times)
Tacos a la diabla have beer-battered shrimp with diabla sauce (spicy butter garlic sauce).
(Mel Melcon / Los Angeles Times)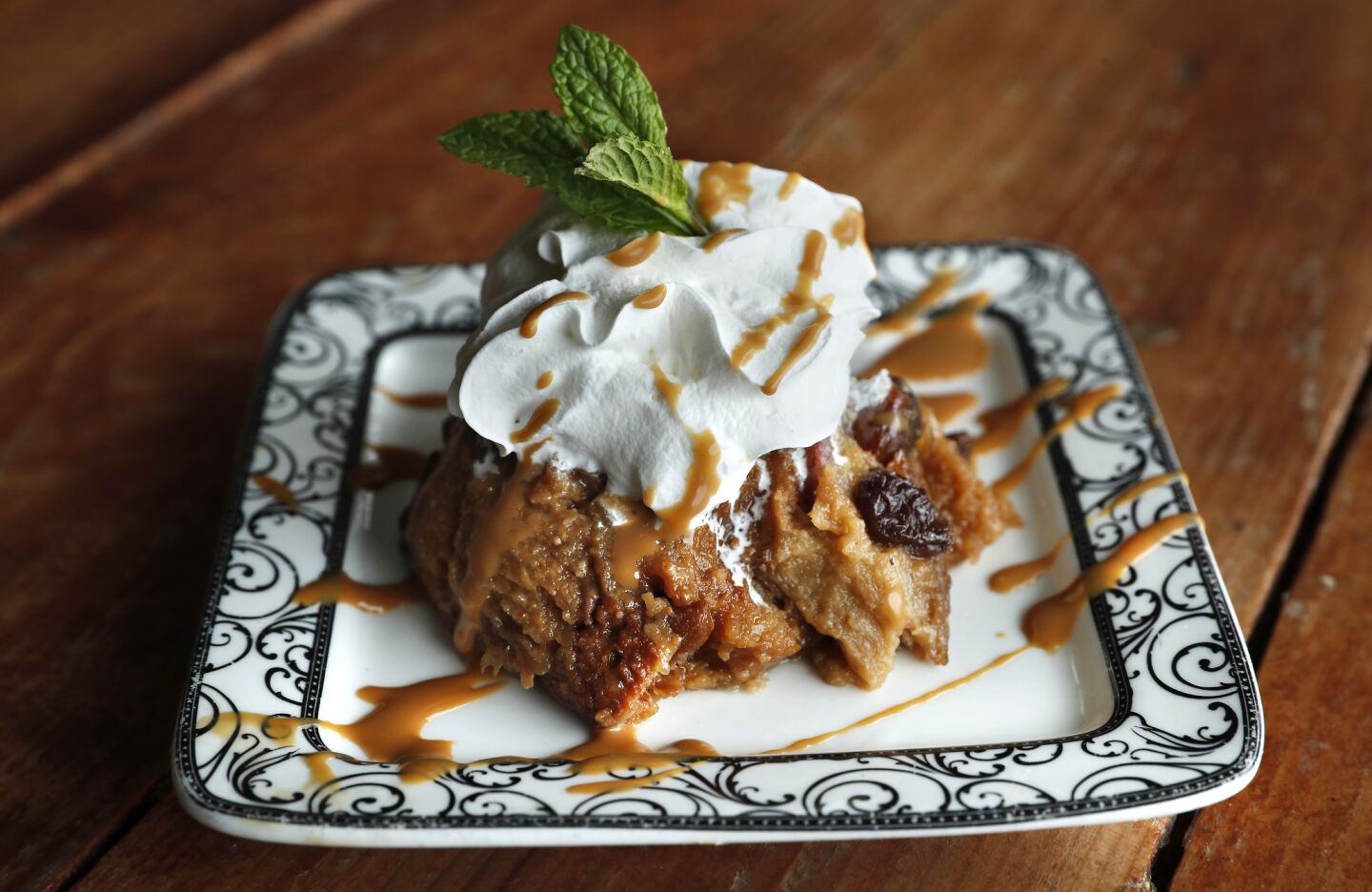 El Coraloense's traditional bread pudding, capirotada.
(Mel Melcon / Los Angeles Times)
Sous-chef Anwar Bautista prepares diablo shrimp at El Coraloense.
(Mel Melcon / Los Angeles Times)
Ed Rojas, left, Pauline Monroy, Diana Esparza and Jesus Herrera have lunch at El Coraloense.
(Mel Melcon / Los Angeles Times)
A patron makes her way out of El Coraloense in Bell Gardens.
(Mel Melcon / Los Angeles Times)
Restaurant Critic
A plate of ceviche can be a lovely thing, raw seafood briefly cured with fresh citrus and aromatics, a preparation often vivid with bright, fresh chile, translucent wisps of thinly shaved onion and fish that seems to glow from within. Ceviche is the basis for many of the greatest creations from Peruvian and Mexican cuisines. The technique spread through Nobu Matsuhisa to the modern Japanese kitchen, and it has rocketed back to the parts of Southern Europe where it may or may not have originated. A beautiful ceviche can look like a watercolor painting on a plate.
The aesthetic of the California kitchen has always included the notion that beautiful food looks beautiful, and you could probably get away with displaying a plate from Providence or Chez Panisse at a museum. Still, the chef David Chang has been promoting the idea of Ugly Delicious in the last few months — dishes whose horrible appearance masks the loveliness of something truly good. If you've ever tried to take an appealing snapshot of coq au vin or the seething pig parts at the local carnitas truck, you know exactly what I mean.
And there may be nothing in Southern California quite so Ugly Delicious as the aguachile at the Bell Gardens seafood specialist El Coraloense, the restaurant's version of the spicy shrimp ceviche at the heart of the Nayarit-Sinaloa kitchen.
The dish itself is nice enough, a long, rectangular plate lined with cucumber and red onion, garnished with a fan of sliced avocado. A stripe of roughly chopped cilantro slashes across the platter. But the marinade — you get your choice of chiles — is murky, tinged brown with soy sauce. And the raw shrimp themselves have been hit with citrus just long enough to seal them within opaque membranes that make them look like either larval insects or forgotten pig glands: pale, wrinkly lobes that would look right at home bursting out of a distended belly in "Alien."
El Coraloense is crammed into a mini-mall space next to a liquor store, in a part of Bell Gardens you probably wouldn't find yourself passing through unless you were headed to the card clubs. There is no alcohol — the aguas frescas, including cucumber lemonade and an horchata slush flavored with coconut, are fine. The restaurant is occasionally called out for its lobster nachos, an obscenely large platter of crustacean, chips and cheesy goo that might be what lobster thermidor might be like if they sold it at the county fair.
Natalie Curie, a culinary school grad who took over the kitchen from her parents a few years ago, has made the restaurant her own — the long list of ceviche tostadas includes aioli-moistened Changoneada, which is shrimp with peanuts, the salted fruit called chamoy and chopped mango, like an entire Eastside sweets counter on a plate; marinated fish with garlicky Zombie sauce; and Mariquita, doused with cream and nut butter. The mammoth seafood cocktails include Luna de Miel, a goblet brimming with juice, bits of abalone and scallops, and a handful of those aguachile shrimp. I never quite got around to trying the coco loco, a baroque concoction of seafood, red onions and coconut milk, served in a coconut shell.
If you are familiar with the Nayarit/Sinaloan seafood at places like Coni'Seafood and Mariscos Chente, a lot of the El Coraloense menu will seem familiar. You will find tacos stuffed with smoked marlin and cheese, shrimp fried until they resemble crunchy cockroaches, and more than a few ceviches. There is even a take on the famous slow-grilled pescado zarandeado, although El Coraloense's version, made with tilapia instead of snook, isn't quite up to speed. (Curie also seems to use a disconcerting amount of imitation crab and abalone, although they are clearly labeled on the menu and easy to avoid.)
But tacos of fish spiced to resemble pork al pastor? Check. Fried fish decked out like Buffalo wings? Of course. Chopped clams served in their shell with a tangy huichol chile salsa, or the infamous shrimp-topped raw oysters called Viagra.com? Sure.
But that aguachile? Ugly but so delicious. It is Curie's aesthetic choice, that extra bit of time in the marinade. And when you bite into those withered-looking shrouds of flesh — pop! — there is garlic and heat, a rush of juice, and an emphatic flavor that you don't usually get with finer-looking, mushier takes on the dish. It's pretty spectacular, in any of the five available versions. I like the salty, spicy, slightly smoky one the menu calls ahogados. Someday I will work my way up to the incendiary one they call 911 (HOT!).
El Coraloense
In Bell Gardens, seafood in the style of Sinaloa and Nayarit
Location: 6600 Florence Ave., Bell Gardens, (562) 776-8800
Prices: Tostadas $3-$10.50; cocktails $8-$18.50; specials $5-$24.50; tacos $3.50-$9.
Details: 11 a.m. to 7:30 p.m. Sundays and Tuesdays to Thursdays, 11 a.m. to 9 p.m. Fridays and Saturdays. Credit cards accepted. No alcohol. Lot parking.
Recommended dishes: Changito tostada, Luna de Miel seafood cocktail, aguachile ahogados, taco a la diabla.
---
Get our L.A. Goes Out newsletter, with the week's best events, to help you explore and experience our city.
You may occasionally receive promotional content from the Los Angeles Times.