Review: At Viviane in the Avalon Hotel, Michael Hung's French cooking is clean and soft
A grilled 12-ounce Piedmontese rib-eye steak is on the menu at Viviane restaurant, in the Avalon Hotel in Beverly Hills. Viviane features dishes by award-winning chef Michael Hung.
(Genaro Molina / Los Angeles Times)
Chef Michael Hung works his magic at Viviane.
(Genaro Molina / Los Angeles Times)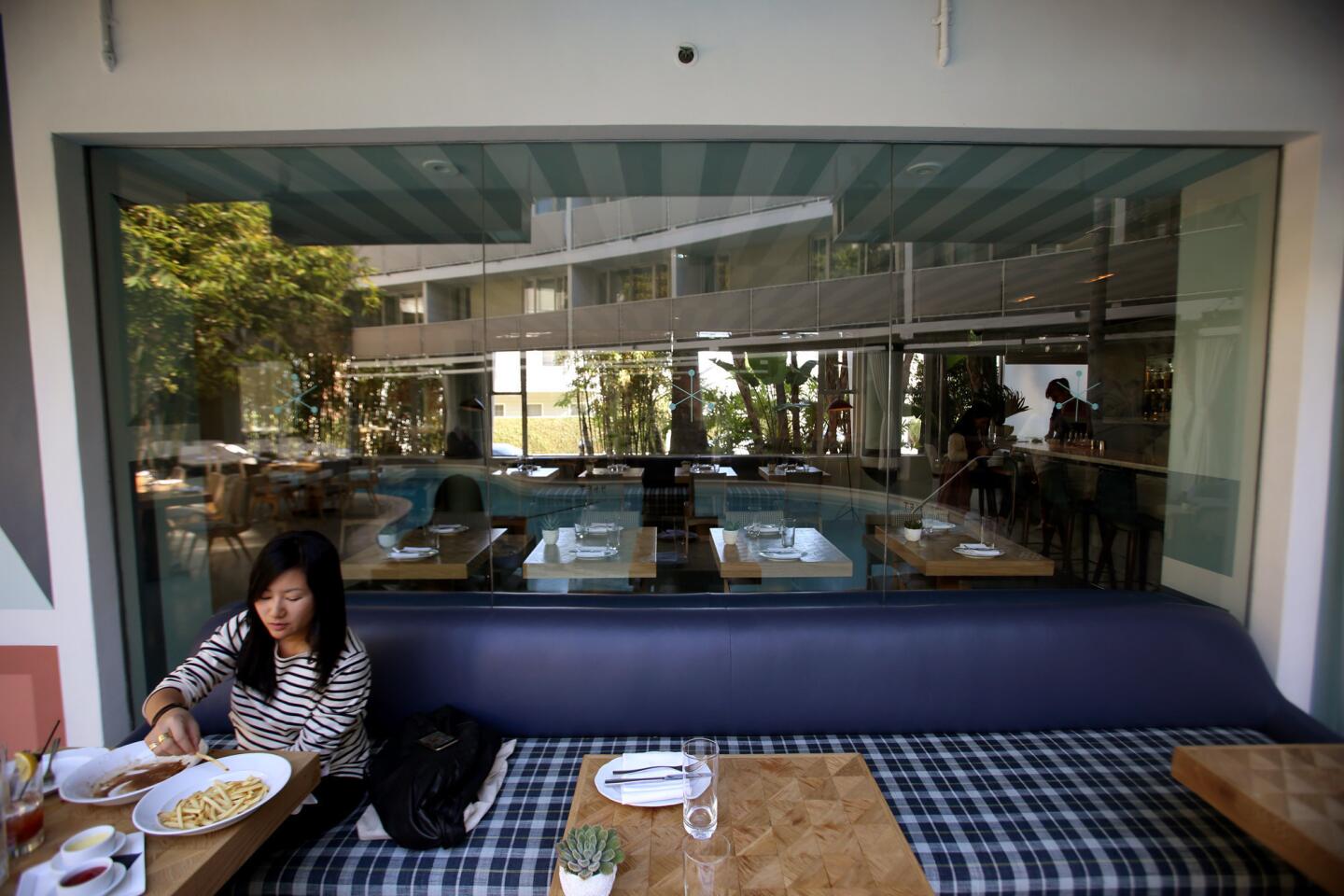 A diner enjoys lunch in the outdoor area of the restaurant.
(Genaro Molina / Los Angeles Times)
Handmade linguine with marinated geoduck, Manila clams and Chardonnay sauce.
(Genaro Molina / Los Angeles Times)
Shellfish boudin blanc, with Maine lobster, scallops and Gulf shrimp.
(Genaro Molina / Los Angeles Times)
Diners can enjoy lunch in one of many alcoves available in the pool area.
(Genaro Molina / Los Angeles Times)
A diner waits for a friend to join him in the pool area of Viviane.
(Genaro Molina / Los Angeles Times)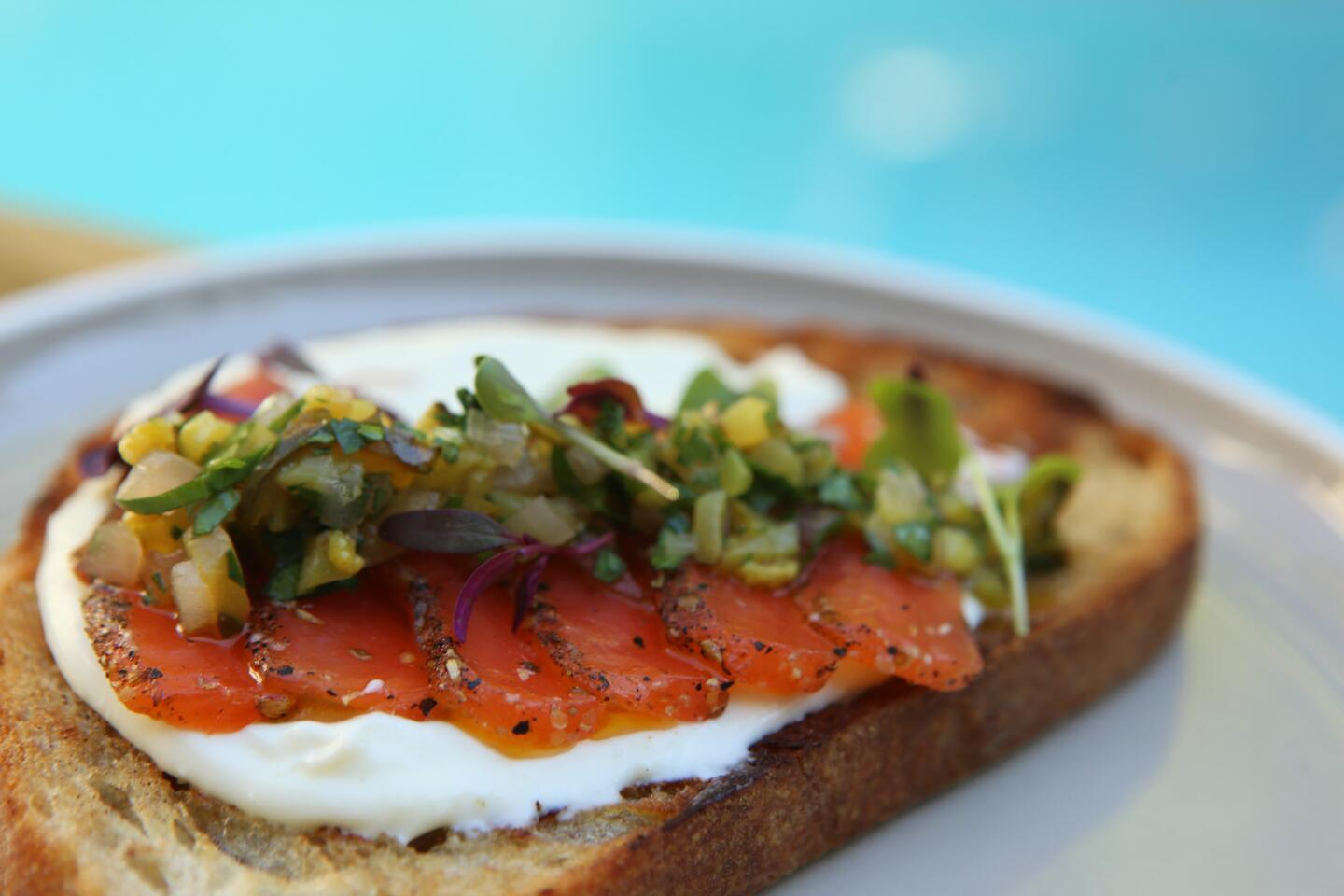 Pastrami-cured wild salmon tartine, with ricotta cheese and spiced pickled squash.
(Genaro Molina / Los Angeles Times)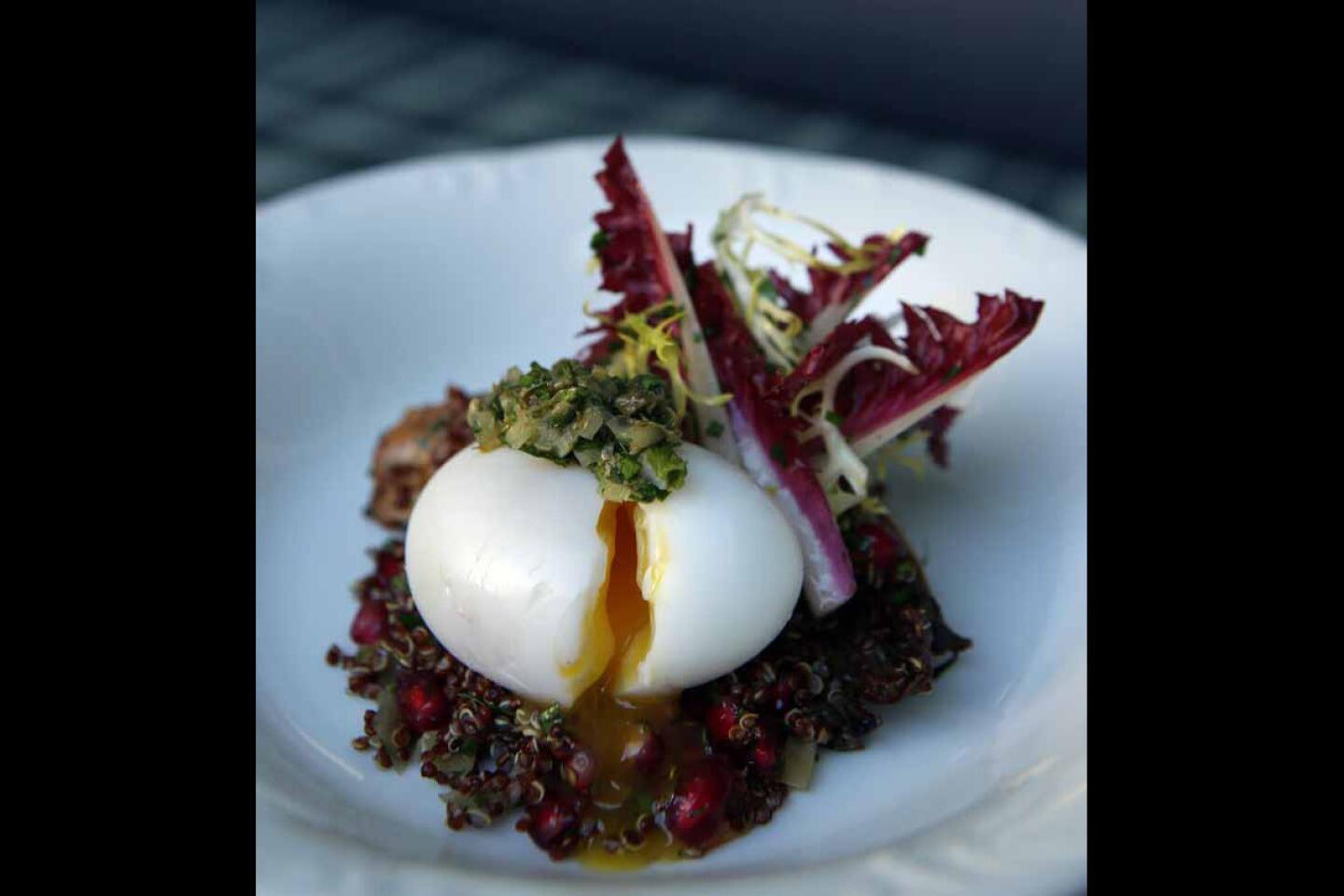 Soft-cooked duck egg, with caramelized endive and pomegranate quinoa.
(Genaro Molina / Los Angeles Times)
A server tends to a diner. Visitors can enjoy a meal or a drink indoors or poolside.
(Genaro Molina / Los Angeles Times)
Rainbow beets and apple salad.
(Genaro Molina / Los Angeles Times)
Try a Manhattan: Your options are the traditional, the Rob Roy and the Cuban.
(Genaro Molina / Los Angeles Times)
Cosmopolitan with Grey Goose vodka, lime juice and cranberry cordial.
(Genaro Molina / Los Angeles Times)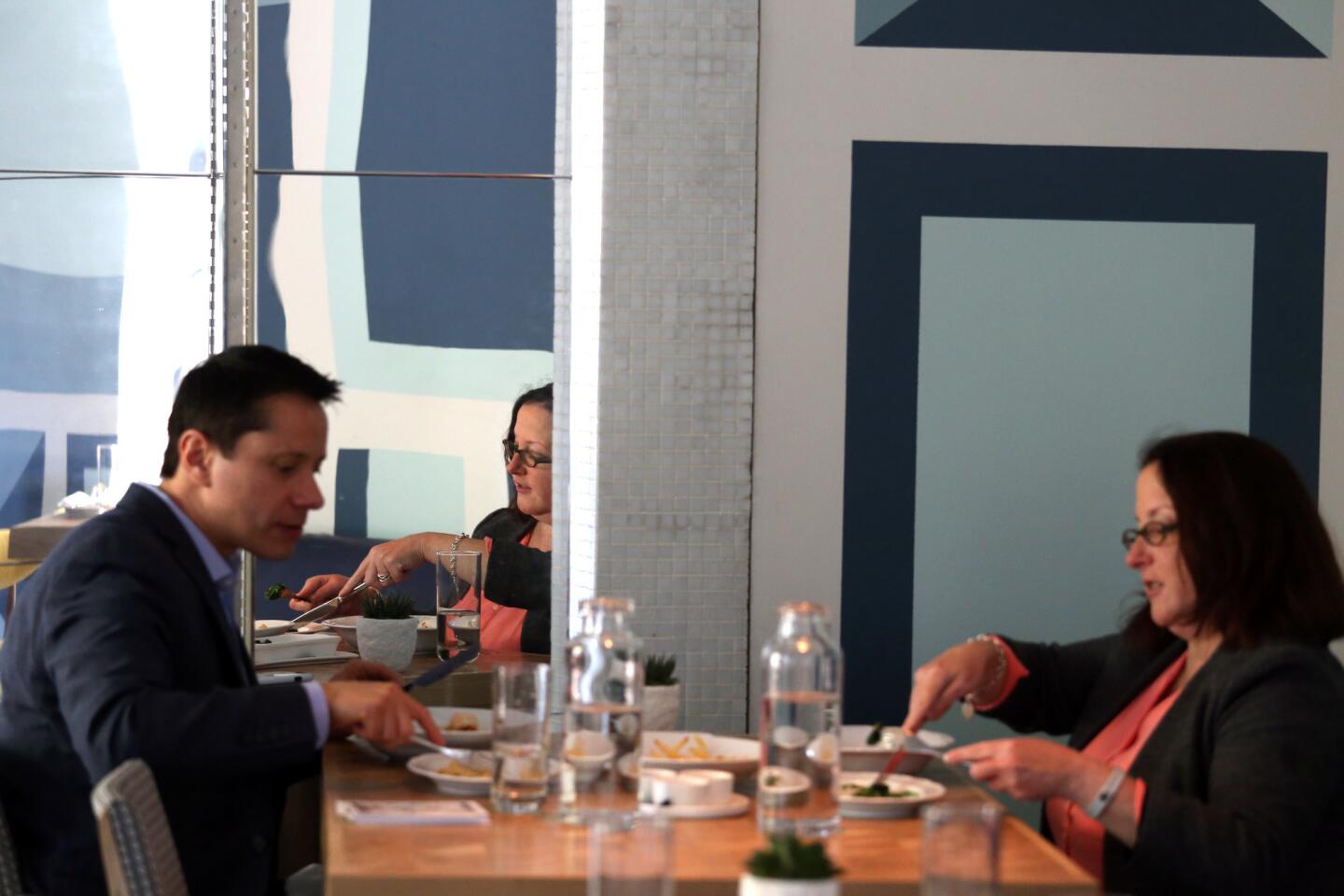 Diners enjoy lunch at Viviane restaurant, which was designed by Kelly Wearstler.
(Genaro Molina / Los Angeles Times)
Los Angeles Times Restaurant Critic
If you are tangentially involved in the entertainment industry, you have probably spent your share of afternoons at the Avalon Hotel, stopping by for an egg-white frittata with a visiting screenwriter friend, horning in on a buddy's lunch with his book publicist, or having a drink with an agent not quite ready to be seen with you at the Peninsula or the Grill. When its restaurant was a middling Italian dining room, you knew that you could always get a last-minute reservation on a Saturday night. Glamorous things tended to happen at the Bel-Air or the Beverly Wilshire instead, but the Avalon was always part of the dialogue.
And all the food people I know were at least mildly intrigued when the remodeled restaurant was renamed Viviane and taken over by Stephane Bombet, whose small restaurant group had at one time included Mo-Chica, Picca and Terrine. Bombet has a reputation for catching chefs on the upswing, and his restaurants have always been at least modestly fashionable and had better-than-decent food. He was bringing in Michael Hung, with whom he had worked at Faith & Flower (which he just apparently regained control of after a legal dispute). The stylish Kelly Wearstler interior made it into many of the better design blogs. Viviane was never going to be the Polo Lounge, but it was … something.
SIGN UP for Jonathan Gold's Counter Intelligence dining newsletter >>
Viviane is decorated to look like a New Yorker's dream of Beverly Hills, a vaguely Midcentury Modern design augmented with pale stripes, parquet tabletops and what I could swear is the same artful green linoleum you may have admired in the men's room at the UCLA faculty center. Picture windows look out onto an hourglass-shaped pool better suited as a handsome prop than as a place of actual activity. (It is hard to imagine anybody swimming in the table-ringed pool during service.) Palm trees or stands of bamboo? Both! Souffle settees in the cabanas? It wouldn't be a Wearstler design without them. The music tends heavily toward both Jay Z and the kind of mellow '70s things Jay Z might like.
Hung was the chef at Faith & Flower, a vast small-plates restaurant near Staples Center downtown featuring things like grilled longanisa or amberjack cured in ginger beer designed to ease down cocktails. At its best, Hung's cooking there had a technique-intensive pan-Asian edge that may have reminded you of Roy Choi or Bryant Ng. But with the exception of an occasional fermented turnip or bit of Buddha's hand zest, Hung's cuisine at Viviane is more or less classically French — he cooked for years at La Folie in San Francisco under Roland Passot — and his palette here tends toward brown butter instead of kimchi emulsions, crunchy fried breadcrumbs instead of roasted cashews, and minced parsley instead of jolts of cumin.
Where Hung's coarsely chopped steak tartare at Faith & Flower was kitted out with black sesame and miso, at Viviane it is seasoned with mushrooms and blurts of thickened egg yolk instead, and finished with a bit too much truffle oil. The gentle seasoning on the "pastrami-cured" salmon folded over ricotta is not going to make you reach for a breath mint before your 2:30 meeting, although the tartine is pleasant enough. One salad is a carefully arranged tableau of roasted beets, apple and shaved watermelon radish, almost calorie-free if you manage to avoid the substrata of horseradish-tinged crème fraîche; another, made with persimmons, pomegranate, honey and sunflower seeds, could be a deconstructed detox cleanse on a plate. If you had to use a single word to describe Hung's cooking here, it would be "clean."
So the linguine with clams is neither garlicky in the Italian style nor sharp like most Japanese-fusion revisions, but kind of mellow: ribbons of soft, handmade pasta tossed with clams, translucent slices of geoduck, and a few drops of what tastes like beurre blanc. Ravioli are stuffed with soft ricotta and sauced with brown butter and a spoonful of buttery chanterelle ragout. There is a soft-cooked duck egg on a bed of soft caramelized endive; a soft, lightly crisped slab of pork belly with fermented Brussels sprouts; and roast chicken with soft dumplings.
You may have noticed that I have described most of the food at Viviane as soft, and you would be correct — softness seems to be pretty much essential to the aesthetic. Thus the luscious softness of the seafood boudin blanc doesn't come as much of a surprise (although its flavor, as a sausage version of a cognac-laced lobster a l'Americaine, just might).
A pan-seared halibut filet, laid over braised cabbage and served with a mound of dessert-sweet compote of long-cooked onions and hazelnuts, was also soft, cooked a few seconds past flakiness. But with the intensity of the sauce Chateaubriand, a sticky veal-red wine demiglace cooked down with herbs and aromatics, the softness made a kind of internal sense. You knew where you were — out by the pool. You knew you were in the hands of a chef who had spent a serious amount of time mastering French sauces. And you were looking forward to the milk-chocolate crémeux for dessert. For once, the super-dense pudding, made with an immoderate amount of chocolate, egg yolks and thick cream, would surely be soft enough. And it is.
::
Viviane
The new restaurant in the Avalon Hotel is poolside, and features updates of classic French dishes from chef Michael Hung.
LOCATION
In the Avalon Hotel, 9400 W. Olympic Blvd., Beverly Hills, (310) 407-7791, vivianerestaurant.com.
PRICES
Small plates, $14-$24; large plates, $32-$54, desserts, $10-$14.
DETAILS
7 a.m. to 11 p.m. daily. Credit cards accepted. Full bar. Valet parking.
RECOMMENDED DISHES
Beet and apple salad, ricotta ravioli, shellfish boudin blanc, milk-chocolate crémeux.
Get our L.A. Goes Out newsletter, with the week's best events, to help you explore and experience our city.
You may occasionally receive promotional content from the Los Angeles Times.