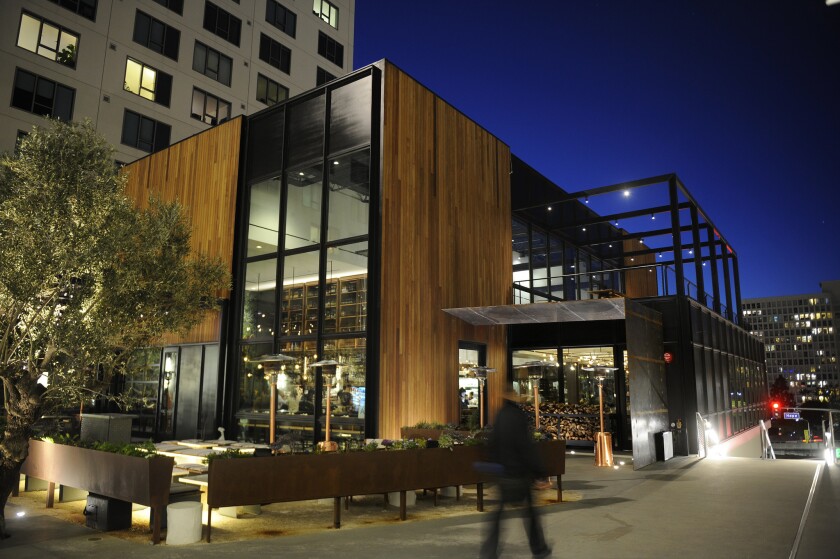 The blocks of Grand Avenue that are home to the Broad museum, MOCA, Walt Disney Concert Hall and the rest of the Music Center make up what is arguably the aesthetic center of Los Angeles. And if you're hoping to top off your cultural immersion with some food and drink, you're in luck. Within half a mile or so of the silver wings of Frank Gehry's concert hall and the honeycomb walls of the Broad, there's a wealth of terrific restaurants and bars, places where chefs and bartenders are putting their own art on plates and in bowls and glasses.
You might start at Otium, a restaurant that opened in 2015 in partnership with (and next door to) the Broad, or head to Patina, in the base of Disney Hall itself. Or you might want to take Angels Flight, the historic funicular railway, down the hill to the Grand Central Market. Within a short walk from the century-old food court, you'll find a vast array of other restaurant options, from Japanese omakase breakfast to plates of Indonesian curry to a highball bar. Because there's nothing like a bowl of satsuki rice porridge with Santa Barbara uni after an afternoon spent with Chris Burden and Jean-Michel Basquiat.
Badmaash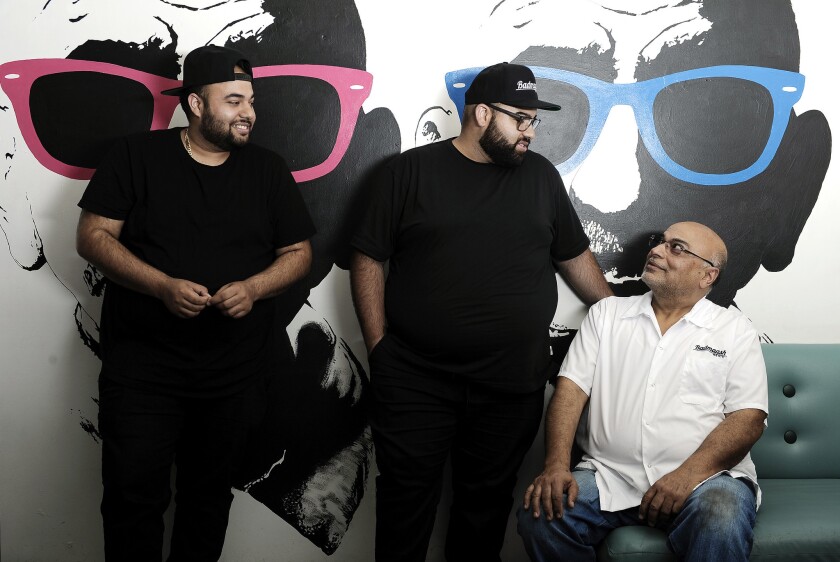 This Indian restaurant, the first of two from chef Pawan Mahendro and his sons Nakul and Arjun, feels loft-like and almost Modernist, with giant Warholian portraits of Gandhi in Ray-Bans on the walls and a playlist that's more Coachella than Bollywood. The menu blends both contemporary and nostalgic approaches, with a glorious iteration of butter chicken and plates of Goan pork curry sharing the tables with chili cheese naan and chicken tikka poutine.
108 W. 2nd St. No. 104, Los Angeles, (213) 221-7466, badmaashla.com/badmaash-dtla
FULL COVERAGE: Grand Avenue project »
Bar Clacson
Bar Clacson is another project from bartender Eric Alperin and partners, whose downtown speakeasy the Varnish is now a decade old. It's a deceptive place, fronted by a tiny daytime sandwich and appetizer shop called E Stretto, with a long bocce pit running down the side of a bar that features a lot of amaros. In the back room and upstairs is a second bar called the Slipper Clutch that Alperin calls "our rock 'n' roll highball bar." There are pinball machines, video games, pool and foosball tables, a playlist of New York hardcore bands, and a drinks menu of highballs made from sodas made in-house.
351 S. Broadway, Los Angeles, (213) 265-7477, barclacson.com
Grand Central Market
The Grand Central food hall has been open continuously for over 100 years, changing vendors and regional styles of foods throughout the decades but remaining a food hub for both downtown residents and visitors. Among the many current stalls are those that specialize in Filipino, Japanese, Chinese, Mexican and Middle Eastern food. There are a cheesemonger, an artisanal bread baker, a Jewish deli, a vegan ramen shop, a fried chicken stall and a beer bar, as well as the seemingly permanent line for Eggslut.
317 S. Broadway, Los Angeles, grandcentralmarket.com
Kasih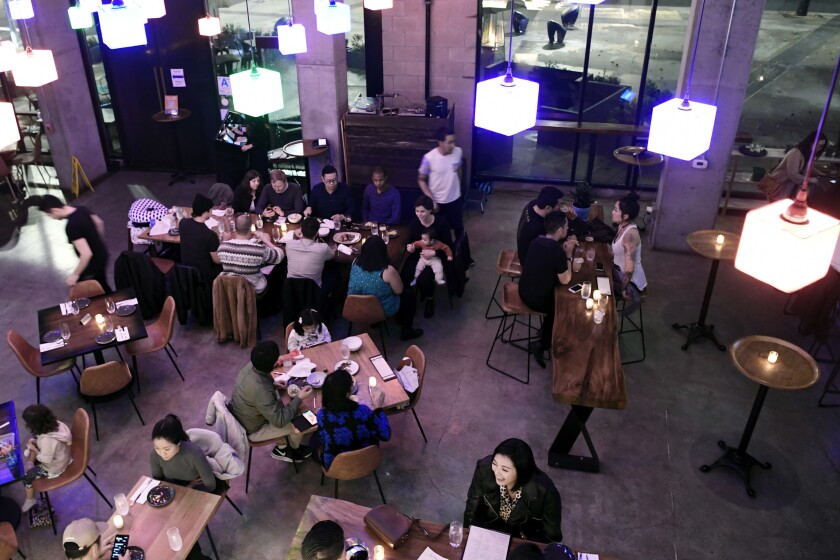 Open for about a year on a busy Little Tokyo corner, Kasih is an Indonesian restaurant that specializes in modern takes on traditional dishes. The place skews young, with televisions and a bar and a menu that pairs well with drinks. There are fiery bowls of sambal, the spicy dips that infiltrate most of the cooking; bowls of sumptuous curry, and skewers to pair with more of those sauces. Executive chef Vindex Tengker is a veteran of restaurants in Bali and Jakarta, and chef de cuisine Zachary Hamel trained in Thailand and New York: You can see their itinerary on their plates.
200 S. Los Angeles St., Los Angeles, (213) 266-8156, kasih.la
La Cita Bar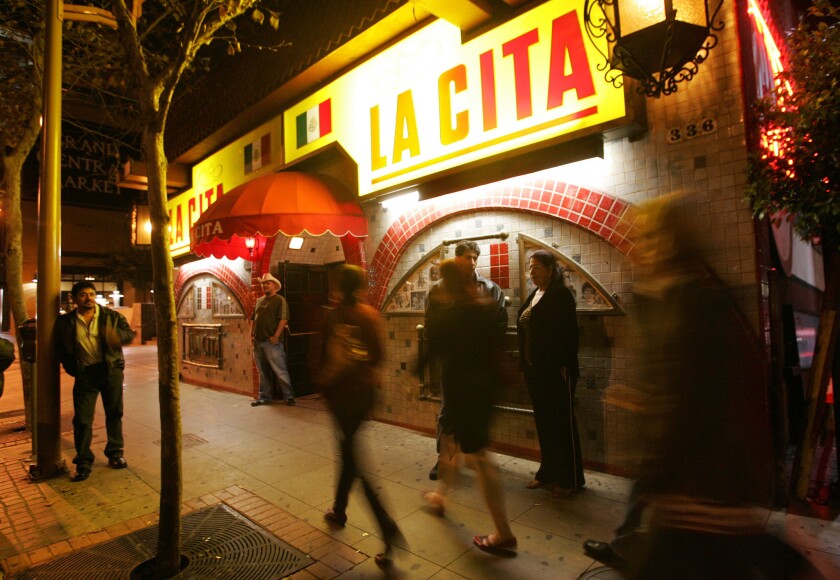 Next door to Grand Central Market is an old bar that looks more like a souvenir stand than the popular Mexican dance hall that it is. The dimly lit interior is hung with Christmas lights, as is the large "El Patio" in the back, which is covered with red awnings. The bar has been around for more than 60 years, catering to locals who come for the history and the music, the drinks and the dancing. There are happy hours devoted to hip-hop and rockabilly, Bloody Marys and punk rock.
336 S. Hill St., Los Angeles, (213) 687-7111, lacitabar.com
Maccheroni Republic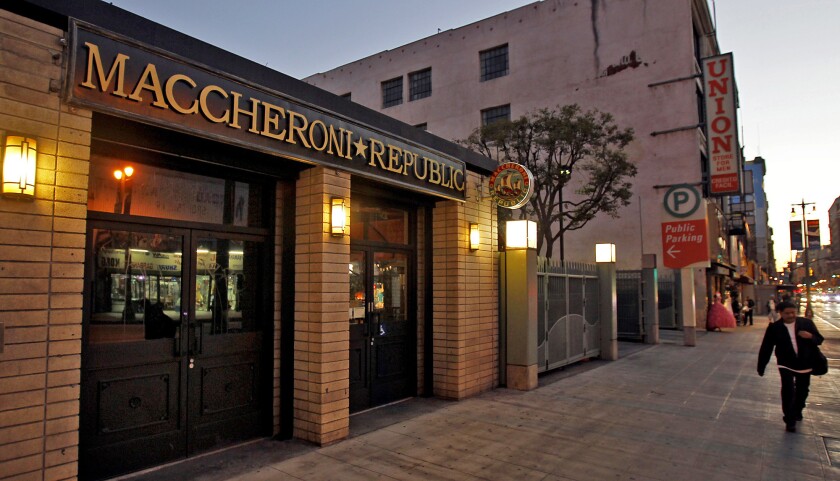 Tucked away off Broadway is a cozy Italian trattoria that feels like a hidden enclave. The inside is a small brick-and-wood dining room with a tiny European-style bar; outside is a leafy patio with plenty of seating. The pasta that is the centerpiece of the menu — agnolotti filled with osso buco and marrow; pappardelle with lamb ragu — is all made by hand in the kitchen behind the bar. As you sit outside under a red umbrella with a bottle of wine and antipasto of Parma prosciutto, spicy 'nduja crostini and house-made giardiniera, waiting for your plates of pasta, it seems like the place has been there decades longer than its seven years.
332 S. Broadway, Los Angeles, (213) 346-9725, maccheronirepublic.com
Orsa & Winston
The most formal of chef Josef Centeno's cluster of downtown restaurants, Orsa & Winston is what happens when a chef synthesizes elements of two disparate culinary traditions (Japanese and Italian) into a playful tasting menu project. (Sonoran lamb with haricots verts and olives might follow satsuki rice porridge with uni and abalone.) There's also a weekend brunch that includes Japanese breakfast and a snack menu that pairs arancini with katsu. There's a list of Italian wines, and on Sundays a Japanese tea service.
122 W. 4th St., Los Angeles, (213) 687-0300, orsaandwinston.com
Otium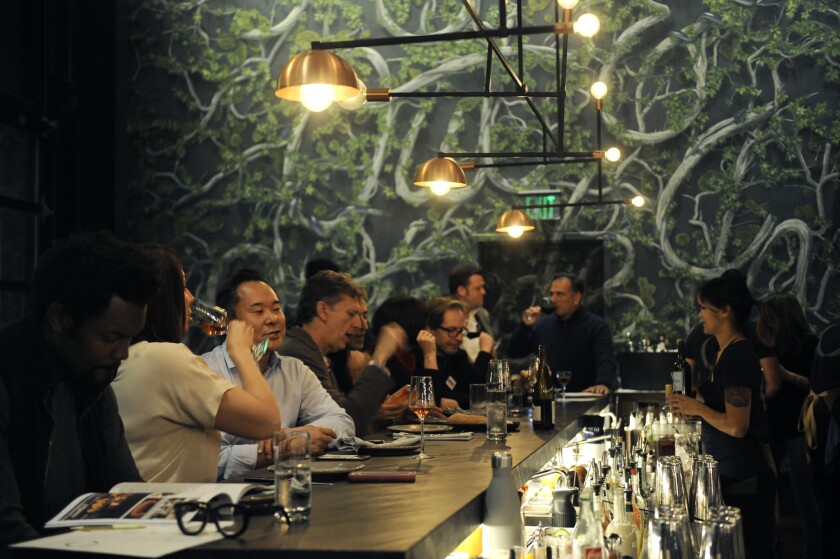 Chef Tim Hollingsworth, a longtime veteran of the French Laundry, has created a restaurant that operates like a mash-up of fine dining and street food. Elevated dishes such as branzino with soubise and truffles, and dry-aged duck with morels and rhubarb coexist nicely with homey falafel and tzatziki, and naan with whipped lardo. There's a vertical wine room next to a massive open kitchen, a garden upstairs, and a few fire pits out on the patio; the gorgeous, light-filled dining room fits in neatly next door to the Broad museum.
222 S. Hope St., Los Angeles, 213) 935-8500, otiumla.com
Patina
Joachim Splichal's flagship restaurant has been in its current location since 2003 (the original Hollywood spot opened in 1989), built inside the Walt Disney Concert Hall, Frank Gehry's beautiful musical spaceship. It's an old-school, fine-dining restaurant, with various tasting menus from executive chef Andreas Roller. It has an extensive wine list; a traditional cheese cart; menu variations for vegetarians, caviar lovers and theater goers; and even a water menu. If you miss the sedate charm of wine pairings, fancy supplements and boxes of after-dinner mignardises, or if you want a swank dining experience before a Gustavo Dudamel concert, this is the place to go.
141 S. Grand Ave., Los Angeles, (213) 972-3331, patinagroup.com/patina-restaurant
Redbird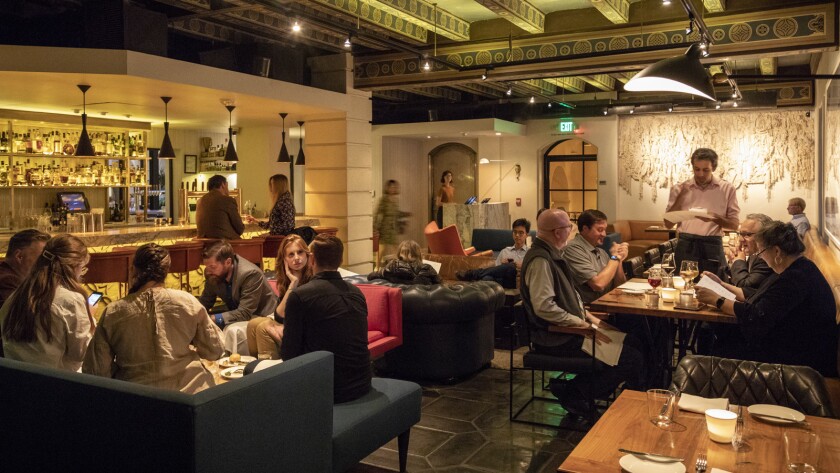 Carved out of the former rectory of what was once St. Vibiana's Cathedral, Redbird may be one of the prettiest restaurants in Los Angeles. Chef Neal Fraser has fashioned a menu that combines classic California cooking with global elements, adding a live fire component — there's a big grill in the patio, under a retractable roof through which you can see the bell tower — and sourcing produce from the restaurant's own garden. So you'll find duck with hoja santa tamales, house-cured sardines, Thai-style crab soup and a chicken pot pie. And with a marble bar in the patio and an excellent cocktail program, it's a fantastic place for drinks.
114 E. 2nd St., Los Angeles, (213) 788-1191, redbird.la
Instagram: @AScattergood
---